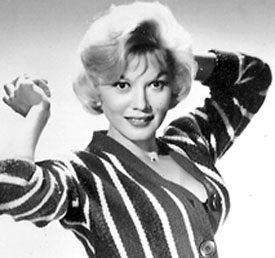 LAURIE MITCHELL
Laurie Mitchell was born on Bastille Day (July 14) in Manhattan, New York where she did some modeling and won the title Miss Bronx. Known as Mickey Koren, her family moved to L.A. when she was in her teens.
After taking acting lessons and landing some stage roles, she used the name Barbara White. Her first husband was a magician (he sometimes worked at the Magic Castle in Hollywood), Larry White. White was also a trumpeter. Since there was both a British and an American actress with that name, it became necessary to change her name for pictures—thus she now was known as Laurie Mitchell.
Though probably best known for her title role as "Queen of Outer Space" ('58) with Zsa Zsa Gabor and Eric Fleming, the cult actress also appeared in a number of western TV shows, in addition to two western features. Her personal favorite is "Bonanza: King of the Mountain", "Glorious; beautiful people to work with. They were so kind to me, and the director was so wonderful. They put me on a buckboard though! What does this kid know from a buckboard?! (Laughs) They said, 'We are going to shoot now, are you ready?' I didn't know which way to go with the reins and the horses. So they got a wrangler and said, 'Let's put him under your skirt and he'll be able to guide the horses.' The man said, 'Thank you ma'am, that means more money for me!' (Laughs) Now that I think about it, it was so funny, but it wasn't at the time, because I got scared! It was very much fun and I adored Dan Blocker. He was absolutely darling! He shouldn't have died. He was such a wonderful person. We ate lunch together at the commissary and we'd laugh! He said, 'They tell me I am too fat' (Laughs) so there were lots of salads at those lunches. (Laughs) Dan also said, 'When I smile, people say I have no teeth.' It seems his upper lip covered his upper teeth making it appear as though he had no upper teeth. (Laughs)"
As for others on the episode: "Slim Pickens was funny, funny, funny. Friendly, likable, I can say nothing negative about him. Robert Middleton played my father—he was a great actor and a fine gentleman."
In 1961 Laurie guest starred on "Maverick". "That was at Warner Bros. Jack Kelly—he's okay—we laughed, but it was more of 'thank you very much and that's it' kind of a relationship."
Another hit series was "Rawhide". "That was with Eric Fleming. We had worked together three years earlier in 'Queen of Outer Space.' He was shy, kept to himself. He never spoke between takes, he'd sit down or go to his dressing room. We never mentioned the movie. Billy Barty was in it…A little guy! A love, a kind person, funny and friendly—also Gloria Talbot, a great little actress." Laurie was also on "Laredo" with Neville Brand. "Poor guy. Within two days, he took a liking to me. He cried and told me about his problems with his wife and children. I can't recall what they were, but Neville was a great performer. I was told they had a hard time with him. They said he was part Indian, and thus he shouldn't drink—'firewater.' (Laughs) He drank a lot, and he refused to bathe! They were furious with him. Still he drank and he drank and he drank!" Lola Albright also guested on that episode. "She and her husband at the time owned a restaurant, Chadney's, which was in Sherman Oaks. I think it later moved to Burbank. Her husband's name was Bill Chadney—and he played the piano. Lola was a delightful, warm person. I even met my present husband in that restaurant."
As for Audie Murphy and "Gunfight at Comanche Creek" Laurie "had no problem with Audie. He was wonderful, absolutely marvelous. And that open-mouth kiss! (Laughs) That was wonderful too. (Laughs)"
Everybody who worked with Steve McQueen has a story. "God love him! I was on 'Wanted Dead or Alive'. He was a bit brash and inconsiderate at times and he had a foul mouth! Everything was an 'f.' You hear that word all the time now, but then, it was shocking. He was kind of restless, full of energy. When he blew his lines, he would get so angry! Then the 'f' word came spewing from his

mouth. (Laughs) There was something about a barrel in the show—that messed up and the 'f' word came out again! We did a scene together where he had to grab ahold of me and fling me to the side. He was much too rough with me and hurt me at one point. I had bruise marks on my arms and never got an apology from him.
About working in westerns. "My agent said, 'You have talent'…I was this New York kid working in westerns, and he said I was not the girl next door—but a sexy lady. That's why I was typecast as saloon girls in so many shows. My films weren't first class, they were crappy pictures (laughs) but I loved it. It was a great, great experience."
Not all Laurie's films were "B" pictures. In addition to "That Touch of Mink" Laurie appeared in another classic, "Some Like It Hot." "That was fun! We shot it at what was then called the Sam Goldwyn Studios, then we went south to shoot at the Hotel Coronado. It was classy—red carpet. They were in awe that we were there. Jack Lemmon was a sweetheart and Marilyn Monroe photographed so beautifully. She had a dramatic coach who wore a black cape—and if the coach didn't like the take, it would be done over and over and over until she approved. (Laughs) Marilyn didn't remember lines well, so some scenes were shot quite a number of times."
Laurie guest starred on five episodes of "The Virginian". "James Drury was good, he impressed me, but I was shocked when I learned he had a hairpiece. (Laughs) It blew me away! One day he wore his hat way down upon his ears…seems there was trouble with the toupee and he had to wear it like that, so as to not show there was no hair. (Laughs) But, he was nice and friendly." The third "Virginian" had Arthur Franz. "A very, very beautiful man; he had a way of appearing like a European gentleman."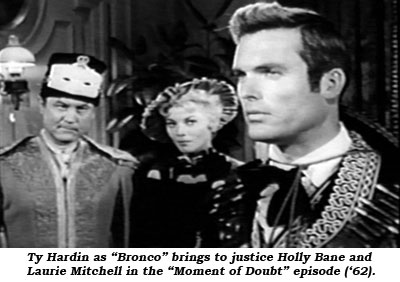 "Wagon Train" was a series Laurie appeared on, more than once. "I loved Ward Bond—but we had 6 o'clock calls—for hair and makeup. He came in drinking! I couldn't get over his drinking that early in the morning." Sharon Farrell was a guest on the second "Wagon Train". "She was a great little actress, a fun person; always kidding. And she had a beautiful figure. I think she was a size one!" (Laughs) Another cast member was H. M. Wynant. "I ran into him about 10 years ago—and he still looked fabulous. He's a great actor—I heard he went to Europe, but I recently saw him on a commercial, so obviously he's back over here!"
As for her family, "I am now married to Ron Roberts, and I have a son, Steve White, who sells medical supplies, and a daughter, Nancy Norton, who works for the board of schools. Both are good kids." As for siblings, "It was my sister who told me to go blond! I said to her, 'Are you nuts? Me, a blonde?' But I did and have been one for years and years. My real hair is brown, with a slight red highlight. As for those films—where the hair color changes, some were wigs and some were my own hair. It all depended."
Laurie's Western Filmography
---
MOVIES: Rawhide Years ('55 U-I)—Tony Curtis; The Oklahoman ('57 Allied Artists)—Joel McCrea; Hell Bent for Leather ('60 U-I)—Audie Murphy; Gunfight at Comanche Creek ('63 Allied Artists)—Audie Murphy. TV: Sheriff of Cochise: Holdup ('57); Death Valley Days: California Gold Rush in Reverse ('57); Colt .45: $3,000 Bullet ('57); State Trooper: Sound of Death ('57); Wanted Dead or Alive: Chain Gang ('59); 26 Men: Live and Let Die ('59); Man From Blackhawk: El Patron ('60); Deputy: Border Between ('60); Wagon Train: Shad Bennington Story ('60); Bonanza: The Abduction ('60); Maverick: Triple Indemnity ('61); Two Faces West: The Coward ('61); Rawhide: Prairie Elephant ('61); Bronco: Moment of Doubt ('62); Wagon Train: Pearlie Garnet Story ('64); Wagon Train: Those Who Stay Behind ('64); Bonanza: King of the Mountain ('64); Laredo: Above the Law ('66); Virginian: Girl on the Glass Mountain ('66); Virginian: Strange Quest of Claire Bingham ('67); Virginian: Lady from Wichita ('67); Virginian: Big Tiny ('68); Virginian: Stopover ('69).