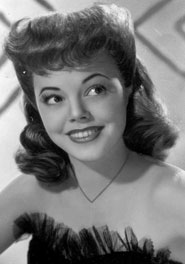 JEAN PORTER
Vivacious Jean Porter had a multi-faceted career—ranging from small roles as a child ("Adventures of Tom Sawyer") to supporting parts, eventually landing a contract with MGM.
One of the earliest pictures for the Cisco, TX, born (December 8, 1923) actress was "One Million BC" ('40). "I loved it! I was Carole Landis' little sister. She was wonderful and Victor Mature delightful. D. W. Griffith was already a legend, and this was his last film. I don't know if he was supposed to direct it or not, but Hal Roach Jr. did the actual directing. Griffith received producer credit but all he did was sit by the door. He was on the set every day, with an overcoat and a hat, sitting by the truck door—where they bring in the backdrops and large props. He always kept the door open a foot."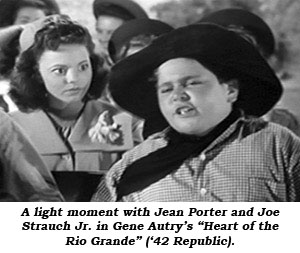 Jean's first important role in a Western was Gene Autry's "Heart of the Rio Grande". "I was in all the way through but I really didn't do much. Fay McKenzie was the leading lady. A friend of mine, Edith Fellows (who had earlier co-starred with Tom Mix in "Rider of Death Valley"), had much more to do than I." When told Autry often played tricks on Edith, Jean was rather surprised, "Gene was good to work with. As far as I know, he didn't pull any tricks, at least not on me."
In 1944, Dale Evans and Roy Rogers were teamed for the third time in "San Fernando Valley". "Now that was good! We enjoyed ourselves so much we didn't mind getting up early to go on those locations. It was shot way out in Hidden Valley—at the end of San Fernando Valley. They'd bring us breakfast and later sandwiches for lunch. At first, I had to have my makeup done at the studio then be driven way out to the location. Then, I was allowed to bring my own car so I could wait until I got to the location to have the makeup put on. That was a real thrill, it happened about halfway into the filming. I got to ride Trigger—and that was the highlight of the movie for me. That horse was human! He was truly a very smart animal. I had the second lead to Dale Evans. She was, and still is, one of the sweetest people; and Roy Rogers is one of the nicest guys you could possibly meet. I think they were kind of going together when we did this—at least I remember them getting chummy. Roy had a sad life until this time, and when he met Dale, they hit it off. She was the perfect partner for him. I remember the great chemistry we all had! There was a scene in the film set in the kitchen where I come onto Roy. We even kissed, but they cut it out. The Sons of the Pioneers were fun. We'd all be singing songs even when it wasn't for the picture...just for the fun of it. It was truly a wonderful, wonderful time."
The following year Jean was starred in "Abbott and Costello in Hollywood". "I was only the manicurist girlfriend to Lou, running in and out of the picture. The only thing I hated was that Lou, Frances Rafferty, Bob Haymes (billed in the film Bob Stanton) and I had a lavish musical number, 'Coca Bola Tree', which was to end the film. We shot it on the Esther Williams set which was built into an amusement park setting. There was a singing group and a big band. It was the best part I had in the picture—and they cut it out! They thought the picture ran too long. It was heartbreaking! I later did a lot of TV shows with Bud and Lou. They liked me from this picture, and they used me over and over again."
Jean was finally beginning to have good grown-up roles when MGM loaned her to RKO to replace Shirley Temple in "Till The End Of Time". "It was a good job but I felt I was going backwards, being cast as a teenager again. But I did meet my future husband, Edward Dmytryk—it was around October, 1945."
Dmytryk, one of the decade's greatest directors ("Murder My Sweet", "Caine Mutiny", "Carpetbaggers"), wrote a book. "It's called ODD MAN OUT", Jean explained. "It deals with the Communists and blacklisting. I've written a book, THE COST OF LIVING. It tells Eddie's story—but relates what happens to the family members of people who were blacklisted. I had been going with singer Mel Torme before Eddie. Another Eddie—Edward Buzzell, the director at MGM, whispered to me to 'Drop Dmytryk. You'll never work at MGM again.' I didn't listen—couldn't believe it, but he was right! Although I was under contract, they kept loaning me out to other studios. Finally, in mid 1947, they were passing out pink slips left-and-right. They told me I could stay, for the same salary. My agent told me how much they were making on loan-outs so I decided to free-lance. I did sign to do three musicals at Columbia but a small part in an MGM had much more stature than the lead in the B's. But, they were fun to do."
Jean co-starred with former Hopalong Cassidy sidekick Jimmy Ellison in "Kentucky Jubilee". "My husband was in jail (during the McCarthy era) when I did that. Dick Powell, who was wonderful, gave me a part in 'Cry Danger'. Very little, but at least I was working. These pictures don't count for much." Jean's fans would heartily disagree. The pictures are well remembered. The public does not know what transpired during the making of the films, they only know they like the end results!
Jean's Western Filmography
---
Movies: Heart of the Rio Grande ('42 Republic)—Gene Autry; Home In Wyomin' ('42 Republic)—Gene Autry; Calaboose ('43 United Artists)—Jimmy Rogers/Noah Beery Jr.; San Fernando Valley ('44 Republic)—Roy Rogers.