MALA POWERS
The two gun star of "Rose of Cimarron", Mala Powers, was actually a child actress. "I was born Mary Ellen Powers Dec. 20, 1931, in San Francisco, but I never used that name. Even as a small child, whenever someone would call me Mary Ellen, I would say, 'No, my name is Mala!' My family moved to L.A. when I was 8. That summer, my mother enrolled me at Max Reinhardt Jr.'s Workshop and I did a play. There was a live audience. I was hooked. I later did a play, 'Star Board', which an agent saw. I was eventually over at Universal, testing for a role in the Dead End Kids' 'Tough As They Come'. I didn't get the part—Ann Gillis got it—but I did land a small, one-day job that was written in for a second day!"
Mala was bitten by the acting bug. "I did other plays and radio as well. In fact, I played the Joanne Dru part in the Lux Radio version of 'She Wore a Yellow Ribbon' opposite John Wayne and Ward Bond. Later, I did a 'Wagon Train' with Ward."
Mala's big break came when she was "discovered" by Ida Lupino. "I met Ida and read for 'Outrage'. She was an excellent director—she would protect you. If you dared to be original and try things—she was there for you. Ida had been at Warner Bros. and got mainly pictures Bette Davis didn't want to do. Ida didn't want the rejects, so, when she refused, she was put on suspension. That meant she couldn't work for anyone else either! She'd spend her suspension time visiting other sets, learning other crafts—the camera, the way directors worked. It was never mentioned or doted on that Ida was the only female director at the time. Ida Lupino was not a feminist. She was wonderful. There was always a lot of laughter. I was with her when she died (of cancer)."
Mala's best remembered role may be as Roxanne in "Cyrano de Bergerac" with Jose Ferrer. "That's what is recalled by more people, although I did an enormous amount of work—especially in westerns."
Her first western was "Rose of Cimarron" with Jack Beutel, Jim Davis and Bill Williams. "I never ran into Jack Beutel again. He was a nice man, who just seemed to disappear. Jim Davis I would see occasionally. I liked Jim very much. Bill Williams I knew quite well—I worked with his wife, Barbara Hale, on several 'Perry Masons'." When asked if she did her own riding, Mala's quick to respond, "I was told by the producer, Edward Alperson, there would be very little riding for me in the picture but I ended up doing almost all of the riding! I had to learn to ride for that picture. I went riding 2-3 hours a day at Ace Hudkins stables. Two great stuntmen, Tom Steele and David Sharpe, taught me how to handle guns. They worked with me two or three days each week! And, the hard work shows on screen!"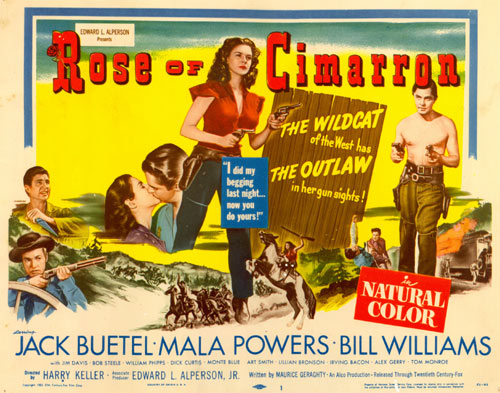 When reminded stuntwoman Polly Burson was in the cast, Mala remembers, "She doubled me on the horse to train transfer—but that's about it. All the other times, I did it myself. I guess it kept Polly from earning a larger paycheck! She was a great stuntrider, so competent…and a good, nice person."
Another western was "Storm Rider" with Scott Brady and Bill Williams (again). "Scott and I got along just fine. Of course Bill and his wife, Barbara, were old friends by now. My part was a feisty Texas girl. She had spunk, owned her own ranch, hired and fired people. I enjoyed playing her!"
As to "Yellow Mountain", "We had Mojave Desert locations. Lex Barker and Howard Duff were my co-stars. Lex was married to Lana Turner at the time, and Howard was married to Ida Lupino. Lana and Ida would come up frequently on weekends, so there were a lot of laughs."
For "Rage at Dawn" with Randolph Scott and Forrest Tucker, Mala recalls, "I was on my honeymoon during that! We went up to Sonora and Columbia, CA—near Sonora. It was October and we had a wonderful Indian summer. We actually lived in Sonora. Randolph Scott and his wife had dinner with my husband and I almost every night. My husband and I got this great guest house at the ranch of the man who did all the catering. A stream ran right by—it was so romantic. I didn't work every day, so it was just great! Forrest Tucker was a good guy—all my brothers were fun. J. Carrol Naish had a great sense of humor!" As for the color photography, "My hair photographs dark in black and white; in color, it was given a reddish tint. They often did that in those days, when you made a film in color."
"Never, after the first three roles I did… 'Cyrano', 'Outrage', 'Edge of Doom'…did I ever find characters that had the depth or the interesting nuances those three characters had. Certainly in the westerns I did, there wasn't a lot of definition to the female character. I think perhaps 'Rage at Dawn' had more of that because it was about a gal who had seven brothers, all bad men. I played her as having that same kind of anger within her, except she used it in a moral direction, whereas they used it in an immoral direction. She had more complexity than other western heroines I played."
"Sierra Baron" starred Rick Jason and Brian Keith. "They did use a double on me in that, and I was quite upset with the results. I was supposed to be running around the desert—and the man they used was awkward—he ran through the desert in a dress like mine. I saw the rushes and was quite upset over the results. I didn't even know they were filming that sequence—they just did it with this guy. We shot for six weeks in Mexico, stayed for awhile in Mexico City. It was a fun trip, as again, I didn't have to work every day."
Among Mala's many TV appearances was "Wild Wild West" with Robert Conrad and Ross Martin. "I used to date Ross, and I was very familiar with the show before I did it. It was fun, and a plus, working with Ida Lupino (as an actress in this); and Patsy Kelly was an old-timer who was also a lot of fun. I loved doing this show. There was a lot of clowning. I saw the remake feature version of 'Wild Wild West' and it was just awful!"
Mala was a frequent guest star on episodic TV westerns. She calls Clint "Cheyenne" Walker, "very giving, a real gentleman." The same cannot be said for Steve McQueen. "Steve liked to be a bit abrasive. He kind of enjoyed that. If he could shock you, make you go up, he would do it. For instance, he wouldn't say someone was expecting a baby, he'd say she was knocked up. That sort of thing."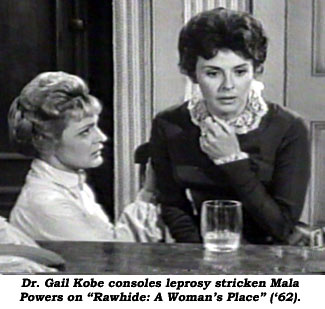 "Rawhide" starred Eric Fleming and Clint Eastwood. "My scenes were with Eric—I didn't have any with Clint, who very nicely made a point of introducing himself and welcoming me to the show. No one ever does that—but Clint made me feel at home—working on the show. I played a woman with leprosy, and that made it more memorable than a lot of others."
"I did a first season 'Bonanza' with Pernell Roberts. We never dreamed television history was being made with that series. Michael Landon had a great sense of humor." R. G. Armstrong, a frequent co-player with Mala, was in this episode. "R. G. and I had an emotional scene as father and daughter. He is always there for you—he supports you; he reacted to me in that scene. He is a terrific actor."
Another show was "Maverick" with Roger Moore. "What I remember best is the long, long wait we had. Roger and I were both on horses. We must have been sitting there for 40 minutes. I don't know what caused the delay, but we talked about England, Roger's life and how he got into pictures."
In the four episode 1960 Disney version of "Daniel Boone" with Dewey Martin, Mala played Rebecca Boone. "There was a scene in a stockade—I was in close contact with a lot of children…and after we shot the show, I came down with scarlet fever—which I must have contacted from one of the kids. I was already finished filming when it struck. I had a difficult recuperation. All of the episodes were made on sound stages on the Disney backlot in Burbank. I always felt the reason the show was not more successful was, we basically made the same script four times. The plots were almost exactly the same. There was little room for any character development. Nevertheless, I was sorry to see the series end. Dewey Martin I knew from when we were both at RKO. We worked hard to develop a good and interesting relationship between Daniel and Rebecca, but the scripts didn't give us much help."
Mala landed the Boone series because of a "Sugarfoot" she'd recently completed. "I loved that show—and Will Hutchins is a handsome doll. There was this stone statue and I got to whack the head off of it! It was a good role. In fact, in those westerns, I got to play a variety of roles—not just the sweet ingenue who has little to do. My parts had a lot of meat to them! In a 'Bronco' I played a real plain Jane girl—who falls for a man full of revenge."
Mala worked with John Payne in "Restless Gun." "I liked John a lot, he was very relaxed. We socialized with John and his wife, Sandy. It was a pleasant set. One

cowboy star I loved was Barry Sullivan, but, unfortunately, I didn't get to do a 'Tall Man' with him, although we worked together out of westerns! He went out of his way to be supportive…to help you."
Mala more or less left the motion picture industry, stating, "I would never go nude and I hate the way they kiss in pictures these days", but stayed active. "I've done voiceovers, I narrate children's books, and right now am involved in two different books—a book on Michael Chekhov (Russian actor/director noted for Hitchcock's "Spellbound" and founder of the Chekhov method of acting); and a book of quotes about acting—from actors. I also teach, lecture and have written the pilot for a TV series."
Regrets? "My dream was to work with Lawrence Olivier."
The very gracious lady with lots of interesting stories to tell died at 75 or leukemia June 11, 2007.
Mala's Western Filmography
---
Movies: Rose of Cimarron ('52 Fox)—Jack Beutel; Yellow Mountain ('54 Univ.–Int'l.)—Lex Barker; Rage At Dawn ('55 RKO)—Randolph Scott; Storm Rider ('57 Regal/Fox)—Scott Brady; Sierra Baron ('58 Fox)—Rick Jason. TV: Zane Grey Theatre: Black is For Grief ('57); Wagon Train: Ruttledge Munroe Story ('58); Wanted Dead or Alive: Til Death Do Us Part ('58); Restless Gun: Take Me Home ('58); Restless Gun: Lady and the Gun ('59); Bonanza: Diedeshiemer Story ('59); Tombstone Territory: Female Killer ('60); Rebel: Take Dead Aim ('60); Cheyenne: Alibi For a Scalped Man ('60); Bronco: Montana Passage ('60); Sugarfoot: Corsican ('60); Walt Disney Presents: Daniel Boone (regular) ('60-'61); Cheyenne: Trouble Street ('61); Maverick: Dutchman's Gold ('61); Lawman: Blind Hate ('61); Rawhide: A Woman's Place ('62); Wide Country: Man Who Ran Away ('63); Wild Wild West: Night of the Big Blast ('66); Daniel Boone: When I Became A Man, I Put Away Childish Things ('67); Here Come The Brides: Fetching of Jenny ('69).