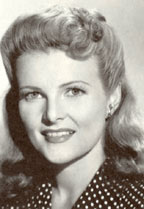 LOUISE CURRIE
Louise Currie—the name conjures up images of a gorgeous blonde heroine, facing perils from the Scorpion and his henchmen in the classic 1941 "Adventures of Captain Marvel", considered by many the greatest serial ever made! Another chapterplay, "The Masked Marvel", followed in '43. The talented actress appeared in scores of films in the '40s, finally leaving the business in the early '50s.
Between comedies with Lum and Abner and mysteries with Kent Taylor, there were westerns, with everybody from Bob Steele and Charles Starrett to Tim Holt, Gene Autry, Kirby Grant and Eddie Dean. The first, "Billy the Kid Outlawed" (PRC, '40), was followed only months later with "Billy the Kid's Gun Justice". "They weren't made simultaneously. It's just a coincidence. Bob Steele was sharp and busy; hustling, bustling. He was a real fighting cowboy, ready for a fight at a moment's notice. He was the opposite of Charles Starrett ("The Pinto Kid"). Charles was a handsome cowboy, so good looking. But he looked like an Eastern dude, not the cowboy type. He seemed to be having a hard time riding his horse, just like I was. I got to know him very well, but I felt he should have played the visiting Easterner, rather than being a cowboy. I felt the same for myself. I was an Eastern college girl, from Sarah Lawrence, so I was out-of-place as well."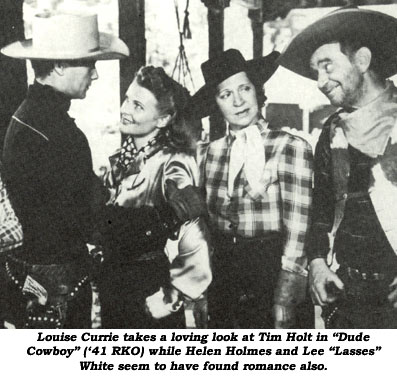 Tim Holt starred in a well-mounted series of oaters at RKO, and one of his best was "Dude Cowboy". "Tim Holt was really kind of a lady killer. Very handsome, very personable. His riding was more realistic. He knew how to ride, he had his own ranch. It made him more comfortable in the saddle. He was a ladies man cowboy—very attractive. Both Marjorie Reynolds and I got to flirt with Tim. I don't think either of us won him—the girls in westerns seldom did. And I liked Helen Holmes. She was so good. I got a kick out of her. She had been a big serial and western star back in silent days. That movie was fun, not just a rough-and-tumble western like the Bob Steele's. This one had a story to it."
As for "Stardust on the Sage" (Republic, '42), "My part was so 'ick'. I didn't have enough to do. It was one of those 'hanging on the garden gate' type of roles. Gene Autry was very professional—and it was a slick production. It's just I was not too keen on my part."
When told Autry and co-star Edith Fellows played tricks on one another, Louise stated, "I intimidated Gene. I held my ground. There was no nonsense with me—no romance either. I was more sophisticated than his other leading ladies, perhaps. Gene was very proficient; there were no tricks."
Concerning Hopalong Cassidy and 1944's "Forty Thieves", "I had a good time with Jimmy Rogers. I was a friend of his sister, Mary, from my days back east. So, I got to know Jimmy quite well. I kept up with Mary for some time. She has since passed away, but because of her, I struck up a new friendship on the film with Jimmy. He is a very special person. Hopalong, I didn't get to know much. Isn't that awful!?"
"Wild West" ('46) was Louise's only color western. "I remember Eddie Dean—he is a nice-looking, tall singer. And Roscoe Ates could stutter with the best of them!"
Kirby Grant's "Gun Town" is probably the star's favorite western film. "I adored 'Gun Town'. It was a chance to really do something! I was the Marjorie Main type—Buckskin Jane Sawyer. I learned to do things with the bullwhip; they taught me how—and that was wonderful. I worked the buckboard—I liked doing all of that. It was exciting and fascinating. I was part of the action. I was running that town with the bullwhip. Lyle Talbot was in it. I remembered him as a matinee idol in Oklahoma. He came to the local theatre in a play when I was a little girl. All the women thought he was just fabulous. Now here I was, a grown woman, playing in a picture with this man. 'Gun Town' is really a special picture. It had more story—it wasn't just about chases and horses. Kirby Grant was an attractive young man—he was nice and fun to work with. Most of the westerns didn't mean anything, because I couldn't get my teeth sunk into them. But in 'Gun Town', and 'Dude Cowboy', I thought I really did a good job. The parts weren't superfluous. The others were kind of boring to do, and as a result, they are kind of a blur in my mind."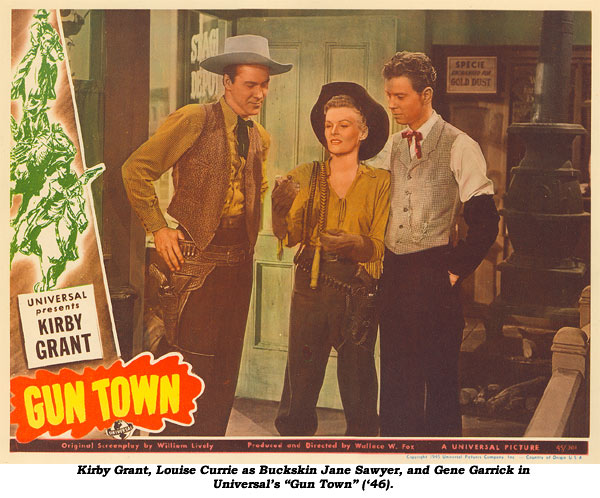 It is definitely the Tom Tyler chapterplay, "Adventures of Capt. Marvel", for which Louise is best remembered. "The situations were exciting. I didn't do much except be a victim on most of the cliffhangers. Tom Tyler was a wonderful, but a quiet man…a nice fellow, attractive, a good person, but he was shy! Frank Coghlan Jr., Billy Benedict and I had lots of fun together, but Tom never seemed to join us in our good times. Those two boys are very talented, super to work with. They really knew what they were doing. Such fine young actors. We chatted, laughed and enjoyed working together. Tom stayed by himself, but again, he couldn't have been nicer. It's just too bad he didn't become pals like Frank and Billy and I did."
Louise Currie Western Filmography
---
Movies: Billy the Kid Outlawed (1940 PRC)—Bob Steele; Billy the Kid's Gun Justice (1940 PRC)—Bob Steele; Dude Cowboy (1941 RKO)—Tim Holt; Pinto Kid (1941 Columbia)—Charles Starrett; Stardust On the Sage (1942 Republic)—Gene Autry; Forty Thieves (1944 United Artists)—William Boyd; Gun Town (1946 Universal)—Kirby Grant; Wild West (1946 PRC)—Eddie Dean (reissue/edit—Prairie Outlaws).