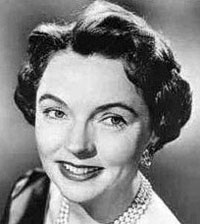 JANE WYATT
Beautiful, multi-talented, three-time-Emmy-Award-winner Jane Wyatt was born Jane Waddington Wyatt in Campgaw, NJ, August 12, 1910. Originally a New Yorker, "My family was spending the summer in Campgaw, which is an Indian name. It was a Dutch town; people spoke Dutch. It was the horse-and-buggy doctor days—my mother called the doctor, but by the time he got there—on his horse and buggy—I was already born. Even so, he sent a bill for $32.50. We always wondered what the 50 cents was for. (Laughs)"
Jane was raised in New York, "Where my father worked as a Wall Street investment banker and my mother was a local drama critic. I attended the Chapin School and, later on, Barnard College." From this came an apprenticeship at the Berkshire Playhouse in Stockbridge, MA, for about six months. "I understudied Rose Hobart in 'Trade Winds'. It was my first job, and lasted about a week in Philadelphia. I was even kicked out of the New York Social Register, as if I cared." (Laughs)
While appearing on stage, she was spotted by Carl Laemmle Jr. ("A little man; not good looking") and given a contract with Universal. "My first film was 'One More River' ('34), with Diana Wynyard, directed by James Whale." Within the year, she landed the plum role of Estella in Universal's "Great Expectations." "I didn't want to just be sitting around, and they didn't have a picture waiting for me when I first went to the studio, so I had a stipulation I could do outside work—both plays and films. My agent and I argued and argued over this point—I even tried to get out of the contract. That's how I managed to be in 'Lost Horizon' ('37) with the great Ronald Colman. I think the best thing I did in 'Lost Horizon' was ride that marvelous horse. Colman was lovely. During the war, they cut out pieces—especially anything that was about 'peace', when it was shown to the servicemen. But I understand most of it has been put back into the print that runs today."
About her first western, Wyatt is quick to state, "I only consider two of them to be westerns—the two with Richard Dix." But "Hurricane Smith" ('41) is regarded as a western. "Ray Middleton was in it, as was a crusty old man—a character actor, but I do not mean Harry Davenport (possibly J. Edward Bromberg—ed.). He was excellent. The main thing I remember was that it was terribly hot that summer, when we filmed it."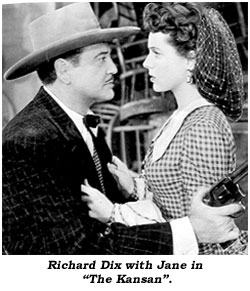 What Jane really remembers are the two westerns she made with Richard Dix in '43—"The Kansan" and "Buckskin Frontier". "I loved those...they were Paramount outdoor specials, but released through United Artists. (Producer) Pop Sherman was awfully nice; always wore a hat. He enjoyed making westerns. He was an orthodox Jew who was very careful about his diet—no dairy products, no meat foods. Here I am a Catholic. It was Sunday morning and I wanted to go to Mass. We were way out on location, but he had a limo arrive and take me to Mass! He was fun, a colorful man, I loved Pop Sherman. In one we were riding horses; in the other, we were in a stagecoach. Pop let me do my own riding, even though I was assigned a stuntlady. Until I was about 16, I didn't think of anything but riding. I loved the location in Kern River Valley, it is dammed up with a lake now. We stayed in an old fashioned inn, which was just beautiful. The Kern River had a place to swim; there was a rope hanging down; it was lovely. We filmed 'Buckskin Frontier' in the Spring, 'The Kansan' in the Fall, when it was cold."
About Richard Dix, "He was old enough to be my grandfather, but when he put on that hat, his lifts, and his corset, he looked great! It took 20 years off his age! Nobody wore western hats better. An absolutely charming man! Of course, in those days, we were not allowed to kiss (Laughs). But when he was fixed up, he was very romantic! His wife was half Indian, attractive, and she joined us on location. My husband could not get away for that long, however."
As for Victor Jory, "He was great, as was Albert Dekker, who was lots of fun. He later got into politics and became a state senator. He and Jory switched heroes/villains. In one, he would be a good guy, and the other, a villain. (Laughs) Lee J. Cobb was in 'Buckskin Frontier'. I thought him strange. Every time the still photographer wanted to photograph a scene Lee was in, he'd hide from him. I said to Lee, 'You shouldn't avoid having your picture taken. It's publicity.' 'Jane,' he said, 'You don't seem to understand. I don't want anyone to know I'm in this picture.' We later worked together several times. Lee was a star on 'The Virginian' series."
Jane terms 'Buckskin Frontier' director Lesley Selander "a terribly nice fellow." As for westerns in general, "I'm crazy about horses—I love westerns. Richard Dix was a good rider, and drove carriages very well. They wouldn't let me let me drive the wagon—it was dangerous, a stunt woman did it, and it turned over. One day, I was allowed to drive the covered wagon but this was not in the picture. I am a good rider and I persuaded the wrangler to let me do it. I was a good driver, but those reins are heavy, six horses are hard to hold but it was thrilling to do it. I felt like a true pioneer. I could see why they seldom let women drive wagons!"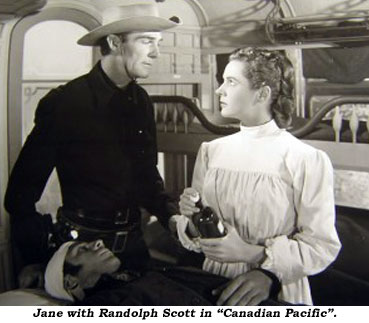 "Canadian Pacific" ('49) starred Randolph Scott. "They changed the starting date for that one. The picture started shooting early; my husband and I were on a camping trip in Oregon, no telephones, no means of communication. So they called the forest rangers, who looked for us. And found us! (Laughs). We shot it on location in Canada, but I don't recall the exact location. (Near Banff, Lake Louise, Kicking Horse Pass, Yoho Valley and the Morley Indian Reserve near Calgary.—ed.) Randolph Scott was very nice; but always reading the financial papers, always counting his stock coupons. (Laughs)"
Around the time of "Canadian Pacific", Jane Wyatt and Lloyd Nolan starred in "Bad Boy", the first starring picture for Audie Murphy. "I saw it recently and was so impressed with Audie. He was great in the part. And it was a good picture. I had forgotten all our scenes together."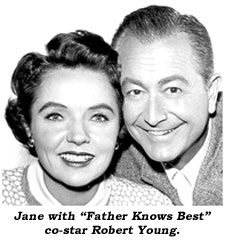 Jane Wyatt later did several westerns on TV, the first being a live TV show with Eddie Albert. "We broadcast that from some riding stables in New York. Eddie has a fight, maybe a duel, with a guy, a famous actor whose name escapes me—and it was tricky, choreographing it under those conditions. But I loved live TV!"
Jane's first filmed TV western was "Wagon Train: The Heather Mahoney Story" in which she played the title role. "John Emery was in it. I'd known John for years, when he was married to Tallulah Bankhead. He was with us when Tallulah and I were in a play together."
Wyatt's other TV westerns include "Here Come the Brides" ("I remember Joan Blondell; that is all"); "Alias Smith and Jones" (I do recall playing a nun") and several "Virginians". "Lew Ayres I recall very well. We were shooting on the back lot, he was a doctor and I was his wife. Those great long trams came by, they were new at the time. You could hear the tour guide say, 'Lew Ayres, He used to be a big star, back at MGM.' (Laughs) Those were lots of fun to do; they were very good."
Jane Wyatt won three Emmy awards for Best Actress, for her realistic portrayal of Margaret Anderson in the long running "Father Knows Best" series. "I found it odd, winning that award three different times for playing the same character. It is strange to think, but both Elinor Donahue (Betty) and Billy Gray (Bud) are both now retired. (Billy's mother, actress Beatrice Gray, was a saloon girl in "The Kansan".) Lauren Chapin is a minister now and lives in Florida. I read her book once, then threw it away! That show was good, very realistic. The three children all came from broken homes, yet they played average children in average American homes. Robert Young and I were both married only once."
When asked if she knew Robert Young's brother, Roger Moore (not the British actor), who played Harry Vincent, the Shadow's assistant in the '40's serial "The Shadow", she states, "I didn't even know he had a brother. I was at Robert Young's funeral. He had been in pictures with big, big stars in the '30s at MGM. They showed film clips, and he almost always seemed to be on his knees, telling this big star and that big star 'I love you.' (Laughs)."
At 96, Jane died October 20, 2006, in Bel-Air, CA.
Jane's Western Filmography
---
Movies: Hurricane Smith ('41 Republic)—Ray Middleton; Buckskin Frontier ('43 U.A.)—Richard Dix; Kansan ('43 U.A.)—Richard Dix; Canadian Pacific ('49 20th Century Fox)—Randolph Scott. TV: Wagon Train: Heather Mahoney Story ('62); Virginian: Secret of Brynmar Hall ('64); Here Come the Brides: Two Women ('70); Men From Shiloh: Price of a Hanging ('70); Alias Smith and Jones: Reformation of Harry Briscoe ('71).