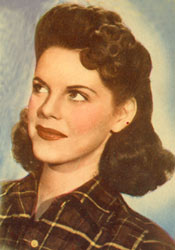 RUTH TERRY
Ruth Terry, the multi-talented star of movies from the late '30s to late '40s was born Ruth McMahon Oct. 21, 1920, in Benton Harbor, MI. "My mother played the piano; I sang at home. There were amateur nights at local movie palaces; the winner received a dollar! That would buy me tickets to 10 movies—they cost a dime in those days. I won every week, and they finally told me I couldn't sing anymore! So, I entered a contest at WLS radio in Chicago and won a contract to sing with the Paul Ash Theater Orchestra. I was billed as 'the Youngest Blues Singer' as I was only 12. In 1933, I went with the Paul Ash Orchestra to the Chicago World's Fair, playing at the Pabst Blue Ribbon Casino."
From Benton Harbor were the Capps Family—an acrobatic dance team. "The Capps and the McMahons were friends—and they took me as part of their fairs and vaudeville. I must also mention my aunt was private secretary for many years to Irving Berlin. I got a job at his music publishing house. People would come into this Tin Pan Alley-like place, pick up sheet music that Mr. Berlin had written, and I would sing it. If they liked it, they bought it!"
The versatile Ruth did other things as well. "I appeared in nightclubs with Ed Sullivan, who couldn't pronounce words even then! (Smiles) But he was a famous newspaper columnist for the NEW YORK DAILY NEWS. I was in his column so often, that I developed 'a name.' It was Walter Winchell who gave me my new name—Ruth Terry—after Babe Ruth and Bill Terry, both famous baseball players of the day."
"I was booked into Jack Dempsey's in Miami, and it was there 20th Century-Fox first saw me. Later, at the Chez Paree in Chicago, they heard me again and offered a screen test. My Daddy told them to either sign me or forget it—no screen test. So, I got my contract, with options of course, in 1937, at age 16."
"My first picture, 'Love and Hisses' ('37) starred Walter Winchell! I was making $400 a week; and given lessons every day—drama and singing. My singing coach was Jule Styne, who later wrote so many standards—but at this time he was only a piano player. Fox offered to keep me on, at the same salary, so I left them to freelance."
Around this time, Ruth Terry was put under contract to Howard Hughes. "Hughes loaned me—exclusively—to Republic. That's how I got at Republic." It was there singer Ruth Terry appeared in many musicals, and westerns with lots of music.
"I did 'Call of the Canyon' with Gene Autry, my first western. Two things I remember about the picture and Gene Autry. First, I never ever talked to the man! He did speak to the fellows on the picture, but not with the girls. I never said anything to him, nor he to me. I don't even recall him saying 'Good morning.' We just did the scenes and that was it. The other thing I remember is he kept us waiting one night. Gene was a very big star then, and he had it in his contract he wouldn't have to work after 6pm. Gene was punctual, knew his lines; always there in the morning. But on the last day of shooting, they needed another two hours. They didn't want to bring everybody back the next day for just a couple of hours shooting. They argued with Gene about breaking his rule, just this once. He firmly said 'No.' Finally, he said 'Okay, let's eat dinner.' He never came back—he left us all there, waiting on his return—which didn't happen until the next morning! A lot of people got an extra day's pay as a result, but not me as I was under contract to Hughes."
"Heart of the Golden West" was the first picture Ruth did with Roy Rogers. "It was a lot of fun, because Roy was a lot of fun. He joked with us; he was so sweet. Gabby Hayes, Smiley Burnette and the Sons of the Pioneers were all in it—all people Roy had worked with over and over; so he was comfortable. It was one of the films I made in Lone Pine."
"I made 'Lake Placid Serenade' at Republic, and in Roy's obituary, I noticed they said he was in it. I don't recall that—He must have been in a specialty or something. (Ruth's correct. Roy sang "Winter Wonderland" in the '44 musical.) Vera Ralston (wife of Republic prexy Herbert J. Yates) was the star, yet I only met her for the first time years later at a Lone Pine film festival. At Republic, we weren't allowed to talk to her! They didn't want her to mix with the other actors! So it was nice to finally get to know her—she's a dear! She still talks with an accent, of course, and is a lovely person."
Another Ruth Terry western at Republic was Roy's "Hands Across the Border." "…Republic's answer to the Broadway smash, 'Oklahoma.' They wanted someone who could sing as well as act. That started a whole series of musicals that were so-called westerns."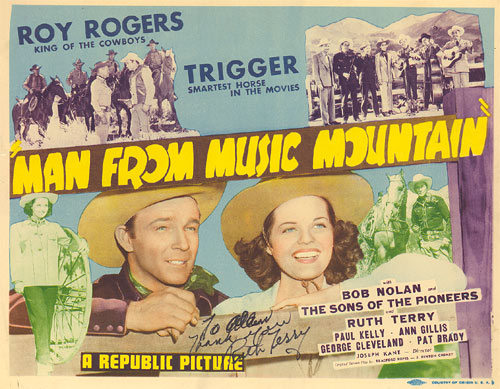 By this time, Hughes had sold Ruth's contract to Republic. "Howard was notorious for having women stashed all over town. When he found out I wouldn't give him anything, he sold me to Republic."
Ruth Terry's most famous picture, and her signature song, was Republic's "Pistol Packin' Mama". "People still remember me from that film. It was a good little picture. I like it a lot. A lot of hit songs came from those little pictures—'I've Heard That Song Before' by Sammy Cahn and Jule Styne from 'Youth on Parade,' for instance."
Ruth's final western was at Columbia. "Smoky River Serenade" with the Hoosier Hot Shots and Carolina Cotton. "I did it on freelance, and remember hardly anything about it. It was two years after I left Republic—I had been doing a lot of USO war work in the meantime."
Specifically asked about Republic president Herbert Yates, Ruth frowns, "He was a mean man—very cheap—a tyrant—especially when it came to money! I guess Vera ended up with all his money—she earned it, for putting up with him all those years!"
Ruth married and moved to Canada for a number of years. After her divorce, she returned to the States in '57. "I did a 'Donna Reed Show,' and other things, like a bit in 'Hand of Death'. (Laughs) I met my second husband, John Ledbetter, and we were married January 29, 1966. I've been retired ever since, and my career today is taking care of my husband."
Ruth's Western Filmography
---
Movies: Call of the Canyon ('42 Republic)—Gene Autry; Heart of the Golden West ('42 Republic)—Roy Rogers; Man From Music Mountain ('43 Republic)—Roy Rogers; Hands Across the Border ('44 Republic)—Roy Rogers; Smoky River Serenade ('47 Columbia)—Hoosier Hot Shots. TV: Maverick: People's Friend ('60); Cheyenne: Greater Glory ('61).