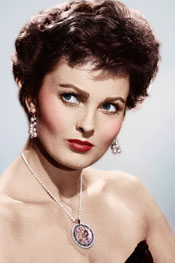 URSULA THIESS

Ursula Thiess (rhymes with peace), the beautiful German-born movie star of the '50s, who starred in a scant six films, is better known as the widow of MGM superstar Robert Taylor.
She was born in Hamburg, Germany, May 15, 1924. "I was in Germany during the war…the Nazis knew how I felt about them, I was considered a traitor so I tried to keep out of sight as much as possible."
An early interest in acting led to stage roles in "The Women" and dubbing American-made pictures into German. A small role in "Keepers of the Night" ('49) was soon followed by a contract with RKO, under the auspices of Howard Hughes. "I was flown over here and put up at the Hollywood Roosevelt Hotel. They let me use my legal name at the time, Ursual Thiess. Thiess was my ex-husband's name. He was mean and brutal."
Ursula's first picture was "Monsoon" ('52). "My leading man was George Nader, and it was directed by Rod Amateau, who become a lifelong friend. Ellen Corby, later to gain fame as Granny Walton on TV was also in the cast, as was the marvelous character actor Myron Healey, who always had a camera in hand, taking pictures of everything imaginable." The picture resulted in Thiess receiving a special award. "MODERN SCREEN voted me 1952's Most Promising Star—as they also did for Marilyn Monroe. That same year I received the Golden Key Award from the Foreign Press Association, whose ceremony I helped to host. And in 1953, I received the Golden Globe Award."
Her second American feature was "The Iron Glove" ('54) with Robert Stack, then Universal-International stepped in with "Bengal Brigade" ('54), a remake of Gary Cooper's "Lives of a Bengal Lancer". "Rock Hudson was the star, and the other female lead was titian-haired Arlene Dahl, whose looks were a contrast to my dark hair and makeup. Arlene's dressing room was next to mine, and I heard her say, in an agitated voice, 'If I'd known that woman was in the cast, I never would have signed the contract!' When I confronted our mutual agent, he said, 'Don't worry about it. It's just professional jealousy. You're just too pretty to share the screen with.' As for Rock, he was a sensitive, cooperative young man, ready to give a helping hand. He showed, like Bob Taylor, a great admiration for character actors, possibly feeling trapped in his good looks. I appreciated his ever present gallantry."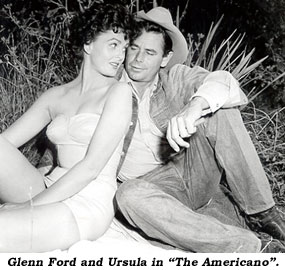 After dating Robert Taylor for some time the couple eloped to Jackson Lake, WY, (near Jackson Hole) on May 24, 1954. "The groundbreaking on our first home coincided with the starting date for RKO's 'The Americano' ('55), which began shooting in late June on location for two weeks in Riverside, CA. So near yet so far, Bob decided it was time I learned to drive a car. William Castle was the director, Glenn Ford was the star. Ford early on stated he wanted realism and his point of view was demonstrated on his leading ladies, me included. 'I like to treat my ladies rough,' he grinned in that boyish way of his. How rough you might ask? Well, he threw me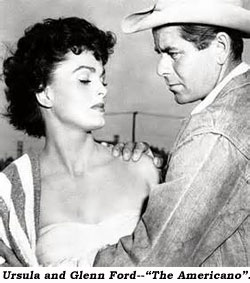 off a saddle, onto the ground. He did it with such velocity that it resulted in a twisted neck, a torn blouse, a mouthful of sand, and a thundering 48 hour headache! This was not a good beginning, but my colleague got his scene and admittedly, it didn't lack realism. Cesar Romero, who was the second lead, came to visit and comfort me during my two-day recovery, as did other cast members. I tried to make amends for what happened, but Cesar's reply was quite direct. 'Don't kid yourself, Ursula, that son of a bitch knew what he was doing. He's got a reputation for that!'"
Becoming more and more a homebody, she told me, "Ronnie and Nancy Davis Reagan were our closest friends, and almost next door neighbors in the Pacific Palisades. We attended parties with David and Hjordis Niven, Ray Milland, George Sanders, Deborah Kerr, Jean Simmons and her then husband Stewart Granger, and Michael Wilding and his then wife Elizabeth Taylor. Other friends were Henry Koster and wife Peggy Moran, Lita Baron and husband Rory Calhoun, Steffi Duna and husband Dennis O'Keefe, and Lana Turner and husband Lex Barker. We were also friendly with Clark and Kay (Williams) Gable. Clark even taught me to shoot. Clark tried to talk Bob into letting me do 'King and Four Queens' ('56), but I'd already promised Bob I would give up pictures."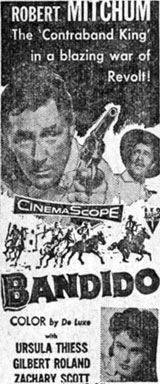 "Bandido" ('56) was Ursula's last starring feature. "It had been 18 months since 'Americano' was finished, and at this point, I saw myself as a housewife and mother of a four month old baby boy. I wondered if I had made the right decision, but at this time Bob was still encouraging me to work. But, what neither of us realized at the time I signed the contract, was the entire production called for being on location in Mexico. I had good domestic help, so I didn't have to worry about that, but I had other apprehensions, like the airline with a not-too-good reputation. Just as we approached Mexico City, the plane took a nose dive! Food, drinks, everything went everywhere. The plane leveled off and the pilot tried to make light of it with non-funny jokes."
"After a one night rest in that big city, we drove to our first location, in Cuernavaca, where we stayed for quite some time. It was here where I met my leading man, Robert Mitchum, an acquaintance who had a reputation as a womanizer. This couldn't be farther from the truth. He was wrongfully labeled. What I saw was a lover of women—be they three years old, sexy and young, or 95! Each got his attention—but he was not the pursuer—he was the pursued!"
"Bob asked me about my accommodations, which I found satisfactory, except there were no radios. Soon, I heard Latin music coming from the streets—Bob had arranged it for me, until a radio could be found."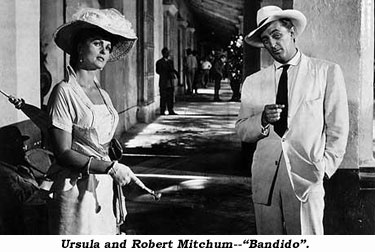 Gilbert Roland was second lead in the film. "Everyone there called him 'Amigo'. He appointed himself my guide and mentor, as he and Bob had been friends for years. He taught me about bullfighting, Mexico City's renowned restaurants, and introduced me to 'tequila', which prepared me for watching 'the greatest sport on earth,' as he called it."
Other shooting locations soon followed. "Tepoztlan, only 10 miles from Cuernavaca, was the next one. One morning, I found a scorpion hiding in one of my boots, then, while preparing a scene, we were held up by Tepoztlan's machete-carrying males."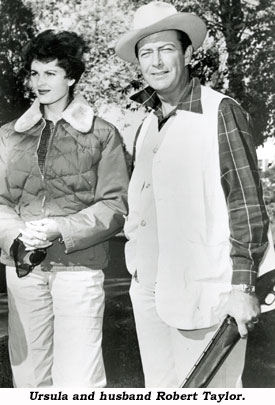 More locations followed. "Some were very primitive, too raw to even suggest human settlement. The last, before Acapulco, was the picturesque mountain town of Taco. Dorothy Mitchum and Bob joined up in Acapulco, and the Mitchums gave a lavish party, complete with bugs and insects. When we returned to the states, the Mitchums gave another party, at Romanoff's in L.A. Bob and I were at a table with Lex, Lana and other friends when an uninvited and drunk Barbara Stanwyck marched in and instantly put Bob on edge. Dorothy confronted her for crashing their party, and Barbara arrogantly drawled, 'Do you know who I am?' Stanwyck continued, 'Hell, lady, I don't want your food, I just came in to take a peek at Taylor and his German broad.' This so infuriated Lex that he later told me he purposely stepped on her foot, pretending it was an accident."
The shooting schedule ended with one last horrible event. "We were all about to board the plane home, but they stopped me. It was something about my passport, and not yet being an American citizen. I charmed the guard with my passport, and snatched it out of his hands. While all the gunmen had their arms pointed at me, shouting for me to stop, I kept going until I was inside the airplane. The passengers all applauded, and we were on our way home."
Ursula later appeared in a '72 sci-fi picture. "Left Hand of Gemini", as well as guest-starring on her husband's TV series, "The Detectives" (as Lisa Bonay), but virtually retired by the early '60s. After being widowed in '69 Ursula penned her memoirs, ...BUT I HAVE PROMISES TO KEEP. MY LIFE BEFORE, WITH & AFTER ROBERT TAYLOR.
She died of a brain tumor at 86 in 2010.