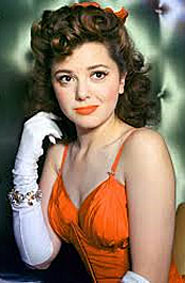 ANN RUTHERFORD
Vivacious Ann Rutherford is possibly best remembered by the general public today as Carreen, one of Scarlett O'Hara's sisters in "Gone With the Wind" (1939), or as Andy Hardy's girlfriend, Polly Benedict, in the popular MGM series from 1938-1942. However, it's the Golden Boot award winner's B-Westerns opposite Gene Autry and John Wayne for which she's fondly recalled by western devotees.
Born on November 2, 1917, in Toronto, Ontario, Canada, the daughter of a former Metropolitan opera singer, John Guilberty, she laughs, "That was a stage name. His real name was John Rutherford—he changed it for professional reasons, so family members wouldn't find out what he was doing."
When told her bio mentions she did several plays as a child, starting at age five, she reveals, "That was poppy-cock. Studio publicity. I did do plays as a kid—but just school plays like everybody else."
Her bio also states "Carnival of Paris" was her first film. "Baloney. That was a short I did at Metro, after making some 18 pictures before. My first movie at Metro was a short, 'Annie Laurie,' with Stanley Morner—who later became Dennis Morgan. Actually, I began my career on radio—by lying about my age! My family lived in San Francisco, and every Saturday afternoon the local Henry Duffy Players, a stock company, presented plays. They had companies in both San Francisco and Los Angeles. We moved to Los Angeles when I was nine, so I was still able to see every play they did in town. I loved the theater and watching the people act. After school, my sister (Judith Arlen) and I would go by radio station KFAC and watch the radio actors perform every day. I noticed how they'd take their scripts, and highlight their parts. How they turned away from the microphones when they had to turn the page. All those things. When I was 12, I went in and was asked 'What have you done?' Well, I named every play I'd ever seen—whether or not it had a child in it! A month later, I had just come home from school when my mother asked me if I had been making a nuisance of myself—that KFAC wanted to see me. There were two lines of kids—one for girls and one for boys. When given a script, I took a pencil which I kept in my long hair over my left ear, and underlined my part. From watching those radio actors, I knew how to stand, how to keep from rattling papers when changing pages—all the things you need to know—and I got the job! The show was called 'Nancy and Dick and the Spirit of '76.' We did it for two years. Dick was played by future actor/director Richard Quine! One radio show led to another—so it grew from there."
"One day, there was a call at the station for me—'Do you want to be in pictures?' I had heard about these type of guys so I said 'I'm sorry, they're calling me' and hung up on him! When I got home, sitting in the living room, was this relaxed agent—a friend of Nat Levine of Mascot Studios. It seems another actress, Anne Darling—the shepherdess in 1935's 'Bride of Frankenstein'—had eloped that day with Artie Steppins, an insurance big shot—so I stepped into the leading role in 'Waterfront Lady' ('34 Mascot)—It was my very first movie—and I got my name before the title!"
In 1935, Ann Rutherford starred in "The Fighting Marines." "That was a serial. The script looked like three New York City telephone directories! By the time you've scrambled through this huge script and dog-eared the pages on which your scenes appear, they start sending the pink pages and blue pages—those are changes. So it doesn't really pay to learn a lot. Grant Withers and Adrian Morris were the stars. Adrian was Chester Morris's brother. He was on the road to getting fat by this time. He even drank a lot. This was right after prohibition and those guys thought it was a very jock thing to do—live it up—drink and smoke. Yakima Canutt did all the stunts in the serial. Because of the pressure of shooting a serial, there are usually two directors, and neither one remembers what the other one did. Sometimes they'd be so pooped out they'd sleep all day, letting the other director work. Suffice it to say the directors were far more interested in keeping the action going than dialogue. There was always an airplane flying overhead…they'd not retake a scene for that. You did a wild line later—a loop—to fill that part of it in. There were virtually no rehearsals except you sort of walk through in a hurry for the cameraman so he'll know what he's aiming at. We lined up for the cameras and tried not to blow our lines or be out of camera range. There was one scene where I was required to drive an open four-door touring car through many ruts and rills and go on my way. Somebody had just killed my brother and I'm rushing off. There were a couple of scenes where I drove a car. I asked the director, 'Which scene is this? Where is it in the script?' He said, 'I don't know. Just get in the damn car.' (Laughs) I said, 'One more thing—I don't drive!' He said, 'Oh that's alright, I'll put a guy on the floor. You steer and he'll drive.'…(Laughs) Well, I'll tell you, this guy leans on the gas and we take off! (Laughs) I'm smiling all the time. Well, there was one scene where I was supposed to be smiling—I'm going to meet my lover…but I didn't realize this was the scene where I'm going to find my brother's murderer. I'm going right through there, smiling like an idiot. (Laughs) Then I hit a terrible bump, the guy lying on the floor bounces right up into sight…that they never re-shot. (Laughs) They left it in the picture! There was another scene where I had to change my clothes. I had a summer dress on with slits in the sleeves to let the air in. They were hurrying me so, I stuck my arm through the slit and the sleeve was hanging down from my armpit. (Laughs) They shot that sucker…they shot that scene right then. (Laughs)"
"And we were on location and that is not lots of fun in the summertime. They take you to funny, dusty, dirty places with rocks and all sorts of terrible things…no plumbing, accommodations, no nothin'! You just stay out there all day and you get dirty. And in those days we did not have the protection of the Screen Actors Guild Union. You'd work 48 hours a day! Now you work five days a week. The reason these companies took you on location was so they could work you seven days a week and hurry right back. The big banner cry was, 'Fighting Light." That meant hurry up for God's sake, the sun's gonna go down and we can't shoot anything. Sometimes people would get 'klieg eyes'—red sore eyes from those big klieg lights. They'd put cold raw potatoes over their eyes to help them. They sliced 'em real thin, one for each eye. The prop man carried the potatoes around. We would start in at first light in the morning—which meant for a girl, if she wants to wear makeup or comb her hair, she had to get up an hour and a half earlier than the first call! And your hair got so dirty on location. It was messy! If you had to wash your hair, you did it from midnight til two in the morning. (Laughs) There was no restaurant, they'd bring a chuck wagon out and spoon up some slumgullion stew or something. And this went on seven days a week! It was an interesting experience and I choose not to repeat it again! I think it's one of the reasons the Screen Actors Guild rolled up its sleeves and started protecting the players."
"Also at that time, the humane society was not large on the sets. I remember from my westerns how horrified I was when I saw my first running W when they rigged a horse with wires going crossways and they'd pull them causing the horse to fall down. I've seen horses be injured. But these directors—Yakima Canutt, Breezy Eason—were action men. Some of them were Eastern men and did not understand about horses. They had no idea a horse couldn't run all day. How dare he stop to breathe and be winded. (Laughs) It's an era that is mercifully over, but I'm glad I was a part of it."
Ann recalls Buster Crabbe taught her to swim underwater for a role in Mascot's "Down To the Sea" (1936). She'd embellished her aquatic skills to get the part and then, luckily, found Crabbe to teach her. "I was never more scared in my life!"
Asked about her many early Gene Autry oaters, Ann is proud to announce, "I made more money than Gene Autry! I was earning $150 a week; Gene only got $100 a week while Smiley Burnette received $50. And that's the only time I ever made more money than Gene Autry! (Laughs). Gene was a lovely man, but he was one cowboy who couldn't ride a horse! He virtually invented the 'singing cowboy.' Actually, he wasn't a cowboy at all—he worked as a telegraph clerk at a train station in Oklahoma. He had a radio show, and when Will Rogers came by, Gene asked him to 'tune in and hear me.' Gene had a good quality to his voice. He wrote Nat Levine, head of Mascot, who didn't answer his letters. But Gene was persistent—eventually Nat Levine himself stopped off—at the radio station—and heard Gene and Smiley and the gang. They had a young flavor about them that Levine liked. He bought them all for peanuts! (Laughs). He started Gene off in a science fiction serial at Mascot, 'Phantom Empire' ('35), just before it turned into Republic. Smiley Burnette (Gene Autry's comic sidekick) was the most talented young man, musically, I ever met, with the possible exception of Mickey Rooney. I can see him now with his accordion—what he called his 'Stomach Steinway'—and his guitar or 'git-fiddle'. There wasn't an instrument he couldn't make music out of."
Ann later signed with MGM, who loaned her back to Republic for Autry's "Public Cowboy No. 1" (1937). When asked if she received a bonus for this outing, Ann screeches, "Are you out of your gourd?(Laughs)" As for Republic in general, she's pleased to say, "It was not Poverty Row. I watched it grow from two soundstages when Trem Carr turned it into Republic. He built it up. It had a good western street. It was located out in the San Fernando Valley—and that was in the country back then. Property was cheap and you could buy an acre for $100. That's how Bob Hope and some of the others made so much money—buying up Valley property at low prices and developing it!"
Asked about some co-stars, "Fern Emmett was a nice actress—we worked together more than once. And Robert McKenzie—I knew the whole family. His wife Ella was a character actress; and their daughter, Lolly, was married to comedian Billy Gilbert. Their other daughter, Fay McKenzie, worked with me in 'Student Tour' ('34). (Fay also co-starred with Gene Autry in several features.) My sister, Judith Arlen, was a Wampus Baby Star of 1934. Those girls appeared at World's Fairs. Once, when she was out of town. I was doing radio under my real name, and when she received a call for 'Student Tour,' I told them, 'Judith can't come—I am Joanne Arlen—can I come instead?' So I went and they picked me to be one of the students! The singing cop, Phil Regan, was the lead."
Could she ride a horse? "Of course everybody claimed they could ride, but nobody could—you'd see the air full of people falling off horses. Thank God for pummels! I always rode side-saddle—but I wanted those pummels to hold on to! In one of those movies, I almost drowned! (Most probably John Wayne's "Oregon Trail" ['36].) I'm in a wagon with a little girl and an old man, near a stream. We were supposed to ride this wagon over the shallow spot. Naturally, the wagon turned over! I grabbed the little girl, who was about six, and told her to hang on. It scared the liver out of me! Today, unions would have protected us against such things—but not then! In those westerns, they'd be doing shots of men riding hell-bent-for-leather. Then they'd stop—have makeup put on them to look like Indians—then they'd start riding again—chasing themselves! (Laughs)"
George Montgomery was in Gene Autry's "The Singing Vagabond" (1935), "but he didn't mention it to me when we did 'Orchestra Wives' (1942) together seven years later! He didn't want me to know he was George Letz at that time. (Laughs) George was a good looking kid; a good actor; fun; wonderful, dear and sweet with two wonderful kids by Dinah Shore! His talents are unlimited—as a sculpturer, furniture-maker—whatever it is, George is excellent at doing it!"
It wouldn't be Republic in the '30s if Ann hadn't worked with John Wayne. "John Wayne was always so relaxed. He wanted them to stop making him sing—and he didn't sing in our pictures. (Wayne's singing voice in movies was dubbed in by Bob Bradbury, Bob Steele's brother for "Riders of Destiny" ['33], and later by Jack Kirk for "Westward Ho" ['35].) He was a very nice man. I liked him a lot and it didn't surprise me when he became a big, big star. He was charming, and so attractive. He was a good father, even then. He let his kids come on the set! But I didn't bump into him later on.

Once a year, someone will ask me if I have a copy of 'The Oregon Trail' ('36), our 'lost' picture. The last ones to ask me about it were John's kids! Even John Wayne didn't have a copy of it, unfortunately! John Wayne had about him an aura—a presence. The only other person I know who had that was Clark Gable. Wherever he sat it was the head of the table. He was dearly loved by every member of the cast and crew. I don't think I've ever heard anyone say an unkind thing about John. He ate lunch with the grips and the crew and his loyalty is absolutely legendary. He always used Ward Bond, Yakima Canutt, Paul Malvern, Ed Faulkner…as long as John Wayne had a job, his friends had a job. If you were gonna work, he'd see to it that you did. He was a special man. I cherish the thought I worked with him."
Legendary stuntman Yakima Canutt doubled Wayne in those early B-Westerns as well as often playing a heavy. "I loved Yak; he was unbelievable! He could do anything! He'd do running W's on a horse. I'd get upset over the way horses were treated in those days. Yakima was miraculous—he could hold on, under eight galloping horses—he practically made the impossible possible!"
Ann Rutherford was friends with Rand Brooks for over 60 years. "We met on a Hardy family picture—he played a bandleader. He was so nice. My mother loved him and my grandmother loved him! He is the first person I knew who bought a big black car—then removed all the chrome. He has class! He is so darling. We did four or five pictures

together. The second was 'Dramatic School' ('38). Then, of course, 'Gone With the Wind'('39). He got the part of Charles Hamilton before I landed my role. Louis B. Mayer at MGM told me, 'David (O. Selznick) wants to borrow you, but I said no, because your part doesn't drive the story.' I begged and beseeched Mayer. Nagged and wept and carried on until he finally let me do it—but only when I got time off from MGM and when I wasn't needed on a picture! David O. Selznick thought I closely resembled Barbara O'Neil, who played the mother. Our profiles did show a resemblance. Two brunettes in the picture—that allowed Evelyn Keyes, who had lighter hair, to be cast. The original picture was longer—Selznick shot 12 hours, so scenes that didn't 'drive the story' were cut—and that means most of my scenes! Plus, they tightened up the scenes that I was in! Every 15 to 20 years, we had reunions—the best one was in 1968. Vivien Leigh had died, but Olivia De Havilland came over from Paris for it. The last one was in 1989, in Atlanta. Somehow, Frank Junior Coghlan got overlooked in the invitations—he was not happy about it. (Laughs)."
Asked how Ann got from Republic to MGM, she reveals, "My mother had to go to court and swear I had lied about my age when I signed the contract. This made the contract null and void and I was able to take MGM's offer! I was supposed to play Polly Benedict in the first Hardy family movie, 'A Family Affair' ('37). They had a good looking young boy, Frankie Thomas, positioned to play Andy Hardy. I was taller than he, so I left for awhile and came back in flats with my hair flat on my head. The studio liked the idea that the girlfriend was taller than the boyfriend. Unfortunately, that summer, Frankie Thomas had a growing spurt—he grew six inches, so he was 'too tall' for Andy. They scrounged around, got Mickey Rooney, and brought him in. Then, I was doing a picture, 'The Devil is Driving' (1937), at Columbia with Richard Dix. Well, Mr. Dix was long-in-the-tooth. One day he tripped and broke his arm and couldn't finish the picture. So I wasn't through with 'The Devil is Driving' when the first Hardy picture began shooting. Margaret Marquis replaced me, but just for that one time." Ann smiles, "The Hardy family pictures had such a wonderful outlook on life that they caught on with young people, as well as old, which is partly attributable to Mickey

Rooney, a gifted dynamo who had some wonderful ideas over and above what was in our scripts. I started at MGM at $350 a week, and always got my raises! I went up to $500 a week and so forth."
Before leaving MGM, Ann was borrowed by Universal for "Badlands of Dakota" ('41). "I enjoyed that and all the actors in the picture—Robert Stack, Broderick Crawford, Lon Chaney Jr. etc. Frances Farmer was lovely. I was so very impressed with her."
Ann's only Grade-A Western at MGM was 1940's "Wyoming". "We had fun locations in Jackson Hole, Wyoming. I loved being there. Marjorie Main had this big machine she brought, some sort of juicer that made vegetable juice out of everything she squished in it. What a character she was! She'd
wear bloomers and would put those white undertaker gloves in those bloomers. She was a fanatic about dirt and dust, so whenever she needed to open a door, she'd take out those gloves and put them on before she would open the doors! (Laughs). One day, I didn't have to work, so my mother and I were going to drive to nearby Yellowstone National Park. Marjorie wanted to go, and when she got to the car my mother was sitting in the front seat. Marjorie shouted, 'Hey, put Mom in back. I throw up if I don't ride in front!' We weren't gone five minutes when she cracked down the window and stuck her head out, inhaling and exhaling. She loved doing that! It wasn't long before she didn't have a hair-pin left. Her long, long hair fell down, making her look like Gravel Gertie (of the Dick Tracy comic strip)! (Laughs) Her hair was waist length! She took her shoes off, so her bare feet were on the floorboard. 'Oh, that feels so good' she'd say! It took us two hours to get there. We were at Old Faithful and a gang of people were standing around it. Although it was a large crowd, Marjorie Main pushed her way through the people up to around the ring. Then it erupted. Marjorie raised her head and screamed, 'Great God Almighty! It's the coming of the Lord!' (Laughs) She dropped to her knees—she was a Holy Roller I think! She was praying on her knees. We were there two hours and I was a wreck!"
Asked about Wallace Beery, the star of "Wyoming", who is infamous for being uncooperative, "I don't like to speak ill of the dead. But this poor soul—he would steal scenes from that lovable child actor Bobs Watson! He would take to scratching his crotch, or pick his ear and examine the wax. Anything to get attention on himself and off the other actors. We had a scene together. We rehearsed it and when we shot it, Mr. Beery did a monologue—saying both his and my lines! He took all my dialogue and I said, 'Cut! I didn't know this was a monologue' and I went to my dressing room. I was right. This was an old trick of his! He was also a kleptomaniac—he would take stuff off the set before we were finished with it. They'd need to shoot at a different angle and things would be missing—he'd swiped them! He drove the script girls crazy!"
Following her tenure at MGM and Fox, Ann returned to Republic for 1946's "The Madonna's Secret" as well as the all-star "Murder in the Music Hall". "Vera Hruba Ralston was in that one. Herbert Yates, the head of the studio and her future husband, put a full page picture of her in the trades once a week, with a caption underneath the photo stating she was the most beautiful woman in the world. I know this embarrassed her. She is dear, sweet and kind. But she married the old toad. At lunch, he would muffle himself up so they could go to the ice rink—she never ate lunch with anybody else. She earned whatever money she got out of him!"
For the 1949-1950 season, Ann was "Blondie" on radio in the role originated by Penny Singleton. She was also heard regularly on "The Eddie Bracken Show" as Eddie's girlfriend, Connie, between 1945 and 1947.
By the early '50s, Ann had slowed down her career. "When my baby preferred the Nanny's company to mine, I fired the Nanny and stayed home with my daughter." She did continue to make an occasional film or TV show. "Just to keep my hand in. I was friends with Gail Patrick (executive producer of the "Perry Mason" TV series [1957-1966]) and her husband Cornwall Jackson, as well as 'Perry Mason' author Erle Stanley Gardner. Erle had a kind of factory at his home—there were five little cottages filled with secretaries. He'd dictate all day, or until he got tired, in one house; then go down to the next one and work on another book! So, I did a few of the 'Perry Mason' TV shows." Among her other TV work was a "U.S. Marshal" ("I don't even remember that show.") and a "Tales of Wells Fargo", both in 1959. "That was a Western and that was fun. Dale Robertson was a very nice man. He was gorgeous!"
At 94, the gracious Ann Rutherford died on July 11, 2012 in Beverly Hills, CA.
Ann's Western Filmography
---
Movies: Melody Trail (1935 Republic)—Gene Autry; Singing Vagabond (1935 Republic)—Gene Autry; Oregon Trail (1936 Republic)—John Wayne; Lawless Nineties (1936 Republic)—John Wayne; Comin' Round the Mountain (1936 Republic)—Gene Autry; The Lonely Trail (1936 Republic)—John Wayne; Public Cowboy No. 1 (1937 Republic)—Gene Autry; Out West With the Hardys (1938 MGM)—Mickey Rooney; Gone With the Wind (1939 MGM)—Clark Gable; Wyoming (1940 MGM)—Wallace Beery; Badlands of Dakota (1941 Universal)—Robert Stack. Television: Tales of Wells Fargo: Branding Iron (1959); U.S. Marshal: A Matter of Friendship (1959).