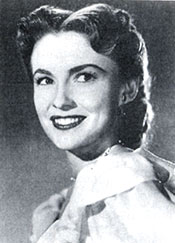 JOAN LESLIE
Joan Leslie, the beautiful star of so many Warner Bros. classics of the '40s has had a most unique and diverse career. Debuting in a small part in Greta Garbo's "Camille" ('36), the child actress (born 1/26/25) had roles in many films—including the Nancy Drew and Jones Family series—before hitting the big time in 1940 when she landed the role of the lame girl, Velma, in Humphrey Bogart's "High Sierra".
Warners gave her a new last name (Joan Brodel—pronounced Bro Dell—is her real moniker), and a long term contract which resulted in starring roles in such classics as Sergeant York" ('41) and the 1942 Best Picture winner, "Yankee Doodle Dandy".
Shortly before her tenure at that studio, young Joan had her first leading part, opposite Jimmy Lydon in "Two Thoroughbreds" ('39) at RKO. "What I remember most is the lifelong friendships I developed with Jimmy and director, Jack Hively. We shot it in Sherwood Forest, near where Errol Flynn had made 'Adventures of Robin Hood'. I went row-boating on Lake Sherwood with Jimmy's double. That was loads of fun."
Following in the footsteps of other dissatisfied Warners stars (James Cagney, Bette Davis, Olivia De Havilland), Joan took them to court in '46 because she wasn't getting the roles she felt she deserved. She won the battle but lost the war! "My last film there, 'Two Guys From Milwaukee', was another starring part—with Dennis Morgan and Jack Carson. I'd been given, in writing, that I was a 'star' and would always be given 'star' parts at the studio. When I sued, they changed the billing on the film. Originally, it said 'Dennis Morgan, Joan Leslie and Jack Carson in…' They made it 'Dennis Morgan and Jack Carson in… with Joan Leslie!' Very petty. I couldn't believe it. Jack Warner had me blackballed by other studios. It seemed like forever before I could work again, but it actually was only a little over a year. This happened in '46, and in '47, I signed a two-picture deal with Eagle Lion. The first film I made was 'Repeat Performance' with Louis Hayward—a darling man. The second was 'Northwest Stampede' with James Craig."
Several people have said they had trouble out of Craig; and Joan was no exception. "He was a pill…not easy to work with. He seemed to have a chip on his shoulder and it showed in everything he did. We went on location for months to western Canada, near Calgary, where they had the famous Calgary Stampede. We were there shooting during the roundup.

They had the chuckwagon ride—which was often very dangerous. All the things I had to do in the picture were doubled, of course. Then, when it went in for the closeup, the director, Al Rogell, would have me grab a calf, and rope its legs. I couldn't do that (laughs), but I did—in the picture. Also, I had to milk a cow—another thing I couldn't do. I had no idea how to get the milk to come out (laughs). They shot and shot, and when I did manage to get a little milk, they used that piece! The stuntman who doubled me in the chuckwagon race had to wear a red wig, of course. This embarrassed him no end, and he had it announced, each time, that he was doubling Joan Leslie, so no one would think he was wearing a red wig for any other reason (laughs). There's a scene where I'm riding into the barn. James Craig and Jack Oakie were in the foreground inside the barn. And I was posting! There were a couple of wranglers entering with me. When I got within 20 feet of the camera, I was riding correctly! I had to watch that!"
About some of the film's co-stars, "Jack Oakie was so great. His wife, Victoria Horne, came up there. Jack was a little hard of hearing, and I didn't get to know him that well, but Chill Wills was a joy, such a sweet, intelligent man. He wrote the song that was in it. We became great pals. Some of the quite beautiful exteriors were filmed at a ranch that belonged to the Duke of Windsor, who wasn't so popular with the Canadians at that time. In my two Eagle Lion films, the pay was good and the parts were good. So much for Jack Warner!"
Joan Leslie married an obstetrician, Dr. Bill Caldwell, in 1950. In '51, she gave birth to twin daughters and returned to work. Her first picture back was "Man In the Saddle" with Randolph Scott. "My memories of this are dim, because I was more concerned with being a wife and mother. In fact, I don't even remember doing a scene with Ellen Drew! The main thing I remember is my daughters got sick, and I called the studio to say I wasn't coming in. I thought they could shoot around me for the day, because they knew I had a cold too. Instead, they simply cut the scene we were to shoot that day! They were really furious. Another example of the pettiness you deal with in pictures! But there were some pluses. The producer let me decide on which role I would play. We thought it more interesting if I played against type and portrayed the heavy, giving Ellen the good girl role! I thought the director, Andre De Toth, was very good. Randolph Scott was a joy to work with, elegant, such a gentleman, and so devastatingly good looking. A charmer with beautiful eyes. I compare him to Gary Cooper, but Cooper had more versatility. Randy was so at ease on the set. There were some locations in the picture, but I didn't have to go. I told my agent that after the marriage, I wouldn't do any role where I had to stay overnight."
As for John Russell, "He looks like Jimmy Smits of 'NYPD Blue'. He had enormous sex appeal—yet wasn't a terribly experienced actor when I first met him. He had a female manager who really pushed him, promoting his career, but something was lacking—he really never made it big like he should have. That's similar to Alexander Knox, who played my husband. He was fabulous as 'Wilson' in 1945 but didn't live up to his potential. It's strange how some people you'd think would be big, big stars, don't seem to be able to pull it off."
Signing a three-picture pact with Republic, Joan played opposite big band leader and singer Vaughn Monroe, who had a two-picture pact with the studio. "We were in 'Toughest Man in Arizona'. Vaughn was just great. My husband and I like to dance, and one time we went out to dinner with Vaughn and his wife. He was the most sought-after band leader by colleges at that time—a lovely man, but it was so hard for him to adjust to pictures. He was imposing, with big shoulders. Fun to get to know. He was riding high under his MCA recording contract—he had that wonderful tonal quality; a very, very nice man. Dignified, but not completely comfortable in front of the camera; he could give a bad reading to a line. He was a little stiff and didn't blend easily to pictures. If he'd had a dramatic coach, perhaps he could have gone further in the business. He was handsome, as well as a great singer. And Harry Morgan—who we called Henry at that time—played my husband who is killed. Harry has a dry humor and is such fun to be around. I asked the director, R. G. Springsteen, if I could shoot at the Indians when they were attacking, but he wouldn't allow it." Jean Parker was also in the picture. "I especially adored Jean—I thought she was so beautiful!"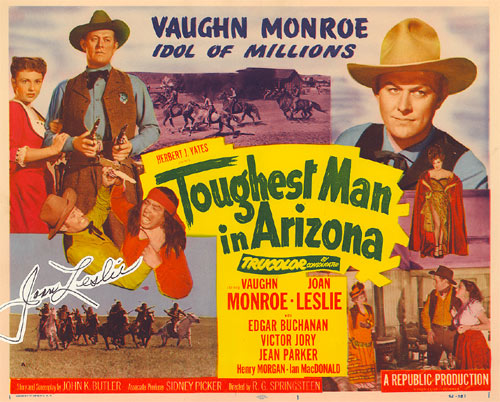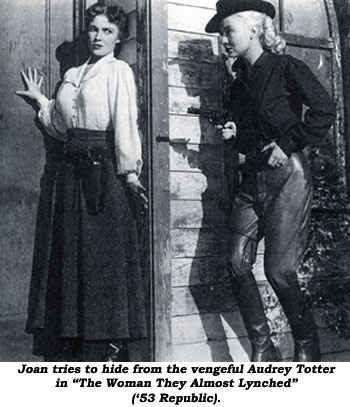 In '53, Joan starred in "The Woman They Almost Lynched" with her good friend Audrey Totter. Ben Cooper was also in the film. "I worked with Ben three times. He's a very good actor—he was very good in 'Flight Nurse'. The other picture was 'Hell's Outpost'. As for 'Woman They Almost Lynched', Audrey Totter was so very good—we got a tremendous kick out of the fight. I have a still of it! In a big picture, you are on the set, watching your doubles do the fighting; but not here. I went on the set to do the closeups, without any idea what had been staged by the doubles! I had a terrible time with it. I was supposed to hit Audrey, and I just couldn't. Not hit her on the face! Director Allan Dwan tried to explain, and Audrey told me to go on and do it. Somehow it did get done, but it was a very difficult thing to do. Also, the story is a little odd, although I like that I later hide Audrey upstairs in my bedroom. The movie is dramatic but silly. Actually, it's a pretty fast-moving little movie. It's odd the way Republic brings music into the story—it's a scream, it seems out of place! Not legitimate. Audrey later told me she played the whole thing for farce, while I was doing it straight. The movie was loaded with stars—Ann Savage I liked, she was a pretty girl. John Lund had been big at Paramount. Brian Donlevy was a good name, and still looked great at this time. There is one scene I found stagnant. Ben Cooper and I are in the stagecoach—where he tells me he is Jesse James. They had this two-shot that is interminable. It went on forever, it seems. They never went in for a closeup—too cheap. It was done early on and they probably felt there wasn't time or money to do the closeups that were so badly needed in that sequence."
About Jim Davis: "This was the second time I had worked with Jim. I knew his wife—a fashion expert at Orbachs. In this movie, Jim came up to me one day and said, 'They haven't taken any stills of me. I have billing and a pretty good little part, but they won't have any record of it.' So, I went to Allan Dwan and said, 'I want some pictures together with Jim.' Dwan was startled, but Jim got in the stills! As for the film itself, I didn't feel it was well lit, until the end—then they lighted it better. A leading lady cannot be her prettiest unless she is properly lit!"
Joan made two other westerns, "Hellgate" with Sterling Hayden, and "Hell's Outpost", a modern-day road-building western with Rod Cameron. "'Hellgate' was produced by John Champion, written and directed by Charles Marquis Warren. Sterling Hayden was very nice, but quite stiff. Ward Bond I wish I had gotten to see again; we did 'Sergeant York' together years earlier. James Arness, Peter Coe, and the others I don't recall ever meeting! But we shot fast in those days, so it is understandable."
As for "Hell's Outpost": "Kristine Miller I still keep in touch with. We became very good friends. She and I were both married by this time, and we eventually got to calling each other 'Mrs. Schuyler' and 'Mrs. Caldwell'. She is a charming girl. She taught me to play scrabble. I was terrible! (laughs) I did my imitation of Ingrid Bergman in 'Gaslight' for the cast. That turned out very well. (Laughs) James Brown was so sweet—a very nice guy. He had the look of the character he was playing. Like a mechanic; or an officer—not as big an officer as Richard Simmons, but just the right look for the part. Joe Kane directed. He was a great, huge fellow. We worked together a couple of times."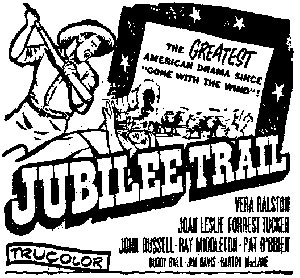 Leslie's last film for Republic was "Jubilee Trail" with Forrest Tucker. "Pat O'Brien was also in this—we had known each other for years, going to so many charity benefits together. I adored Pat and his wife, Eloise. The four of us attended a premiere in New Orleans. I thought so well of him, and the feeling was mutual. On the various interviews we did, we complimented each other so much the studio told us to stop it! (Laughs) Vera Ralston was top-billed. I thought she was awfully good in that, and it was a good part for me. We got along fine, which was unusual since hardly anybody really got along with her, because she was married to the boss, Herbert Yates. Everybody seemed to take her absolutely lightly. Joe Kane thought she rehearsed in Czechoslovakian! (laughs) He would get so angry with her—but not in front of her. He never let her know it! Rudy, her brother, was put on as assistant director. He had to do something you know. Forrest Tucker bragged about his importance to women. He didn't bother me, but that did get on my nerves. I was irritated by him when he came to inquire about our kiss, which would close the picture. He told me he felt the kiss should show a lot of maturity, and wanted to know if I agreed. I snapped back, 'Yes, I do—Do you think you can handle it!?' I couldn't believe I told him off; that just isn't me, but that bragging had kind of gotten to me. I did think he was so funny on 'F Troop', and I was pleased about his success. Tuck was, generally, a nice guy. Years later, I asked him to come to St. Anne's, where I do a lot of charity work. Just make an appearance. He came with his wife and spoke to the audience. He was very gracious! There was another actor we haven't mentioned, Ray Middleton—he was great. Republic had this theory that if they put every character actor around in a role, it would make it a good picture. I think their theory was correct!"
By the mid-'50s, Joan had ventured into TV, including some westerns. "I did a 'G.E. Theatre' and a 'Branded' with Chuck Connors. I thought he would have made a great producer and director; but he never did. He was handsome in an unusual way—and he had a lot of input. I told him I thought he knew as much about the business as Cagney, and that greatly pleased him!"
In recent years, Miss Leslie has appeared in several TV pilots, "I don't know why 'Shadow of Sam Penny' with Robert Lansing or 'Charley Hannah' with Robert Conrad didn't sell. I do know why 'The Keegans' didn't make it. The leading man (Adam Roarke) was hooked on drugs—he was not dependable—they were very upset with him. The same thing happened with the star of 'Grace Under Fire'. They gave her time off to get her act together, but she got back on drugs, and they cancelled her show. Things are certainly different than in the good ole days."
Perhaps Hollywood will wake up (wise up) and return to the time when scripts had a story, and stars like Joan Leslie Caldwell had morals.
Joan's Western Filmography
---
Movies: Northwest Stampede ('48 Eagle Lion)—James Craig; Man In the Saddle ('51 Columbia)—Randolph Scott; Hellgate ('52 Lippert)—Sterling Hayden; Toughest Man in Arizona ('52 Republic)—Vaughn Monroe; Woman They Almost Lynched ('53 Republic)—John Lund; Hell's Outpost ('54 Republic)—Rod Cameron; Jubilee Trail ('54 Republic)—Forrest Tucker. TV: Ford Theatre: Old Man's Bride ('53); GE Theatre: Day of the Hanging ('59); Branded: Leap Upon Mountains ('65).