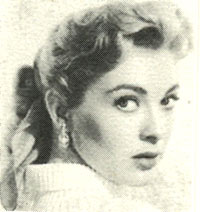 Vivacious, blonde, beautiful Lori Nelson was born in Santa Fe, NM, August 15, 1933, but her family soon moved to California. "I was five years old when we relocated to LA, so I consider myself almost a native Californian. Although my parents had southern accents—they were from Texas—I never thought I had much of a drawl, so I didn't have to lose any dialect."
Signed to a term contract at Universal-International while still in her teens, Lori—real name Dixie Kay Nelson—soon became one of U.I.'s most popular stars, appearing in a wide range of parts—from Francis the Talking Mule and Ma & Pa Kettles, to "Revenge of the Creature" and dramas like "All I Desire" with Barbara Stanwyck.
Lori was frequently cast in westerns beginning with her second picture, "Bend of the River" starring Jimmy Stewart. "I wasn't around him much, until we went on location, then I got to know him and Arthur Kennedy. Jimmy is very nice, a real doll, but I suppose everybody says that about him. He's a sweetheart to everybody." A great deal of location shooting was filmed in Oregon. "It was about three and a half weeks around Portland—most of it up near Timberline Lodge, close to Mt. Hood. Timberline Lodge was rustic, actually a ski lodge, and there was skiing going on while we were filming. I didn't ski but others did enjoy it. The outside was made of stone and they had St. Bernards, just like it was Switzerland."
An incident that could have proven disastrous actually came in handy for Lori shortly before shooting began on "Bend of the River". "I had a bad sunlamp burn. Luckily, it went away so it didn't keep me from doing the picture. But being outdoors so much, and in that weather—with the sun reflecting on the snow—it seems everybody got blistered on their lips, everywhere! Everybody—BUT ME! I guess I built up an immunity to it because of just getting over the sunlamp burn!"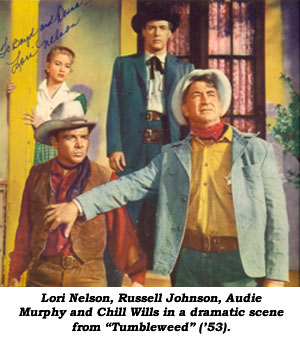 Lori had a most unusual break, starring opposite "loner" Audie Murphy in two pictures, "Tumbleweed" and "Destry". "I don't know why that was. We were both under contract to Universal. I guess he just liked me." In the mid-'50s, Lori began to freelance. "The only loan-out I had at Universal was to RKO for 'Underwater'. Howard Hughes wanted me for the lead and he paid Universal a fortune. However, Jane Russell owed them a picture. They didn't have a vehicle for her so they gave her my role and built in a little part for me."
A wide range of pictures came Lori's way, everything from the musical-comedy-western spoof, "Pardners" (with Dean Martin and Jerry Lewis) to teenage-oriented flicks like "Hot Rod Girl". "I did 'Untamed Youth' for producer Howard Koch years before he became the head of Paramount. He liked me and I immediately did 'Outlaw's Son', playing opposite Ben Cooper, who was Dane Clark's son in the picture. As producer, Howard wanted me—but he also wanted a brunette for the part—so I wound up wearing that black wig. At least they didn't dye my hair! I still see Howard from time-to-time. It's been a couple of years or more now, but we have remained friends."
Of a later western credit, "Mohawk", Lori remains vague, "I remember Rita Gam, Allison Hayes, Scott Brady of course, and Neville Brand."
Lori smiles, "It's funny about career choices. I had to fight to test for the Janet Leigh role in 'Walking My Baby Back Home'. Janet couldn't dance at the time and I could—but she was a bigger name. I also fought to get the role Piper Laurie had in 'Son of Ali Baba'. Luckily, I lost that one. The one I didn't want to do was 'Revenge of the Creature'. Science-Fiction was considered bottom of the barrel in those days. Of course, that's the picture I am most remembered for. It's very ironic! (Laughs) There were a lot of jokes about ichthyologists in those days—that's the study of fish."
Lori worked sparingly in TV, appearing on episodes of "Laramie" (of which she remembers nothing) and "Wanted Dead or Alive."
Married over 10 years to a retired Los Angeles policeman, Lori resumed her theatrical career, appearing in 1994 opposite Lloyd and Beau Bridges in "Sins of the Father".
Lori's Western Filmography
---
Movies: Bend of the River ('52 Universal-International)—James Stewart; Tumbleweed ('53 Universal-International)—Audie Murphy; Destry ('54 Universal-International)— Audie Murphy; Mohawk ('56 Republic)—Scott Brady; Pardners ('56 Paramount)—Dean Martin/Jerry Lewis; Outlaw's Son ('57 United Artists)—Dane Clark. TV: Wanted Dead or Alive: Bounty for a Bride ('59); The Texan: Man Hater ('59); Wagon Train: Steele Family ('59); Sugarfoot: The Gaucho ('59); Tales of Wells Fargo: Relay Station ('59); Laramie: Trigger Point ('61); Whispering Smith: Double Eagle ('61).