Beautiful, demure Mae Madison was born Mariska Medgyzsi in L.A., CA, September 17, 1915. "My parents were Hungarian, but of course I was born over here, and am an American. (Laughs) My uncle played for the San Francisco Symphony—he, of course, was also from Hungary and no one could pronounce—or spell—the name. So, he came up with Madison. And we followed along. I have a cousin who is older than I, and her name is Mae. I took that name too!"
As for her start in show business, especially at such a young age, "I began dancing as a little girl. Ballet. When I was 5 or 6, I took lessons and at age 9, I landed my first job! Ethel Meglin had her Meglin Kiddies—Shirley Temple was one of her students. I took tap from Ethel—I'd studied ballet 3 or 4 years when she hired me to teach ballet on Saturdays at 3 different places. I received 50 cents each Saturday, plus my sister got free dancing lessons!"
As for a first professional job, "I worked at the Long Beach Exposition Festival. I went down, but all the dancers had been filled, so I tried as a singer and got the job. But, before I started, I was put in as a dancer. In 1928 Fox started making musicals. I borrowed clothes—high heels, lipstick, that sort of thing, from an older friend, and auditioned. I was the next to last girl picked! I kept praying I'd be picked, and I was! The guy said, 'Oh, girlie, come over here!' And I got the job! This was for the '29 'Fox Movietone Follies'. Sue Carol, who'd later be a top agent and the wife of Alan Ladd; Lola Lane of the Lane Sisters, and Dixie Lee were the stars. Bing Crosby was singing at the Ambassador Hotel—the Coconut Grove—and he was courting Dixie at the time."
Asked about being underage and any problems it might have caused, Mae told me, "I would go to school on the set—four hours a day. The rest of the time was spent rehearsing, or filming. I later became a Busby Berkley girl. I was in 'Whoopee' ('30), which was shot in color, and 'Kid Millions' ('32). When you worked for Bus, you always had a job!"
This early experience came in handy for Mae. "I landed a Warner Bros. contract! A man, whose name I cannot recall, asked me to be in his screen test at Warners. He didn't get a contract, but they called me to come back and do a screen test of my own! That test got me the contract as a starlet at Warner Bros. It lasted two and a half years and was very exciting!"
One of her first pictures at Warners was a bit in "The Tenderfoot" ('32) with Joe E. Brown. "I remember working with him. He was very easy going."
John Wayne made his second starring film at WB, "The Big Stampede" ('32), a remake of Ken Maynard's 1927 silent "Land Beyond the Law", loosely remade again under that title in '37 starring Dick Foran. In the Wayne version, the leading lady was Mae Madison! "I was called in to meet Leon Schlesinger, producer of 'Big Stampede.' He asked if I could ride horseback. I couldn't, but lied and said I could. I left it at that—four days later I was cast in the lead! I quickly ran out and took horseback lessons—hurrying to learn to ride! I didn't learn very well. I knew when I got on the set, I was in a spot. (Laughs) I asked the director, Tenny Wright,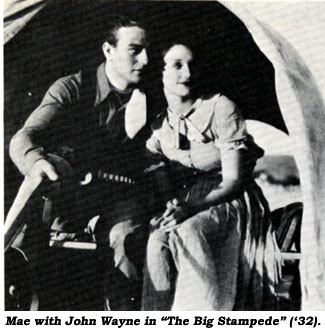 if he'd mind shooting the riding scene at the end of filming. I was still trying to learn, and he agreed! Wright was a very nice guy, as most directors were. That was so sweet of him to delay the filming."
All of Mae's scenes in "Big Stampede" were filmed outdoors. "The cowboys helped me. Came the day of that riding scene, the camera was placed on the back of an open truck, leaving the horse 20 feet back. It finally got time, they were ready to shoot, and I got on the horse. However, John Wayne had spoken to the cowboys about playing a joke on me! They had this black piece of board—and they gave the horse a big whack. The horse zoomed forward and I went backwards—zoom, off the horse! (Laughs) We were all laughing and carrying on. I wasn't hurt, of course. It was all in fun. Finally, I got back on the horse—and they got the shot! It was really funny! (Laughs)"
The film, Mae says, was shot "in the wilds of the San Fernando Valley! Pretty rural back then, but built up now. Cars would take us from the studio each day—there were no hotels out there. It was too primitive at the time!"
About co-star Noah Beery Sr., Mae recalls, "We had only a brief scene together so I really didn't get to know him." She recalls Luis Alberni better. "He was a fine actor. He was also in 'Mad Genius', so excellent in that as a drug addict!" As for Sherwood Bailey, who played her kid brother in "Big Stampede", "He was very good in the movie; not a brat in real life, very well behaved. I think he was in the Our Gang comedies around this time. He had to go to school; everybody goes their own way. I didn't have to go to school, although I was only 16!"
When asked how she managed to avoid the truant officers, Mae laughed, "I got away with a lot of stuff! When I was 12, I got a driver's license by lying about my age! My father taught me to drive—and I drove myself to the studios at the age of 12! Otherwise, I would have had to take three street cars and one bus to get there!" So how could such a tiny person maneuver an automobile? "I could touch the pedals! (Laughs) I was wild! Not too much stopped me."
One of the more memorable things about "Big Stampede" are the kissing scenes. "Yes, John Wayne kissed me, and I kissed John Wayne. (Laughs) It works both ways, you know! (Laughs) I thought it was very good! John Wayne liked Mexican women—so there was no romantic stuff going on between us in real life. Besides, I was pretty young—16, although I don't think he realized I was that young! (Laughs)"
In '35, Mae married for the first time. "I married Jack MacGowan, who wrote musicals for MGM. That didn't work out, so in '37 I went to New York to study for the theater. It was there, at the American Academy of Dramatic Arts, I met Aristide D'Angelo, one of the professors. In '39, we were married. We stayed in New York and had three children—my youngest son died in '87 after an asthma attack. My other son is a doctor in Colorado and my daughter, Laura Madison, is an actress-teacher. She was in 'Hard Country' with Kim Basinger. She's very, very talented."
Widowed in 1960, Mae was left with three small children to raise. "I returned to California in '63—New York isn't a good place for children. I didn't know anybody in the business by this time. It was too hard to get back in, so I went into real estate. My sister-in-law was in real estate, and this helped. So, when the kids needed me, I could take off and be there for them. In acting, I couldn't do that at all. The life of a realtor is like being a gypsy! I've lived in the Valley, in Riverside, Covina and now Claremont, CA. I've moved all over the place! Four years ago, I even did return to acting, doing a commercial for Kasier Permanente HMO. They revived it a year or two later. In 2000, I appeared as myself, in interview-form, in 'I Used to be In Pictures'."
At 89, Mae died November 1, 2004.
Mae's Western Filmography
---
Movies: The Tenderfoot ('32 WB)—Joe E. Brown; Big Stampede ('32 WB)—John Wayne.