EVELYN KEYES
Evelyn Keyes, Scarlet O'Hara's Little Sister, was born November 20, 1916, in Port Arthur, TX, but relocated to Atlanta, GA, where she was one of many Southern belles who hoped to land the prize role of Scarlett in "Gone With the Wind".
At first, she was at Paramount where one of her initial roles was in "Sons of the Legion" ('38), playing opposite Tim Holt. "Tim was so handsome and so talented! We were both teenagers, but I thought him very manly, macho. He'd been to a military academy, so he seemed very mature. He was also a highly sought-after guy—all the girls went for him in a big way. I was so green in those days—very shy and insecure. Of course I knew Tim throughout the years, and was on location with him when he co-starred in my third husband John Huston's 'Treasure of the Sierra Madre'. I went on location down near Mexico City, where Humphrey Bogart's wife, Lauren Bacall, referred to John as 'The Monster!' (Laughs)
Back in '38, I was given a small role in 'The Buccaneer' starring Fredric March. Well, Mr. March invited me into his dressing room, and I went. (Laughs) This rather 'oldish' man took my hand, and placed it underneath his pants—at his crotch! (Laughs) I had no idea what to do—although it wouldn't take me much longer to find out! (Laughs)"
It was in '38 when Evelyn Keyes married her first husband, Barton Bainbridge. "He was blonde, handsome and the son of an ambassador. I was 18 and he was 27—so I really thought he was mature. He went to school in India, and he introduced me to bars. Although I knew a drunk who lived next door back in Atlanta, I didn't associate Barton with that man. I should have—the drinking led to despondency—Barton kept a gun and kept threatening to shoot me, or himself. In 1940, he took a shotgun and blew his brains out—spattering them all over my old white Pontiac. He left his blue convertible Packard untouched!"
It wouldn't be much longer before Evelyn landed that aforementioned role as Scarlet's sister in "Gone With the Wind" ('39). "Of course my role was much larger, but they whittled it away—leaving Vivien Leigh's part intact, of course."
"Then I went to Columbia, where I stayed for over 10 years. My seven year contract started at only $150 a week, but I could move out of the Studio Club and into my own place!" One of her first assignments was "The Lady In Question" ('40). "An unknown Glenn Ford played my older brother. It was my first encounter with Glenn, who had a big reputation as a ladies man. He and William Holden kept an apartment at the Chateau Marmont—they'd bring their 'lady' friends there. (Laughs) As we were both at Columbia, we'd work together quite often in the future."
Evelyn's first western (other than a small role in "Union Pacific") was "Beyond the Sacramento" with "Wild Bill" Elliott. "Bill was tall and handsome, and seemed more like an Easterner than a westerner, to me anyway. I thought it a nice little picture, but it was quite short—less than an hour long, as I recall, but good training ground for me. It was loaded with plenty of good ole cowboy movie people—bad guys, you know what I mean. Some of it was filmed up at Ray Corrigan's Ranch, but when it could be, we filmed at the Columbia ranch in Burbank. The director was Lambert Hillyer, who used to do a lot of the spooky pictures at Universal. By this time, he was churning out 'oaters,' as they were called. All I did in the picture was stand around a bunch of horses! (Laughs)"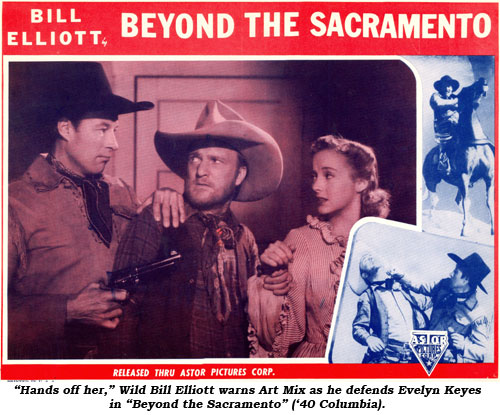 "Speaking of those horror things, I did two for Columbia at this time—'Behind the Mask' ('41) with Peter Lorre and 'Before I Hang' ('40) where I play Boris Karloff's daughter." Finally, Evelyn landed a plumb role in a class 'A' picture, "Here Comes Mr. Jordan" ('41) with Robert Montgomery. "From there, I went into 'Adventures of Martin Eden' ('42), a Jack London tale with Glenn Ford, and my first big budget western, 'The Desperadoes' which starred Randolph Scott, Claire Trevor, Glenn Ford and myself. Its director was the Hungarian, Charles Vidor. Actually, I had fallen in love with him in '40—when I was still married to Barton. But Charles was married to the actress Karen Morley, and they had a child. Charles told me Karen and the kid were back east, on a trial separation, and I believed him. He had directed me in both 'Lady in Question' and 'Ladies in Retirement'. 'The Desperadoes' was highly touted, because it was Columbia's first feature in Technicolor, so I felt blessed, in a way, to be in it! The cast was fabulous—Big Boy Williams was in it; Raymond Walburn and Edgar Buchanan, who seemed to be in almost everything Columbia did. Charles and I went off to Kanab, UT, to make the film. Claire Trevor played the whore with a heart of gold, while I always played the nice young thing. But in real life, Charles and I were living together openly. I tried to get him to marry me—but Karen and Charles didn't seem to be in any hurry about obtaining a divorce."
"Life was imitating art—remember in 'That Touch of Mink' ('62), where Doris Day breaks out in a rash when she and Cary try to make it and aren't married? Well, I started to sneeze. I had this beautiful Palomino horse—it had just had a foal, and whenever I was near it, I broke out in big sneezes! It was a wonderful photographic sight—the horse's blonde hair flowing in the breeze, its foal nearby, and the blonde leading lady sitting straight up in the saddle, sneezing her silly head off. (Laughs) 'Get rid of the horse' was screamed—but that didn't help. A horse was a horse, and I kept on sneezing! (Laughs) What is a western without horses? Somehow, after the usual stampedes, fistfights in bars, bucking horses and shoot-outs, we managed to get through the thing! (Laughs) And if you'll recall, I did not sneeze when I was near the horses in 'Beyond the Sacramento!'"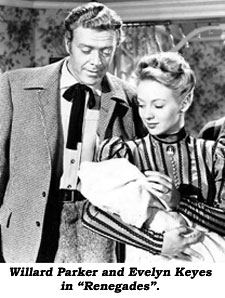 It would be another three years before Evelyn made another western. "I was put into 'Renegades' with Larry Parks, Willard Parker, Jim Bannon, Forrest Tucker and Edgar Buchanan. I was not pleased, and I went to Harry Cohn to complain. 'God, another western!' I hated working outdoors in the wind and dust. I said to Harry, 'And I'm allergic to horses, don't you remember?' 'We'll keep you away from horses,' he retorted back to me, while sitting comfortably behind his desk. 'Do I have to?' 'The more you're seen, the bigger you'll become.' 'But in crap?' 'It's in color.' I lost the argument. My big scene in this one was having Larry Parks' baby in the wilds (it was also shot partly at Ray Corrigan's ranch), without medical help, of course."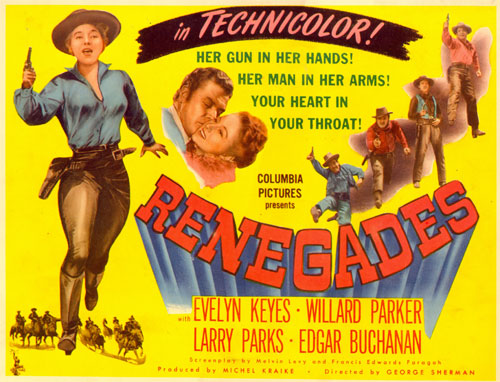 "The same thing happened three years later," Evelyn recalled, "in the Northwestern true-life adventure 'Mrs. Mike' with Dick Powell (but up at Big Bear this time), then, again, in '51's non western, 'The Prowler' with Van Heflin."
Keyes worked steady throughout the '40s and into the '50s when she relocated to Universal-International. Her professional career was going strong, but her private life was something else. "Charles Vidor and I married in '43, but divorced in '45. In '46, I wed John Huston, but this wild ride also took the divorce route—in '50. In '53, I got tangled up with Mike Todd, and this lasted until he encountered Elizabeth Taylor—so we split in '56. In '57, I became Artie Shaw's 50th wife (Laughs) and we stayed together an amazing 28 years—divorcing in '85!"
Keyes died of uterine cancer at 91 in Montecito, CA, on July 4, 2008.
Evelyn's Western Filmography
---
MOVIES: Union Pacific ('39 Paramount)—Joel McCrea; Beyond the Sacramento ('40 Columbia)—Bill Elliott; The Desperadoes ('43 Columbia)—Glenn Ford; Renegades ('46 Columbia)—Willard Parker; Mrs. Mike ('49 United Artists)—Dick Powell.