FAY McKENZIE
Once described as "the girl with the blitzkrieg eyes", Gene Autry's frequent leading lady in the early '40s, Fay McKenzie, was born in Hollywood, CA, February 19, 1918, to show business parents, Robert and Eva McKenzie. "There were no hospitals in Hollywood, so I was born at home. My good friend, Marge Champion, whose real name is Belcher, was born only blocks away, in Orange, CA. Blake Edwards called us Tweedle Dum and Tweedle Dee. (Laughs) We are like sisters; very close. Of course I can't dance nearly as well. (Laughs) We've been friends since the third grade."
Fay's showbiz beginning was when, "I was 10 weeks old. I played Gloria Swanson's baby in 'Station Content' ('18)."
Fay's father, character actor Robert (Bob) McKenzie, at one time had his own stock company. "The McKenzie Merry Makers. (Laughs) He directed as well as acted, in stock and in films. We were up at Niles, CA, for about six months before we came to Hollywood. Broncho Billy Anderson, Ben Turpin, Vic Potel, it was a great group of actors. One of my earliest films was 'A Knight of the West' ('21) w/Olin Francis, directed by my father! My mother wrote the story—her maiden name is correctly spelled Heazlitt. Two 'T's, not one, as sometimes it is miscredited."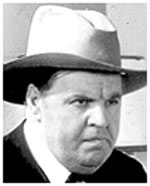 About her father (left), Fay smiles, "He was darling! He never met a stranger. He was absolutely loved by all. A funny, darling guy. A great dad. He told jokes! I honed my acting skills with him. We'd be driving down the road and he'd go into a character or voice and I'd go along with him. (Laughs) He was a photographic study—he'd read it and be up on it. Sometimes, when another actor couldn't handle all the dialogue, they'd call Dad at the last minute and he could do it! He was a fast study; could do anything. When we did the tent show, he'd direct, act, work with the American Legion, everything." As for his hobbies, "Who had time?" As for his dislikes, "People who didn't laugh! (Laughs)"
Asked about pay scales back then, "I don't remember specifics, but I do remember it wasn't very much at all. In the westerns, the girl was paid minimum."
After around 1924, there's a 10-year gap in Fay's credits. "That was so I could go to school and get an education. I was now first grader age and I had to go to school!"
Her first picture back was "Student Tour" in '34. From there Fay went into "Sundown Trail" with Wally Wales. "Oh my gosh, my first grown up role. My father took me. He knew everybody, and I got the job. Even though I was only 15 years old! (Laughs) We shot that in three days, and there was no script. They'd all ride one way and say this, then they'd all ride the other way and say that. (Laughs) It was very improvisational, but a great event in my life. Robert Tansey directed, a cute little guy. He'd been an actor before this—but he was now directing westerns. He seemed like an older man, but I was 16 and 30 seemed old to me. (Laughs) I liked him. I thought him very cute."
Fay's next western was "Thunderbolt" with Kane Richmond. "There was a young juvenile in the film (Bobby Nelson). I found him very cute, and he was smitten with me. My sister was on the set, as I was under age. She told the boy I was in the 10th grade and that ended his infatuation with me. (Laughs)"
Then came "Boss Cowboy". "That starred Buddy Roosevelt. The main thing I remember is there's a big fight, and Buddy saves me from the villain."
During the '30s, there were hard times for many. "My father had a new company, but this time they called themselves The McKenzie Players. It was a tent show on Washington Boulevard.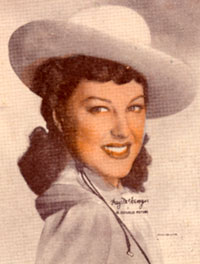 For "Ghost Town Riders" with Bob Baker there was a sudden name change to Fay Shannon. "Later, at Republic, they wanted to change my name again—but I stalled around until the last minute and kept Fay McKenzie. But in 1938, they were searching the country for a Scarlet O'Hara. I came up with the new last name. I thought by using an Irish name, like Shannon, it might help in getting the part. (Laughs) So, for the only time, it was used in 'Ghost Town Riders.' The first day I met Bob Baker he came over and straightened the stirrups for me. I was very thankful, and Bob said 'That's all right ma'am. That's how I got my start—wrangling dudes!' (Laughs)"
In "Ghost Town Riders" Fay affected a Southern accent. Responding if it was her idea, as she played a South Carolina girl, "It was in the script. As for the accent, I have an ear for them. I can listen and imitate any accent. I like to play a game—listening to voiceovers on commercials." As for co-stars, "George Cleveland was a funny, cute little guy. And Forrest Taylor always seemed to play the heavy." As for director George WaGGner, "An actor before being a director. They could relate to actors better."
Although she did appear in small roles, there appears to be another gap in Fay's filmography. "That's because I was in the stage show, 'Meet the People.' We did it in L.A., then hit the road, and finally landed on Broadway. When they wanted to take it on tour, I preferred to return to Hollywood."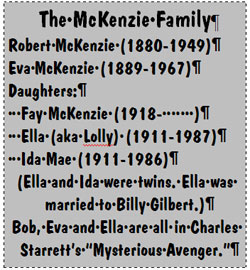 Every actress has a 'horse' story, and Fay McKenzie is no exception. "You do everything—if you want to work. On one western, I was asked if I could drive a buckboard. 'Oh, sure!' (Laughs) Well, in this one picture, I thought I was going to perish. I jumped on the wagon—a-raring to go. The horses took off, and I thought to myself, 'Oh, Lord, this is the end of me!' Then, the director yelled 'Cut!' and those horses stopped on a dime! (Laughs)"
"Death Rides the Range" was released in 1940. "That was before I went on the road with 'Meet the People.' That was a thriller—Ken Maynard and the director, Sam Newfield, were both so nice to me. Sometimes, if you work with big stars, like Ken Maynard, you could be overwhelmed, but Ken seemed to me to be a little long in the tooth at the time. (Laughs) Maybe I shouldn't say that. It's a wonderful thing to tell you, but amazingly, I have no ill will—I was very, very protected—and everybody knew my parents, so no one hit on me. They were told 'She's the McKenzies' daughter—Watch it!' (Laughs) The director, Sam Newfield, was a friend of the family—he was good with comedy; an excellent director."
Among other movies Fay did at the time was "When the Daltons Rode". "That was before I went back east. It was done at Universal. I literally grew up on the Universal lot. They had a poor man's version of Hal Roach's 'Our Gang.' I was the only little girl in the series, which was called 'McDougal's Alley'."
As to how she came to Republic…"My sister Lolly, who was married to Billy Gilbert, designed it. (Republic president) Herbert J. Yates was a friend. My sister said to wear just a bathing suit, draped by the pool. Yates met me, I was asked to come to the studio the next day and test and he signed me for Gene Autry's 'Down Mexico Way' which was a big, big hit for the studio. When Yates would come to California from New York, he'd call and ask me, 'Are you happy? Is everything all right? Is anyone bothering you?' When you have the head of a studio behind you, and he was Billy Gilbert's friend, you have it made!"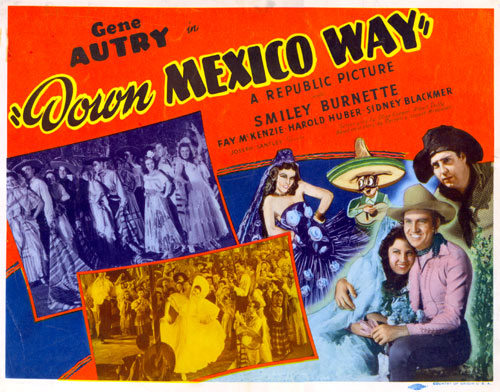 Since she 'had it made,' and since her first Republic picture was a smash, did Fay get a big boost in salary? "No! You went through the regular option phases, with raises, but there was no raise because the films did well. In fact, you could be working for $250 and be loaned to another studio for $5,000 a week, and they didn't give you any of that profit!"
Was it Autry's or Yates' idea for Fay to co-star in Gene's next four films? "The studio's! I got an enormous amount of fan mail so we were teamed from then on!" Fay sang duets with Gene in each of the pictures. "I loved working with Gene, he was terrific! I could sing and that was something the earlier girls couldn't do. Yates knew I had done Broadway; that helped! I could do more than smile and wave at the cowboy!"
Reminded there was a lot of riding in "Cowboy Serenade," Fay smiles, "But they got a double! I can ride—and had learned how to ride fairly young—but I cannot do the trick stuff."
As for Gene himself, "He was also a brilliant businessman! Not a fly-by-night. It was a wonderful, rich experience. I would get to the studio early, about 5, go past the publicity department, and often someone would come out and get me to sign some piece of paper. They shoved a release in my face. I never read the papers, as I was so protected by my family and never suspected anything could be wrong. One day Gene arrived at the same time I did, and saw what was happening. He ragged me all day long! 'You could have signed away your salary! That is the dumbest thing I've ever seen!' And he was right! But, my theory has always been if you expect good, you'll find it!"
William Morgan directed four of the five Autry westerns Fay co-starred in. "He was tall, average looking, a nice man. He didn't direct you on characters; if he didn't like it, he'd just say, 'Let's try it again."
Edith Fellows recalls Gene Autry played tricks on her when shooting "Heart of the Rio Grande". "I spoke to Edith recently and she brought that up. Gene did tell jokes, but there were no tricks on me. Maybe because she was little and I was grown, I don't know. Poor Edith—all she had was Bobby Jordan (of the Dead End Kids) to take up for her, while I always had the protection of my family. Jean Porter was also in it. She was cute as could be; a darling. Smiley Burnette, like Gene, was wonderful. I loved them both. Actually I had known Smiley earlier. We were in a George O'Brien picture, 'Border Patrolman', shot on location in Death Valley. We stayed at Furnace Creek Inn. I was just a kid and roomed with Virginia Boardman which pleased my mother who didn't accompany me to Death Valley. I was just background stuff in the picture, but it was the first time I was in a film with Smiley, years before we did all those Autry pictures together."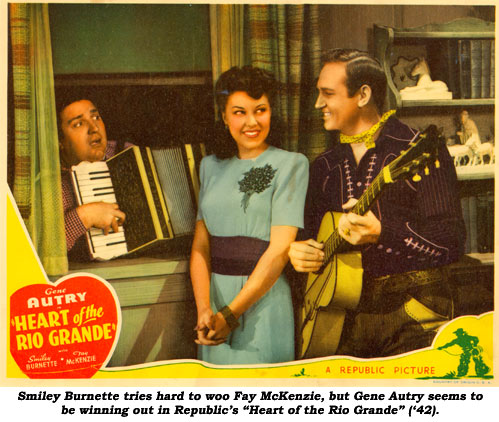 Gene and Fay were shooting "Cowboy Serenade" when Pearl Harbor was bombed. "We all heard FDR's famous speech of December 8, 1941. Then we went back to our making movies. It's kind of bizarre—but also like what happened after 9-11!"
One of Fay's best recalled films was '42's "Remember Pearl Harbor" with Don Barry. "Barry was a nut! He was nice but a little disturbed about something."
In '44, Fay starred in "Singing Sheriff" which spoofed westerns. "I love the picture! Bob Crosby was very, very nice. I later appeared on his TV show—my husband (Tom Waldman) wrote that film."
But asked about her first husband, Steve Cochran, "That was the worst decision I ever made. We had the same agent. We were married in '45, but it didn't last long. I was in 'Burlesque' on Broadway with Bert Lahr. When it closed, I went to my sister's house—she had a ranch in Wyoming. I received my divorce—it cost $125 and it was the best money I ever spent! I went to the home of the circuit judge, and it was that simple. Usually in those days, it was hard to get a divorce—you almost had to have an adultery charge, with pictures and other evidence. (Laughs) In '48 I married screenwriter Tom Waldman, the dearest, funniest, cutest guy. We have two great kids. It was the happiest time of my life, until he passed away in '85. The raising of my kids is why I quit show business, for the most part."
During the war, Fay left Republic. "I had done 'A Midsummer Night's Dream' on stage, and I simply wanted to do other things. I asked for my release. But with the war, I did an awful lot of shows—if you worked for the Hollywood Victory Committee, it was done for free—it was your contribution to the war effort. Because I could sing and do jokes—I am a good straight man as well, I worked with most of the big stars of the day. We followed the troops around—I even did a show from the back of a truck. I designed an act for the troops. I worked with Bob Hope, Bing Crosby, Cary Grant, Frank McHugh and James Cagney. I also did a sketch with Laurel and Hardy, old family friends, as Billy Gilbert worked with them quite often. I rode in a parade with Laurel and Hardy. At the finale we'd all wave the American flag and James Cagney would sing 'I'm a Yankee Doodle Dandy!' I loved doing comedy!"
As for her other war work, "Gene Autry had signed on in the Army. He was in Arizona and asked my brother-in-law, Billy Gilbert, Lolly (my sister and Billy's wife), and me to help him do a show to entertain the troops! Years later, I was to do a lecture in Palm Springs, but unfortunately it was Rodeo weekend; I couldn't get a room. My husband said, 'There are always VIP people. Get in touch with Gene Autry.' He had a hotel there—so I called and stayed at the Autry Hotel. I didn't get to see Gene, but I left him a very nice note."
After the war, in '46, Fay quit films. "I went to the Actors Studio with Lee Strasburg in New York. I also did a lot of radio—I worked with Groucho Marx, who was a funny, funny guy. Groucho liked females—he later married two of them younger than me. (Laughs) I have a radio script from 'Blue Ribbon Time,' songs and sketches, and it reads 'Starring Groucho Marx, Gene Autry and Fay McKenzie!' I later toured with Harry Ruby (the songwriter)."
Fay returned to pictures in '62's "Experiment in Terror." "That was because of Blake Edwards, a good family friend. In '59, I even suggested Bea Arthur for a role in his 'Operation Petticoat.' I'd known Bea from the acting lab back east. She didn't get the job, and it would be 15 more years before she finally made it—in television. I did some television—like 'The Milton Berle Show', 'Martin and Lewis's Show' and 'Philco Playhouse.' And I had smallest roles in 'Breakfast at Tiffany's' ('61), 'The Party' ('68) and 'S.O.B' ('81)."
Today, Fay divides her time between homes in Malibu, CA, and Mount Vernon, NY. "My son, Tom Waldman Junior, is a good, fine actor. He worked for MTV, doing voiceovers on things like Toys R Us. He can do every kind of accent, like me. My daughter is a writer who uses the professional name Madora McKenzie. She's married to Jonathan Kibbe, a corporate lawyer, and they live in New York. Her mother-in-law is Pat Hosley, who played Audrey Meadow's sister on a 'Honeymooners' show! She also was on the road with Edith Fellows in 'Janie.' So, it's a small world! (Laughs)"
Fay's Western Filmography
---
Movies: Sundown Trail ('34 Imperial)—Wally Wales; Boss Cowboy ('34 Superior)—Buddy Roosevelt; Thunderbolt ('35 Regal)—Kane Richmond; Border Patrolman ('36 Fox)—George O'Brien; Ghost Town Riders ('38 Universal)—Bob Baker; Death Rides the Range ('40 Colony)—Ken Maynard; Down Mexico Way ('41 Republic)—Gene Autry; Sierra Sue ('41 Republic)—Gene Autry; Cowboy Serenade ('41 Republic)—Gene Autry; Heart of the Rio Grande ('42 Republic)—Gene Autry; Home in Wyomin' ('42 Republic)—Gene Autry; Singing Sheriff ('44 Universal)—Bob Crosby.