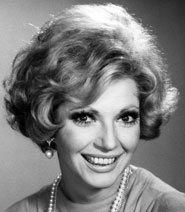 RUTA LEE
by Boyd Magers

Vivacious Ruta Lee was one of the two or three most prolific actresses on television in the '60s and '70s. She's also one of the most talented and well-liked performers in the Hollywood community. Her spirited, outgoing personality, lively wit and refreshing candor have made her a favorite for over forty years. Beginning in the mid '50s, she maintained a heavy schedule of guest roles throughout the next three decades, not only in Westerns but in sit-coms, dramas and game shows as well. Her extensive stage work in touring companies of "Hello Dolly" and others is not to be overlooked.
Ruta told us she was born of "Lithuanian parents, transplanted from Lithuania to Canada because they couldn't get into the United States. The quotas for any European coming into the United States was closed and their choices were Mexico, Australia or Canada. Canada was obviously the closest place to the United States where everybody knew the streets were paved with gold. That's how we wound up in Montreal, Canada, where I was born. My mother always felt I was Lithuania's answer to Shirley Temple. So she took me to dancing school, took me to music classes, all of the stuff. The idea was, when you lived in the snows of Montreal, to go to a warm climate, so she thought Hollywood would be good. This was after the war and all of the quotas for Lithuanians were taken up by displaced persons from all over the world and nobody was getting into the U.S. that wasn't a displaced person. Somehow, she persevered and we moved to Southern California when I was about eight. My mother lived her dream, because she saw me become a celebrity in a lot of people's eyes but not in your wildest dreams would I call her a stage mother."
Under her real name, Ruta Kilmonis, she worked in little theatre all through high school but the first job she had that got her her union card was on several episodes of the "George Burns and Gracie Allen Show" ('50-'58). "The first show I did after that was 'My Friend Superman' ('53). Then I auditioned and got 'Seven Brides For Seven Brothers' ('54)."
"MGM, when I did 'Seven Brides', came to me and said, 'We're going to be sending all the girls out on a tour, but you can't become a movie star with a name like Ruta Kilmonis.' 'Okay, but I want to keep the Ruta, because it's a beloved Lithuanian name. Ruta in Lithuanian is a very fragrant herb that grows in great profusion all over eastern Europe and it's the national symbol of Lithuania, it's sung about in every song, it's talked about in every poem, theatre curtains have a big sprig of ruta embroidered on them, so it's a national symbol, much like the rose is to England or the maple leaf to Canada. So I wanted to keep the Ruta, and they said well, let's kick it around. When they came to Lee, I thought, Ruta Lee works, because the diminutive of Ruta in Lithuanian or Polish or Russian or Yiddish is Rutale. So Rutale—Ruta Lee, almost the same sound. Now I go out on the tour, right? Ruta Lee doing this, Ruta Lee floating down the Colorado, Ruta Lee milking a cow, Ruta Lee playing baseball, all of this stuff, anything to make space, headlines…then some jerk at MGM forgets to change the credit in the movie and it comes out with Kilmonis. Now you know all those people in Ames, Iowa, are saying, who the heck was that girl that said she was in the movie?"
"The Twinkle In God's Eye" ('55) was Ruta's first Western feature, opposite Hugh O'Brian. "He was just a bit pompous, but then he's a bit pompous anyway. I think it's just part of his nature and I don't know that it's necessarily ego…but Oh, my dear, nobody's going to give me a bad time. If they do, I just laugh it off. That's the best."
Everyone who worked on "Sergeants Three" ('62) seems to have a story about making the film…an escapade, an event. "Being 'the girl,' I was exceedingly well taken care of by all the guys; I am sorry to say. (Laughs) I'm the only girl I know that has not had an affair with Frank Sinatra. And I'm sorry to say that. (Laughs) They had already started when I went up to location in Kanab, Utah, which is just beautiful. There we were in Kanab, where the only thing to do was to go to the Dairy Queen after supper. But Frank worked it out so that while we were on location, which was a long time, Frank played a week at the Sands, so we went down for Frank's opening and back down for his closing. The next day we'd go down for Dean's opening and back for his closing. Then we went down for Sammy's opening and back for his closing. So it was back and forth because he had a whole fleet of planes. Never in my life had I seen a fleet of planes, coming and going all the time. I went to work on location every day, not in a car, not in a limousine, not in a bus, but in a helicopter! Isn't that marvelous? I've got a picture of the director, John Sturges trying to get somebody's attention, because it was hysteria. This must have been a very frightening experience for him. Simply because Frank made it very clear: I don't care if you take a week to set up a shot…fine, you set up the shot. When we come in to do the shot, we'll rehearse it once, we'll shoot it once. I don't want to hear a light went out, the dolly rattled, the floor creaked…I don't want to hear that. You're going to get one take. (Laughs)"
In '63 Ruta had the opportunity to co-star with not one, but two Western icons, Rory Calhoun and Rod Cameron, in "The Gun Hawk". "I was so sad, but that's our business, you have a moment in the sun and then you're out again. What made me sad was that Rod Cameron, this big, big, big star, in my eyes, had second billing to Rory. To me, Rory had never accomplished or done as much or had the credibility that Rod Cameron had. The young man Rod Lauren, was a bit of a pain in the ass. Nobody ever heard of him after that. He wasn't a very good actor. He was a sweet enough guy but he was somewhat pretentious about everything and not quite as eager to have the kind of fun and everything that we would do. I mean, here we are, playing a death scene, but we'd be hugging and kissing in bed and carrying on (Laughs) and…'Okay, okay, it's time to shoot.'"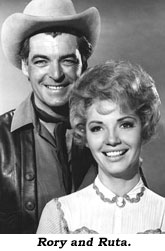 Although Rory was known to have a bit of a roaming eye, Ruta laughs, "Rory was married to Lita Baron at the time and we had been friends from before making the movie. Either there's something very unsexual about me, or it's the fact I laugh my way through everything, but nobody ever pitches me because I do the dirty jokes quicker and faster and louder and bawdier that they do, so I become a buddy rather than a hit target."
1964 saw Ruta teamed with Audie Murphy in "Bullet For a Badman". "It was a hysterical cast! We had Darren McGavin, Alan Hale Jr., that wonderful character actor George Tobias…one laugh after another. Everybody was fast and quick. I was the only girl on location in St. George, Utah, so everyone treated me like a baby doll and we had a wonderful time. Audie was not a laugher and a scratcher. Audie had a strange sense of humor that was strictly his own. He would make a joke and we would all look at one another and wonder—did that go over our heads? His humor was entirely different. He was on a different level. He didn't mix and mingle with the rest of us. He didn't come out to supper with us. He didn't 'play' with us. When I got to spend a little time with him, on a one on one basis, he was very gentle, very humble, very sweet, very much of a gentleman, but either he didn't feel secure or he didn't want to play, so I never really got to know him the way I did everybody else in ten minutes."
Ruta was one of the most prolific and versatile actresses on television from the '60s to the '80s. "I think if we counted up every appearance I ever made, guest starring, or something, it would be in the thousands. Every studio had their version of what they thought I did. Some places I was the sweet little girl with the heart of gold and other places I had the heart of gold and the teeth to match. At still other places, I was a drug addict that was in trouble, other places I was the mother of some kid. It depended on how the casting director saw me."
Because Ruta guest starred on virtually every TV Western made, and because her powers of observations are so keen, we asked her briefly about each of her TV Western leading men, beginning with Will "Sugarfoot" Hutchins. "A cat. A big-eyed cat that wasn't weaned yet. Absolutely adorable, charming, and totally unsophisticated."
James Garner of "Maverick". "Hot. Funny. Innately funny. Had a bit of a roving eye and we had to laugh a few situations off there, too, but great fun and great style. Great charisma."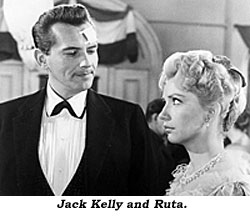 Jack Kelly, the other "Maverick". "Adorable. Adorable. Far more sophisticated. Very humorous also. And a gentleman, wonderful stories to spin. Also, there was an ingenuous kind of twinkle and sparkle in James' eye that Jack, being a little more sophisticated, didn't exude, you know, his was more sedate. But I'm crazy about him. Wonderful guy."
James Arness, Matt Dillon of "Gunsmoke". "Mountain of a man. With a big heart, as big as that mountainous physique of his. I did several of those episodes, and in one of them ("Jenny" ['62]) I was supposed to be seducing him. Rather than a door, there was a curtain into my bedroom. There I sit, doing the whole thing. And he comes in and throws a quilt over my head, slings me over his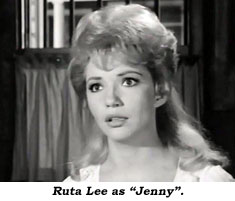 shoulder, goes out, and in order to make his way out by pulling the curtain, he swung and slammed my head against the frame of the door. All of a sudden, out I went. I came to and there was a frantic, big Jim Arness, holding me up, tears running down his face, 'Oh, my God, oh my God, have I killed you? Are you all right? Oh, my God!' He felt so terrible. I always love to remind him of that. (Laughs)"
"The rest of the cast was wonderful too. Amanda Blake, we used to do sort of bets together every once in a while. In those days, celebrities were invited to so many things, trips and cruises, whatever it was. Amanda was such fun to be with because she was a good dame and a class act. I really liked her a lot. And Milburn was too, wonderful. Again, I think I loved all these people because they knew how to laugh. That's one of the lovely things about our business, you don't get the laughs selling insurance, or cars, or anything else, that you have in show business."
John Payne was the lead in "Restless Gun". "Nice man. Sweet man. I didn't get to know him very well but he was fun to be with, he also had a twinkle in his eye and a lot of humor."
John McIntire took over Ward Bond's spot on "Wagon Train" in 1961 when Bond died. "Oh, there was a lovely gentleman. And again, humor. Able to laugh, wonderful deep voice, whole thing. Laughed at everything."
Robert Fuller came on "Wagon Train" in '63, but also starred in "Laramie". "Pussycat, full of vim, vigor, vitality and so eager to please and have a good time along the way. I'm crazy about him. You know, he's a hellava dancer too. He started out as a dancer. His father was a dancer. His father was in 'Seven Brides For Seven Brothers'."
Nick Adams starred as ABC's "The Rebel". "Nick was adorable. He was the new breed. He was into everything and knew everybody and everybody knew Nick, so it was like old home week if you met at Schwabs or you were on the set or something. A self-promoter, absolutely. But, somehow gently so. It was not so blatant that it turned you off. You knew he was doing it and you kind of said, hey, if you don't toot your own horn, who will…more power to you. So, I mean, he did very well."
Wayne Rogers and Robert Bray headed the cast of "Stagecoach West". "Wayne Rogers was probably one of the brightest persons I ever worked with. Very intelligent. Very astute, financially. Was already talking investments and things when I was going…'What'd he say?' And he became very wealthy. Now, I knew Bob Bray before that show because he used to do shows at the Player's Ring and the theatres I was working at in high school, so I knew who Bob Bray was. He was already a big star to me, because he'd done stuff. Beverly Garland worked at that theatre too. It was fun when we became such good friends. So many people confuse us, Beverly Garland and myself. We're very similar. We're both bigger than life; we both have deep voices and full of gusto and laughter is our middle name. We were both regulars on 'Stump the Stars' ('50-'63), which was the pantomime quiz show."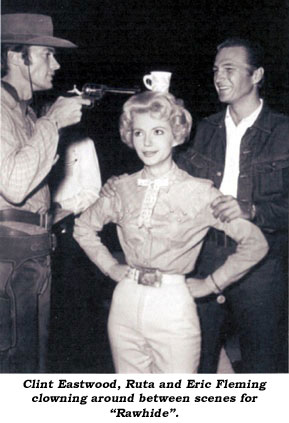 Eric Fleming of "Rawhide". "I dated Eric Fleming, and I liked him a lot. Eric was a lovely man and he had such wonderful stories to tell. Eric had his face reconstructed. He was a very funny guy who was a bit of a loner and was always an entrepreneur. When he was in the army, he would take on all kinds of things. He would do illegal things. He would resell cigarettes and all this kind of stuff. One day, he made a bet with somebody about pressing cement blocks, or something. I can't remember what it was now…and they tipped and smashed his face. And his whole face was reconstructed. Well, I must say, it was gorgeous. (Laughs) They did a wonderful job. Of course, we had a lot to talk about because he liked musicals. He'd done quite a few things on Broadway. He used to come up and have dinner or take me out. And Clint Eastwood of the same series, I was crazy about Clint. Always was. He was married to Maggie at that time and we all sort of hung out. He was very, very special. Very cute."
Then there was Don Collier of "The Outlaws". "Charming. Not as humorous, as I remember. A little quieter. Sort of sat back and just stretched out and waited for the shot."
Clint Walker, the bigger than life star of "Cheyenne", Ruta calls, "…a dear soul. What a dear soul. He just made you feel so comfortable and so good and so easy. Everything was okay. And he ambled. He didn't do anything fast. He's special."
For an ensemble show, there was the whole cast of "Bonanza". "I would start with Lorne Greene. Because we had a lot in common. We both had deep voices and we were both from Canada. The 'Bonanza' I did with them was a very serious one, 'cause I was playing an alcoholic who had lost her husband and children in a fire. So, I mean, we were laughing and scratching a lot, but on the other hand, I'd have to pull it together to become this kind of demented creature. And they were very helpful. It was very nice because when it came a moment to be serious, they all helped me along. The only one that was a little bit off was Pernell Roberts. Pernell was very nice to me but he could be a bit of a horse's ass. But that's okay, if he was unhappy, he was unhappy. But it took him a long time to find something else, didn't it? I bet he was sorry for a while. Now, Michael Landon had been my friend for a long time. I did a Hitchcock thing with Michael, so I knew him from that. Then he was married to a gal named Dodie. Dodie and Michael and I used to play a little bit together, then they were divorced."
Short-lived at Warner Bros. was Jeffrey Hunter as "Temple Houston"."He was one of the prettiest people that ever was put on the screen. God, he was gorgeous."
Also at Warner Bros., Ty Hardin was "Bronco". "Ty Hardin…Try harder, right? I did his test. Now there was a boy who was slightly full of himself. And he was so pretty. I mean, he really looked stunning in his outfits. The camera loved him. Later, with Ty, I did this awful movie called 'Rooster', then it became the 'Claws of Death' or something. Dreadful piece of shit. But Ty was all of a sudden a different human being in this. He was always good with me, we laughed, but all of a sudden, he had a humility that he hadn't had before. Maybe it's because life hadn't treated him quite as beautifully as when he was first at Warner Bros."
James Drury essayed the part of "The Virginian" from 1962-1970. "Jimmy Drury turned out to be one of my really good friends. Jim Drury and I worked together, before he had the series, in a 'Walter Winchell File' ("Act of Fate" ['57]). That was the first time I worked with Jim. Then I did a whole bunch of other things he was starring in and it was always a joy to be with him. Jim Drury could be a very bad boy but he was always wonderful with me. And I have a funny story to tell. After the series, we were on the road doing plays. He would be doing a play and I would be the next act coming in, so we'd overlap the week of rehearsals and whatnot and we'd see each other. There was always a great camaraderie. Also, we were two of a very few conservatives in Hollywood. When we were on the Republican campaign trail, we would inevitably be teamed to go somewhere and do something. I don't remember who we were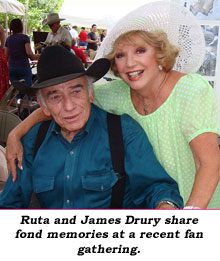 campaigning for, but we were up in northern California and arrived late. There wasn't anyplace to have dinner, there wasn't a diner or anything, so we went to the bowling alley to try to get something but their kitchen had already closed. I said, oh, to hell with it and we went to the motel. Jimmy said, goodnight princess, I'll see you later and he took off. I thought, well, he's going to go back to the bowling alley and get ten more drinks or whatever it is. About three hours later, he turns up and he's banging on my door. I said, oh, Jesus Christ, Jimmy go to bed, go to sleep, you silly drunk, we've got a lot to do tomorrow. He said, 'I'm not drunk, open the damn door!' I opened the door and he had a big platter full of prison-made peanut butter and jelly sandwiches for me. And a big quart of milk. He had driven by the prison, pulled up to the gate and said I can't find a place around here to eat. You suppose they'd feed me? I'm the Virginian. So they opened the gate, they got the warden up, the warden's wife came down, got autographs, they got some orderly to go out and make peanut butter sandwiches. (Laughs) But is that sweet? I mean, that is sweetness that he would go do that. That's my Jimmy Drury."
Robert Conrad was the fiery star of "The Wild Wild West". "Bob Conrad was very good with me. I don't know that he would be good with everybody else. He, too, loved to laugh and joke around, so we were fine, but of course, the real salt of the earth was Ross Martin. So between the three of us, it was nothing but one big laugh when we were working. God, Bob Conrad had a beautiful face, and those wonderful eyes! He never got past being short, so I think, as can happen, with short, short men, they get a little bit demonic in their needs, but he was good with me."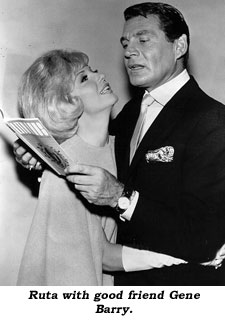 "Bat Masterson"—Gene Barry is a good friend because, "Gene Barry is Lithuanian. He's Jewish, but Lithuanian. We got along just famously. I loved hearing his stories about Broadway. It was fun to just sit and listen, between takes, and talk. He liked to talk and he liked pretty women. He had a good marriage, I'm not saying he was flirtatious."
Even with the thousands of shows Ruta appeared on, she seemed somehow connected with Warner Bros. "I wasn't under contract to Warner Bros. And it's a mistake. An offer was made. It's truly a mistake made. But I was such buddies with Hugh Benson. My mother would bake cookies or something and I'd bring them in to the production office to the producers, Bill Orr and Hugh Benson, and I'd sit and laugh and scratch and swap dirty stories with them, so I was like one of their gang, so to speak, and they'd always put me in something. They offered me…they wanted me to do a series, 'The Alaskans', and I said, what do I want to do that for? You'll give me $300 a week when you're already paying me $750 per episode, so why would I work for half my salary? And they said, you'll be sorry, you should do it. And they were right, because all the people under contract had the power of the Warner Bros. publicity machine behind them and if you weren't working for a studio, you had to do your own publicity or hire a publicist."
Perhaps it was good judgment on Ruta's part, as "The Alaskans" only lasted one season, '59-'60, with Roger Moore and Dorothy Provine, rather than Ruta. A similar series was "Klondike" ('60-'61) with Ralph Taeger and Joi Lansing. "Joi Lansing was the one whose line I stole that I dearly loved. She was very amply bazoomed. Then she'd pad in a little more and I'd say, 'Joi, what the hell'…and she'd say, 'Please, I owe my whole career to B. F. Goodrich.' (Laughs) Joi Lansing couldn't act her way out of anything, but she was a darling girl…she died very young."
As for directors, Ruta has some definite views. She adored, "Ted Post. Good director. I did a bunch of stuff with Ted. Chris Lyby…great, beautiful director. I like directors that would give you just a glimmer, kind of aim you in the direction and then let you go. I like directors that said, I'll only talk to you if you're not doing right." Some directors tried to give actors "line readings". "As a rule, you wind up doing it your way. You don't mean to be cocky but somehow you have a gut feeling about something that you have to depend on. Because it's you that's doing it. Some people like to make you an instrument for them. They will play their symphony on your instrument, and they get so friggin' artsy-fartsy that your head is spinning from trying to understand what this is all about. But I found out way back when that if you went (so sweetly), 'Ohhhhhh, you are so right. Oh, you really…oh, my God, how could I ever have thought of it any other way?' And then you gave him the same line reading, but it was his. That worked a lot. In some cases, of course, it wouldn't work and in some cases I was probably totally wrong. Just thinking I'm right doesn't make me right. But boy, when a director could kind of sit and play with you and laugh and then just ever so quietly say, 'Try it going from over here…give it a little'…it was wonderful. The directors that would scream and groan and yell, Les Martinson was a groaner and a screamer and a crier…he was impossible. He's one of my best friends, but he's the biggest pain in the ass as a director! He would just carry on, 'What are you doing to me? You're killing me, you're destroying this whole thing. I can't do this!!!' He's wonderful…meticulous…wonder-ful…but anybody that ever worked for him goes…'Oh, do we have to work with Les again?'"
"I think my best work was done on stage. I did some very nice work on television on different things. I think that 'Bonanza', 'A Woman Lost' ('63), was good. I was very young when I did that. I probably should have had somebody put me up for an Emmy for that because, for a single segment, it was very nice work, done by a lovely director, Don McDougall, who really helped me a lot. I did some nice work on 'Burke's Law' ('63-'66), the series Gene Barry did after the Western. Some of it was silly and flirtatious, but it was nicely done. There again, it's not just me; it has to be that the director and the cinematographer who, above all, makes or breaks your performance and the editor, either makes it work or doesn't make it work."
Reflecting on today's heavily sex and violence oriented series, Ruta emphatically states, "I hate it. Everything ugly and unglamorous and undignified is where we all reach now. The uglier, the better. It's pushing the envelope all the time. We admired the comics who started it, Richard Pryor and Lenny Bruce. But that's okay because you chose to go and sit in a smoke-filled club and do that as kind of a sorority or fraternity of hip people who were going to do this. You were not putting it on the tube, where anybody can click on and be insulted, upset, hurt, shocked, whatever…by it. Of course we can click it off, but the kids don't."
"In the '50s and '60s people that were running the show had expertise," Ruta added. "They had been in the business for a long time, directors were not 20 year old kids form Harvard or Yale. They were guys who had either been grips or were cameramen or were something, best boys. They worked their way into the industry and they knew it. You had a lot of respect because they knew what they were doing and if you had to do it fast, then we did it fast. 'Have you finished that shot? Fine. Turn the camera around, get this one over here, now.' You did it fast but you laughed all the way and you pulled it together to do whatever serious moment you had to do. That's all there was to it."
In looking back over the years and the enormous body of performances she's turned in, Ruta certainly, as she said, believes she did some excellent work. But also, she thinks, "I would just float along and do whatever came along. I was doing a good job, yes, and I was very dependable. People could call me and know they were going to get a performance, that I wouldn't fool around. But wouldn't it have been nice if I had been smart enough to really observe how things were done. What kind of production mechanics should be learned, learn it, and write myself a series? And collect all that money, you know, for me? (Laughs)"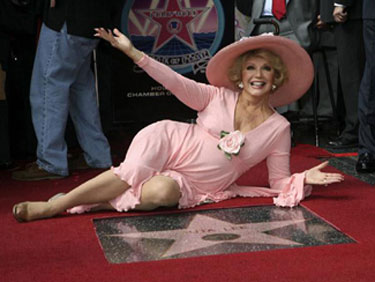 Much of Ruta's current time is absorbed by her charitable work with the Thalians, a fund raising group that deals with mental health from pediatrics through geriatrics. "In lieu of dropping on my knees and praying, I get up off my ass and go do something for somebody. That's my prayer to God, and thanks for the nice things that have come my way. And it's very rewarding."
Besides her charitable work, how would Ruta Lee like to be remembered one hundred years from now? "I think I'd like my tombstone to say that she put a smile on my lips and in my heart."
Ruta's Western Filmography
---
Movies: Seven Brides For Seven Brothers (1954 MGM)—Howard Keel; The Twinkle in God's Eye (1955 Republic)—Mickey Rooney; Sergeants 3 (1962 United Artists)—Frank Sinatra; The Gun Hawk (1963 Allied Artists)—Rory Calhoun; Bullet For a Badman (1964 Universal)—Audie Murphy. Television: Maverick: Comstock Conspiracy (1957); Maverick: Plunder of Paradise (1958); Gray Ghost: Contraband (1958); U. S. Marshal: Gold Is Where You Find It (1958); Sugarfoot: The Dead Hills (1958); Gunsmoke: Carmen (1958); Maverick: Betrayal (1959); Restless Gun: The Painted Beauty (1959); Wagon Train: The Kate Parker Story (1959); Colt .45: The Hothead (1959); The Alaskans: The Abominable Snowman (1959); Man From Blackhawk: The Legacy (1959); Bat Masterson: Death of Bat Masterson (1959); U. S. Marshal: Ghost Town (1959); Yancy Derringer: Two of A Kind (1959); Colt .45: Showdown at Goldtown (1960); The Alaskans: Long Pursuit (1960); The Rebel: Grant of Land (1960); U. S. Marshal: R.I.P. (1960); Shotgun Slade: Killer's Brand (1960); Zane Grey Theatre: Man From Everywhere (1961); Stagecoach West: Blind Man's Bluff (1961); Stagecoach West: The Marker (1961); Laramie: Siege At Jubilee (1961); Rawhide: Incident of the Reluctant Bridegroom (1962); Gunsmoke: Jenny (1962); The Outlaws: Farewell Performance (1962); Cheyenne: Wanted for the Murder of Cheyenne Bodie (1962); Rawhide: Incident at Alkali Sink (1963); Wagon Train: the Bleeker Story (1963); Bonanza: A Woman Lost (1963); Temple Houston: Enough Rope (1963); The Travels of Jamie McPheeters: The Day of the Lame Duck (1964); The Virginian: The Long Quest (1964); The Virginian: The Girl From Yesterday (1964); Wild Wild West: The Night of the Casual Killer (1965); Wild Wild West: The Night of the Gypsy Peril (1967); The Guns of Will Sonnett: Trail's End (1969).