ARGENTINA BRUNETTI
Character actress Argentina Brunetti is quite a lady. "I was born on August 31, 1907, in Buenos Aires Argentina, practically on the stage. My mother, Mimi Aguglia, was a famous Italian actress who was performing in Buenos Aires as part of her South American tour. The mayor of Buenos Aires was of Italian origin and asked to be my godfather. He obtained, from the city's Bishop, the permission to baptize me on the stage where my mother was playing in the 'Cavalleria Rusticana.' I was glad to be born in, and named, Argentina because the next two stops were Uruguay and Paraguay. (Laughs) My mother was actually born on the stage during the last act of Shakespeare's 'Othello' in Palermo, Sicily, on December 23, 1884. Her mother was also an actress and was playing Desdemona. During the last act, while Othello was supposed to be choking her to death, she started to scream. She was actually having her baby on the stage. My grandfather jumped out of the prompter's box and yelled, 'My son is born!' and was a bit disappointed when he found out it was a girl instead. He wanted to call her Gerolema like his grandfather, but his wife insisted she should be called Mimi."
Argentina started her own career "at the age of three. I had a walk-on role in the opera 'Cavalleria Rusticana,' and I followed in my mother's footsteps in the theater, performing supporting roles on stages throughout Europe and South America. In 1937 I was placed under contract to MGM, and began dubbing the voices of Jeanette MacDonald and Norma Shearer in Italian. In 1940, my husband, who was a journalist, and I, decided to go to San Francisco to put on plays for the local Italian community, which was the second largest in the United States. There my husband and I began the first Italian language radio talk show, which included soap operas, news, music, interviews and biographies of famous Italian and American personages. In 1945, I was called to Hollywood by the U.S. Government to help with the war effort by conducting interviews with famous Hollywood personalities for the Voice of America which was broadcast throughout Italy on a weekly basis. I interviewed most of the major stars about their lives and movies. Around this same time I began my movie career in 'Gilda' and as Mrs. Martini in 'It's a Wonderful Life.'"
Throughout her varied career, Brunetti has also written and performed in daily radio shows, authored books, written music and acted in over 60 TV programs and some 95 motion pictures.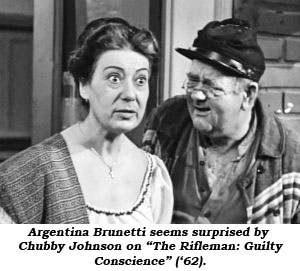 Wondering if there were any accidents filming westerns, Argentina recalled, "I played in an episode of 'Rawhide' in which I was accused of being a witch and was about to be burned at the stake. I was tied to a pole and a fire was lit around me. The fire quickly got out of control, but quick thinking Clint Eastwood ran into the fire and yanked me out, before anyone else could react. It was probably the first TV reality show as parts of it were caught on film and used in the episode.
In 'Broken Arrow', both Debra Paget, who was 17 years old at the time, and Iron Eyes Cody had separate accidents. Debra's was the most serious and she nearly drowned. We were on location in Sedona, AZ, and during a shooting break some of us went to the nearby river to swim. Debra couldn't swim so she held on to a raft. Some boys pulled the raft from near shore to the deep water. Debra's mother ordered her to come back immediately. She left the raft and quickly sank. As I was nearby, I tried to save her, but she kept struggling. Luckily a young man jumped in the water and helped me pull her to shore. After that incident, her mother made her learn to swim. Iron Eyes Cody was trying to cross the same river later on, slipped on the rocks and hurt his back, but he continued to work in pain. Iron Eyes and I got along very well, as he told me he was actually of Sicilian heritage. As my parents were both born in Palermo, Sicily, he and I got along famously."
Argentina had a small role in "Broken Arrow" as Cochise's wife. "Jeff Chandler was always extremely nice to me throughout the filming. We were on location for over two months. The weather during the filming was often a problem. One time it hailed so hard we stopped in the middle of a scene and all the cast and crew ran into the nearby teepees, built for the scene, for shelter. During this picture we had over 500 real American Indians with us. I was so well made up as Cochise's wife they all thought I was one of them and kept speaking to me in their language. I just smiled at them and bowed my head."
Argentina's first western was in 1946. "In 'California' I played the dueña (chaperone to Barbara Stanwyck) who discovered a cache of weapons in the chapel and was slapped by the evil Capt. Pharaoh Coffin, played by George Coulouris. Before the scene took place, George said to me, 'Can you take it? It has to look real!' I said, 'OK'. He then slapped me across the ear with such force that Eduardo Cianelli, who was also in the scene, grabbed me as I fell back, and I nearly fainted, due to the pain. Anthony Quinn was scheduled to do a key scene in that movie, but he decided to go fishing instead without informing anyone. The director, John Farrow, sent someone to look for him. When Anthony returned, Farrow insulted him in front of everybody. Anthony took the scolding quietly and was always prompt for every scene thereafter. I think he gave up fishing forever after that incident."
"Apache War Smoke" in '52 featured Bobby Blake. "In the picture one of my sons was Robert Blake. In the early '80s I had the chance to interview Robert for a magazine. When he first saw me, he came over and hugged me and said, 'Don't you remember me?' and I said, 'Of course, you are the star of the TV show 'Baretta'.' Robert then replied laughingly, 'Shame on you, I remember my mother, but you don't remember your son!'"
In Republic's "Last Command", "I played Anna Maria Alberghetti's Dueña (chaperone). Anna Maria was brought to America by Frank Capra, who heard her sing in Greece and believed she would become a great star in Hollywood films like Kathryn Grayson. In fact, I translated a song for her from Italian into English, called 'Won't You Come Back to Me,' which she recorded. My name is on the record as songwriter. I also coached Anna Maria throughout her film career while she was under contract to Paramount."
For "The Tall Men", "I played a cameo role with Jane Russell and Clark Gable. While my mother played Jane Russell's Dueña in Howard Hughes' 'The Outlaw', I played Jane's seamstress in 'The Tall Men'. I first met Gable in the late '30s at MGM while my husband and I were dubbing films in Italian. Each day we had lunch in the studio commissary. One day I was eating a very tasty dish of rice with mushrooms, when I looked up and saw Clark Gable staring at me from across the room, alone at another table. He gestured to me, pointing to my food, asking if it was good. I answered him in return with gestures indicating how delicious it was. So he ordered the same. Each day for several months, Clark Gable sat alone at his usual table and we played the charade game over the food. In the meantime, Lana Turner was on the opposite side of the room also eating alone each day, but no matter how much my husband tried to get her attention, nothing seemed to work. After over 20 years, when I started working in 'The Tall Men', Clark Gable reminded me of the food charade at MGM."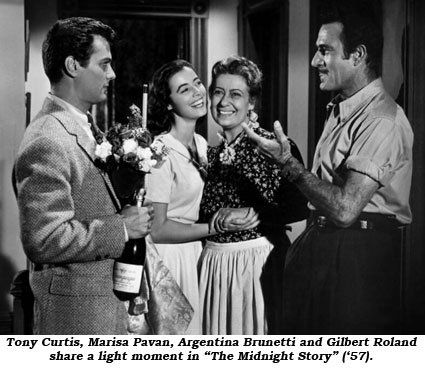 While making "Three Violent People" with Charlton Heston and Gilbert Roland, "Gilbert told me one day on the set that he owed his career to my mother. When he was a young man in Chihuahua, Mexico, he didn't know what to do with his life and was very unhappy. One day his mother gave him a ticket to go see my mother (Mimi Aguglia) perform in a play at the city's main theatre in Spanish. Gilbert told me after seeing her act, he was so impressed, he decided there and then acting was what he was going to do. It seemed so fulfilling to him."
While making "The Appaloosa", "Marlon Brando was a little difficult on the set. He was very stand-offish with most of us cast members."
Working on many TV westerns, Argentina recalls, "I went to Steve McQueen's house to interview him and was surprised with all the security systems he had around, because, at the time, they were almost unheard of. It took me about half an hour to finally gain access to his house. I remember he had a big Harley Davidson motorcycle parked in the driveway."
"I was also invited to Chuck Connors' beautiful home high on a hill off of Mulholland Drive in L.A. with a swimming pool built on stilts hanging over a cliff. His wife invited me to go swimming with her. I politely refused as I was afraid the whole pool would collapse and topple over the hill. Chuck Connors assured me he swam in the pool daily, as part of his exercise routine. But I still wasn't convinced."
"When they called me for the interview for 'High Chaparral', they asked me if I could ride a horse side saddle. I said, 'Of course I could!' Then I went out immediately and took classes. It was very difficult for me, as I was always slipping off the saddle, but I finally got it right before the shoot."
Argentina often played multi-ethnic roles, and was believable as an Indian, Mexican, or, of course, an Italian. "In the '50s there were not many ethnic character actors and actresses around to do various roles. In fact if you look closely at most western movies you will find many of the so called 'Indians' are really of Italian or Jewish or Spanish or Mexican heritage. In those days all you needed to do was tell the casting directors you knew the language of the role they wanted to fill. If you looked like the type they wanted, you got the job."
At 98, the wonderful character actress died December 20, 2005, in Rome, Italy.
Argentina's Western Filmography
---
MOVIES: California ('46 Paramount)—Ray Milland; El Paso ('49 Paramount)—John Payne; Broken Arrow ('50 20th Century Fox)—James Stewart; Apache War Smoke ('52 MGM)—Gilbert Roland; The Fighter ('52 United Artists)—Richard Conte; Rose of Cimarron ('52 20th Century Fox)—Mala Powers; San Antone ('53 Republic)—Rod Cameron; The Far Horizons ('55 Paramount)—Charlton Heston; Last Command ('55 Republic)—Sterling Hayden; The Tall Men ('55 20th Century Fox)—Clark Gable; Three Violent People ('56 Paramount)—Charlton Heston; Duel at Apache Wells ('57 Republic)—Ben Cooper; Showdown at Boot Hill ('58 20th Century Fox)—Charles Bronson; Stage to Thunder Rock ('64 Paramount)—Barry Sullivan; The Appaloosa ('66 Universal)—Marlon Brando; Shakiest Gun in the West ('68 Universal)—Don Knotts. TV: Hopalong Cassidy: Blind Encounter ('52); Lone Ranger: Lost Chalice ('55); Jim Bowie: Spanish Intrigue ('57); Bonanza: Dark Star ('60); Rawhide: Incident of the One Hundred Amulets ('60); Deputy: Fatal Urge ('60); Wanted Dead or Alive: Surprise Witness ('60); Wagon Train: The Chalice ('61); Rifleman: Guilty Conscience ('62); Gunsmoke: Gold Mine ('65); Big Valley: Devil's Masquerade ('68); High Chaparral: A Time to Laugh, A Time to Cry ('69).