MIRIAM SEEGAR
Buck Jones' leading lady in '31's "The Dawn Trail", Miriam Seegar was born September 1, 1909, in Greentown, IN. "My father died when I was 14. I had two older sisters, 10 and 12 years older, and they had gone to New York. The oldest worked in a theatrical producer's office. The second oldest was a talented singer-actress in summer stock. They took me to live with them in the summertime, so they brought me up. My sister was singing in 'The Mikado' and I was to play in the chorus, but looked like a kid beside those chorus girls! So, I ended up carrying an umbrella over the Mikado's head; my sister got to sing 'Yum Yum". I went back to Greentown during the winters to go to school. After high school, when I was 18, I went to London where I acted in an American play, 'Crime' ('28), that was running over there."
While in England, Miriam made her screen debut. "I did three pictures, mostly silently. The third one, 'When Knights Were Bold,' (shot in '28; released in '29) was directed by Tim Whelan. We went back later and did dialogue sequences, so it was never released as a silent. Tim and I began to date, and in 1931 we were married!"
Whelan began directing and writing in 1923 and was quite prolific through the mid '50s. Late in his career he directed "Badman's Territory" ('46), "Rage At Dawn" ('55) and "Texas Lady" ('55).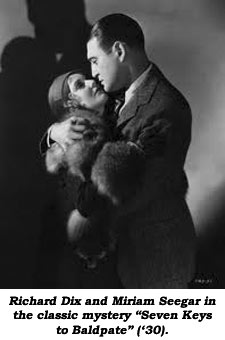 Both Miriam and Tim returned to the states in '29 when her motion picture career really picked up. Perhaps her most famous picture is 1930's "Seven Keys to Baldpate." "That was with Richard Dix, a very nice man."
In '31, there was "Dawn Trail," starring Buck Jones. "I went for the part, but I didn't ride. They, obviously, asked if I could ride and I told them 'No! I'm afraid of horses.' They took me anyway! (Laughs) I had the most marvelous double—she was sensational—she could jump on a horse and begin to ride—with or without a saddle. She and I would have lunch together, even after the film was over. She was a remarkable gal! I would ride out in a scene, but only for two or three feet. Someone would be holding the horse!"
There's a scene when Buck's horse comes to Miriam, to get her to save its master. "When Silver came up to the house, I then get on Silver to ride where Buck was. When I got on the horse, there were four men on their stomachs—each holding one of the horse's feet! (Laughs) They would teach me where to hold onto the saddle; how to get up on the horse, but I never went on a horse more than two or three feet! They shot miles and miles of film of me on a fake horse—the camera is in front of you and you're bouncing up and down like you're actually riding! They shot lots of that! (Laughs). By the way, I was never asked to do another western! (Laughs)"
"As for Buck Jones, he was a dear, sweet man, but I didn't know anything about him—not about his relatives, wife, children, nothing. He had the scenes to deliver and that was it. There was not much conversation; Buck just played the scene. When I worked with Richard Dix, we'd sit and talk between takes; there were many laughs. But I never saw Buck Jones at a restaurant, or a party; we never talked on the set."
There were scenes in "Dawn Trail" that looked perilous. "There was a scene in the picture that was very scary. I was scared to death. The cattle stampeded—and they were to go around us. I had the right to refuse, because this was dangerous, but I didn't. I was in the ditch while, offscreen, cowboys on horses would turn the cattle away, just as they were coming to the ditch! They didn't go over me, but if they had missed one cow, that would have been it! One of the things I readily remember is the scene, walking away when the badguys had let me go. This immediately preceded the ditch scene! However, I don't remember Erville Alderson, who played my father, at all! I don't recall any of the scenes with him, and there were many! I only recall bits and pieces with Charles Morton, who played my brother."
There is a scene, in the blacksmith shop, where Buck makes a ring for Miriam, out of a horseshoe nail. Asked if she kept that ring, she retorts, "I was an honest actress—I returned every prop. It was a darling scene; really dear. By the way, not only could I not ride a horse, I couldn't even drive a car! In the movie 'What a Man' ('30) with Reginald Denny, I was supposed to drive a car. Someone else drove into the scene—then I was to drive a little ways. I accidentally put the automobile in reverse. (Laughs) It was a dark day, so they had a large klieg light outside. When I went into reverse, I knocked it over!"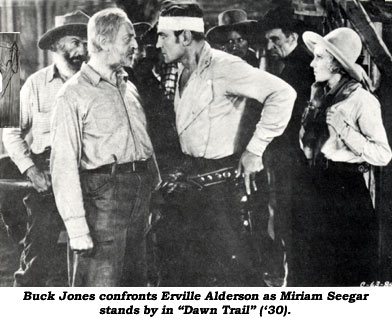 In 1932, Tim and Miriam returned to England. In September '39, the week Hitler's Germany invaded Poland and started WWII, Miriam returned to the states. Tim returned within the month. "I had two little babies—Tim Jr., was actually a little boy, and my other son Michael was still a baby. Tim (senior) was walking down Fleet Street. A newspaperman-friend came up to him and said, 'What are you going to do about your family. Listen—get your family out of here today! Something terrible is going to happen this weekend; we don't know what, but Hitler is going to start something this very week!' Tim came home and told me, 'We've got you, and your mother—she was visiting us at the time—and the two boys passage on the Manhattan, which leaves tonight! You must all be aboard by 8!' Now, this was 3 in the afternoon! He told me to just pack as if I was going for six weeks—not forever. We had a tiny stateroom, and we sailed at midnight. South Hampton was all blacked out. We started sailing and discovered the Athena, a British ship, had been torpedoed 9 hours ahead of us! Fortunately, all on board were saved. This turned out to be the weekend Germany invaded Poland and started World War II."
Later in life, Miriam worked in commercials. "Around '65-'70, I did a Hertz commercial, it was the most important one. Another one I did for Betty Crocker was important, too. But, I did a lot that weren't very good—I don't even want to mention their names! (Laughs)"
In 1997, she lost both her sons. "Michael was never strong—he was a semi-invalid. Tim Jr. did a lot of writing. He went to Harvard to study law; but his first job was as an assistant director on 'North By Northwest' ('59). We knew Alfred Hitchcock quite well back in England. He asked for Timmy to work on the picture; the law books were thrown out. (Laughs) He did a TV series with the late Howard Koch, but he eventually got into translation—from Chinese to American. He wrote and directed a film in Hong Kong. He was very talented. He developed cancer of the larynx, which left him talking with a whisper. He didn't want to speak with a coarse gravel voice like William Gargan. So he was lucky to be able to speak in the whisper. The cancer returned and I lost him in '97."
Miriam later turned "to interior design. I started that in '66. When you've done something, you have to keep active, so I probably won't totally retire!" In 2000, Miriam was included in the documentary, "I Used to be in Pictures".
Having lived a wonderful, full life, Miriam died at 103 on January 2, 2011, at her Pasadena, CA, home.
Miriam's Western Filmography
---
Movies: The Dawn Trail ('30 Columbia)—Buck Jones.