JULIE ADAMS

Julie Adams grew up in Arkansas after being born in Waterloo, Iowa in 1928 .
She was billed Betty Adams (real name: Betty May Adams) for her first lead in "The Dalton Gang" with Don "Red" Barry. "I met someone at the Lippert office, talked to them and got the role! I also met Don Barry who was the leading man. We shot it partly at the Iverson Ranch. It only took six days to do it! That picture resulted in my landing the lead in six different pictures at Lippert with James Ellison and Russell Hayden. We had six different scripts—but we shot all the scenes of the stagecoach together, then all of the ranch scenes, whatever—all at the same time. The six movies were done in five weeks. It was economical to do it that way but I never could remember who I was. I had three or four wardrobe changes—a farmhouse dress, a stagecoach dress. I had a difficult time remembering who I was supposed to be. 'Am I the farm girl this time—or the cowgirl?' (Laughs) Not that it made any real difference."
"These films were the reason I learned to ride. Before I started, I practiced riding for about three weeks in Griffith Park. The horses there were slow and you really had to kick them to get them going. Shooting the actual movie, the director (Tommy Carr) said, 'Action.' When I let into this old horse, he shot away with me and kept on going. We were supposed to ride, see where the badmen were, wheel around and come back. This horse and I would still be flying through the woods had a mountain not broken his stride. (Laughs) Raymond Hatton was in those—such a nice man. He showed me how a horse takes to a scene. He said to take the pony through it—let the horse know how to do it. Rehearse the horse—hit the marks. It was terrific advice! James Ellison—a charming guy; we had a good time. He was so handsome, a very sweet man, as was Russell Hayden."
In the summer of 1950, "Betty" Adams signed a term contract with Universal. "They didn't like Betty so they renamed me 'Julia'. After a few years I changed it myself—to Julie, because that's what most people called me anyway." Julie co-starred in 21 Universal films over the next few years. She also had to put up with Universal's various publicity stunts, including having her legs, "the most perfectly symmetrical in the world", insured for $125,000.
"Treasure of Lost Canyon" with William Powell and Tommy Ivo was her first western at Universal-International. "Just a supporting role. I believe I had some nice scenes that were cut, but it's so long ago I don't really remember. In the finished picture, I only have a few lines, but I received second billing to William Powell!"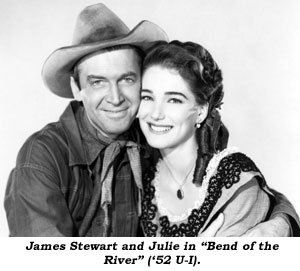 "Bend Of The River" was her first big-budget genre credit. "That was great experience. A wonderful picture to work on. Working with James Stewart is one of the greatest pleasures I've ever had. Arthur Kennedy—a brilliant actor who I had worked with in 'Bright Victory' a year before. Lori Nelson and Rock Hudson—two pals from Universal. We had a beautiful location at Timberline Lodge at Mt. Hood. It was built during the Depression and had fantastic architecture."
"Later, when they were casting the wife in 'The Jimmy Stewart Show', I went to see him. We sat and talked one day about what lousy caterers they had up there. The food was not good—one time, we skipped over the main food and went for the Baby Ruths—but they were wormy! (Laughs). Jimmy and I were talking and laughing about wormy Baby Ruths! We had a nice chat; he was lovely. Of course I didn't think I'd get the part because I was too young to play the mother of a 28-year-old son. At one time, they thought about saying my character was the second wife. They also wanted to 'age' me—give me gray hair and all, but I refused. All the others considered for the series were older women, so it was a surprise—and a delight—when I landed it."
"Horizons West" was the first of Julie's bad-girl roles in westerns. "That was the first time I worked with Budd Boetticher, a lifetime friend. I enjoyed Robert Ryan who was one of the great gentlemen, a loving, bright man. It was so ironic he played mean people so often and so well—he was lovely. He was one of the founders of Oakwood School where my kids went. It originally was just an elementary school but has since expanded."
About "Wings of the Hawk" in 3-D: "The 3-D camera didn't affect the actors at all. The camera looked different, but the main thing I remember about that picture was a wrangler named Jack Shannon. We went riding every day for three weeks around the Universal backlot before starting the film. I played a Mexican in the movie. I had a Mexican saddle—he gave me a riding crop and talked about riding and dismounting."
"The Lawless Breed": "Rock Hudson and I were real pals. A lovely young man, Rock was lots of fun. It was very fulfilling, as we both got to age in the film. Our working together was very joyful. The last thing we did together was a 'McMillan'."
"Man From The Alamo": "Oh, it was so very Hot! We shot it out in Agoura, in 106º temperature. It was dry—and those covered wagons! Hugh O'Brian and Jeanne Cooper were in it. Glenn Ford is a charmer—and I became good friends with Neville Brand. He was a real friend."
On the less-than-terrific "Stand At Apache River": "I almost drowned on that one! There's a scene where I fall into the water. They forgot to put something down for my feet and when I went in, I went down like a piece of stone with that heavy western dress on!"
"Slim Carter": "I autographed my name onto the credits at the beginning. Jock Mahoney was such a charming, amiable guy. We later did his TV show, 'Yancy Derringer' together."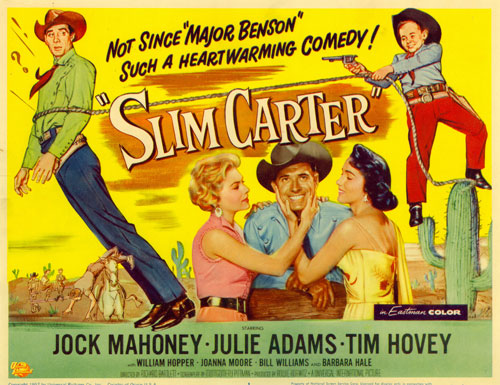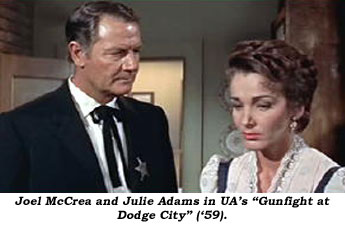 "Gunfight at Dodge City": "Joel McCrea was charming; such a delight. I've been very fortunate with my life and experiences. They have been very pleasant, for the most part."
In recent years, Julie appeared in the semi-regular role of the Cabot Cove man-hungry realtor on "Murder She Wrote". "One of the shows also had Hugh O'Brian on it! That was a fun show to do, and Angela Lansbury is just the greatest."
Julie's Western Filmography
---
Movies: The Dalton Gang ('49 Lippert)—Don Barry; Colorado Ranger ('50 Lippert)—Jimmy Ellison/Russell Hayden; Crooked River ('50 Lippert)—Jimmy Ellison/Russell Hayden; Fast On The Draw ('50 Lippert)—Jimmy Ellison/Russell Hayden; Hostile Country ('50 Lippert)—Jimmy Ellison/Russell Hayden; Marshal Of Heldorado ('50 Lippert)—Jimmy Ellison/Russell Hayden; West Of The Brazos ('50 Lippert)—Jimmy Ellison/Russell Hayden; Treasure Of Lost Canyon ('52 Universal International)—Tommy Ivo; Bend Of The River ('52 Universal-International)—James Stewart; Horizons West ('52 Universal-International)—Rock Hudson; Lawless Breed ('52 Universal-International)—Rock Hudson; Man From The Alamo ('52 Universal-International)—Glenn Ford; Mississippi Gambler ('53 Universal-International) —Tyrone Power; Stand At Apache River ('53 Universal-International)—Stephen McNally; Wings Of The Hawk ('53 Universal-International)—Van Heflin; One Desire ('55 Universal-International)—Rock Hudson; Slim Carter ('57 Universal-International)—Jock Mahoney; Gunfight At Dodge City ('59 United Artists)—Joel McCrea; Tickle Me ('65 Allied Artists)—Elvis Presley; Last Movie ('71 Universal)—Dennis Hopper; The Trackers ('71)—Ernest Borgnine (TV movie). TV: Zane Grey Theatre: Man Of Fear ('58); Zane Grey Theatre: Tall Shadow ('58); Yancy Derringer: Return To New Orleans ('58); Maverick: Brasada Spur ('59); Maverick: White Widow ('60); Alaskans: Doc Booker ('59); Cheyenne: Gold, Glory and Custer—Requiem ('60); Rifleman: Nora ('60); Wrangler: An Affair With Browning's Woman ('60); Tate: Mary Hardin Story ('60); Bonanza: The Courtship ('61); Outlaws: Return To New March ('61); Virginian: No Drums, No Trumpets ('66); Big Valley: Target ('66); Big Valley: Emperor Of Rice ('68).