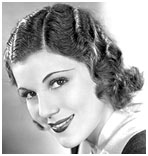 RUTH HALL
Ruth Hall, the leading lady of numerous films from '30 to '34 was born Ruth Blasco Ybanez in Jacksonville, FL, on December 29, 1910. "Vicente Blasco Ibanez was my uncle's name. (The family changed to a 'Y' when they came to the U.S. Both are pronounced the same.) My uncle was a famous writer whose credits include 'The Four Horsemen of the Apocalypse,' and 'Blood and Sand.' Both were made into very famous silent pictures with Rudolph Valentino. The former was remade with Glenn Ford and the latter with Tyrone Power."
Asked how she first got into pictures, Ruth states, "We moved to Tampa when I was very young. My parents divorced before I was two, and my grandmother kept me while my mother went to work—for Equitable Life. In the late '20s, 'Hell's Harbor' with Lupe Velez, was to be shot on location in Tampa. It was the beginning of sound pictures. My mother was such a good and well-known businesswoman that when (director) Henry King and his brother Lou came to town to make the movie, she was asked by the city to help in entertaining the movie people. It was summer, I was asked if I'd like to be an extra, and I said 'Yes.' Then I went to the Tallahassee College for Women, but after nine months, my mother phoned and told me I had an offer from Hollywood—that I would be under contract to Paramount for, I think, two years, and at a salary much larger than what mother was making. This is where God comes into play. Equitable Life decided to move their headquarters from Tampa back to Jacksonville, so we would have to sell the house and move anyway. Mother went back to settle in Jacksonville, I rented out the house in Tampa. My grandmother came with us and I met mother in Jacksonville, and we took the train to Hollywood."
Asked about her first day in Tinsel Town, Ruth amazingly states, "We were picked up at the railroad station by Harry Ham, who worked for Paramount. This was about 10 in the morning. He took us to the Christie Hotel, now the Hollywood Roosevelt, on Hollywood Boulevard near Graumann's Chinese Theater. Ham stated he wanted to take me on to Paramount, so that very same day at 2 o'clock I was at the studio, being an extra in a picture with William Powell and Kay Francis, 'For the Defense'. I had a marvelous wardrobe—a pale blue and white blouse and hat, with white skirt. I was put on the set, and the other extras snickered. I couldn't understand why, when finally one girl said, 'Don't you know you came on the set with a white outfit on—it distracts from the stars.' Apparently, William Powell heard her, because he came over and gave me some advice, the first being, 'Do not pay attention to those extras! I am going to help you. He put me in the jury scene, and I was six weeks on that jury! Every day, William Powell came and gave me advice. I took notes from Mr. Powell! Nine months later, I was dating a casting director who told me 'William Powell demanded we give you a good part! A speaking part.' And that's how I came to be in 'Monkey Business' with the Marx Brothers."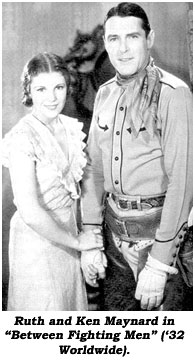 As to her life in Hollywood, "My mother got a job at Equitable in L.A., and with my salary, we were doing quite well. We soon moved from the hotel to a small house. Paramount put me in school to learn to act. Others in the class were Buddy Rogers, Frances Dee and Mary Brian, but they were all big stars, working constantly, so I got the most benefit from those lessons. It was a marvelous opportunity!"
In 1932, Ruth was one of the famous Wampas Baby Stars. "Gloria Stuart and Ginger Rogers were also on that year's list." Ruth began to freelance, and it was at this time she began appearing in westerns including leading lady to Ken Maynard ("Dynamite Ranch", "Between Fighting Men", "Strawberry Roan"), Tom Mix ("Flaming Guns"), John Wayne ("Ride Him, Cowboy", "Man From Monterey" and the "Three Musketeers" serial).
Asked about riding experiences, Ruth relates, "I love to ride. I was a very young girl in Florida and I could ride English saddle. But, for the westerns, I had to master fast mounts and fast dismounts. So, I went to Griffith Park and practiced everything. There were never any accidents on film, but I had one when I was returning to Griffith Park during a practice session. The saddle came undone, and I went between the legs of the horse. That horse stood over me—and he seemed to be thinking, 'What are you doing down there?' (Laughs). All fear of horses left after that. I appreciate the intelligence of horses. I was learning to hop on and off them with hoop skirts—and even riding side-saddle. Nothing bothered me again. (Laughs)"
Ruth worked often with Ken Maynard. "He was marvelous! Other people thought we were in love, but he adored his Mexican wife. However, the things she did—he couldn't understand. He'd tell me about her experiences. She was a Christian Scientist. She was trying metaphysics to get him to stop his drinking. I could really give him some idea of what she was thinking, and how he could cope. My family had been Christian Scientists since I was 5, therefore I could relate to Ken's wife. I had no problems with Ken—a couple of producers gave me some hassle. I believe all ingénues face this sort of thing, and that's why I didn't want my two daughters to go into the business."
"I was awfully young when I came to Hollywood. I always thought I wasn't a good actress. One day, I was doing a scene with Ken Maynard. Remember, half the time, the director didn't even know the actress' name! There would be two little marks on the floor. If I didn't hit them, I was out of focus. But the girl was not important—usually. In this one, I had a good role—and I decided if the director gave instructions, I would follow. If he didn't, then I was playing it the way I felt it. The scene was quite long. When the director yelled 'Cut,' all of a sudden there was a great applause—from the electricians, and everyone needed to make a film. It was quite a large applause. That gave me more inspiration than anything I had done. I was gratified for it. And I believe it happened on 'Strawberry Roan'."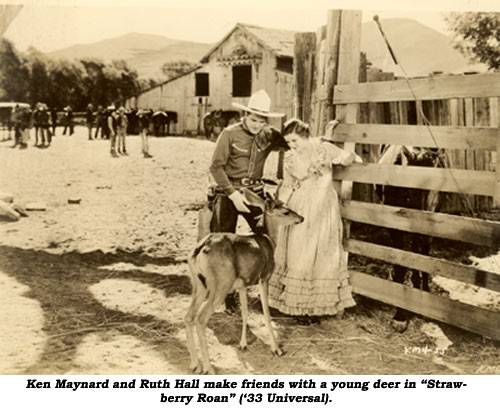 Ken's brother Kermit was also in this picture, doing stunts. "I was scared to death. They didn't have stand-ins for 'just the girl,' but Kermit was Ken's stand-in, and he was wonderful to work with. At one point, they put up a slim two rails for protection, and we stood back of them. Then they shot guns and sent in this long line of frightened horses, which were running as fast as they could—towards us! I didn't think I'd live though that! (Laughs)"
Ruth received plaudits on other pictures as well. "In 'Between Fighting Men', which was a very popular picture, I had to get down on the floor to get ahold of Ken, and pull and beg and plead with him not to do something. Of course, nobody gave me any directions. But, when I got through with the scene, the entire crew applauded. Another time, I had to be on a runaway horse—I held on for dear life, but it was exhilarating, and the crew gave me an ovation again!"
Asked about her most famous leading man, John Wayne, she states, "John Wayne was my most favorite western leading man. He was so very pleasant to work with. He was wonderful! We did a serial, 'The Three Musketeers', together. Raymond Hatton, Francis X. Bushman and top-billed Jack Mulhall had the title role, with John playing a kind-of D'Artagnan figure. It had a French Foreign Legion setting, and I did my own direction in all these things. (Laughs) We shot it in Yuma, AZ, and the Mojave Desert, at the time Franklin Roosevelt closed all the banks. We had no money to pay for anything! Yet we kept right on shooting. (Laughs) Even in the middle of the day! I had to do all my own makeup and my own hair, which of course wasn't the case on the bigger pictures filmed in Hollywood. Because of the sun and the heat, I developed blisters. So, they shot the back of my head—they didn't delay or retake anything! (Laughs)"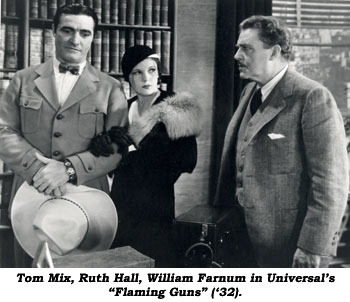 Ruth appeared with Tom Mix in one of his last features, "Flaming Guns." "My agent got that job for me. Tom Mix was a wonderful man, but very, very reserved. He appeared to be more of a gentleman than a cowboy. I never saw the film."
On September 10, 1933, Ruth Hall married cinematographer Lee Garmes ("Gone With the Wind", "Fighting Caravans", "Duel in the Sun", "Fighting Kentuckian", "Lusty Men", "Man With a Gun"). "We had known each other only two months, so we married in a hurry. But we had 45 years together. (He died August 31, 1978.) Lee was such a wonderful person—a fellow Christian Scientist—and he won the Oscar for 'Shanghai Express' in '32."
"I had a contract with Universal when Lee had an offer from Ben Hecht and Charles MacArthur to go to New York. Lee wanted to go to New York without me, but my agent, Arthur Landau, was able to get me out of the Universal contract. We were in New York a year and a half. During this time, I got bored and got myself a new agent—I did 2 or 3 shorts with Morton Downey, and 'The Old Grey Mayor' with Bob Hope—billed under the name Ruth Blasco. Helen Hayes (Mrs. MacArthur) became a good friend, and she suggested I go study voice projection. It was a help, but sometimes I can be 50 feet away, and people can hear me in church! (Laughs)."
"There was a call from Alexander Korda in England. He wanted Lee to both photograph and build Denham Studios. Again, he wanted to go alone, but I wouldn't have it. I felt his career more important than mine, so off we went to England. I was expecting my daughter Pamela on the way over. She was born February 27, 1936. My mother was over there when war broke out—Lee and I were already back home, as Lee had been asked by David O. Selznick to work on 'Gone with the Wind.' (Garmes was later uncredited.) There were no cables—so I couldn't get to her or hear from her. I had Pamela's papers, and my mother didn't. So, that was real trouble! Finally, in England, on Oxford Street, which was 4 or 5 blocks long, ten tables with chairs were set up by important business people, who wanted to help people get out of England who were without any papers. Mother found one man who said, 'I know Lee Garmes—I will help you and your granddaughter get out of England. So he got her accommodations on the Washington. A friend met them and put them on a train to Hollywood. Thank goodness. Lee and I did nothing but pray, and God had plans for all of us! Our second daughter, Carol, was born December 25, 1942."
At 92, Ruth died at a retirement home in Glendale, CA, on October 9, 2003.
Ruth's Western Filmography
---
Movies: Dynamite Ranch ('32 World Wide)—Ken Maynard; Ride Him, Cowboy ('32 Warner Bros.)—John Wayne; Between Fighting Men ('32 World Wide)—Ken Maynard; Flaming Guns ('32 Universal)—Tom Mix; Man From Monterey ('33 Warner Bros.)— John Wayne; Strawberry Roan ('33 Universal)—Ken Maynard. Serial: Three Musketeers ('33 Mascot)—John Wayne/Jack Mulhall.