JACQUELINE WELLS/ JULIE BISHOP
She's that rarity among movie stars—she endured where others could not. A silent film child actress who made it to adult roles, easily moving from silents to talkies. In addition, she's possibly the only well-known actress who changed names entirely, mid-stream in her career. She's Jacqueline Wells, later known as Julie Bishop.
Jacqueline Wells was a well-known actress when Warner Bros. opted for the name switch. "Jack Warner told me my real name, Jacqueline Wells, was too long; we needed a shorter name. I came up with several stars who had longer names but this did no good. It was Steve Trilling, head of casting at Warners, who came up with Julie Bishop. I did and do like the name Julie Bishop, so it did turn out all right in the end. Although four letters shorter, it has the same four consonants Jacqueline Wells has! (Laughs)"
Born August 30, 1914, in Denver, CO, Julie doesn't recall how she wound up in Hollywood—especially at such a young age. "My mother was wonderful—we were here and I made my first picture as a very small child, although I do not know the title. It had a scene with me in bed. I was pre-school age. The director was pleased. He said to my mother, 'She's gonna be all right. But, you must be strict with her; don't let her tell you what to do—you tell her what to do!' My mother was careful about my getting into pictures, but she was proud of me. She let me do it. We had some relatives in Texas that didn't really approve, but I got to do it, anyway. Those were wonderful times, learning to act. I enjoyed doing it."
One of Jacqueline Wells' earliest credits was a silent serial, "Bar C Mystery" ('26). "I remember Wallace MacDonald, the star. I was a small child. Several years later, I was under contract to Columbia where Wallace was then a big producer at the studio, so I used to see him often."
Asked about the transition from silent to sound films, she's quick to note, "My mother took me to plays every Friday night. She'd critique the actors and actresses—'They were too broad; they were too loud; they were too low; they did this right, or they did it wrong.' Whatever. We'd go to movies on Saturday. She'd tell me these were good actors, or not… I remember my mother said, 'Now look—there's going to be talking in pictures. Now this person is a good actress or she's moving her hands too much.' So, I was always prepared—even when talk came in."
As for the usual trouble with schooling and child stars, Julie states, "Regular schools didn't work out. I was home schooled—tutored, and I loved it. I was the only one in the class, of course. Someone would always come to the house—they did it better anyway. I was spoiled from then on!"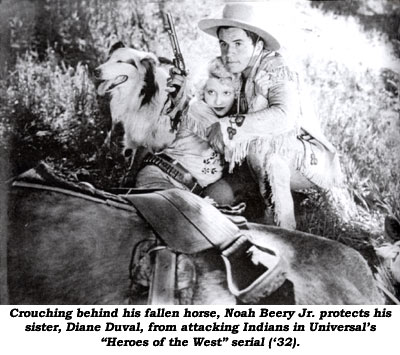 "Heroes of the West"('32) was an early talkie serial at Universal. "Yes, and it was around this time that someone thought about a name change—for the first time. I don't know where they came up with Diane Duval, but I only kept the name for a day and a half. (Laughs) Incidentally, it was pronounced "Dee-ohn" and not Die-Ann. When Warners later changed my name for good, I was the one who picked Julie Bishop—I liked that one, of all the names they threw out." That serial has two famous male stars. "Yes, Noah Beery Jr. and Onslow Stevens, both were sons of famous actors. Of course, Pidge—and I don't know where that nickname came from, was Noah Beery's son and Onslow was the son of Houseley Stephenson—his real name being Onslow Stevenson. Both were great guys—it was a lot of fun. Fortunately, there were no accidents when we did the show. After I finished it, Diane, who I thought was 'quite a gal', became Jacqueline Wells again!"
"Clancy of the Mounted" ('33) followed shortly. "Tom Tyler was so handsome, so tall, and his voice—striking. But, he was a man and I was a child playing a grown-up—something that happened quite a bit in those days, for some reason. So, naturally, we never dated or anything like that! I thought the serial was marvelous, incidentally."
An early feature western, "Square Shooter" ('35), starred Tim McCoy. "Rumors were rampant that Tim McCoy, who was old and ugly and had beady eyes, had a way with the women—be them adults or young girls like me. So, my mother, who was usually always on the sets, was there to protect me from this old lech. He didn't get away with anything while my mother was there! John Darrow, the juvenile lead, didn't try anything, either. (Laughs)"
"Ranger and the Lady" and "Young Bill Hickok" were two '40 releases starring Roy Rogers and Gabby Hayes. "I'd been under contract to Paramount in the early '30s, then Columbia for several years. I was now free-lancing and always tried to do my best. Republic must have liked me, because they hired me over and over. Roy was a normal, everyday kind of guy—maybe a little out-going, after he got to know you; perhaps a little shy when you first met him. Now Gabby Hayes is one character actor who turned himself—literally—into his character. He became Gabby Hayes! The pictures were well-made, and there was never any trouble. I recall no accidents or tantrums or anything like that. They were fun to do."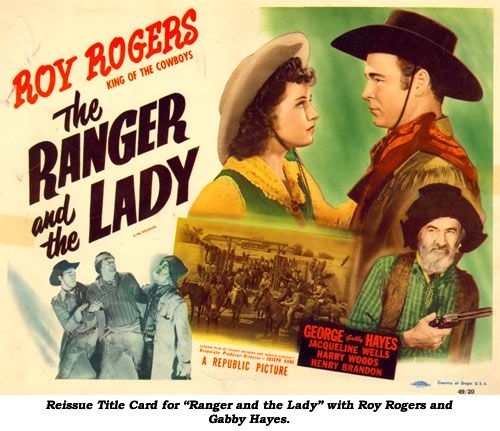 "And the same can be said for Gene Autry and 'Back in the Saddle'. Actually, I didn't have much to do with Gene in the film, I had more scenes with Edward Norris. Now Edward is a handsome man! He was married to Ann Sheridan. They were a fun couple. For years, Norris had a ranch in the hills of Malibu. He had show horses; not race horses. A few years ago, he sold it and moved to Fort Bragg, which is near Mendicino, where my husband and I live. He still has horses and often wins when he goes to horse shows. A very nice guy."
Prompted to recall child actress Mary Lee, "Oh, was she a child? I thought she might have been a dwarf! (Laughs). She was odd-looking, but had a great singing voice. Funny, I don't recall her mother being on the set, so naturally I assumed she was past 18."
When asked about singing on screen and how it's done, Julie said, "Usually I was dubbed but, occasionally, if it wasn't something too difficult, I was allowed to do it. They prerecord the songs, then a huge machine comes onto the stage and you lip-sync to the recording."
A famous Jacqueline Wells picture with music is "Bohemian Girl" with Laurel and Hardy. "That reminds me of a story I have been telling ever since 1936. The skinny one, Stan Laurel, was supposed to say, 'Oh, what a terrible catastrophe,' but it came out, 'Oh, what a terrible cats after me.' (Laughs). That struck me as so funny. I've never forgotten it!"
"Kansas Terrors" was a 3 Mesquiteers western in which Julie plays a Mexican girl. "I remember Robert Livingston, a handsome guy, but for the life of me, I don't recall ever playing a Mexican. When I saw the picture recently, I said to myself, 'What is this?' Maybe it was dyed, but it was so long it really must have been a wig. I did all kinds of things, but I don't recall ever looking like that! (Laughs) My hair has always been light reddish, and I keep it that way today. Never, that I recall, was it black. (Laughs)"
After signing with Warner Bros., they put her in "Wild Bill Hickok Rides" as one of Constance Bennett's dance hall girls. "That was like starting over! My part was so small—I worked my way back up the ladder. They gave me supporting and later leading roles in their B-mysteries, and they were fun to do as well."
In the late '40s, there was "Last of the Redmen". "That was in Cinecolor, which doesn't look as good as Technicolor. It was based on 'Last of the Mohicans' and had a great cast. Evelyn Ankers and I are sisters—don't the Indians get us in it? (Laughs) Handsome Jon Hall was the hero, and Buster Crabbe portrayed an Indian. Michael O'Shea was a fine actor. It's a shame he wasn't given better opportunities—he's better known for being married to Virginia Mayo than for any of the fine performances he gave."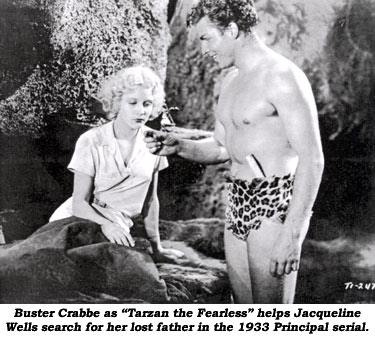 "Buster Crabbe, of course, was back in a loin-cloth. (Laughs) We did that 'Tarzan the Fearless' serial together 15 years earlier. I became friends with Edgar Rice Burroughs who wrote the Tarzan novels. Of course, Buster was wonderful, marvelous, an Olympic champion. I thought him much better looking than Johnny Weissmuller. There was no funny business with Buster—he was serious about becoming an actor—and with his looks and physique, how could he miss!? He was excellent. Actually, I'd already known Buster from being under contract at Paramount. So we were old friends when we worked on 'Tarzan..'."
"The Big Land" was Julie's last western. "It was a big picture. Alan Ladd was the star. I always liked Alan, we always got along and had a good time. As I recall, there was no location work for me on that one—I did all my part on the set, at the studio."
But one picture she made that did require a lot of location work was "Westward the Women" filmed in Kanab, UT. "William Wellman, better known as 'Wild Bill' Wellman, and a famous woman-hater, was the director. (Laughs) Robert Taylor, MGM's biggest male star, headed this cast of a hundred women. (Laughs) I enjoyed him. This one took a long, long time to film. Wellman was great fun! He made sure we knew our business, weeks and weeks before shooting started. I had to learn to drive a wagon, l learned to do all the things properly. I had to drive the wagons up a hill—it was very exciting. Bill was an excellent director—this movie—it just had to be good."
Wellman's feelings for makeup women and movie mothers is legendary. "Yes! One day a hairdresser somehow got on the set and combed my hair. Wellman screamed, 'Don't ever do that! Don't comb your hair. I want you to be dirty!' I liked that—it meant reality, it was all so exciting. The picture was so huge they made a production short, 'Challenge the Wilderness', to go along with it."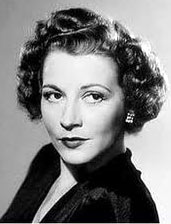 With so many pictures made over a great length of time, things tend to blur in Julie's mind. "There was one film, where I am riding, and I jump over a pond of water. I don't recall the film, but it was exciting! Probably in 'Westward the Women', but I just don't remember."
It's impossible to speak with Julie Bishop and not ask about her "Sands of Iwo Jima" ('49) and "High and the Mighty"('54) co-star, John Wayne. "Oh, John Wayne—such a dear friend of mine. I miss him!"
And we will miss Julie, who died August 30, 2001, on her 87th birthday.
Julie's Western Filmography
---
MOVIES: Square Shooter ('35 Columbia)—Tim McCoy; Kansas Terrors ('39 Republic)—3 Mesquiteers; Ranger and the Lady ('40 Republic)—Roy Rogers; Young Bill Hickok ('40 Republic)—Roy Rogers; Back In the Saddle ('41 Republic)—Gene Autry; Wild Bill Hickok Rides ('42 Warner Bros.)—Bruce Cabot; Last of the Redmen ('47 Columbia)—Jon Hall; Deputy Marshal ('49 Lippert)—Jon Hall; Westward The Women ('51 MGM)—Robert Taylor; Big Land ('57 Paramount)—Alan Ladd.
SERIALS: Bar-C Mystery ('26 Pathe)—Wallace MacDonald; Heroes of the West ('33 Universal)—Onslow Stevens; Clancy of the Mounted ('33 Universal)—Tom Tyler; Tarzan the Fearless ('33 Principal)—Buster Crabbe.