CONNIE STEVENS
Actress-singer-documentary filmmaker-business tycoon Connie Stevens was born Concetta Ann Ingolia August 8, 1938, in Brooklyn, N.Y.
While still in her teens, the future superstar had already appeared in TV and motion pictures. It was her third film, the Technicolor "Rock-a-Bye Baby" ('58), that put her in the spotlight. "That was a very good picture; a family film like they won't make anymore. Jerry Lewis was the star."
Because the film was such a box office smash, Paramount gave Connie, and another newcomer, Mark Damon, the leads in a teenage exploitation picture, "The Party Crashers" ('58) the cast of which includes two former child stars, Bobby Driscoll and

Gary Gray. "Oh my God. I was sitting at a table, having my makeup applied when I noticed, in the mirror, this good looking guy come up behind me. 'You're Gary Gray!' I said enthusiastically, and he admitted he was. I then told him, 'You don't know it, but I was president of the Gary Gray Fan Club back in New York.' Can you imagine it? In such a short time I was actually 'starring' in a movie, and my long-ago crush was in it with me."
In the late '50s, Connie Stevens was about to become a household name. "I was under contract to Warner Bros., and they starred me in the TV series 'Hawaiian Eye' as Cricket Blake. I even sang in many of those shows. Warners also put me in some of their most important pictures, like 'Parrish' ('61), 'Palm Springs Weekend' ('63) and the title role of 'Susan Slade' ('62), all with Troy Donahue." Although associated with detective shows and comedy series ("Wendy and Me" as a Gracie Allen clone opposite Gracie's husband George Burns), "I really preferred westerns. I wanted to do westerns." After the Jerry Lewis picture, "I had just turned a quick 17 years old, and went over to Warner Bros. My contract was picked up by Jack Warner. They didn't know what to do with me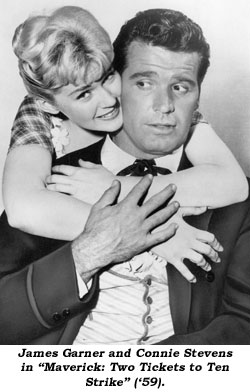 for awhile, so I did a 'Maverick' with Jimmy Garner who won an Emmy with that show. Then I did a 'Sugarfoot' with Will Hutchins, yeah, a cute guy! Then I went to the front studio and said as vocal as I could—I was a very brazen little girl—the only horse I ever saw had a cop on its back in Brooklyn—I wanted to be with the cowboys. So I say, 'Isn't there anything I can do down there? Please, please let me do one of these shows' and they said, 'All right.' I still don't know if they did it as a joke but I did Clint Walker's 'Cheyenne' show!"
"I went up to (producers) Hugh Benson and Bill Orr and said, 'Where's my script?' They give me the script—it was a Mexican tramp! (Laughs) So, I had my work cut out for me. I had to get this black wig on me, down to here. (Laughs) I was working with the vocal coach to do a few syllables in Spanish. I'd never been on a horse before, so I went down with the wranglers, they got me on the horse, and I was ready for my first day. I go out there and the first scene is I'm being

beaten up by somebody in a barn, and Clint Walker has to come out. He beats up that guy, and says to me, 'Go on gal, git.' So I run out of the barn and I have to get on his horse, to ride away. Clint Walker is 6 foot six; I'm five foot two. His horse was enormous! It was like a building in New York to me. I think it was Gordon Douglas directing. I tried to get on the horse. My leg was in a perfect split and I said I couldn't get on the horse. Here I was, a new contract player and I turned around to the camera and said, 'I can't get on the horse.' Gordon said, 'Keep trying. Keep trying. Get on that horse anyway you can.' So I proceeded to try each way but loose to get on that horse. I yanked myself up, fell down, went over the other; any way I could. I still never made it. They were laughing so hard—that crew—and I started to cry. 'I can't get on the horse.' I figured I was going to get fired—you know—from the lot. Finally, we did the scene with three apple boxes, and when you saw the show, I flew on top of that horse, just blump, blump, blump, and I was on that horse. About a week later everybody on the lot was looking at me laughing. I thought, 'What's going on' because they were always playing tricks on me—I was the new kid on the block and they said Jack Warner was showing this film. In some of the archives, they still have the film of me crying, 'I can't get on the horse.'"
In recent times, Connie has become a documentary filmmaker. "I directed, wrote, produced, photographed and edited the documentary, 'A Healing: Women of Vietnam' ('97). I interviewed many POWs, including John McCain, Senator from Arizona." A well-known Republican, "I supported Senator McCain in his 2000 presidential bid, and I appeared at the Republican Convention in Philadelphia!" Today, Connie promotes her popular line of cosmetics. "I founded Connie Stevens' Forever Spring, and it's become very successful. My life today is very full; I couldn't be happier."
Connie's Western Filmography
---
TV: Sugarfoot: Misfire ('57); Maverick: Two Tickets to Ten Strike ('59); Sugarfoot: The Wild Bunch ('59); Cheyenne: Reprieve ('59); Temple Houston: Town That Trespassed ('64).