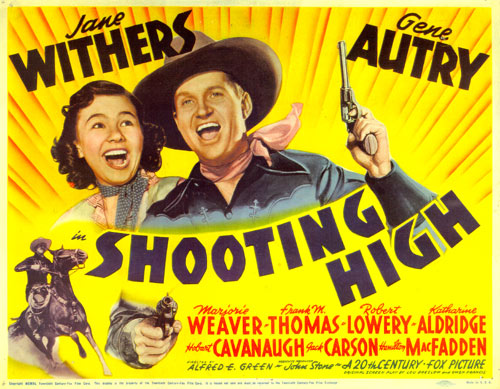 "Dixie's Dainty Dewdrop" was born in Atlanta, GA, 4/12/26. Jane Withers had her own radio show in Atlanta, but before long, was in Hollywood, making casting calls with a lot of other kids.
Her big break came when Fox needed an opposite "type" for Shirley Temple's "Bright Eyes". The rest is history. First given her own picture, "Ginger", the star quickly rose to be a Top Ten Box Office champ during the late '30s.
"Westerns and musicals have always been my favorites," she explained. "I always longed for a western-themed picture, and I first got one in 'Wild and Woolly'. Walter Brennan played my grandfather. I adored him; we worked together many times later—even in 'The North Star' at RKO in '43. That one took so long I had two birthdays and graduated from high school before it was finished! Walter's daughter, Ruth, was an excellent equestrienne. She played two roles in the film. Riding, of course. I adored Walter, and since I received cast selection and approval, he did many pictures with me."
Child star Jackie Searl ("Skippy", "Oliver Twist" etc.) was in "Wild and Woolly" as well. "One of my all-time favorite people—I put him in 'Ginger', 'Small Town Deb', anywhere I could. I was lucky that way. I put as many of the kids in my pictures as I could—I'd get jobs for the children who used to make the casting calls with me, before I made it! I really loved Jackie Searl. He didn't like to sign autographs, but one time I called him and asked him to please co-sign some pictures for the fans, and he did!"
Pauline Moore was in both 'Arizona Wildcat' as well as 'Wild and Woolly'. "I love her, too. A very sweet lady. We worked together more than once."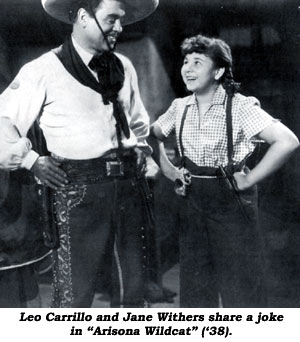 Leo Carrillo was Jane's co-star in "Arizona Wildcat". "Goodness gracious, Leo was so much fun. He was exactly the same off camera as on, although his accent wasn't as exaggerated. He was full of fun and always smiling, very much the gentleman. He was well read, and I really liked him."
Jane Withers was a unique child star—with privileges not granted most any other star—child or adult. "I was the only child star I know of who was given the opportunity to sit in with the writers on story conferences—and I got to come up with some of the dialogue. They didn't like too much slang, like the word 'swell', but I had to sometimes tell them I would say what they mean, but in a child's way of saying it—the dialogue sometimes seemed too grown-up."
It was Jane who was responsible for "Shooting High" at Fox in 1940. "Joseph Schenck was then head of 20th Century-Fox. I wanted to do a film with Gene Autry, so I called Mr. Schenck. He told me Gene was Republic's biggest star and they'd never loan him to Fox. So, I asked if he would loan me to Republic but he told me I was the number 6 box office draw in the country, and Fox would never loan me to another studio. He did agree it was a great idea, it would be box office dynamite!"
"I just had to do a picture with Gene Autry, so I put it in my prayers. Then I called Republic. When the studio operator answered, I told her I would like to talk to the head of the studio—(I didn't even know his name at the time). She said, 'Little girl, a lot of people would like to talk to Mr. Yates, but he's a busy man.' I told her, 'Well, I'm a busy girl. My name is Jane Withers, and could you please connect me?' The operator screamed 'The Jane Withers, the actress? I am sure Mr. Yates would be thrilled to speak with you.' Mr. Yates was in an important conference, but she said she'd take a note into him; he'd definitely want to talk to me. I waited for awhile and finally he came on the phone. 'Hello, is this little Jane Withers? I'm Herbert Yates and I am a big fan of yours!' I told him I had a terrific idea—I wanted to make a picture with Gene Autry—and he said he'd love to borrow me. I had to explain that Mr. Schenck wouldn't loan me and thought he wouldn't loan Gene, but that I had a great idea and that, Honest Injun, I would not take up more than 15min of his time. He had a board meeting, but I was getting out of school at noon and could meet him around 2:30. He said he'd explain to the others and leave the meeting when I arrived. True to his word, Mr. Yates left the meeting. I explained that perhaps Fox could loan Republic two or three of their stars in exchange for Gene, since neither studio would loan us to the other, outright. He thought that a good idea, so we called Fox. Mr. Schenck's secretary said he was in an important meeting. I told her if she went in and slipped him a note, saying Jane Withers was at Republic in Mr. Yates' office, he might come out and talk to us. And he did! I wouldn't take no for an answer. Not when I knew this would be good for everyone concerned. I was afraid Mr. Schenck would be mad at me, but he wasn't! He thought it a wonderful idea! Mr. Yates told him he had a very determined young lady with a very credible idea! It was like having a baby—it took nine months to put the deal through, but three of Fox's stars were loaned to Republic in exchange for Gene. And, as I thought, the picture was enormously successful! It was one of the biggest box office pictures of the '39-'40 season."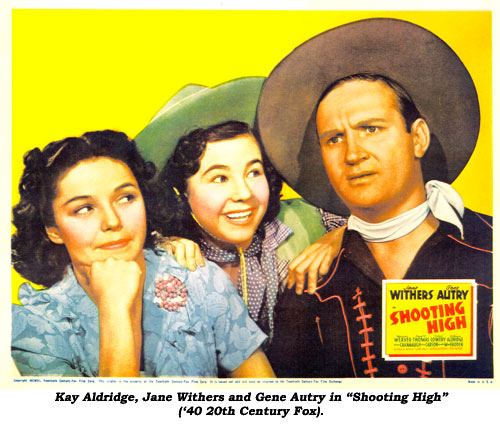 "I was happy as a lark to finally get to work with Gene Autry. We remained friends ever since. When he would be on the road, he would carve things and send them to me. I have a little slide ornament he made from the horn of a cow—it is white with 2 turquoise eyes. I have it beside a little gold watch with engraving he gave me, which I haven't worn since I was a little girl. I kept the little box he sent it in. The inscription reads 'For Janie—love and kisses from two-gun Autry'. I have three scarves he wore in 'Shooting High'. He got all his costumes after his pictures. I have Gene's shirt—embroidered, and a pastel plaid and a brown earth colored one."
Jane's biggest western was "Giant". "Well, since the story line goes on for such a long time, I guess it could be considered a kind of modern-day western. I became good friends with Rock Hudson, a movie buff. One night 'Imitation of Life', the Claudette Colbert version, was on TV. Rock called and asked if I were in it! You bet, I was one of the kids in the schoolroom. Mercedes McCambridge, Robert Nichols and of course, dear Monte Hale, have been close friends ever since. During the so-called restoration of the film, Bob, Mercedes, Carroll Baker—but not Elizabeth—went to Texas for the re-premiere."
Asked about cult legend James Dean, "I still have the pink shirt he gave me to wash, the day before he died. He asked me to hold it for him, and I have kept it all these years."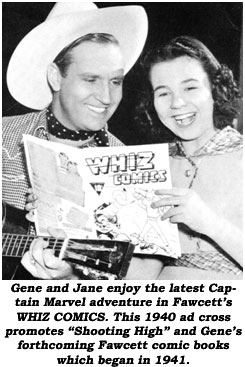 Jane's Western Filmography
---
Movies: Wild and Woolly ('37 20th Century Fox)—Walter Brennan; Arizona Wildcat ('38 20th Century Fox)—Leo Carrillo; Shooting High ('40 20th Century Fox)—Gene Autry; Giant ('56 Warner Bros.)—Rock Hudson.