KRISTINE MILLER
Statuesque and striking—two adjectives that describe Kristine Miller, the movie star of the '40s and '50s who went on to co-star in a fondly recalled Emmy award winning western series, "Stories of the Century".
Born Jacqueline Olivia Eskeson (circa 1925) in Argentina, the youngest daughter of an American mother and Dutch father, the family left South America in 1933, after that branch of the Standard Oil Company failed, moving to Copenhagen and eventually the States in '39—shortly before Nazis took over.
Kristine had mastered several languages, which would come in handy in her acting career. "I did a 'Millionaire: The Story of Anton Bohrman'. I was his wife—it was a warm, wonderful part, with accents and all. The show was so good, there was talk of making it into a series. I have a copy of it, and play it whenever I speak at the Rotary or some other club, about my screen career."
That career came about when she sent her photos to Warner Bros. A couple of screen tests resulted, "But I wasn't signed by Warners, although I was the Warner Bros. type—like Ann Sheridan. I really looked sophisticated but actually I wasn't. Hal Wallis put me under contract, and since he was just leaving the Warner lot for Paramount, most of my early pictures were made at that studio."
Among other Hal Wallis contractees were Lizabeth Scott, Kirk Douglas and Burt Lancaster. "I enjoyed Burt very much. A good physical specimen, because of his time in the circus, he was macho and sensitive, very athletic and loved the theatre, paintings and music." When asked why Wallis didn't use her properly, Kristine is quick to admit, "He'd planned to star me in 'I Walk Alone'. He tested me with Burt; it was a wonderful test. But then Lizabeth Scott decided she wanted the role, and Lizabeth got whatever she wanted—from Hal Wallis! (Laughs) So, I got the second part instead."
"Hal called me 'The Viking Girl'. He didn't know what to do with me. One time, my hair was tumbled down to look like Veronica Lake—then I was the exotic woman! Mark Hellinger, who had done so well for Burt in 'The Killers', planned to do something for me in the same vein—but then he died!"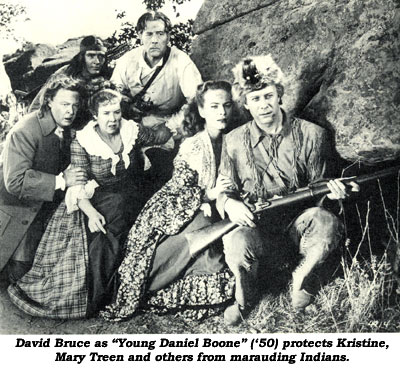 Kristine was wasted in her first western, "Desert Fury", "And I was wasted in 'Young Daniel Boone'. Mary Treen and I are sisters, tied to a tree. That's about it! (Laughs) When asked about David Bruce, her leading man, and his drinking problem, she admits, "I didn't find that at all! He was most charming—you get what you give. David Bruce was a nice man. He wasn't one of those who you wished 'if only they would step back a few miles so you won't have to smell their breath! (Laughs)."
Kristine is more pleased with "High Lonesome". "That was shot in Technicolor. It was gorgeous—the sets and everything. I have a place in La Quinta, CA. and John Barrymore Jr. lives near there. He was only about 17 when we made the picture. I kept in touch with Lois Butler, who played my sister, for years. She married Hall Bartlett, who later became a producer. I loved the part. I played the older daughter—who is 23. John Archer was in it; I later worked with his wife, Marjorie Lord! We had a scene in a real barn, where real horses had been. We had to watch where we stepped, when we were dancing around that place. (Laughs) We filmed in Texas, near where they shot 'Giant'. We stayed at the Paisano hotel, and my room was the same one Elizabeth Taylor stayed in when she made 'Giant'. We worked a lot on the range, but it was cold, not hot! Chill Wills, who I worked with again in 'Hell's Outpost', was a delight, and he sang, of course. 'High Lonesome' is one of my favorites!!"
Before her next western, Kristine appeared in the Award-winning "From Here to Eternity". "I don't even say I made that one; I'm hardly in it. I think you see my arm; that's about it (Laughs). I was Donna Reed's roommate, and I'm sure, in the novel, there's much more to the character. I loved Donna—I later did one of her TV shows. Frank Sinatra and Montgomery Cliff were something else to watch! I was on the film for 10 days. Earl Bellamy was assistant director—and I was pleased to see him become a director later—he did many things afterwards."
In the early '50s, Kristine made her favorite picture, "Jungle Patrol". "'West of Tomorrow' is a better title, I think. Harry Lauter was in that, as he was 'Steel Fist'. Rand Brooks was on 'Steel Fist'. He was married to the daughter of comedian Stan Laurel; he was a nice guy—and so very handsome."
She also ventured into television, including "Blade of the Musketeers". "That was the very first TV movie ever made—and it later played in movie theatres! Robert Clarke was my handsome leading man—and Marjorie Lord, who I knew because of working with John Archer a year or so earlier, was the second lead."
Kristine's next western was "Hell's Outpost". "A terrible name, but I met Jim Davis on that one, and I was lucky to have three tall leading men—Rod Cameron, Jim Davis and John Russell, so I got to wear high heels for a change! (Laughs) It was filmed up in Chatsworth—and it was supposed to be very, very cold, but I actually lost 7 pounds in one day because of the heavy heat! I felt my love scenes were better than any of the others, and I got to be with my good friend, Joan Leslie! We met on 'Flight Nurse' a year earlier. She's a lovely girl—I enjoy our friendship."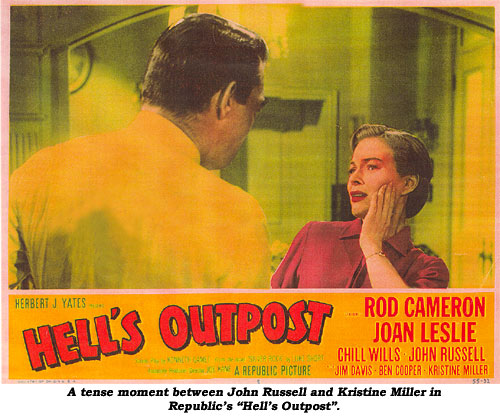 Next came "Thunder Over Arizona" with Skip Homeier. "Skip was a nice man—married and expecting his first child when we did the film. He was terrific as the Nazi youth in 'Tomorrow the World' ('44). Too good—in fact. It seemed to have hurt his career, and he never lived up to his potential. Jack Elam was also in the picture—Jack was in several of my movies. He is such a nice man—he used to be a CPA before getting into pictures! Handsome Gregory Walcott played my brother. He is a Christian fellow—we knew each other from the Hollywood Presbyterian Church. We were on common ground!"
Kristine worked with Rory Calhoun in "Domino Kid". "Very nice to work with; married to Lita Baron at the time. If he was, as Lita says, a 'playboy', I never saw it. We later did 'The Texan' together."
Kristine Miller's religious western, "The Persuader", was produced by Billy Graham's company. "Always with director, Dick Ross. I enjoyed that. William Talman had dual roles. Poor Bill had cancer even back then. When we were shooting the film, it rained and poured! We prayed for good weather. Every morning, the gaffers and sound men—we all started with a prayer. That's something I doubt you find on today's pictures! Darryl Hickman was my son. He was a dear! James Craig was very good looking—one of the black hats!"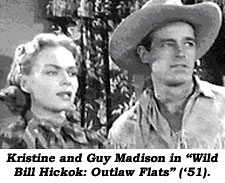 The first western television credit for Kristine was a "Wild Bill Hickok" episode with Guy Madison. "They were shot fast—I have little recall except (former child star) Wesley Barry directed."
The same could be said for her "Wagon Train" with Forrest Tucker. "That was good. As for Mr. Tucker, he was Forrest! (Laughs) He made himself well known!"
Back in 1954, Republic started TV production on 39 episodes of "Stories of the Century" with Jim Davis. Mary Castle (as Frankie Adams) played the female interest in the first 26; Kristine (as Margaret 'Jonsey' Jones) in the final 13, after guest starring in an earlier Castle episode. "Originally, they wanted me to be in the show, but at the time, I was expecting my first baby. So Mary did the first ones. They decided they needed a change, so they called me, and at that time, my baby was six months old, so I did the final 13. Jim Davis was delightful, and in 1955 we won the Emmy for best western series (at the 7th annual event). Bill Witney was the director on the first four of mine, then Franklin Adreon took over. I was sorry to see Bill go, everyone liked him."
When asked why the show was dropped, Kristine reports, "The head of Republic, Herbert Yates, decided to change to a Fu Manchu program. That was a failure, so both series disappeared—and Republic soon went away—except for leasing its soundstages to other studios! I would have done another 13 episodes very happily! Jim Davis' wife, Blanche, was every bit as tall as me. His daughter, Tara, was absolutely his idol! When she was killed in a car accident at 17 or 18, I thought he'd never get over it. Jim was a round and ready man…sweet, charming and kind. We enjoyed each other."
Asked if she had a favorite episode, Kristine emphatically states, "'Jim Courtright'. I played a barmaid and got to wear a saloon costume dress! I had a good role in 'Kate Bender' too, with Veda Ann Borg."
Kristine retired in the early '60s due to family. "We had moved away, and it was just too hard, coming back to town for interviews. We went in '64 to San Francisco; then, in '69, down to Carmel, where my husband put in the CBS television affiliate. I did have stage fright, on the very first day of every film or TV show—but once I said the first two words, it went away; everything was okay. It was difficult to say good-bye to it; I had a good time."
"I loved the era—things weren't flaunted like they are now. They used to make pretty good 'B's' to complement the 'A'. Back then, people were nice, and I made a lot of good friends. When I did 'Shadow on the Wall' at MGM, they had shot three days with me, when I came down with the measles. Ann Sothern was going through her divorce, and had her daughter, Tisha, on the set. She was worried I had exposed her to this childhood disease, which I probably caught from Gigi Perreau! (Laughs) I got to do a lot of publicity with Nancy Davis—before she was Mrs. Ronald Reagan, even though we had no scenes together. I also met Lucille Ball, who wasn't the funny woman in person she was on screen. I have very fond memories of my days in pictures."
Kristine's Western Filmography
---
Movies: Desert Fury ('47 Paramount)—John Hodiak; High Lonesome ('50 Eagle Lion)—John Barrymore Jr.; Young Daniel Boone ('50 Monogram)—David Bruce; Hell's Outpost ('54 Republic)—Rod Cameron; Thunder Over Arizona ('56 Republic)—Skip Homeier; Domino Kid ('57 Columbia)—Rory Calhoun; The Persuader ('57 WorldWide/Allied Artists)—William Talman. TV: Wild Bill Hickok: Outlaw Flats ('51); Stories of the Century: Henry Plummer ('54); Stories of the Century: 13 episodes ('55); Restless Gun: Torn Flag ('58); Wagon Train: Rex Montana Story ('58); Texan: Gunfighter ('59); Texan: Accuser ('60); Tales of Wells Fargo: Prince Jim ('61).