ANNE GWYNNE
Beautiful, blonde Anne Gwynne was born December 10, 1918, in San Antonio, TX. She moved with her parents in 1936 to Missouri, attending Stevens College. In '39, her father was transferred to Los Angeles.
Immediately obtaining modeling jobs, Anne did Little Theatre work, and was approached by two studios as a possible candidate. Universal interviewed her first and signed her to a contract after only 30 minutes—with no screen test (something then almost unprecedented). She went immediately into a Baby Sandy comedy, "Unexpected Father", released a month after she first arrived on the North Hollywood lot. "I had a small role in the picture, but I got my name on the poster! Frankly, I spoke too high pitched and much too fast, so I needed a bit of training."
Anne was given the female lead in "Oklahoma Frontier" ('39). "One of the Johnny Mack Brown westerns. I always enjoyed the westerns and I have many pleasant memories of them. Johnny Mack was—truly—a Southern gentleman! I liked him a lot! The shooting schedule was quick and since we did another one together, 'Bad Man From Red Butte' ('40), my memories tend to blur. I do remember having fun and being thrilled to meet one of my childhood idols. Bob Baker, who was a star at Universal before I got there, was doing secondary roles with Johnny Mack. When I did the Abbott and Costello western/comedy, 'Ride 'Em Cowboy', he only had a bit! I don't know why, but it was certainly a shame."
Beginning in 1940, Anne was appearing in as many as 13 pictures a year. "Man From Montreal" was one of those Richard Arlen/Andy Devine flicks. "We shot in Big Bear. It was beautiful and I enjoyed the experience of being away from the studio. Sometimes, you'd have to get to the studio very early, because they wanted you on location by 8:00am, and if it were two hours away that could really become a problem."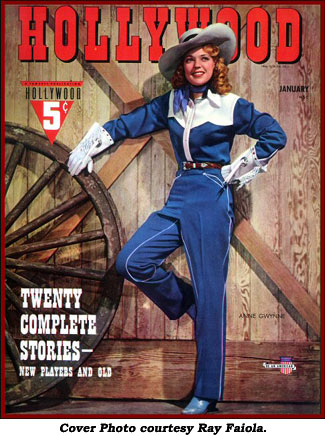 Shooting was completed in August '41, on "Ride 'Em Cowboy" but the release date was held up until 1942 so that more service oriented comedies could be completed by the studio's comedy duo smash, Bud Abbott and Lou Costello. "What a thrill it was to be in that picture. It's one of my all time favorites, along with 'Men of Texas' ('42). The drawback was the director, Arthur Lubin. I was told he wanted Shirley Ross for the part. I never felt he cared much for me and was perhaps angry I got the role instead of Shirley. There is a scene where I have to rope a bull. Lubin was going to shoot it fairly close up where you could see if they were using a double of not. I volunteered to do it, and amazingly, it went quite well. Arthur kept asking for take after take, and that old Brahma bull started to get a little angry. Now, I'm not all that smart about animals but I knew enough to know when the bull kept snorting and scratching at the ground with his paw it was time to stop messing with him. I told Lubin and fortunately he let it be a wrap or else I wouldn't be here today to tell you about it. It comes across very well when you see it and I wasn't injured in the least!"
"Dick Foran was another of my favorites. I was so thrilled to be playing opposite him. The song 'I'll Remember April' was a big, big hit. It's still a standard today and if it had come from a larger studio's film, it would have gone even further than it did. Universal was like a family—very nice but small when compared to Warners or MGM. We got lots of publicity but not the buildup we could have gotten elsewhere."
"Men of Texas" ('42) was one of Anne's first lead roles in an "A" feature. "The cast was terrific—Bob Stack, still boyishly handsome; Brod Crawford, my favorite leading man; Jackie Cooper, almost grown up. The director, Ray Enright, was another of the good ole boys. He had just finished 'The Spoilers' with John Wayne and Marlene Dietrich and we hoped this one would do as well. Although it didn't, I thought it was a very good film and certainly one of my best."
"Sin Town" ('42) was set in the oil boom days. "Marlene Dietrich was supposed to be in it but when she read the script she turned it down. She and Brod Crawford were having a fling at this time. She wanted to work with him but the character she played lost Brod to me until the final reel when he goes back to her and I land Patric Knowles. So, unfortunately, she didn't appear in it. Then Mae West was offered the role and she turned it down for the same reason. Constance Bennett, who was getting a little long in the tooth, didn't have any qualms and played it to the hilt. There was a scene where I have to drive this old time automobile. I asked the director, 'Where's the starter?' and he had to explain to me about having to crank the engine. It was a fast paced picture and Patric was so handsome, so charming, but of course married. In those days a wedding ring meant hands off."
"Frontier Badmen" ('43) was Anne's last western at Universal and she has more fond memories. "Bob Paige, bless him, was always a dear friend of mine. We remained friends for the rest of his life. He was masculine, handsome, but... funny-looking in that big ten gallon hat they gave him to wear! What's more, he was afraid of horses! Unfortunately for Bob, Lon Chaney Jr. (one of my least favorite leading men) found out about it and the practical jokes really started. Lon could be quite cruel when it came to joking around. If he had real ammunition, he used it! Lon and Bob almost came to blows over Lon's picking. Bob would get angry, even recently, when thinking about Chaney. But, Robert Paige did look funny in that hat and sitting on that horse, especially because we knew he was so uncomfortable."
"Frontier Badmen" was Anne's last teaming with Noah Beery Jr. "Pidge, as his friends call him, is such a nice guy. The studio had originally planned for us to be a screen team. We'd already done two other films but this turned out to be our last one together. I did get him at the end of the film, while Bob Paige rode off into the sunset with Diana Barrymore, who in real life he couldn't stand. Diana was always drunk through this picture and the other one we did together, 'Ladies Courageous'."
Leaving Universal in late '44, after starring in the all-monster mash "House of Frankenstein", Anne freelanced and later admitted it had been a mistake to leave Universal. "James Craig told me I should obtain my release because his agent would see that I went places like they did for him. Unfortunately, I went places all right... down to Poverty Row! If I'd just waited a year or so, Universal became Universal-International, and only released big budget pictures! I have no regrets, I enjoyed several of the films I made at this time, especially 'Panhandle' (AA '48) with Rod Cameron, who like me, had obtained his release from Universal. Blake Edwards and his partner, John Champion, wrote it, produced it, and Blake had a supporting role in it. It was an action packed picture, filmed in Sepia Tone and perhaps the last really good film I made."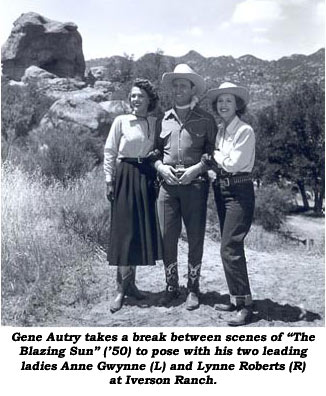 "I did other pictures, including one of the Kirby Grant Mountie movies, 'Call Of The Klondike' (Monogram '50) and that was good, but 'The Blazing Sun' (Columbia '50) with Gene Autry was a disappointment to me. It was far from his best, that's for sure."
About "King Of The Bullwhip" with Lash LaRue, Anne can only report, "I did it for the money. Some of it was stock footage. There were quite a few old timers in it, good people like Jack Holt, Michael Whalen, Dennis Moore, but it wasn't much of a picture, certainly far below the quality I had experienced earlier."
By the '50's, Anne was down to making a picture every year or two. She turned to television around this time, including the "Death Valley Days" series. "I did a couple of those, one was called 'Train of Events', co-starring Craig Hill, who had been under contract at Fox just before. I later did a 'Northwest Passage' in color (with Keith Larsen), but my family and social life had taken precedence over my career. After I was widowed, I tried to get back into the business. I did a Head and Shoulders commercial, and played Michael Douglas' mother in 'Adam at 6am'. The film was way too long. They cut and cut. Most of my part, and all of my close-ups were removed."
Long retired and living in the San Fernando Valley, Anne was scheduled to attend the 1992 Memphis Film Festival when tragedy struck. She suffered a stroke affecting her right side. "I was paralyzed, couldn't walk, and at first couldn't talk. I occasionally talk too fast, making my speech sound funny. I have to slow down, because sometimes I'm not sure if I can be understood. Strokes are very strange things. I haven't gotten back the use of my right hand, and that, unfortunately, prevents me from signing autographs. I get letters quite often and my daughter has to return them explaining my predicament. I refuse to deface their stills by signing with my left hand. After all, that's not Anne Gwynne's signature. It just wouldn't be fair."
The beautiful Anne Gwynne died at 84, March 31, 2003.
Anne's Western Filmography
---
Movies: Oklahoma Frontier ('39 Universal)—Johnny Mack Brown; Bad Man From Red Butte ('40 Universal)—Johnny Mack Brown; Man From Montreal ('40 Universal) —Richard Arlen; Road Agent ('41 Universal)—Dick Foran; Men From Texas ('42 Universal)—Robert Stack; Ride 'Em Cowboy ('42 Universal)—Abbott & Costello, Dick Foran, Johnny Mack Brown; Sin Town ('42 Universal)—Broderick Crawford; Frontier Badmen ('43 Universal)—Robert Paige; Panhandle ('48 Allied Artists)—Rod Cameron; Blazing Sun ('50 Columbia)—Gene Autry; Call of the Klondike ('50 Monogram)—Kirby Grant; King of the Bullwhip ('51 Western Adventure)—Lash LaRue; Teenage Monster (aka Meteor Monster)('58 Howco)—Gil Perkins. TV: Death Valley Days: Train of Events ('57); Northwest Passage: Ambush ('59); U. S. Marshal: Boomerang ('59).