Chapter One Hundred Twenty-Six
Who The *#!@ Was Scott Kolk?
Scott Kolk? Oh yeah, he was the bland Agent Dexter (X-9) in Universal's "Secret Agent X-9" 1937 (mostly forgotten) serial. Born Walter Scott Kolk May 16, 1905 in Baltimore, MD, the son of a wealthy builder, he atteded prestigious McDonough Academy. Following his father's death, the family moved to a farm near Portland, ME where he later studied at Thornton Academy. His father had wanted Scott to become an investment banker, but Scott had other ideas. Leaving home he joined various orchestras as a singer, even forming his own group. After spending 1927 and '28 on Broadway in the musical "Take the Air", he left for Europe. At the Lido in Venice, Italy he met actress Marion Davies who got him small roles in films beginning in 1928. After a nice role in "All Quiet on the Western Front" in 1930 he soon left films and returned to Broadway for several years until a talent scout spotted him and he was signed by Universal for the 12 chapter "Secret Agent X-9" ('37). Incidentally, Scott was accidentally punched in the nose by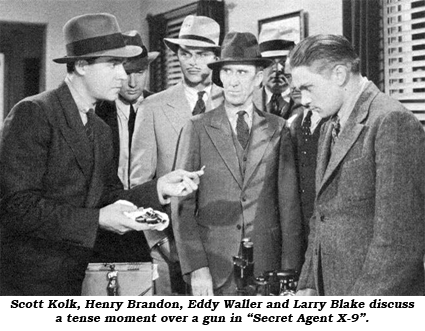 heavy Henry Brandon while rehearing a fight scene for the serial. Not exactly setting the serial screen on fire, Universal changed his name to Scott Colton, which he legally kept the rest of his life. Soon dropped by Universal, Columbia picked him up and cast him in very minor, often uncredited roles. Eventually, disgusted with the Hollywood whirl of film society he stated, "Trying to fit in and be clever, I got so I couldn't live with myself." Scott abandoned Hollywood altogether in 1938, bought a 302 acre farm in Houghton, ME and became a registered guide in the Maine woods. Eventually he returned to stock and road show company productions through the '40s. Starting in 1946 he was radio station WCSH's staff announcer and host of the nightly "Swing Circle" from 11-mindnight. Still later, he was a ranger in Franklin County, ME. Scott (Kolk) Colton died at 88 on December 1, 1993 and is interred in Wilton, ME.
The Principals in "Manhunt of Mystery Island"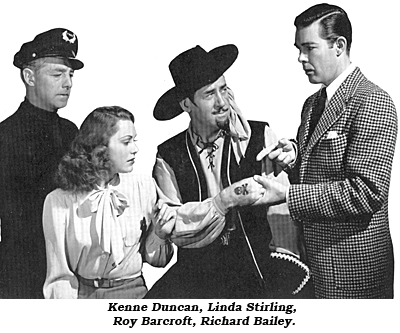 RICHARD BAILEY—

Virtually nothing is known about this, truthfully, bland actor who was probably cast in the serial because his physique resembled stuntman Tom Steele. Bailey's first credited bit role in a film was three years earlier in "City of Silent Men" ('42 PRC). "Manhunt…" didn't improve his lot in Hollywood much. Bailey had the lead dress-heavy role in three Durango Kid B's, "Galloping Thunder" ('46), ""Desert Horseman" ('46) and "Outcast of Black Mesa" ('50) as well as bit roles in a scant few A-movies ("What Next, Corporal Hargrove", "Forever Amber", "Ambush", etc.) then disappeared without a trace after appearing in a 1950 "Lone Ranger" TVer, "Outlaw's Revenge".

LINDA STIRLING—


"I made my living getting beat up, tied up and gagged and thrown off a horse," Linda told us for our WESTERNS WOMEN book ('99 McFarland, now available in softback). Born October 11, 1921, in Long Beach, CA, Linda studied at Ben Bard's Dramatic School for two years. Working as an Earl Carroll showgirl and modeling for fashion print ads led to a screen test and she was cast for a beauty contestant bit role in "The Powers Girl" ('43 U.A.). Next up was her first of six Republic serials, the starring role in "The Tiger Woman" ('44). "Zorro's Black Whip" ('44), "Manhunt of Mystery Island" ('45), "Purple Monster Strikes" ('45), "Crimson Ghost" ('46) and "Jesse James Rides Again" ('47) followed, along with a bevy of Westerns with Bill Elliott, Allan Lane and Sunset Carson. Linda married Republic screenwriter Sloan Nibley in '46 and retired from the screen soon afterward, although she did work in several TV episodes from '51-'56. She spent most of her later years teaching English Literature, Irish history and Shakespeare at Glendale College for 27 years, retiring in '92 (shortly after Nibley died in '90). Linda died of cancer July 20, 1997.
ROY BARCROFT—

Born Howard Harold Ravenscroft September 7, 1902, in Crab Orchard, Nebraska, Roy Barcroft worked at a lot of jobs (playing clarinet and sax in bands, tunnel worker for the water district, U.S. Army, salesman) before coming to films in Republic's "S.O.S. Coastguard" in '37. Barcroft appeared in 36 serials at Republic, Universal and Columbia. Republic signed him to an exclusive contract from '43-'53. His personal favorite was "Manhunt of Mystery Island". Incredibly prolific, over 300 movies and 110 TV shows, Barcroft died November 28, 1969, of kidney cancer.
KENNE DUNCAN—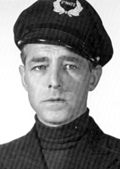 Kenneth Duncan MacLachlan was born February 17, 1902, in Chatham, Ontario, Canada. Well-educated at St. Andrews College in Toronto and the Royal School of Infantry in London, Ontario, Kenne had a brief fling as an accountant before finding acting more to his liking in 1930. Besides well over 200 B-Westerns, Kenne worked in at least two dozen serials beginning with "Flash Gordon's Trip to Mars" ('38 Universal). Duncan died at 69, February 7, 1972. Although his death was officially ruled a suicide from an overdose of barbiturates and alcohol, friends deny this, chalking it up to an accidental overdose.

In Ch. 14 of "Manhunt of Mystery Island", Linda Stirling's airplane is sent into a dive via remote control by Capt. Mephisto and audibly crashes into a mountain. In Ch. 15, the plane barely scrapes treetops on the mountain and there is no audible crash.