"Son of the Guardsman"
—Robert Shaw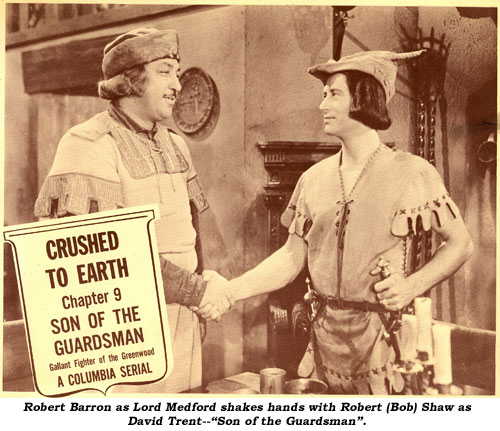 Columbia's "Son of the Guardsman"—Robert Shaw—hung up his sword and graduated to a U.S. Army Lt. Colonel.
Robert "Bud" Gottschall was born in Dallas, TX, September 15, 1915. An avid sports fan, Bud met baseball great Babe Ruth in 1929 when Bud was 13. The Babe gave him an autographed baseball which is now on display at the Legends of the Game Museum in Arlington, TX.
Having earned honors as an outstanding R.O.T.C. Cadet Officer, upon graduation from North Dallas High School Bud worked his way across the Atlantic in 1936 on an ocean liner and spent the next year pedaling a bicycle through Holland, France, England and fast-rising Nazi Germany.
Developing a passion for acting in 1937 Bud joined the Dallas Little Theatre. After a tour of Canada with a Summer stock cast, he traveled to Hollywood where six months later he landed a contract with 20th Century Fox who gave him the name Bob Shaw. His first role was as a reporter in "Rose of Washington Square" ('39) w/Tyrone Power. He had small roles in 21 films until he joined the Army in 1942. After Boot Camp at Ft. Bliss Bud was assigned to the Army Signal Corps.
After rapidly making Sergeant he went on to attend Officer Candidate School in Ft. Monmouth, NJ, where he graduated with honors and was commissioned a 2nd Lieutenant in August 1942. He married Mary Sue Mills of Oklahoma City that same month.
After WWII Bob returned to Hollywood in '46 and landed the starring role of David Trent in Sam Katzman's 15 Ch. Robin-Hoodish "Son of the Guardman" serial ('46). After several unpromising roles he rejoined the Army at the rank of Major in 1948.
He retired as a Lt. Colonel in 1963 and moved with his family to Kenedy, TX (near San Antonio). They moved to a retirement community in Victoria, TX, in '97. After his wife's death in November of '04, Shaw moved to Austin to be near his children. In failing health, 'The Son of the Guardsman' died at 89 January 3, 2005, in Austin. Full military honors were held for him at Ft. Sam Houston National Cemetery in San Antonio.

In Ch. 2 of "Son of the Guardsman", after surviving a river crossing, in the middle of the woods Robert Shaw magically acquires a bow and quiver of arrows he didn't previously have.
"Hurricane Hutch" starring daredevil Charles Hutchison was released by Pathé in 1921. This was Hutch's fourth serial following "Wolves of Kultur" ('18), "The Great Gamble" ('19), "The Whirlwind" ('19). In this 15 chapter serial Hutch strives to obtain a lost formula for making paper from seaweed so he can pay the mortgage and save a paper mill from financial foreclosure by villain Warner Oland. Suffering from injuries received in the production of his previous serial Hutch had become a bit more cautious about performing his trademark fearless feats. In "Hurricane Hutch" director George B. Seitz, Joe Bonomo, Joe Cuny and Frank Hagney doubled Hutchinson at times. Unfortunately, this serial is presumed lost; a trailer does exist.

Titian-haired beauty Anne Gwynne was born Marguerite Gwynne Trice in Waco, TX, December 10, 1918.
Raised in San Antonio, Anne studied drama. When her family moved to L.A. in the late '30s, she obtained work as a model while appearing in Little Theatre work. Spotted by a talent scout, she was signed by Universal.
Throughout the '40s Anne appeared in dozens of Universal westerns, comedies, horror films and two serials, "The Green Hornet" ('39) and "Flash Gordon Conquers the Universe" ('40). She freelanced in film and TV through the late '50s.
She briefly revived her career in '69-'70 but, suffering from Bell's Palsy, was forced into retirement.
At 84 Gwynne died of a stroke March 31, 2003, at the Motion Picture Hospital in Woodland Hills, CA. She'd been living at the Motion Picture Home for several years since suffering a stroke.
Atwill was a menace in four serials, "Junior G-men of the Air" ('42 Universal), "Captain America" ('43 Republic), "Raiders of Ghost City" ('44 Universal) and "Lost City of the Jungle" ('46 Universal).