Chapter Thirty-Four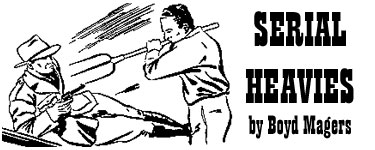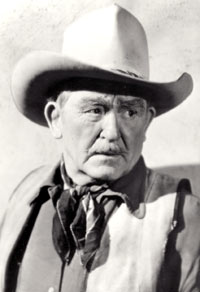 Bud Osborne
Filmgoers usually associate Bud Osborne with B-westerns. Rightly so with hundreds to his credit. But his serial output stretched to over 40 cliffhangers, counting silent epics, and about a third of them were other than western serials.
Lennie B. (Bud) Osborne was born in Knox County, TX, July 20, 1884. After education in Oklahoma City, OK, schools he took up ranching in Indian Territory. Bud later appeared in various wild west shows including five years with the 101 Ranch Wild West Show. In 1912 Bud joined Buffalo Bill's famous outfit for a year or so (where he became assistant arena director).
He made his first film for the Thomas Ince Co. in 1915. By 1916-1917 he was playing supporting roles in Harry Carey and Neal Hart westerns at Universal. His first serial was in 1919 at Pathe opposite Ruth Roland in "Tiger's Trail". At least six more silents followed—"White Eagle" ('22 Pathe) w/ Ruth Roland; "Ghost City" ('23 Universal) w/Pete Morrison, "Way of a Man" ('24 Pathe) w/Allene Ray, "Fighting Ranger" ('25 Universal) w/Jack Daugherty, "Mystery Rider" and "Vanishing Riders" (both '28 Universal) w/William Desmond.
Throughout the teens and '20s Bud played (mostly) heavies in dozens of silent westerns, even a role in John Ford's prestigious "Three Bad Men" ('26). Bud easily made the transition into sound and played everything from the boss heavy to 5th man through the door opposite virtually every cowboy star.
He was particularly fond of Tim McCoy's serial, "The Indians Are Coming", in which he's featured in a dagger duel with McCoy. Working in over 600 westerns, serials and TV shows in the sound era alone, as he began to age you'd spot him driving the stage or essaying the part of the Sheriff more and more. Certainly, western serials were his forté—"Rustlers of Red Dog", "Son of Geronimo", "Deadwood Dick", "Vigilantes Are Coming", "White Eagle", "Winners of the West", "Law of the Wild", "Lone Ranger", "Red Rider", "Riders of Death Valley", "Black Arrow" and others, but he also had good roles in a dozen or more non-western chapterplays such as "Adventures of Capt. Africa", "Batman", "Batman and Robin", "Great Adventures of Capt. Kidd", "Heroes of the Flames", "Monster and the Ape" "Phantom of the Air", "Tailspin Tommy", "Shadow of the Eagle", "Adventures of Frank Merriwell", and others.
Bud's greatest talent was his ability in handling six-up stagecoaches, buckboards or any type of wagon regardless of the terrain. His last work was apparently on TV's "Have Gun Will Travel" and "Rawhide" in early '62. One of the truly beloved serial heavies died at 79 in Hollywood February 2, 1964.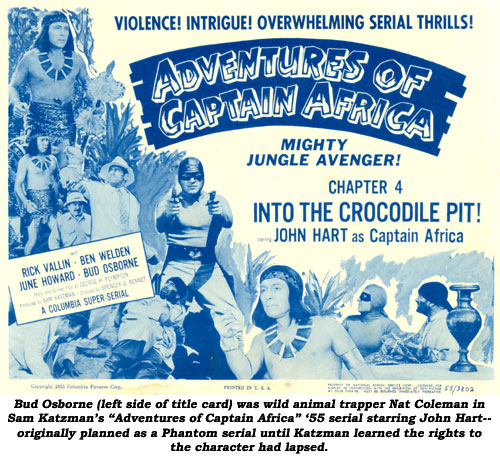 Virginia Carroll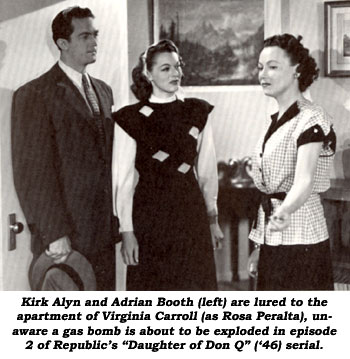 Working as a model at I Magnum's in L.A., Virginia Carroll was spotted and signed by RKO at $75 a week with the role of a sports model in "Roberta" ('35) being her first screen appearance. So, Virginia Elizabeth Carroll, born in L.A., CA, 12/2/13 began her career.
"A Tenderfoot Goes West" ('36) was one of her early roles. Billed below Virginia in that film was future star and her husband, Ralph Byrd. "He didn't mind, because he was about to become Dick Tracy! Chester Gould, who created the comic strip, saw Ralph on the lot at Republic one day and said, 'That's Dick Tracy!' It was that simple. Ralph and I met at a little theater in Beverly Hills. We were doing a play together, but I cannot recall its title. This was in 1935, and we married in 1936. I later had a tiny role in one of Ralph's serials, 'Dick Tracy Returns.'('38) When Ralph would go on tours—sometimes three or four months long—occasionally I would go. I went back east with Ralph in 1939—for a month. I also went with him in 1940, but by this time, our little girl was born, so I stopped going after that one. Then Ralph went into the service during World War II. Incidentally, I named our daughter Carroll Byrd, after my maiden name, spelling it the same. She is horse crazy, even today."
In between her westerns (with Jack Randall, Don Barry etc.) and other films, Virginia appeared in seven serials, including "Dick Tracy Returns" and the original "Superman" in '48. "I played the mother of Clark Kent, who would grow up to be Superman. Mason Alan Dinehart III played him as a child. I knew his father, character actor Alan Dinehart, fairly well. He was very talented."
Her other serials were "Mysterious Dr. Satan" ('40); "G-Men Vs. the Black Dragon" ('43); "Daughter of Don Q" ('46); "Crimson Ghost" ('46) and "Black Widow" ('47).
Beginning in the '40s, Virginia began to mix leads with character/support roles, such as her part in the bigger budgeted "Bad Men of Tombstone" ('49). "If I was working, it was fine; if I didn't work, I didn't care. Some parts I might only work a couple of hours. I was not ambitious, and Ralph didn't want me to work. He was jealous."
Nevertheless, Virginia continued to appear frequently, bridging the gap from movies to TV. Then her husband Ralph Byrd died in 1952 at the youthful age of 43. "The newspapers said he died of a heart attack, but actually he died of cancer in the Veterans Hospital in Sawtell." Virginia did remarry, but reflects, "I've been widowed for most of my life. From 1957 until his death in '69, I was married to Lloyd McLean, who was a cameraman at 20th Century-Fox. He did mainly process work. Like Ralph, he also died of cancer."
Virginia also told us, "My best friend back then was Maxine Doyle, who was married to director William Witney. I'm godmother to John Witney, their son," she smiles. "Ralph and I, Maxine and Bill, and director John English and his wife, who wasn't in the business, palled around together."
Where other actresses came and went, some relatively quickly, Virginia Carroll hung in there for 20 years, both in leads and support roles. A great compliment to a fine actress. She died at 95, July 23, 2009, in Santa Barbara, CA.
Ruth Mix on 9/30/37: "Dad (Tom Mix) disapproved of my working in pictures because he knew my heart wasn't in it. He always said you have to give it all you've got or stay out of pictures altogether. But how could I be really interested when I knew producers gave me roles because of the value of the Mix name?" (Ruth co-starred in three serials—"Black Coin", "Clutching Hand" and "Custer's Last Stand".)
Serial Memories with Tommy Farrell
Q: What are your memories of making "Roar of the Iron Horse" (Columbia '51)?
Tommy Farrell: It starred Jocko Mahoney who was the best horseman ever to ride in any western. He was an absolute beautiful thing to watch! The most graceful. Bert Leonard was the production assistant. We filmed up in Carson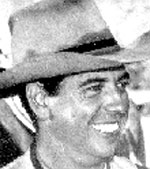 City, NV, and he contracted for local horses. He was assured by the fellow who rented the horses, 'These horses have been in lots of films. They're all trained, beautifully.' Wrong! We had a wrangler on the serial who was about 6' 4", built like a Ticonderoga pencil—a redhead from West Texas called Rusty. First morning of the serial I went out and saw all the horses tied up to the trucks. Said, 'Rusty…any of those horses any good?' He says, 'Not a damn one of 'em!' I said, 'Well gee, Rusty, would you pick one for me?' He says, 'If I's you, I'd pick the little bay mare down on the end. You won't have as far to fall.' (Laughs) And Rusty was right. When the other actors showed up—Pierce Lyden, Terry Frost…the whole Katzman gang…everybody got mounted—for a little while. (Laughs) The first 10 people that got on horses, within four minutes, there were about three of 'em left riding. (Laughs) Every morning we had a rodeo! (Laughs) The very first shot on the picture was at a little hill. There were about six bad guys up there and four good guys down here. The heavies arrive at the top of the hill and shoot down at us. First gun that went off, of the guys up there and the guys down here, about four of us were still horsebackin'! (Laughs) The horses were gone! It took about three hours to round up the horses. Then everybody mounted again. The director says, 'Change to quarter loads in the guns.' We'd started out with full loads—but so had the horses! (Laughs)"
"We had a wonderful stuntman/actor, Frank Matts. He was driving a team and a buckboard. He showed up with the team. They were standing there with their legs wide apart and their backs hunched. Matts says, 'If this is a team, I'm vice president of the United States.' Pierce Lyden, myself and Rusty Wescoatt, I think, are in the back of the buckboard. We're shooting back at the guys chasing us. We're going along this little road by the Truckee River. Little winding road. And this team is flying down the road with Frank driving and us shooting. Frank turned around and said, 'Fellas, this team's running away! (Laughs) I don't know about the rest of you guys but I'm leavin'!' Now—without a driver, sittin' in the back of a buckboard just ain't the best place to be! So when Frank jumped, so did we, right out the back and rolled to the side of the road, out of the way of the camera car which was behind us. Next turn, the horses went right in the middle of the river."
"That was only half the fun! Katzman hired the Ute Indian tribe to play the Indians. Now, the director wants Jocko tied to the stake. They're gonna set him on fire with Indians dancin' around. Here comes the tribe in two busloads. They were beautiful with the feathers and beads. There was a young fella, obviously a college graduate, who was their spokesman. (Director) Spence Bennet says, 'We want the Indians to do the war dance around Jocko.' This young man says, 'Just a minute' and he goes over to talk to the elders of the tribe. Comes back and says, 'It's been too long. They don't remember the war dance.' (Laughs) Spence says, 'What dance do they remember?' 'How about the corn dance?' Spence says, 'Great! Do the corn dance, whatever.' So all the women line up on one side and the men on the other and they're bobbin' up and down. Spence says, 'That's the corn dance?' 'Yeah.' 'What else you got?' (Laughs) 'How 'bout the rain dance?' Spence says, 'Fine. Do the rain dance.' That didn't work. They ended up putting the warbonnets on some of the other actors and they danced around. The Indians just sat in the background nodding a bit."
Q: What happened to you in "Gunfighters of the Northwest"? In Ch. 1 you appear to be Jock Mahoney's "sidekick"…when suddenly…
Tommy Farrell: "Jocko and I were coming along the top of this little hill on horseback. There was a little trail down, but the cameraman said there's a beautiful shot about 6 feet farther so come on down the hill. Okay. Jocko goes right on down the hill. I was a little bit behind him. I started down the hill and my horse went into soft shale—right up to his chest. He rolled over me three times! We got to the bottom of the hill together! (Chuckles) Bert Leonard was the assistant—he came running over, 'Tommy, are you hurt?' I said, 'Get this damn horse off of me and we'll find out!' (Laughs) My shoulder was up by my ear for awhile. So they had to kill me off in the second chapter and replace me 'cause I was in the hospital."
Q: Your most prominent serial role is in "Pirates of the High Seas" with Buster Crabbe.
Tommy Farrell: "I was Buster Crabbe's sidekick. My first day on the picture there was a little hill. Director Spencer Bennet, the number one serial director, said, 'All right now—Buster, you and Tommy come down the hill, you reach the rock, look right and react.' Well! I looked at Buster and said, 'What does he mean—react? To what?' Buster says, 'Doesn't make any difference.' I said, 'We gotta react to something.' And Buster says, 'When the director says react, look surprised.' So we come running down the hill, stop at the rock—and I give a surprised look—at what I don't know. Bennett says, 'Cut. Print. That's a good one.' Now the next shot, we do down the hill, come running up the hill, and Bennet says, 'Now look left and react.' I looked at Buster and he whispers, 'Same thing.' (Laughs) A serial script is as thick as a phone book. You shoot out of sequence so you never know who you're looking at, what you're seeing, or what you're reacting to. You have no idea who the hell you're talking about!"

Chapter 1 of "Red Rider" ends as a posse's horses trample over Buck Jones' fallen body. In Ch. 2, the horses stop before they ever reach Buck.