Don McGuire
Don McGuire, star of Sam Katzman's 15 chapter 1948 serial adaptation of DC Comics' hero "Congo Bill", was much better known later in life for the screenwriting adaptation of "Bad Day at Black Rock" in 1955 and for coming up with the story of "Tootsie" in '82, among many others.
Born in Chicago February 28, 1919, he began his professional life as a reporter for the Hearst Press. He joined the Army during WWII but his service was cut short when he suffered back injuries in a jeep accident.
After his discharge he was a photographer for a short time for the CHICAGO TRIBUNE but decided to try his fortune in Hollywood. He brought a lady friend to Warner Bros. for a screen test but studio officials thought more of his potential than they did hers and signed him to a contract. His first film was a bit in "God Is My Co-Pilot" ('45) followed by small roles in other Warner Bros. films. When his option was dropped at Warners Sam Katzman saw him as a good lookalike for DC's "Congo Bill". More character roles followed ("Joe Palooka Meets Humphrey", "Armored Car Robbery", "Sideshow", "Double Dynamite", etc.) until he turned his attention to screenwriting, developing the stories for "Dial 1119" and "Double Deal" in '50.
It was his story for Frank Sinatra's "Meet Danny Wilson" that put McGuire in the big leagues. He co-wrote the screenplay for Willie and Joe's "Back at the Front" ('52), "Walking My Baby Back Home" ('53) and "Three Ring Circus" for Martin and Lewis ('54). He adapted Howard Breslin's story "Bad Time at Hondo" into the highly regarded "Bad Day at Black Rock" ('55) w/Spencer Tracy. He also worked on Martin and Lewis' "Artists and Models" ('55) and wrote and directed Jerry Lewis' first solo effort "The Delicate Delinquent" ('56). He co-wrote and directed Sinatra's "Johnny Concho" ('56).
In '59 he created, wrote and directed Jackie Cooper's sitcom "Hennesey" which ran for 98 episodes through '62. Other writing and directing work followed but his lasting fame will probably be for "Tootsie". According to Larry Gelbart, who shared story credit on the Dustin Hoffman comedy, McGuire first wrote the original draft in the '70s…but was apparently not entirely happy with several changes made to his original concept and left the business at that point.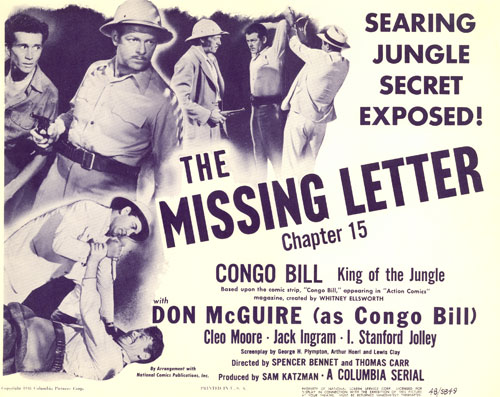 McGuire died at 80 in L.A. on April 13, 1999, following complications from a brief illness.

In "Son of Zorro", at the end of Ch. 6, a fusillade of guns are fired at George Turner and he falls to the ground. However, at the start of Ch. 7, Pancho (Stanley Price) rides into town garbed as Zorro and the gunfire is directed at him. Turner never even falls!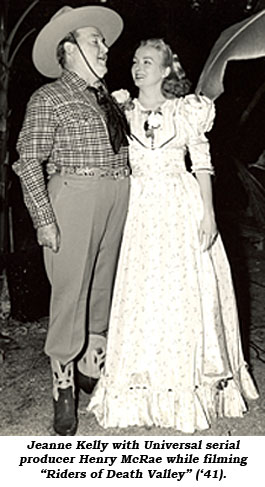 Fluent in Spanish Jeanne Kelly (aka Jean Brooks) began professionally as a singer with Eric Madriguera's orchestra in New York. Born Ruby Kelly December 23, 1915, in Houston she had second lead in the Broadway play "Name Your Poison" about the time she came to films in '35.
After minor roles in "The Crime of Dr. Crespi" ('35), "Invisible Killer" ('39), "Invisible Man Returns" ('40) and others the 5'4½" tall actress spent several years at Universal seeing action in three Johnny Mack Brown Bs—"Son of Roaring Dan", "Man From Montana" and "Fighting Bill Fargo".
During the early '40s Universal at first cast her in lesser parts in three serials. She was Olga, Ming the Merciless' blonde henchwoman in "Flash Gordon Conquers the Universe" ('40), a waitress in Ch. 11-12 of "Junior G-Men" ('40) and Gloria Manning in Ch. 1-2 of "The Green Hornet Strikes Again" ('40). At last she either proved herself or Universal realized her potential and co-starred her with Dick Foran and Buck Jones in "Riders of Death Valley" in '41.
Her option was dropped in late '41 but by this time she had married writer, and later director, Richard Brooks. She changed her name to Jean Brooks and signed with RKO where she made two horror films with cult director Val Lewton ("Leopard Man", "Seventh Victim") and worked in several Falcon mysteries.
She and Brooks were divorced in '44 and RKO dropped her in '46. After a small role in "Women of the Night" in '48 she moved to San Francisco where she was employed as a classified ad solicitor for the SAN FRANCISCO EXAMINER newspaper.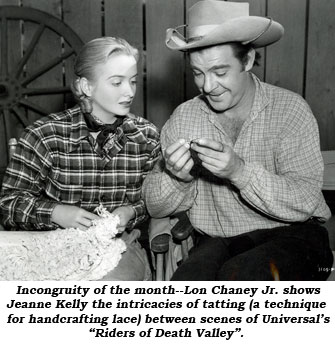 In the '50s she married printer Thomas Leddy. Her death at 47 in Richmond, CA, in 1963 was due to nutritional problems caused by alcoholism.
Silent Serial Heroines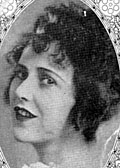 RUTH ROLAND starred in "The Girl Detective" ('15 Kalem), "The Red Circle" ('15 Balboa/Pathé), "The Neglected Wife" ('17 Balboa/Pathé), "Hands Up" ('18 Astra), "The Tiger's Trail" ('19 Astra), "The Adventures of Ruth" ('19 Pathé), "Ruth of the Rockies" ('20 Pathé), "The Avenging Arrow" ('21 Pathé), "Timber Queen" ('22 Pathé), "White Eagle" ('22 Pathé), "Haunted Valley" ('23 Pathé), "Ruth of the Range" (23 Pathé).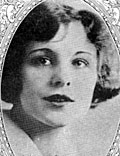 SHIRLEY MASON starred in "Vultures of the Sea" ('28 Mascot). (far left)
KATHLYN WILLIAMS starred in "The Adventures of Kathlyn" ('13 Selig). (left)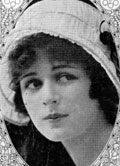 ANITA STEWART starred in "The Goddess" ('15 Vitagraph), "Isle of Sunken Gold" ('27 Mascot). (far right)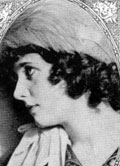 GERTRUDE OLMSTED starred in "Adventures of Robinson Crusoe" ('22 Universal). (right)
LOUISE LORRAINE starred in "The Flaming Disc" ('20 Universal), "Elmo the Fearless" ('20 Universal), "The Adventures of Tarzan" ('21 Great Western Prod.), "The Radio King" ('22 Universal), "With Stanley in Africa" ('22 Universal), "The Oregon Trail" ('23 Universal), "The Great Circus Mystery" ('25 Universal), "The Silent Flyer" ('27 Universal), "A Final Reckoning" ('28 Universal), "Diamond Master" ('29 Universal), "The Jade Box" ('30 Universal), "Lightning Express" ('30 Universal).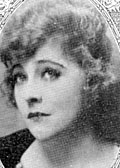 ETHEL CLAYTON starred in "The Bar-C Mystery" ('26 Pathé). (right)
DORIS KENYON starred in "The Hidden Hand" ('17 Pathé). (left)
JUNE CAPRICE starred in "The Sky Ranger" (21 Pathé). (right)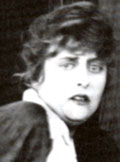 GRACE CUNARD starred in "Lucille Love, Girl of Mystery" ('14 Universal), "The Broken Coin" ('15 Universal), "Adventures of Peg O' the Ring" ('16 Universal), "The Purple Mask" ('16 Universal), "Elmo the Mighty" ('19 Universal). Cunard had character roles in other silent and sound serials. (left)
HELEN FERGUSON starred in "Wild West" ('25 Pathé), "Casey of the Coast Guard" ('26 Pathé), "The Fire Fighters" ('27 Universal). (far right)
ARLINE PRETTY starred in "A Woman in Grey" ('20 Serico Prod.). (right)
MARGARET LIVINGSTON starred in "The Social Buccaneer" ('23 Universal). (left)
—More Next Month—

In Ch. 8 of "Fighting with Kit Carson", Slim Whitaker calls actor Jack Mower Kraft when his screen name is Carter. Kraft is evil Noah Beery Sr.