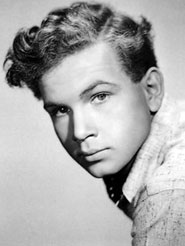 Frankie Thomas
The world lost Tom Corbett and Tim Tyler when our friend Frankie Thomas passed away in 2006. Frankie was born April 9, 1921, son of actors Frank and Mona Thomas. Outside of being carried on stage as a child anytime they needed a baby, Frankie's first professional job was by chance. "I was going to the professional children's school in New York," Frankie told us. "This was for kids who worked in the business, where the arrangements were that child performers could get away and do matinees. One day mother picked me up after school on her way to a casting call for a play called 'Carrie Nation'. The director, Blanche Yurka, said to mother, 'Mona, you are much too young for any part in this play.' Then she indicated towards me, standing in the doorway, and continued, 'but I can use the boy.' So I got my first job on Broadway by being at the right place at the right time, a happy combination which has served as the turning point in the careers of many performers. I was about nine and played a newsboy."
This play didn't make theatrical history except it was the Broadway debut of a young actor named Jimmy Stewart. In those days there were a number of parts for children on the stage, and Frankie went from "Carrie Nation" to "Little Ol' Boy", the story of a reform school for juvenile delinquents. Robert Benchley, reviewing plays at that time, wrote "Possum is played by youthful Frankie Thomas, watch him." The next play Frankie did was "Thunder On the Left". "All three of these plays were flops," Frankie noted. Then came the turning point. "I was cast in the title role in 'Wednesday's Child' and everything changed."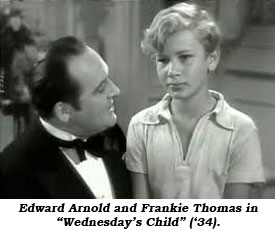 RKO bought the picture rights, and Frankie came out to Hollywood in '34, recreating the role in the film which was selected as one of the 10 best pictures of the year. This role made Frankie a star and from then on it was Broadway to Hollywood and the reverse. The following year he did "The First Legion" on stage, then returned to Hollywood to film "Dog of Flanders" ('35) at RKO. At the close of filming "Dog of Flanders", Frankie's name went up in lights for the Broadway production of "Remember the Day". "I had the extreme pleasure of appearing with my father," Frankie told us.
Afterwards, the Thomas family moved their headquarters to Hollywood, where Frankie appeared in about 30 films. There was "Boys Town" ('38), "One Foot in Heaven" ('41), "Always in My Heart" ('42), the Nancy Drew series with Bonita Granville (a number of films based on the popular teen girls' books which turned into quite a hit), "Angels Wash Their Faces" ('39), and the serial "Tim Tyler's Luck" ('37).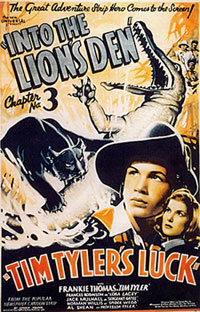 Speaking of being cast in the role of Tim Tyler, Frankie told us, "I remember when I was up for the job my agent brought over a copy of 'Wednesday's Child' and Henry McRae (the producer) looked at it and said, 'Well, of course Tim Tyler is much older, but any kid that can act that way. What the hell, he can act,' and he signed me. He had never met me. The picture was a lot of fun. We worked at Universal in an elaborate jungle set on the backlot. They had cliffs that ran up three or four stories, all papier-mâché. There was a girl who came every day when she had a chance to watch us shoot; Deanna Durbin. She was crazy about the jungle atmosphere."
During World War II Frankie served as 3rd Officer in the US Coast Guard in the Atlantic, and afterwards returned to work on Broadway but found things were not all that good after the war. "There wasn't a way of making any money except in radio, so I went into radio and that was very good to me. I did at least 1,500 shows before dramatic radio fell prey to TV."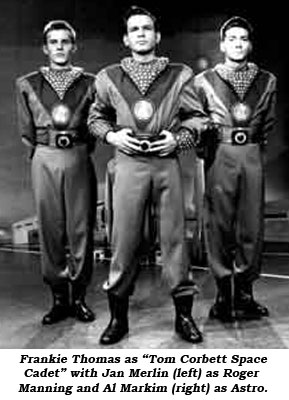 "Tom Corbett, Space Cadet" came into being on TV in 1950. "'Corbett' was a little bit like 'Wednesday's Child'," Frankie said. "It was an instant success. From our first show it was all upbeat. By the second week the disk jockeys were picking up our space lingo: 'Go blow your jets,' 'Don't fuse your tubes,' and the byword of the show, 'Spaceman's Luck.' 'Tom' was as close to being an instant hit as you can get. In no time the secondary rights machinery ground into action. We added two half-hour radio shows a week and took on an extra Saturday half-hour on NBC, while our three-a-week ran on ABC. I don't know of any other show that ran on two networks at the same time. On weekends I was flying all over the country making personal appearances for the secondary rights. At the first of these in Philadelphia, there were 10,000 children plus parents in a line that stretched out through the store. We had more people in Boston and Detroit. Before we were through, there were over 160 items bearing the name of Tom Corbett. Everybody was happy."
When Tom Corbett and the Polaris crew took their last flight into the unknown and the series went off the air after a five year run, Frankie retired from acting. "I decided to call it a day," he said. "I had experienced the best of the stage, motion pictures, radio and television during the best of times. Frankie kept busy writing 10 Sherlock Holmes novels and playing—and teaching—bridge. Tim Tyler/Tom Corbett—Frankie Thomas died on May 11, 2006, and was buried in his Space Cadet uniform next to his parents at Forest Lawn.

"Jungle Girl"
Sex is generally a relatively benign quantity in classic cliffhangers. Pretty girls are an active and much necessary ingredient of the formula, some occasionally decked out in fairly suggestive and exotic outfits, but with few exceptions most of the distaff side are showcased not as main courses but rather as ornamental side dishes ready to be served up as possible victims to a river of molten lava, a plunge from a mountain top or an uncomfortable brush with a buzz saw. Ironically, it was the women in the early days of cinema that really got the motion picture serial up and running. There was Pauline, Helen, Elaine, and other damsels in distress, and sometimes they gave as good as they got. It took the ladies a bit longer to get a foothold in talkie serials with early players being little more than attractive window dressing.
Things began to change, much for the better, with some cliffhangers that suddenly exploited the female sex and pushed them to the forefront of the action. Moreover, the exotic femme fatale of far off locals, personified in mainstream films by such appealing actresses as Dorothy Lamour, Maria Montez, Yvonne DeCarlo and others, had become very popular with the public and good for the boxoffice as well.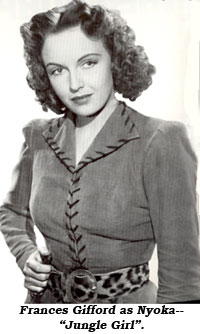 One of the most important cliffhangers promoting this shift in format was Republic's "Jungle Girl" ('41), directed by William Witney and John English and starring lovely Frances Gifford in the title role. "Jungle Girl" was based on the 1929 Edgar Rice Burroughs novel of the same name but had little, if anything, to do with the original plotline. Republic was even responsible for the name Nyoka Meredith, a factor which would figure in copyright issues when the studio decided to make a sequel.
Ms. Gifford invests what is a fairly one-dimensional part with enormous energy and sincerity. The plot devised by writers Alfred Batson, Ronald Davidson, Norman Hall, William Lively, Joseph Pollard and Joseph O'Donnell has Nyoka living with her father, Dr. John Meredith, in Africa, the latter having decided to distance himself from society due to the criminal activities of his twin brother Bradley (both portrayed by Trevor Bardette). He raises Nyoka in the jungle and is looked upon with a reverence bordering on worship by the local natives for his medical knowledge. They have even allowed him to be privy to their hidden stash of diamonds. Only Shamba the witch doctor and his followers view the doctor with disfavor. When Meredith's twin, in league with a nefarious cohort named Slick Latimer (Gerald Mohr), learns of the diamonds they lure Dr. Meredith away, murder him and replace him with his brother whose physical resemblance initially fools everyone, even Nyoka.
The remainder of the serial is spent with the jungle girl aided by aviators Jack Stanley (Tom Neal) and Curly Rogers (Eddie Acuff) tangling with all these various individuals as the culprits try to find a means to steal the gems.
Despite director Witney maintaining it to be one of their team's best directorial efforts—and to this day it maintains a substantial reputation among serial aficionados—"Jungle Girl" is a bit on the creaky side and not nearly the celluloid romp that distinguishes its aforementioned follow-up, "Perils of Nyoka" starring Kay Aldridge as Nyoka (though with the different last name of Gordon). Although "Jungle Girl" was released only a year or so before "Perils", it has a decidedly older, less polished and less streamlined look and feel to it. Its legacy, to a large degree, is due to the casting of Gifford, a one-time Paramount contract player who was beautiful, athletic and undeniably sexy in her form-fitting jungle duds.
Apparently just being raised in the jungle has taught Nyoka not only how to swing through trees, but incredibly (and not very believably) how to single-handedly best a lion and alligator, a good thing because Neal and Acuff are rarely of great help during these wildlife wrestling sessions although, to give them credit, they do help her out of some tight fixes, too many of which have to do with fire. A few of the cliffhangers are also not thought out or that well executed. Particularly coming to mind is a sequence on a teetering log.
In the more strenuous and demanding action sequences stuntwoman Helen Thurston did the doubling for Gifford. Dave Sharpe, donning a wig and jungle skirt, was responsible for the remarkable tree swinging sequences many of which put similar Johnny Weissmuller/Tarzan scenes to shame.
The supporting cast is a mixed bag. The lead villain is the always dependable Gerald Mohr with Frank Lackteen as native bad guy Shamba and the always reliable Trevor Bardette effective as both Nyoka's principled father and his back-stabbing twin. Real-life bad boy Tom Neal, who several years later nearly killed fellow actor Franchot Tone with his fists and eventually ended up in prison on manslaughter charges, is handsome and rugged as main hero Jack and handles himself well in the action sequences, but when he opens his mouth comes across as a real blockhead. Sidekick Eddie Acuff tries too hard to be funny with all his asides and mutterings but, well, just isn't. Even by serial standards these guys don't seem very bright. Tommy Cook, later Little Beaver in "Adventures of Red Ryder" and who also showed up in "Tarzan and the Leopard Woman" where he tangled with Johnny Sheffield's "Boy", was always one of Hollywood's more obnoxious child actors and doesn't change his ways here as native boy Kimbu. Also seen are Emil Van Horn in his familiar gorilla outfit, Jay Silverheels, a few years away from gaining media immortality as Tonto to Clayton Moore's Lone Ranger, as one of the natives, plus old familiars Bud Geary, Ken Terrell and Al Taylor.
The serial was filmed at various California locales and looks about as much like Africa as Brooklyn looks like Hawaii which, I suppose, is appropriate since the natives appear more as tropical islanders than Africans. In nearly every scene, set against those rocky crannies and dusty trails at Iverson Ranch usually featured in Republic's western productions, you wouldn't be surprised to suddenly see Roy Rogers or Wild Bill Elliott on horseback tearing around the corner.
"Jungle Girl", while trendsetting in many ways, does not, for various reasons hold up as well as some of Republic's other famous serials of the period. While there are pleasing performances and some good acting sequences, there is something faintly disjointed and awkward about the execution of the plotline as well as some jarring editing and unimaginative photography that combine to render it more shopworn and beleaguered by age than it should be, given the freshness of other Republic products of the same period. All the same, for all of this there is—and always will be—the lovely, talented Frances Gifford.

In Ch. 8 of "Jungle Girl", Nyoka is knocked from a platform into a boiling vat of distillery crude. As she falls her arms are obviously outstretched, touching nothing. However in Ch. 9, Nyoka is shown not falling at all, but grabbing ahold of the platform railing.
Marjorie Stapp
Queen Guinevere in "The Adventures of Sir Galahad" was born Marjorie Stapp September 17, 1921, in Little Rock, AR. She moved with her family to California when she was 7 or 8.
After graduation she was placed under contract to 20th Century Fox although she made no films at that studio, but they loaned her to Goldwyn for a small role in "Kid from Brooklyn" ('46). After studying at the University of Chicago she returned to Hollywood for a dancehall girl bit in "Rimfire" ('49) and a leading lady role in Charles Starrett's "Blazing Trail" ('49).
1949 was also the year she received good billing but is not seen to good advantage in Sam Katzman's "Adventures of Sir Galahad" serial. "They cut 90% of what I did," Marjorie explained. "I was captured by the Black Knight—and the horse I was riding didn't have the saddle properly fastened underneath. It was a grip's fault. I was riding side-saddle and sliding off as I was galloping up a hill. I held on to the reins for dear life. I was so mad, I was telling everybody off. I yelled at anyone and everyone. It apparently made them angry at me, because most of my part was cut out! Dialogue, if not entire scenes." (In truth, all of Marjorie's dialogue was cut from the serial.—ed.) "Galahad, George Reeves, was a bit of a jolly…making jokes, things like that."
At 92, Marjorie now lives in California.

At the conclusion of Ch. 2 in "The Adventures of Sir Galahad", the horses of Ulrich's men ride over a fallen Galahad (George Reeves). But—in Ch. 3 Reeves rolls away before the horses stampede by.