"Secret Agent X-9"
For nearly a decade, I lived on Dashiell Hammett Way in what is thought to be the very same San Francisco apartment where the great hardboiled detective author briefly resided in the '20s. Although not much to look at, I rather liked thinking the embryonic seeds for the creation of Sam Spade, the Continental Op and Nick and Nora Charles might have begun taking form in the terrain I now called home, but I have to admit that not once in all my time there did I give attention to the author's lesser known brainchild, "Secret Agent X-9".
The character of Secret Agent X-9 was created by King Features in 1934 as a comic strip feature in response to the great success of Chester Gould's Dick Tracy. Alex Raymond, who would become famous for "Flash Gordon", was hired to illustrate the work and Hammett was brought in to write the material. He lasted for only four stories and was replaced, temporarily, by Leslie Charteris, creator of The Saint. In the comics, X-9 was a kind of hybrid, a government agent who nonetheless operated in the style of a seasoned private dick.
It never really became a great success, but was popular enough to prompt Universal to use it for the basis of two serials featuring the character, once in '37 and a later version (same title) in '45. The latter incarnation has the title character engaged in an undercover effort to foil the attempts of the Japanese government to create an artificial fuel source for their planes and bombs. Situating X-9 on neutral Shadow Island in '43, screenwriters Joseph O'Donnell and Patricia Harper have him up to his neck in dangerous intrigue and offbeat characters—who when not trying to shoot down or burn X-9, hang out in the smoke-filled House of Shadow cantina.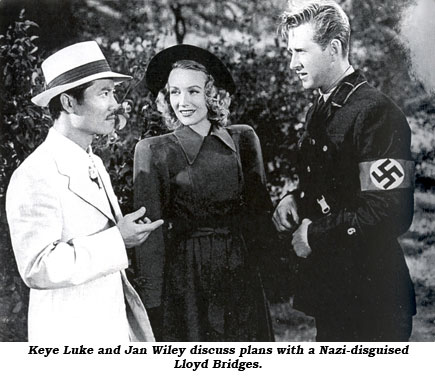 The late Lloyd Bridges, who stars as X-9, built a long and solid career in motion pictures playing in nearly every genre, working at a variety of studios and being on both sides of the law. He was resourceful and dependable and usually played the good guy (although in films like "Try and Get Me" he could wear a black hat with the best of them) and can be found in everything from a Three Stooges short to the classic "High Noon". Yet, to a lot of people, he will always be best remembered as Mike Nelson, the underwater protagonist of TV's early syndicated series "Sea Hunt" that ran for years and which, just for the record, I tool loved as a kid.
Bridges stars in "Secret Agent X-9" (Scott Kolk played the character in the '37 version) and does his usual competent and professional job in this, his only serial appearance. He's not the hardboiled wise guy of Hammett's creation nor is he exactly a no-nonsense, by-the-book agent either. He's breezy and relaxed but knows how to get the job done. He's easy to like.
Aiding Bridges in the Allied cause are the always-dependable Keye Luke as his Chinese ally and blonde Jan Wiley who pretends to be working for the Japanese spreading broadcast propaganda. Also in the cast are the late Victoria Horne (whose other serial work included the evil Indian princess in "The Scarlet Horseman", but who I will always remember as the busybody sister-in-law in "The Ghost and Mrs. Muir") as Nabura, head of the Black Dragon Intelligence Service, Samuel S. Hinds, Cy Kendall, Benson Fong, Edmund Cobb, Jack Overman, Gene Stutenroth (later Roth) and George Lynn. The great stuntman Dale Van Sickel also shows up as a truck driver not long for his world and I. Stanford Jolley also appears briefly.
It seems to me there are two kinds of serials, those where the cliffhanger provides the main impetus and direction for the action and progression of the storyline, and those where the cliffhanger is almost an impediment to the flow of the action, where it is interjected simply because it is a cliffhanger and must be inserted even if it seems a clumsy addition. "Secret Agent X-9" falls into the latter category with the majority of the cliffhangers feeling a bit intrusive and out of place. The film could easily exist as a straight espionage effort, the sort of patriotic B-efforts studios turned out by the bushel during WWII. It certainly is not a terrific serial by any means—it could definitely use a bit more action—but it's not a bad one either. The large array of characters are fleshed out a bit more than usual with directors Ray Taylor and Lewis Collins creating a solid and nicely measured pace to things.

At the conclusion of Ch. 10 of "Zorro Rides Again", Zorro makes a standing leap from the top of one high-rise building to another, is shot at, teeters and falls. However, in Ch. 11, the jump is totally different. Rather than standing, Zorro grabs a ledge, then uses his whip to lash out at a pole.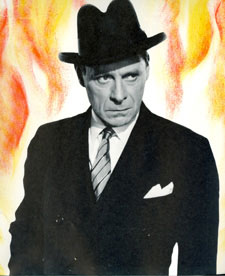 Eduardo Ciannelli
Dr. Satan in Republic's "Mysterious Dr. Satan" ('40) was Italian born Eduardo Ciannelli. Born in Ischaia (near Naples) on August 30, 1889, his father operated a health spa and wanted one of his four sons to become a doctor. Eduardo, the youngest, obtained an M.D. degree but did not pursue a career in medicine. Instead, with a fine voice, he sang grand opera and migrated to the U.S. after WWI where he appeared in several musical comedies. His outstanding talent led him to Broadway in "Always You", a 1920 musical-comedy. Seventeen other Broadway productions followed, including "Rose Marie", "The Front Page", "inspector General" and "Winterset".
It was his great success as Trock Estrella in the latter that caused RKO Radio to bring Ciannelli to Hollywood when they purchased the rights to the play in 1936. Equally successful in the film version, he went immediately to Warner Bros. to play Bette Davis' gangster menace in "Marked Woman". This was followed by a long succession of excellent films—in many of which he was cast as a gangster or villain ("Foreign Correspondent", "For Whom the Bell Tolls", "Bulldog Drummond's Bride", "Blind Alibi", "Gunga Din", "Angels Wash Their Faces", "Mummy's Hand", "Kitty Foyle", "Dr. Broadway", "Mask of Dimitrios", "Dillinger", "Crime Doctor's Warning", "Gilda", "Joe Palooka, Champ", "The Creeper", etc.). To each, with his dark lined features, expressive eyes and pronounced accent, he lent a descriptive portrayal.
Republic's "Mysterious Dr. Satan" was his first serial, and he was malevolently unforgettable as a brilliant but demented devilish man of science bent on dreams of world conquest by creating an army of mechanical men. His visual portrayal of Dr. Satan brought to life one of the all time great serial villains. Of course he was defeated by Robert Wilcox as The Copperhead—originally intended to be Superman but negotiations broke down at the last minute between Republic and Superman, Inc., causing a vast rewrite.
Two years later in "Sky Raiders" at Universal in 1942, Ciannelli played Felix Lynx, agent for an unnamed foreign government who is kept informed of aviation hero Donald Woods' activities by a spy in Woods' office as Lynx attempts to steal the plans for a new type of fighter plane and bombsight developed by Woods.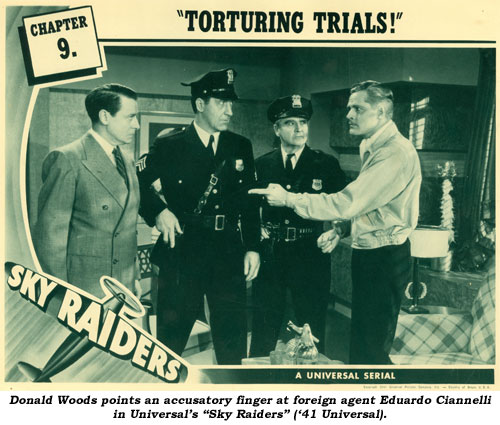 Universal used Ciannelli again in "Adventures of the Flying Cadets" ('43), casting him as Karl Von Heiger, head of a Gestapo ring who desire to buy lost helium deposits in Africa through a mystery agent known as the Black Hangman.
Both were above par Universal wartime serials but failed to impact on one's memory as did Ciannelli's bizarre, understated viciousness in "Mysterious Dr. Satan", a serial heavy ranking among the Top 5 with most cliffhanger aficionados.
Maria Alba
Spanish actress Maria Alba was born March 19, 1910, in Barcelona, Spain, where her father occupied a prominent position in local politics.
Alba came to the U.S. after winning a beauty contest there. Her first film was in 1927 and after four more she appeared in "Hell's Heroes" with Charles Bickford and "West of the Pecos" with Richard Dix but she's best known as Princess Nadji of Egypt in Bela Lugosi's "Return of Chandu" serial in '34.
She left films in '46 and was married in 1950 until her death at 89 in San Diego, CA, on October 26, 1999.

Eddie Parker is called Hank twice in Ch. 4 of "Black Arrow" but Stanley Price slips and calls him Ed, his real name.