Vivian Coe (aka Vivian Austin) was Miss Los Angeles and Miss Hollywood after being born in Hollywood. The talented actress/dancer/singer landed a contract with WB in the '30s while still a teenager and appeared in many bit roles. She married millionaire playboy and auto dealer Glenn Austin at 17. As he was a polo player, she learned to ride, preparing her for her leading lady role in Don Barry's "Adventures of Red Ryder" serial ('40). Tommy Cook, Little Beaver in "Adventures of Red Ryder", remembers Vivian as "a lovely Earl Carroll debutante, a dancer at his showcase on Sunset Blvd. and Gower, very attractive and she was a good friend of my mom's, Fern Cook, who lived to be 101. I was only 10 years old, so my mom had to be there with me. She and Vivian had a very nice friendship. My mom was one of the good stage mothers." Vivian nearly died of kidney failure in the late '40s followed by debilitating eye problems causing blindness. Her husband died in '67 and she met Dr. Ken Grow, a Palm Springs doctor, who was able to restore some of her sight. They were eventually married, but he died in '93. The valiant Vivian carried on, always with an optimistic outlook, but eventually, at 84, died of natural causes August 1, 2004, in an L.A. hospital.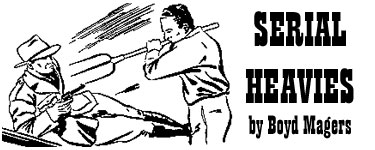 Rusty Wescoatt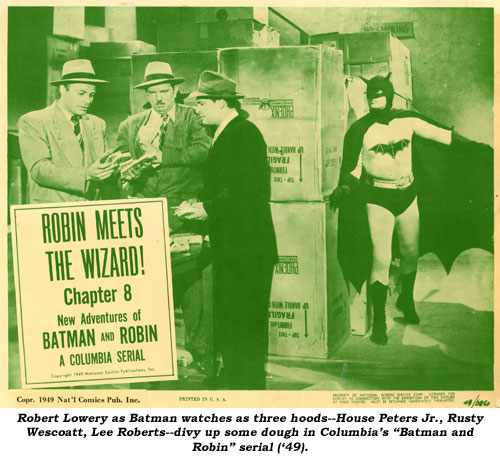 Born in Hawaii, August 2, 1911, Norman (Rusty) Wescoatt held three world records as a swimmer and was a professional football player and wrestler before coming to films in 1947 as a member of Columbia serial producer Sam Katzman's group of stock players. The big, burly Wescoatt regularly got roughed up by smaller adversaries in 16 Columbia serials beginning with "The Vigilante" in 1947. Rusty's also in "Sea Hound" ('47), "Superman" ('48), "Tex Granger" ('48), "Congo Bill" ('48), "Batman and Robin" ('49), "Adventures of Sir Galahad" ('49), "Cody of the Pony Express" ('50), "Pirates of the High Seas" ('50), "Atom Man Vs. Superman" ('50), "Roar of the Iron Horse" ('51), "Mysterious Island" ('51), "Captain Video" ('51), "King of the Congo" ('52), "Riding with Buffalo Bill" ('54) and "Perils of the Wilderness" ('56).
Wescoatt also worked for Katzman in several Jungle Jim thrillers; "When the Redskins Rode" ('51) and "Brave Warrior" ('52). Following his serial days, Rusty was seen regularly on TVers such as "Kit Carson", "Gene Autry", "Wild Bill Hickok", "Hopalong Cassidy", "Roy Rogers", "Sky King" and "Tales of the Texas Rangers".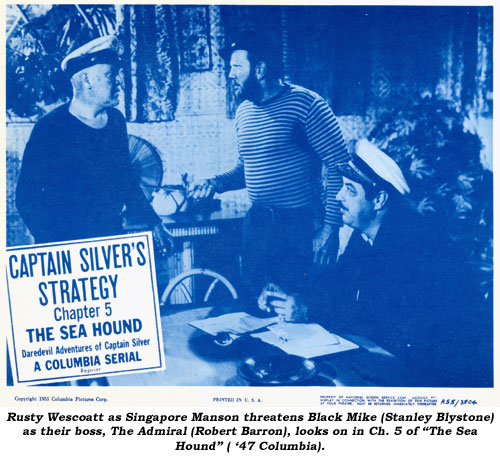 Towards the end of his time in Hollywood, Rusty snagged two semi-regular roles…as the bartender on Robert Culp's "Trackdown" ('57-'59) and as the slightly crafty but somewhat dimwitted Sgt. Holcomb on "Perry Mason". Rusty left the business in '65 and died September 3, 1987.