Chapter One Hundred Twelve
Lyle Talbot
One could never be sure about Lyle Talbot. He was just as likely to turn up a cliffhanger hero as in "Chick Carter, Detective" ('46 Columbia) as he was a vile villain of the mad professor school as in his signature role of Lex Luthor in "Atom Man Vs. Superman" ('50 Columbia)…or anywhere in between, such as Commissioner Gordon in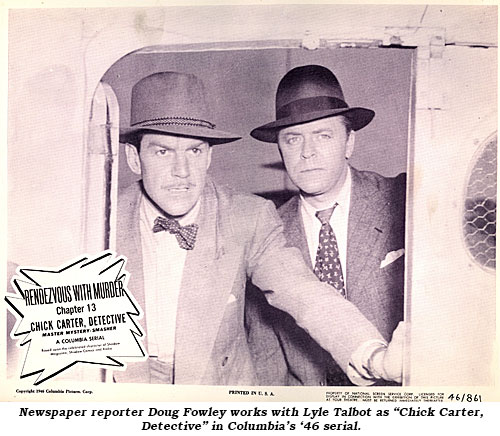 "Batman and Robin" ('49 Columbia). Other lesser good-guy roles were as, respectively, Col. Foster and inspector Wheeler in Columbia's "Son of Geronimo" ('52) and "Gunfighters of the Northwest" ('53). He was briefly seen as a prison warden in Ch. 15 of "Great Adventures of Captain Kidd" ('53 Columbia). But it's as a despicable menace that most serial fans choose to remember Talbot.
In addition to Lex Luthor, he was an unscrupulous land speculator and murderer seeking chemical deposits in the Louisiana swamp for Universal's "Mystery of the Riverboat" ('44) and in Columbia's "Vigilante" ('47) (based on DC's comic hero) Lyle was supposedly honest horse breeder George Pierce, secretly known as X-1 stopping at nothing to acquire a valuable string of pearls, "100 Tears of Blood". Finally, at Republic he was the cold blooded spy-leader Barent, formenting revolution in a vital U.N. protectorate, in "Trader Tom of the China Seas" ('54 Republic).
Lysle Henderson was born February 8, 1902, in Pittsburgh, PA, but calls Nebraska his home because he grew up there. Tracing his heritage is quite intriguing. Lysle's grandfather, Mr. Hollywood, immigrated to America with his family from Ireland. A coal miner, he settled near Pittsburgh later moving to Wyoming. One of his daughters married a Talbot and the Talbot's daughter living in Brainard, Nebraska, at 18, married a Scotchman named Henderson. They moved to Pittsburgh where Lysle was born. However, when his mother became quite ill, they moved back to Nebraska. Lysle's mother died four months later and his grandmother took charge of raising the boy.
At odds with his father, his grandmother Talbot legally adopted Lysle, changing his name to Talbot. Lysle never saw his father again until he was about 15. By this time his Dad had married Anna Nielsen and they'd gone into show business as actors who toured with traveling repertory companies throughout the Midwest.
Lysle started in 1919 as a teenager touring with a traveling hypnotist. He sang, did a little magic and performed in a couple of sketches. Graduating to a resident stock company, he worked in Sioux Falls, SD, for two years and eventually opened his own stock company, The Talbot Players, in Memphis, TN.
With the Depression of the '30s and the advent of talking pictures, repertory work and theatres that supported those actors began to close down. Many of the actors, like Lysle, migrated to Hollywood, however his first film was a 20 minute short with Pat O'Brien lensed in New York in 1930, "The Nightingale", released by Warner Bros. He then made a test at Warner Bros. and was signed to a seven year contract, which is when the 's' was dropped from his first name. Over the next six years Lyle starred in dozens of topflight Warner Bros. films.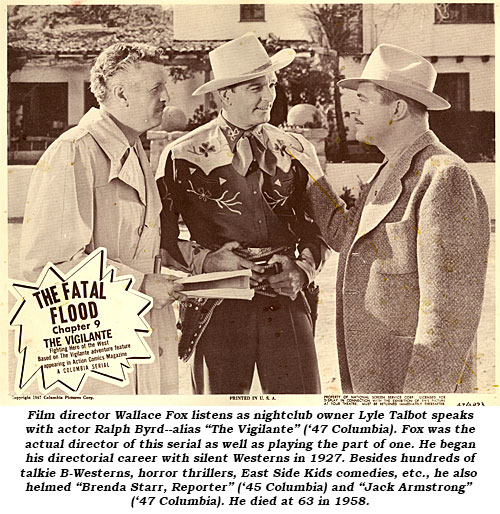 Released from his WB contract after six years, Lyle began to freelance in '37. He was always fond of pointing out that in his over 60 years in show business he seldom went more than a week without working in a play, radio, a movie or a TV show. "I worked a lot because I liked working. I did some real dogs, but I believe I gave my best performances in the theatre."
Lyle continued appearing on stage in dinner theatres through the late '80s until his wife of nearly 42 years, Margaret Epple, died in '89. They were married in '48 and had four children, including, now journalist, David Talbot and child actor Stephen Talbot. Previously Lyle was married to Marjorie Kramer in '37 until their divorce. Lyle sold his house of many years in Studio City when Margaret died and moved to an apartment in the heart of San Francisco to be near his children.
Lyle's best friend in show business was Walter Reed, who once told us, "He had an amazing career. In pictures he played opposite the best. Later in life he took some lesser parts. Why not? Lyle always believed you weren't an actor unless you were acting…no small parts, only small actors. We worked together in Mexican Spitfire pictures, 'Lone Ranger', a commercial and more. Then Lyle did shows with Ozzie and Harriett as well as many plays. As young actors we were hell raisers. We partied hard and worked hard but never let the two get in the way of each other. Maybe that's why we liked each other so much. We respected each other's acting. Lyle never thought about quitting acting, even when he was using a walker in his 90s he would have considered a role. His body was falling apart but his mind was sharp right to the last."
After several days illness, at 94, the legendary Lyle Talbot died March 3, 1996, at his San Francisco apartment.
Studio Plans...
January 4, 1937