Chapter One Hundred Twenty-Three
SPACE HERO
CAPTAIN VIDEO, COMMANDO CODY, REX BARROW
JUDD HOLDREN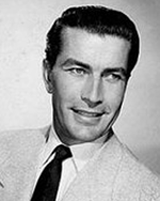 Judd Holdren (1915-1974) was the last of the '50's sci-fi serial heroes. The son of a farmer, and one of 10 children, he was born Judd Clifton Holdren near Villisca, IA. He began acting in school plays, finding it rewarding, he dropped out of high school and moved to Nebraska where he attended accounting school and studied at the Omaha Playhouse. During WWII he served in the Coast Guard. Upon his discharge, he located in Hollywood where he was a male model, did local stage plays and even worked in nightclubs. He made his screen debut, uncredited, as a politician in 1949's "All the King's Men" and followed that up with roles in two Tex Williams shorts "Coyote Canyon" ('49) and "Western Courage" ('50). Several other uncredited roles followed including "Rocketship X-M" and "Frisco Tornado" w/Allan "Rocky" Lane. His training eventually paid off when producer Sam Katzman cast him as Captain Video in Columbia's classic 1951 serial, "Captain Video: Master of the Stratosphere", capitalizing on the popular 1949-1955 TV series that starred Richard Coogan.
Holdren as Captain Video, the commander of a worldwide network of scientific crime-fighting Rangers, pits his technical knowledge and courage against Vultura (Gene Roth) the cruel dictator of the planet Atoma who plans to conquer the solar system beginning with the peaceful planet Theros. Learning of Vultura's plot for domination, Captain Video and his Video Ranger (Larry Stewart) journey to Theros (Vasquez Rocks) to aid the people there, but back on Earth they are hindered in their interplanetary struggle by the brilliant but traitorous Dr. Tobor (George Eldredge) and his assistant Retner (Skelton Knaggs) who are secretly in league with Vultura. Larry Stewart commented, "My role was simply called the Video Ranger. I never had a first name. I wore a football helmet with goggles and an Air Force uniform. In fact, that was my own Air Force uniform. Katzman serials were known for being cheap. That was the point though; to make money."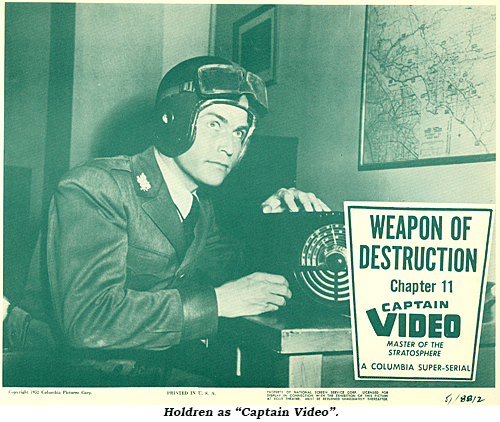 Katzman then cast Holdren as Rex Barrow in Columbia's last sci-fi serial, "The Lost Planet", battling the evil Dr. Grood (Michael Fox) who, when asked about Holdren, told us, "Frankly, in 'The Lost Planet' the only decent part was the heavy, my character. I could eat scenery to my heart's content."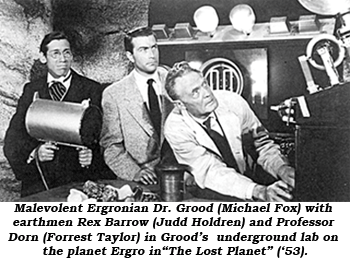 Noting Holdren's success as sci-fi hero, Republic reached out and initially signed Holdren as Commando Cody in "Zombies of the Stratosphere". However, according to Jack Mathis' marvelous VALLEY OF THE CLIFFHANGERS, the serial was a reversion in many respects to its immediate predecessor ("Radar Men From the Moon" in which George Wallace played Commando Cody). Confusingly, with "Zombies of the Stratosphere" sandwiched between production of the first three and last nine episodes of the TV series, "Commando Cody: Sky Marshal of the Universe", all of which starred Judd Holdren in the title role, the new serial chapterplay was conceptualized as another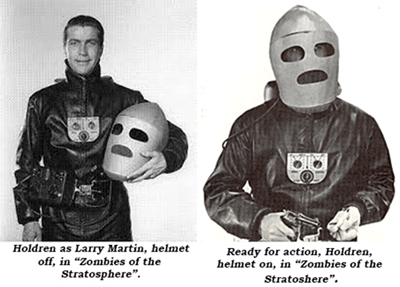 Commando Cody adventure. But, on April 10, 1952—just four days before filming began—associate producer Franklin Adreon dispatched a memo to all departments. "Please be advised certain character names in Production 1933 have been changed as follows: Commando Cody becomes Larry Martin, Joan Gilbert becomes Sue Davis, Ted Richards becomes Bob Wilson, Mr. Henderson becomes Mr. Steele, and Hank becomes Dick. Please change your scripts accordingly, paying particular attention to the dialogue." The five first-named characters were featured in both "Radar Men form the Moon" and the initial half-hour TV programs, with the revised names being appropriated from the original "Radar Men From the Moon" treatment before Commando Cody was created.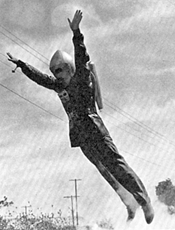 All of the 17 times Holdren, as Larry Martin, took to the skies in the flying suit for "Zombies of the Stratosphere", were taken from "King of the Rocketmen". But unlike Jeff King (Tris Coffin) in "King of the Rocketmen" and George Wallace in "Radar Men From the Moon" who both put on the helmet with the faceplate up and then closed it before takeoff, Holdren as Larry Martin in "Zombies…" merely slipped the one-piece helmet over his head.
As the eventual "Commando Cody: Sky Marshal of the Universe" was held for release, Holdren spent his time appearing on "The Lone Ranger" (4 eps.), "Range Rider" and others—including an uncredited drole as Ranger Higgins on four 1954 episodes of "Rocky Jones, Space Ranger" starring Richard Crane.
According to REPUBLIC CONFIDENTIAL, as conceived, "Commando Cody: Sky Marshal of the Universe" was to be a half-hour TV series in 1952. Three pilot episodes running 26:30 each were filmed consecutively in 1952 between February 25 and March 5 at a total negative cost of $65,574, nine more during the month of January 1953, at a cost of $156,302. When unresolved union problems with actors' and music-soundtrack performance fees precluded immediate airing of the 12 chapters, they were then re-edited to full 30 minute lengths and released to theaters. Emulating the form of silent serials, each installment told a self-contained story with no cliffhanger ending but had a continuing plot line and villain, the Ruler, who was vanquished in the 12th installment by Commando Cody. Stock footage from prior Republic serials included "Darkest Africa", "King of the Rocket Men" and "The Purple Monster Strikes".
The episode titles were: 1) Enemies of the Universe, 2) Atomic Peril, 3) Cosmic Vengeance, 4) Nightmare Typhoon, 5) War of the Space Giants, 6) Destroyers of the Sun, 7) Robot Monster from Mars, 8) The Hydrogen Hurricane, 9) Solar Sky Riders, 10) S.O.S. Ice Age, 11) Lost in Outer Space, 12) Captives of the Zero Hour, all utilizing liberal doses of Republic stock footage. (Switcharoo—Richard Crane, who'd been "Rocky Jones, Space Ranger" on TV, was now Commando Cody's assistant, Dick Preston, on nine episodes.) Comically, d'ja notice the in joke in Ch. 1 of "Commando Cody"? There's a Western photo of Roy Barcroft on the wall with weird spying eyes.
Of the series, Holdren remarked, "The mask (he wore in the series) was the studio's way of insuring against my wanting more money someday and threatening to walk away from the series. Some economy-minded official had the brilliant idea the actor could always be replaced as long as the mask remained."
Unfortunately, now typed as a sci-fi hero, work was hard to come by. Holdren acted in plays at the Pasadena Playhouse and took small roles in various TV series ("Sgt. Preston", "Panic", "Draget", "M Squad", "U.S. Border Patrol", "Man From Blackhawk", etc. as well as uncredited bits in films like "Spoliers of the Forest", "Amazing Colossal Man', "Rise and Fall of Legs Diamond", etc.). By 1960 Holdren left films. Actor William Schallert, who co-starred with Holdren on the "Commando Cody" TV series, told us, "Judd was a very nice guy whose career never quite caught on. Years later, he was the bookkeeper for my commercial agent, Cunningham and Associates. He did that work for years. He was never much of an actor, but he was physically right for 'Commando Cody'." Even later, Holdren sold insurance. Never married, he died from a self-inflicted gunshot wound to the head while living in West Hollywood. He was only 58 years old.

THE PRECURSORS
The first actor to wear the Republic flying suit was Tris Coffin as Science Associates rocket-propulsion expert Jeff King in "King of the Rocketmen" ('49). As Jack Mathis explained, "Rocket Man prepared for his first ascent by twisting the three control knobs to 'On,' 'Up' and 'Fast'. Then, as a whine resembling that of sonic propulsion increased in pitch, he took several running strides, extended his arms, and bounded skyward with a puff of smoke trailing from the tubes. In actually, extending the arms activated the smoke-producing mechanism via a wire concealed in one of the jacket sleeves. Descent was accomplished by changing the controls to 'Down' and

'Slow' and, when in repose, the flying-suit dials, were set in the 'Slow' and neutral positions. Once again the transitional synergy in converting a headlong dive to a feet-first landing remained an enigma. With Rocket Man shown streaking along at a downward angle, then dropping vertically from the upper frameline in the next scene toward terra firma. One spectacular exception occurred in the last chapter when Rocket Man flew headfirst through a window in the Fisherman's Island shack, performed a tuck-and-roll, and righted himself all in one fluid move, a testimony to the superlative acrobatics of stuntman David Sharpe. Rocket Man logged 19 flights in the serial." Both George Wallace in "Radar Men From the Moon" and Judd Holdren in "Commando Cody" untilize the same up and down switches.
George Wallace was next to don the flying suit for 1952's "Radar Men From the Moon" as the original Commando Cody at his Cody Laboratory with associates Ted Richards (William Bakewell) and Joan Gilbert (Aline Towne).
D'ja know Richard Coogan, the first Captain Video on TV ('49-'50) before Al Hodge took over from '50-'56, had a role in "Radar Men From the Moon"?