Gregg Barton
Gregg Barton, born June 5, 1912, in Long Island, NY, decided to go west to California in '39. "California was greener and brighter," Gregg told us. "Everybody back east wanted to come here, so I headed out too."
He arrived in L.A. having no particular career in mind and so worked at any job that came his way. "I just stumbled into the picture business," Gregg remembers, "by meeting a friend who asked me to take them to a party at some house in Beverly Hills." The house turned out to be the home of Bill Grady, head of casting at MGM, who asked Gregg if he'd like to be in pictures. "Well, I'd like to be," Gregg answered, "But how do you get in?" Grady invited him to come to the studio, gave him a screen test and put him through their school. Gregg landed his first role playing a football coach in MGM's "A Yank at Eton" with Mickey Rooney and Freddie Bartholomew. "I did a little thing in that which got me acquainted with David Miller who was directing a film at Republic with John Wayne, 'Flying Tigers'."
The day after completing his work in the Wayne feature he was called into the Marine Corps and served in World War II as a Tank Commander with the 5th Tank Battalion of the 5th Marine Division in the Pacific. Gregg took part in the invasion of Iwo Jima, and for his heroism in that battle received the Silver Star medal on February 25, 1945.
Upon arriving home in California, Gregg returned to the picture business and was hired to play the lead heavy in "West to Glory" with Eddie Dean, thus beginning his long career as a western badman. Gregg worked with cowboy stars such as Johnny Mack Brown, Whip Wilson, Charles Starrett, Allan Lane, Audie Murphy, and in no less than 11 features with Gene Autry.
In "Man from God's Country" he costarred with George Montgomery and had a long speech in a courtroom scene. "That was a good one for me," he commented. "I did several westerns with Jimmy Stewart."
Gregg has also appeared in many non-westerns opposite such stars as John Wayne, Ingrid Bergman, Clark Gable, Gregory Peck and Anthony Quinn.
Working on the Autry films, Gregg became close friends with Armand "Mandy" Schaefer, Gene's producer at his Flying A Productions ("Gene Autry", "Range Rider", "Annie Oakley", "Buffalo Bill Jr."). "Mandy," Gregg expressed, "steered me very nicely and I'll be forever indebted to him." Gregg explained they had a stock company on these shows of directors like George Archainbaud and John English; and actors like Myron Healey, Terry Frost, and Denver Pyle. "The whole bunch of us worked together, maybe two of us would be on one show, three on another; but it was always the same clan and we were all kept very busy and delightfully so."
Gregg worked in four serials during the final days of those great Saturday matinee escapes for theatergoers: "Gunfighters of the Northwest"; "Riding with Buffalo Bill"; "Man with the Steel Whip"' and the final serial ever made, "Blazing the Overland Trail". Although Gregg more often than not played the heavy, in this final serial he played the role of Captain Carter, one of the heroes alongside Lee Roberts and Dennis Moore who were out to smash the criminal activities of Don Harvey and his cohorts.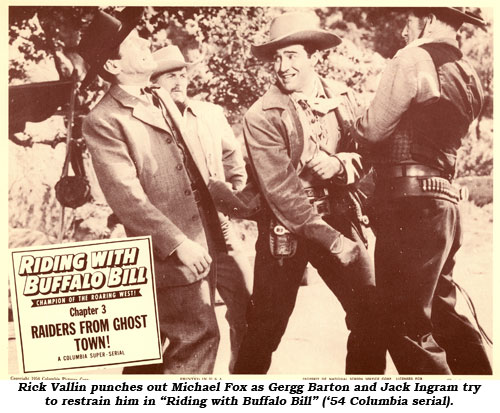 For many years, in between his TV and motion picture work, Gregg managed a 1,600 acre cattle ranch at Bonsail, CA. "It was a beautiful life. It also afforded me the opportunity to run up there and make a picture occasionally and keep my foot in."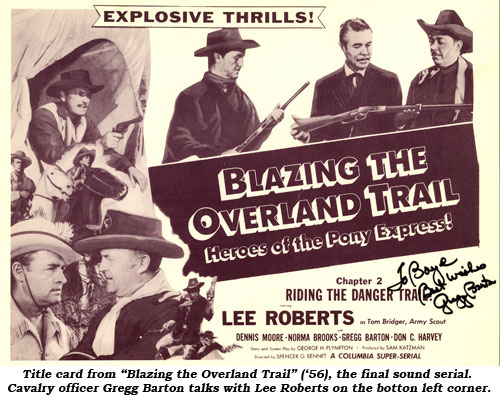 Gregg later worked 22 years for Safeco Title Insurance where he was the top sales representative in Southern California. When people asked him if he'd really worked in cowboy movies, Gregg facetiously answers, "Yeah, I've been knocked on my rear by every western star, including Annie Oakley. When the price is right, I'll let anyone knock me down."
In August of 2000, Gregg, along with fellow actors Walter Reed, House Peters Jr. and Myron Healey, was honored with a Golden Boot Award for his many years as a western bad man. All four of these actors also worked in serials.
Gregg died November 28, 2000, in Fallbrook, CA.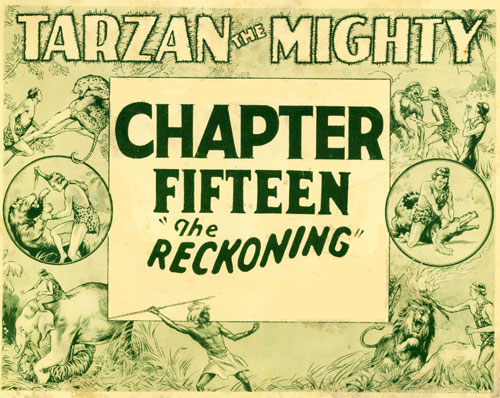 Frank Merrill, a former double for Elmo Lincoln in "Adventures of Tarzan" in 1921 and who had starred in Weiss Brothers' Artclass production of "Perils of the Jungle" ('27), was recruited by Universal to play the Jungle Lord in their serial "Tarzan the Mighty" ('28), originally entitled "Jungle Tales of Tarzan" after Edgar Rice Burroughs' book.
The action king of silent serials, Joe Bonomo was originally contracted to star, but he fractured his left leg and injured his sacroiliac during a stunt on "Perils of the Wild".
The six foot, 200 pound Newark, NJ, born Merrill starred opposite Natalie Kingston and her screen kid brother, Bobby Nelson, protecting the castaways from the ravages of Al Ferguson as Black John, ruler of an African Village of Pirate descendents.
Before films, gymnast Merrill won 58 championships on Roman rings, high bars and rope climbing. He was national gymnastic champ from 1916 to 1918.
A second Tarzan serial with Merrill, "Tarzan the Tiger" ('29), was released. His voice unsuitable for sound, Merrill retired from films but made personal appearances as Tarzan. He died at 72 in 1966.
Elaine Shepard ("Darkest Africa" Republic serial '36): "The powers that be in Hollywood have a complete lack of faith in the professionalism of women when it comes to movie production."

B-Western and serial leading lady Jane "Poni" Adams was born Betty Jane Bierce in San Antonio, TX. She was given the moniker "Poni" at the Harry Conover Modeling Agency for whom she worked in NYC for six months. She turned down a full scholarship to study violin at Juilliard, opting to become an actress. After studying at the Pasadena Playhouse she landed work on "Lux Radio Theatre" and "The Whistler".
A picture of Jane in ESQUIRE led to a contract at Universal where her first role was as a dancer in Rod Cameron's "Salome, Where She Danced". She then became Kirby Grant's leading lady in five of the seven Grant B-Westerns at Universal ('45-'46). During this time she co-starred in her best remembered role as the sympathetic hunchback nurse Nina in "House of Dracula". Jane's also in westerns with Jimmy Wakely, Johnny Mack Brown, the Cisco Kid and TVers "Cisco Kid", "Wild Bill Hickok", "Kit Carson".
Jane co-starred in two serials, "Lost City of the Jungle" w/Russell Hayden and "Batman and Robin".
After losing her first husband in WWII, she married Tom Turnage in 1945, a decorated Major General with the Army who later served as the last administrator for the Veterans Administration before the VA became a cabinet department during Ronald Reagan's presidency.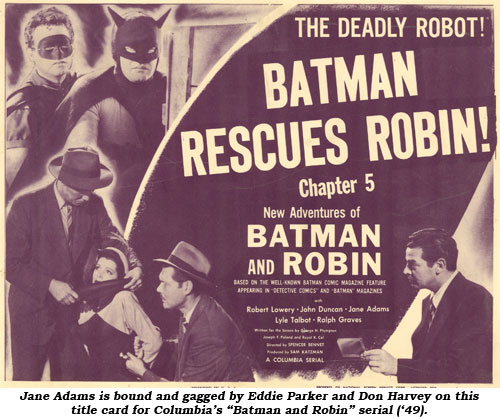 Jane died at 95 May 21, 2014, in Palm Desert, CA.

In Ch. 15 of "Tex Granger" Blaze (Smith Ballew) tells Crane (Frank Ellis), "Tell Conroy and Crane to bring the stage in." He meant Conroy and Morgan (John Hart).
(Thanx to Hal Polk.)