Chapter Ninety-Four
"Overland Mail"
by Boyd Magers
Universal was a big purveyor of Western serials. "Riders of Death Valley", several Johnny Mack Brown titles, "Gordon of Ghost City", "Raiders of Ghost City", "Red Rider" are well remembered, but too often 1942's "Overland Mail" slips between the cracks.
"Overland Mail" stars big, rugged and likable Lon Chaney Jr. as a lawman commissioned by military officials to discover the reasons behind the delay of frontier mails, the destruction of pony-express equipment and the killings of express riders and stage-men. Both stagecoachs and pony riders are being victimized by outlaws and renegade Indians, all under the direction of ruthless Noah Beery Sr. who wants to take over the lucrative mail contract. Supposedly a trusted businessman, he masks his evil plans in a cloak of respectability.
In Ch. 1 Chaney recruits Noah Beery Jr. and scout Don Terry as his sidekicks to help defend the mail and defeat Beery Sr.'s outlaw band. It's always fun in a serial to have a trio of heroes as in the B-Westerns of the Three Mesquiteers, the Trail Blazers and the Range Busters.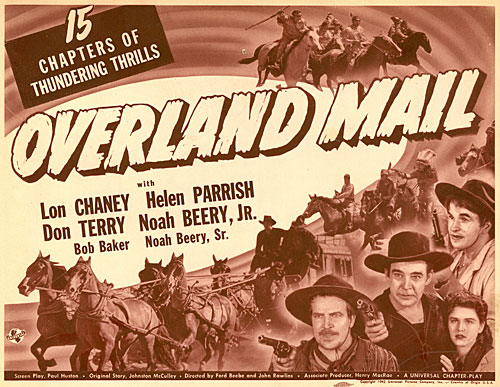 One detriment to "Overland Mail"—as well as other Universal Western serials is the overabundance of stock footage from earlier films—cattle stampedes, Indian attacks, raging rivers, covered wagons. As soon as someone says, "Look!" you can get ready to check out the stock footage.
Chapter endings involve the blazing wreckage of a covered wagon, dynamiting of a stagecoach, a cattle stampede, dynamiting a river bridge, burning at the stake by Indians, an exploding powder keg in a grass fire, an attacking cougar, falling off a wagon into the path of another wagon and…
However, unlike Republic, the cliffhangers at Universal are seldom 'resolved' where we learn next week how the hero survived, instead at Universal unimaginative script writers simply had our heroes dust themselves off and walk away.
Interesting to note onetime Universal B-Western star Bob Baker is billed fifth as Bill Cody but his screen time is pretty much relegated to Chapters 1 and 14. Baker's B-Western series had ended in '39 and his time co-starring with Johnny Mack Brown was over in '40. After that he played character back-up work to Tim Holt, the Rough Riders, the Trail Blazers and Hopalong Cassidy. Here he's either doing the same or fulfilling something in his Universal contract.
These aforementioned problems aside, "Overland Mail" is surprisingly good, it holds your interest for 15 chapters, due in part to a strong cast—including the unusual lead of Lon Chaney Jr., plenty of non-stop action and several unexpected plot turns, directed by Ford Beebe and John Rawlins.

William Witney (director): "We were looking for someone to say the 'Hi yo Silver' to be used in the "Lone Ranger" serial. We started with five actors who were to read a page of dialogue starting with five yells of 'Hi yo Silver. Away!' One by one I stood them up on the rocks, so the sound man could give them a little reverberation or echo. Then they read the dialogue. When the casting director got to the last one, whose name was Billy Bletcher, I did a double take. Billy was about five-foot two and probably topped 200 pounds. I looked at the sound man. He wouldn't look up at me, and I knew why, to keep from laughing. When Billy cut loose 'Hi yo Silver. Away!' it practically lifted off his headset and echoed across the valley for what seemed like five minutes. He had a deep voice that was just what we were looking for. Later, whenever the Lone Ranger had something to say on the screen, I looked at the tall handsome actor playing the part, but my mind would picture little fat Billy."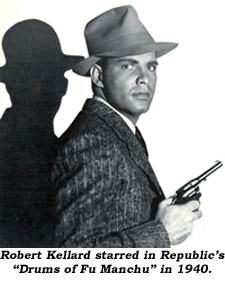 Robert Kellard
Robert Kellard was the star of Republic's finest serial, the 15 chapter "Drums of Fu Manchu" in 1940.
Born Robert Dorsey Kellard April 23, 1915 in L.A. for a brief period of time during his childhood the family lived in Rye, NY but moved back to California. His father was actor Ralph Kellard and an aunt was also an actress who helped interest him in acting.
Graduating from Hollywood High Kellard spent a year at Santa Monica Jr. College. A friend of the family, actress Beulah Bondi, was responsible for him getting a small part in her Broadway show "Mother Lode" in 1934. He then played stock on the East coast and was back on Broadway for a two month run in "Hitch Your Wagon" ('37) which earned him a five year contract at 20th Century Fox. Most of his roles were unbilled with his biggest showings coming in "Island in the Sky", "Time Out For Murder" (both '38) and "Stop, Look and Love" ('39).
His contract up at Fox, Kellard began to freelance and was immediately cast in two serials—the lead as Allan Parker in the classic "Drums of Fu Manchu" and as Mountie Tom Merritt Jr. in Republic's "King of the Royal Mounted" ('40) starring Allan Lane. Kellard managed to make his lesser role memorable in Ch. 12. Trapped in an

enemy submarine, Kellard knocks out fellow Mountie Lane, sends him to safety via a torpedo tube, then, sneeringly facing the international spies, says, "I'm dictating the terms of this treaty. Here's my answer." With that he sacrifices himself as he brings a wrench down on a torpedo nose causing an underwater explosion that sends the sub and the saboteurs to the bottom.
He then played good supporting roles in several B-films and had the lead in "Escort Girl". Unfortunately, there were several other unbilled rules until he was signed by Columbia in '42 who changed his name to Robert Stevens. Still he suffered in minor roles except for the lead as Mountie Sergeant Steve "Mack" MacLane battling outlaws led by Kenneth MacDonald in "Perils of the Royal Mounted" ('42). After an uncredited role in Charles Starrett's "Fighting Buckaroo" ('43) Kellard enlisted in the Navy where he spent almost four years.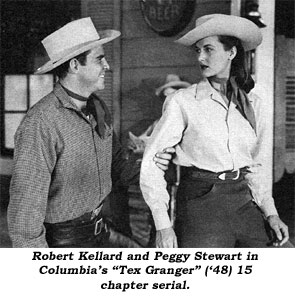 Back at Columbia in '46 he appeared in three Ken Curtis Westerns, some mysteries, a couple of Three Stooges shorts and another Durango Kid Western before he starred in "Tex Granger: Midnight Rider of the Plains" serial in '48.
As acting jobs became more scare he turned to production and worked for Apex Film Corporation as a dialogue director, writer and actor on TV's "Lone Ranger" series between '49 and '53.
His motion picture days now over Kellard joined the Merchant Marines as third mate serving on U.S. Navy oilers.
1958 found him as an associate sales rep for Showcase Films and in '59 he represented a thermal massage chair company.
In 1973 Kellard was self employed as a writer. On New Year's Eve 1980 he was admitted to a V.A. hospital in L.A. where, at 65, two weeks later, he died of post-obstructive pneumonia. He'd been suffering from prostate cancer.
He once stated, "Actors must realize when their prime passes. Some don't and they live in a yesterday of memories."