Chapter One Hundred Twenty
A Comic Book Republic Serial


Fawcett Comics, Republic's partner for "The Adventures of Captain Marvel ('40) and "Spy Smasher" ('41), released a one shot 68-page comic book in October 1942 entitled JUNGLE GIRL with a fiery balloon below "Featuring the Perils of Nyoka" which was Republic's action-packed 1942 serial follow up to "Jungle Girl" in 1940. Faithful to the serial's basic format, the comic was presented in six chapters containing most of the main characters and nine of the serial's 14 cliffhangers. Adapting the serial to comic book form certain incidents were slightly modified.
This first ever comic devoted entirely to a serial is quite scarce and bears an inset front cover photo of Kay Aldridge as Nyoka. If you're lucky to find a copy expect to pay anywhere from $139 in worn/good condition up to $2,150 in Near Mint.
With the serial and the comic proving very successful, Fawcett did retain the character of Nyoka, but it took three years before NYOKA, THE JUNGLE GIRL #2 was released in the winter of 1945. The comic ran for 77 issues until June 1953. Nyoka also appeared in MASTER COMICS #50 (May '44) through #132 (March '53).
Although Kay Aldridge and Clayton Moore (doubled extensively by Davy Sharpe) took top billing in the serial, many of the best scenes in "Perils of Nyoka" were thoroughly stolen by gorgeous, well-endowed Lorna Gray who gave orders to some of the most ruthless commands in serial history as the exotic Vultura. Gray, who later became known as Adrian Booth, was one of the best actresses ever to grace a serial and she later appeared in "Captain America" ('44), "Daughter of Don Q" ('46), "Federal Operator 99" ('45), all at Republic, as well as "Flying G-Men" ('39) and "Deadwood Dick" ('40), both at Columbia. Interestingly, Fawcett portrayed Vultura in a modest full-length red dress, even though Gray was outfitted more revealingly in the serial. Nevertheless, the comic artists transferred the serial's thrills quite effectively to the printed page.
The following serial photos and their comic book counterparts show exactly how the comic artist adapted certain scenes to the printed page.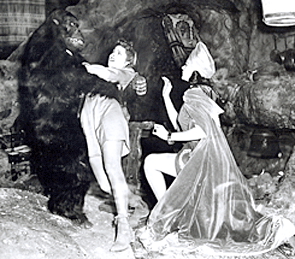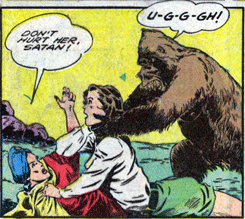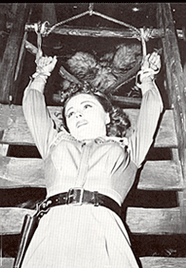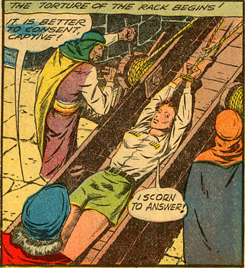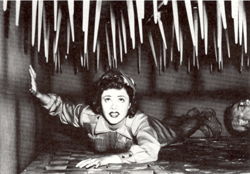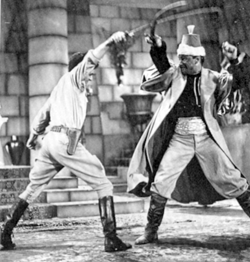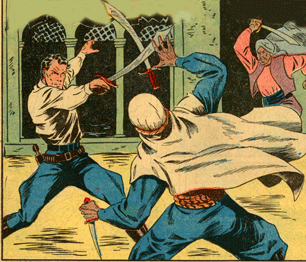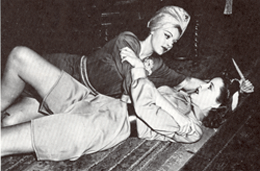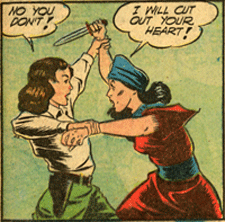 My vote for craziest cheat ever goes to Ch. 8 of "The Desert Hawk". Gilbert Roland and Ben Weldon are ambushed, killed, trhown in a shallow grave with rocks thrown on top of their lifeless forms. In Ch.9 it's revealed what we saw happen was only that which the Grey Wizard (Ernie Adams) foretold in his crystal ball should the Hawk continue on his journey!