Chapter Thirty

"Riders of Death Valley"
Although a great fan of western movies, I'm not usually an admirer of western serials. No ray guns, electrically powered torture chambers, electrocutions, automobiles careening over cliffs, airplanes crashing into mountains…all the nifty gizmos and hopelessly outlandish gimmicks I so love. Unfortunately, the frontier cliffhanger is extremely limited by its historical time frame (sci-fi/western hybrids like Gene Autry's outrageous "Phantom Empire" being a totally different matter). I can pretty much guess the chapter endings well in advance: the hero stuck in a burning building, pushed over a cliff, shot from ambush, tied up in a shack with dynamite, etc. Because of this predictability, a strong leading man or character (such as Zorro) is more essential to the western serial than it is in modern stories where screenwriters can employ a variety of scientific hokum and newfangled hardware to keep the audience entertained while at the same time often getting away with a bland and forgettable leading man.
Despite being billed as the "Million Dollar Serial", "Riders of Death Valley", produced by Universal in '41, was really not all that much different or superior to other cowboy cliffhangers of the period, at least not in plot or formula. Its greatest selling point was the superior cast assembled for the chapterplay, a veritable who's who of wonderful action stars, character actors and B performers. I loved it as a kid, first seeing it on TV in the late '50s, and still (watching it for the first time in 40 some years) found it a hell of a fun ride.
The 'Riders' of the title refers to a group of heroic good guys led by Dick Foran (as Jim) who make it their business to preserve law and order in Death Valley. Foran is aided by his pal Tombstone, played by great western star Buck Jones. Foran, always dependable and likable no matter what the part, has a terrific rapport with Jones. They play off each other beautifully, friends who nonetheless spend a lot of time trying to playfully deride and kid the other in a way not unlike what went on decades later in "Butch Cassidy and the Sundance Kid" between Paul Newman and Robert Redford.
The popularity of the singing cowboy films had not been good for Jones' career and this serial was a boost up for him. He's tough when he needs to be and jocular in a dry and amusing way much of the other time. Foran is equally satisfying to watch and the occasionally tongue-in-cheek screenplay works well for both of them.
Backing up the two leads are Charles Bickford—who would go on to play many a stern patriarchal figure in numerous A-films—as the main bad guy, Wolfe, and Lon Chaney Jr., just on the brink of monster stardom at Universal, as Bickford's second in command, with villainous support lent by, among others, Richard Alexander (Baron from "Flash Gordon") and Roy Barcroft, just beginning his lengthy serial career.
Rounding out the good guys are Leo Carrillo as Pancho, butchering the language ("Let's went") as he'd continue to do years later in Cisco Kid movies and TVers, and verbally sparring with Jones, Noah Berry Jr. and Glenn Strange. The obligatory femme fatale is Jeanne Kelly with veterans Monte Blue and James Blaine also along for the ride…and it's a wild one!
"Riders of Death Valley" might be short on plot, but it's nothing but long in the action department. Foran, Jones and the others hardly get their lines out after their last scrape before Bickford and company are back trying to do them in. It's non-stop riding, shooting and fighting from the opening credits to the final scene, sometimes almost too much so. Co-directors Ford Beebe and Ray Taylor keep things moving like a runaway stagecoach and what non-action scenes exist are made pleasing by the always likable and dependable cast.
Some of the chapter endings are quite good (I particularly was impressed by the sandstorm) although the heroes often extricate themselves without even breaking a sweat or any cleverness involved—they simply survive.
The musical director is credited as Charles Previn, but the majority of the background score is from Mendelssohn's "Fingal's Cave Overture" which is actually quite effective, and the title song, "Ride Along" played over the credits, actually does grow on you.
No, I'm not normally a fan of western serials but I sure am of this one. It's glorious, unpunctuated fun. And isn't it great seeing all these wonderful actors together under one celluloid roof? Sit back and enjoy.

Buck Jones, in promoting "Riders of Death Valley", told United Press on 11/1/40, "There'll be just as much excitement and action in this picture as we used in the old days, maybe more, but the story will have to be more ingenious and ironclad to please today's serial fans. We used to have a covered wagon full of folks take a 50-foot bridge fall, then find them in the next chapter picking themselves off the ground without a scratch. That won't go today. The kids are more discerning. They have learned to think and speak for themselves. But they still love adventure. They're nobody's fool. They demand all the old thrills, but in addition to logic in action, they have banished the old florid school of acting and dialog."

The script for Universal's "Riders of Death Valley" ('41) with its star-studded cast was three inches thick and weighted almost five pounds. There were 612 pages and 1,954 scenes. (Thanx to Richard Smith III.)
Sandy Sanders
Actor-Stuntman Sandy Sanders appeared in four serials, "Desperadoes of the West", "Don Daredevil Rides Again", "Son of Geronimo", and as hero Walter Reed's sidekick in "Flying Disc Man From Mars".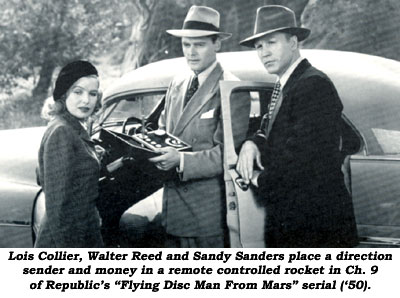 Sandy recently shared with us what his first day on a movie set in Hollywood was like. "When I came to California, I wanted to work in the motion picture business. Getting the first job was the toughest part. The Hudkins brothers furnished horses to the studios, and I made friends with the Hudkins. They recognized my ability to handle horses, which led to my first job in front of the camera. I was told to go to Western Costume, and the director would be there to choose the actors and wardrobe he would use in the picture. The director was not friendly, and he was very confused. He picked 10 men to be dressed as Mexican soldiers and 10 men to be dressed as farmers. I was to be a farmer, and all of the soldiers and farmers were to be mounted on horses. In the first shot, the director said all soldiers with swords drawn were to arrest the farmers. The director said while the soldiers and farmers were fighting, he would fire a blank shot as a signal. When the shot was heard, some of the fighters were to fall, as if being shot. The soldier I had been fighting with quietly said to me, 'When you hear the shot, hit the dirt.' When I heard the signal shot, I hit the dirt as though I had been shot. I heard the director making loud, unpleasant noises. All the horses were running loose, and all the wranglers were trying to catch them. The crowd started gathering around the director to see what would happen next. The director kept saying the film that had just been shot could not be used. The actors that did the falls from the horses announced that no one discussed the fall from the horses with them, and they wanted stuntmen's pay for the falls. The assistant director kept repeating the picture was over budget and he would contact the person that was paying the bills to see if he or they could straighten out the situation. He soon reported the present investors could not furnish any more money, but thought he would be able to get someone else to take over; that there were people who had plenty of money who would invest. He thought sure he could make it work, but do not call him—he would call us."
That's the way it happened on Sandy Sanders' first day in Hollywood as a working actor.

The Ch. 10 cliffhanger of "Robinson Crusoe of Clipper Island" definitely shows Mala's airplane crashing into the ocean. A week later in Ch. 11 Mala gains control of the plane and manages to avoid the crash altogether.