Chapter One Hundred Eight
What a thrill! Back in the day the Mesa Theatre in Albuquerque, NM would often screen complete 15 chapter serials in one four hour showing!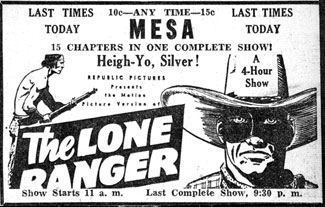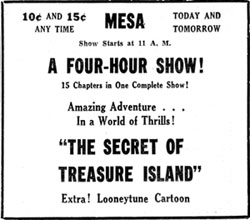 Why do we watch serials? Chances are we've seen our serials many times, so there are no surprises waiting for us. There's always going to be that little niche to slip into as the avalanche crashes down and that bar of steel to use as a brace when the walls close in. Most of the serial buffs I've met collect other types of films as well: Westerns, science fiction, whodunits, etc., so when we decide to watch a serial we're also deciding not to watch something else, like say, "King Kong" or "Dracula".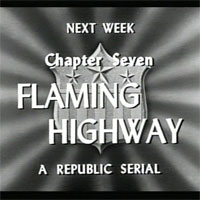 So why do we watch serials? I've tried to come up with every reason I could think of, which boils down to only five, presented here in random order (any "order" would depend on the viewer). 1) Because it's a pleasure to watch the stuntmen and women perform their remarkable feats, whether it's jumping the jump, taking the fall off a roof or in front of oncoming horses, or punching away in perfectly choreographed fights. You can't help but admire the sheer guts and professionalism of these troupers. (I don't have to name them, you know who they are.) 2) Because they're just fun. The fact you know exactly what's going to happen in each chapter is exactly what you're looking for—a chance to veg out, leave your brains at the door and have a good time. Is the plot inane? Perfect! The acting lousy? Great! The sets chintzy? Excellent! The hero keeps making stupid decisions, like putting himself in a box to be delivered to the bad guys? Just what you wanted. Does the beginning of Chapter 7 not match the ending of Chapter 6? Well, it's fun noticing that, and all the other errors. 3) Because they're a form of history. Serials like "The Lone Defender" or "Galloping Ghost" made nearly 80 years ago, give us a few insights as to the values and prejudices of the era. Serials, like every genre, reflect the sexism and racism of the time, but, for the most part, serials are a weak genre to study if you're looking for social connections. Alone among genres of the '30s, for example, serials made no mention of the Great Depression. Which is just as it should be. (If you happen to be interested in the history of serials themselves, then every serial is worthy of viewing.) It's also interesting to see how L.A. and surrounding areas looked back in the '30s and '40s. 4) Because you like seeing all those familiar faces—that band of pros, the character actors: Jack Ingram, Robert Kortman, Tom London, Al Bridge, Charles King, Stanley Blystone, Montague Shaw, Josef "45 years old at birth" Swickard (below in "Black Coin"), Anthony Warde and a couple hundred more. Many of them started out early in the silent period and offer a history of movies in their own right. For some of us, just seeing them at work is enough to make a serial enjoyable. 5) Because, even though you've seen them a dozen times you still get caught up in the action, actually enjoy the plots and look forward to the cliffhanger endings. (In other words, you're one of the lucky people who are forever young.)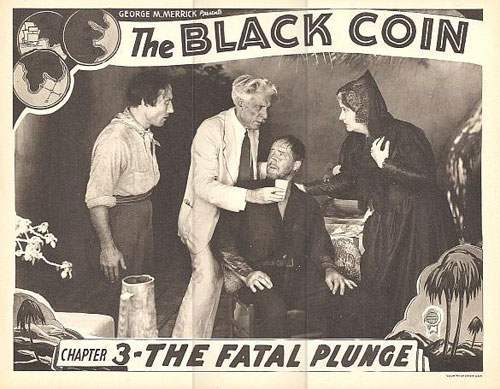 That's it. Those were the only five reasons I could come up with. If you can think of any others, please let me know.
Stuntman Dale Van Sickel Remembers...
Stuntman/actor Dale Van Sickel was called on by Republic to work in 35 of their serials beginning with "King of the Royal Mounted".
At first a top football star at the University of Florida, he once considered a career as a major league baseball player but chose instead show business. "One day I was in Jacksonville and a brother-in-law of Humphrey Bogart told me I ought to be in moving pictures," Van Sickel related, "I liked the idea and went to New York for a screen test."
As to his most difficult stunt, "Doubling Bud Abbott I had to cling to Lou Costello's pants while he was trapped atop a palm three. Lou's suspenders gave way and I was supposed to land in a fisherman's net. That never looked smaller than it did from 38 feet high. It looked like a lady's handkerchief. I had to land feet first, which I didn't want to because that's the toughest way to land. But the studio wanted it feet first. To land safely I had to hit the net with limp knees, otherwise I'd have bounded right back up again. Thank goodness we got it on one take. I'd never attempt that one again."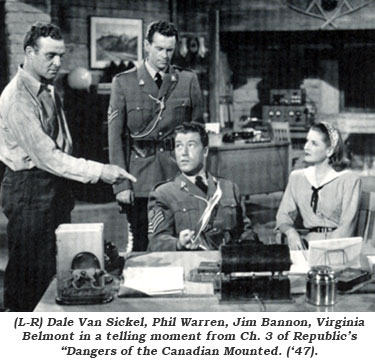 Dale's most dangerous stunt was for Jon Hall in one of his movies with Sabu. "In the scene," Dale explained, "Jon was caught up a tall pole in the center of an arena with lions prowling around below trying to grab him. Sabu throws him a rope and Jon escapes across it. But, the first day we tried it the male lions wouldn't jump up after Jon. Even tempting them with meat failed. So the second day they brought in female lions, who can jump higher than males. But—I didn't know this. We started shooting and I whipped across that rope like lightning. When I reached safety, I realized I'd escaped by the skin of my teeth because those lionesses could easily reach that rope. And did! If I'd been a second slower across that rope…"
Over 43 years in the business he's worked in films like "Thunder Road", "Mad, Mad, Mad, Mad World", "On the Beach", "Walking Tall", "Bullitt", "The Pink Panther"—but we recall him for those 35 Republic serials including "King of the Royal Mounted", "Masked Marvel", "Captain America", "Tiger Woman", "Haunted Harbor", "Manhunt of Mystery Island", "Purple Monster Strikes", "Daughter of Don Q", "Crimson Ghost", "Jesse James Rides Again", "Black Widow", "Ghost of Zorro", "King of the Rocketmen", "Desperadoes of the West", "Flying Disc Man from Mars", "Radar Men from the Moon" "Man with the Steel Whip", "Canadian Mounties vs. Atomic Invaders" and so many others. "I've no regrets about anything," he once stated, "I wouldn't change anything. It's been a great time and I've enjoyed it." (See also Chapter 87).

At the end of "Phantom of the West" Chapter 2, the Phantom knocks Tom Tyler down several floors in a fiery building. But in Chapter 3 Tom grabs hold of a floor before falling very far at all.