Peter Cookson
Peter Cookson is known to serial devotees in Universal's "Scarlet Horseman" ('45) as Kirk Norris, an undercover agent for the state of Texas, who along with Paul Guilfoyle as Jim Bannion (alias The Scarlet Horseman) and Cy Kendall as Amigo, have been assigned to cover suspicious goings on in and around the town of 44. Cookson poses as a surveyor, Guilfoyle as a wheelchair-bound gun shop operator and Kendall as his man servant.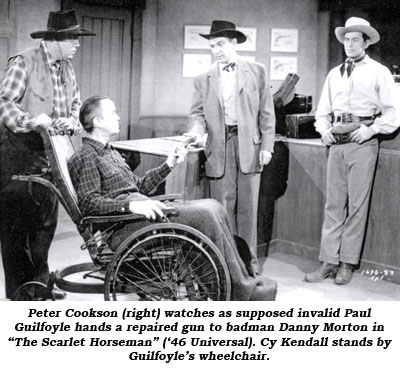 Cookson was born May 8, 1913, on a houseboat on the Willamette River near Milwaukie, OR. He spent most of his youth in California where he earned a scholarship to study at the Pasadena Playhouse. After beginning his professional career in "Swingtime Johnny" ('43 Universal), he was Jean Parker's boyfriend Johnny Jones in two Kitty O'Day mysteries at Monogram before Universal cast him in "The Scarlet Horseman". After a couple more films in '46, Cookson left Hollywood for the footlights of Broadway where he first appeared in the four-day flop "Message For Margaret" (April '47). The much more successful "The Heiress" followed for a one year run (Sept. '47-Sept. '48). He was also in "The Little Blue Light" (April-May '51), Cole Porter's "Can Can" (as Judge Aristide Forestier) from May '53 to June '55 and "Four Winds" (Sept.-Oct. '57). In "The Heriess" he played opposite Beatrice Straight who became his wife in '49. They were married until his death.
Cookson began focusing on production of Broadway material in '50 with "The Innocents" (February to June '50) which starred his wife, "The Little Blue Light", "Seagulls Over Sorrento" (Sept. '52), "Rashomon" (January-June '59) and "The Right Honorable Gentleman" (October '65-January '66). Additonally, he authored the novel HENDERSON'S HEAD and a comedy play "Pigeons". All the while he was in New York he supplemented his income by appearing on live TV programs ('49-'58) such as "Philco Goodyear Playhouse", "Robert Montgomery Presents", "Lights Out", "The Web", "Studio One", "Suspense", "Justice", "Armstrong Circle Theatre", "U. S. Steel Hour", "Telephone Time", "Kraft Theatre", "DuPont Theatre".
Cookson and Straight had two sons, a son from a previous marriage, and a daughter. Cookson died at 76 of bone cancer January 6, 1990, in Southfield, MA. Beatrice Straight won an Oscar for her work in "Network" ('76).

The script girl had a day off in Ch. 2 of "Mystery Mountain". Ken Maynard has guns, then empty holsters, yet he fires at a badman. Then back to empty holsters, but arriving at camp he once again has a pair of sixguns.

Adrian Booth
aka Lorna Gray
Call her Lorna Gray. Call her Adrian Booth. The gorgeous star entertained a legion of fans under both names in six serials: "Flying G-Men" ('39 Columbia), "Deadwood Dick" '(40 Columbia), "Perils of Nyoka" '(42 Republic), "Captain America" ('43 Republic), "Federal Operator 99" ('45 Republic), "Daughter of Don Q" ('46 Republic). Born Virginia May Pound in Grand Rapids, MI, in 1917, her family split up after her father's millinery business failed during the Great Depression. She and one brother went to live with an aunt. "I was very unhappy because I'd be doing her washing while the other kids went to the football games on Friday night. I ran away but came back home to finish school."
Her spirits soared when she became, first, Miss Grand Rapids, then Miss Michigan. She went to Chicago as a singer, then New York to perform with Ben Yost's Varsity Coeds in Vaudeville when she was about 17. They were playing the Palace in Cleveland when a Universal talent scout sent her to Hollywood. "They made a screen and singing test and I was so scared, I was awful." Through a girlfriend with a connection to Paramount, a casting director there viewed the 'awful' test and nevertheless signed her to a contract.
An agent decided she should have a prettier name—Lorna Gray was chosen. Later under contract to Columbia for nearly two years, she never met the infamous studio head, Harry Cohn. "Never. Thank the Lord. I was never happy at that studio; it's not a nice studio. I was scared to death most of the time. I kept pretty much to myself."
As for "Deadwood Dick", "Director James Horne was a bundle of energy. It was crazy because I did my own hair…long curls. We had a scene on location that was a cattle stampede. (Ch. 5) Just before the stampede, the mayor and a whole lot of people were on a stand. They had red, white and blue gauze all around the side. On one side of the stand were funny little rickety steps. Now it's getting ready for the stampede…they shot off pistols and the cattle have already started to stampede…the camera's rolling—and Don Douglas (who played Deadwood Dick and I have to walk down these rickety steps. I'm in long skirts under skirts under skirts…and we have to tear open the gauze, run underneath the stand, tear open the gauze on the other side and run about 15 yards to a barn door, get in the barn door and all the time, these cattle are stampeding. The assistant director, the only assistant director I've ever worked with that was not nice, had a fit with me because one of the curls came off! Little did I know you should never do things like that. You should always have a double. Another time, I think it was that same serial, we were on location and I had to be rescued off a rock. Cliff Lyons came to me afterward and said, 'Honey, you're new in this business, aren't you? You don't have to do these things. This is what they pay doubles for.' That's when I learned a few things. Another time in 'Deadwood Dick' there's this little, bitty house, burning on three sides, the camera is facing the side that is not burning. (Ch. 10) I'm in long skirts and have to climb up on a chair, climb up on this funny old wooden kitchen table, climb up on a box, then pull myself up through the roof while this thing is burning. And I did it!"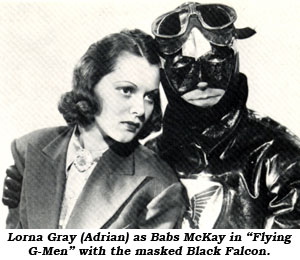 About "Flying G-Men" she recalls, "Those three men were all very, very nice. (Robert Paige, Richard Fiske, James Craig) I was riding my bicycle and I stopped at a telephone booth to call my agent because I was really broke and I got the part. That meant at least five weeks salary which could carry you for almost a year. The boys had a lot of fun with each other and we enjoyed making the serial."
"Perils of Nyoka" is probably Adrian's most famous serial as the evil Vultura. "One day I could pretend I was Bette Davis and the next Katherine Hepburn and the next Carole Lombard. I adored them. I would think about them and play somebody different every day and nobody would know the difference. Bill Witney was, without a doubt, one of the nicest, most wonderful directors I ever met. He was very young, very new, but knew exactly what he wanted. When Bill wanted to go into the service during the war, he wanted to lose some weight. I said eat steak and tomatoes. He did and lost the weight and went into the Marines. I had the great honor a couple of years ago of being a part of the memorial to Kay Aldridge, who played Nyoka. She was a crazy girl to work with. We had such fun on location. The most fun was riding across the field in that chariot with the gorilla. I did drive the chariot."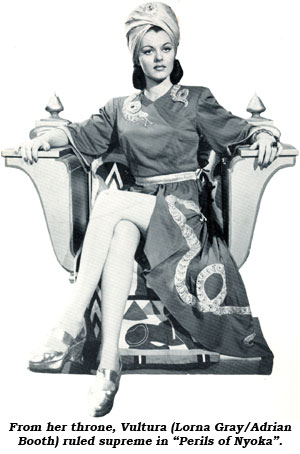 John English directed another of Adrian's serials, "Capt. America". "John was more of an intellectual than a lot of other people I worked with. I always felt he would go a long way as a director. He knew exactly what he wanted. He was very quiet about it and very efficient. It was wonderful to be able to play with such a good actor as Lionel Atwill in that serial. He had instructed his cohorts to put me inside of this glass case to asphyxiate me. (Ch. 15) It was a large case on brass legs, high up off the ground with three brass straps across the top you screwed down. They put some stuff that looked like gas inside of it. Atwill got so mad, so excited, because they couldn't get the screws unscrewed and I was losing oxygen. They just barely got me out in time, I was almost fainting. He was a

dear…and George J. Lewis was in it, he was my friend. We were at Columbia. We made a lot of pictures together. George was in 'Federal Operator 99'."
Adrian has stated "Daughter of Don Q" was her favorite serial. "Outside of Vultura. I enjoyed the bow and arrow work and jujitsu… and all the tricks. There was nothing I couldn't do. (Laughs) One day they said I had to shoot a bow and arrow. They brought me the bow and arrow and said, 'You put the bow here, then you let go and you're supposed to hit that target over there.' So the camera says roll and I put the arrow in the bow, pulled it back and shot it right into the target! One of the crew members came up to me afterward and said, 'Adrian, I didn't know you were interested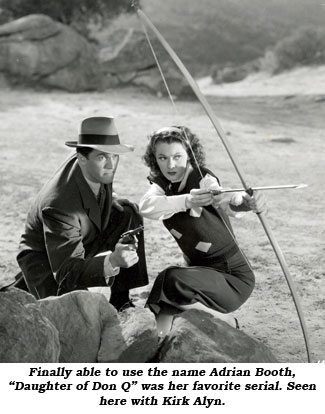 in archery.' I said, 'I'm not." And he said, 'You just couldn't do it that well if you weren't interested in archery.' So we tried it several more times. I had a black and blue mark on my elbow for a week. Could not do it again! When you're before a camera you can do things you can't ordinarily do…you just do it."
How would Adrian Booth like to be remembered two hundred years from now…"As an actress who loved the Lord."

During a vicious sword fight in chapter 7 of "The Vigilantes Are Coming", a whole group of Cossacks swarm over The Eagle (Robert Livingston) and thrust their swords into him as he falls backward. However, in Ch. 8, The Eagle never falls, the Cossacks never thrust and The Eagle escapes by swinging away on a chandelier.
Why is this Photo Changed?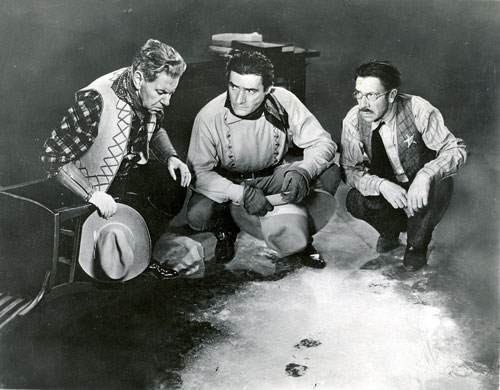 Check out the "photoshop" changes made to the above still of Tom Mix, Edward Hearn and Ernie Adams from Mascot's "Miracle Rider" serial. The top photo is the original as the three study a footprint. The second photo replaces Edward Hearn with someone else entirely, also blacking out the legs of the man behind him and changing the overturned chair to his right. Tom Mix remains the same, but for whatever reason Ernie Adams' hair has been slightly altered as well as his shirt and vest—with a badge added and he now has glasses and a mustache. The object to Ernie's left has been removed as well as some background objects. If anyone has an answer to why this might have been done, please let us know.

At the end of "Miracle Rider", Ch. 5, Tom London rigs a shotgun booby trap for Tom Mix when Tom opens the door. As he does, the shotgun blast fells Tom. But in Ch. 6, Tom stands to one side of the door and opens it, never falling or even acting like he's falling.
Ralph Graves bends down to help an unconcious Helene Costello in Mascot's 10 chapter "The Fatal Warning" released in February 1929. Graves (1900-1977) was a silent screen comedian in the '20s at Essanay and Mack Sennett Studios before becoming an 'action hero' in the '30s. He was off screen from '40-'47 then returned for a few character roles until '49. He also starred in "The Black Coin" serial in '36 and had a minor role in Columbia's "Batman and Robin" in '49.
Helene Costello (1906-1957) came to films as a child in 1909. After appearing in dozens of shorts as a youngster, she graduated to adult roles. After "Fatal Warning" she was off screen until 1935 when she returned for four small character parts until 1942. She worked for a time as a script reader at 20th Century Fox in the '40s.
Boris Karloff has a role as a heavy in this serial.