"Chick Carter Detective"

Even during their heyday motion picture studios were not inclined to put much money into their serial productions. At the time they were considered little more than second string ingredients of the collective movie experience—just like newsreels, cartoons, short subjects and coming attractions—and were not viewed as terribly important or worthy of great consideration or monetary investments. When DC Comics wanted too much money to borrow the character of Superman, Republic Pictures bailed on the idea and re-vamped the property, changing the main character from "The Man of Steel" to a somewhat less than superhero called the Copperhead. Similarly Columbia, who desired to make a sequel to their earlier "Phantom" cliffhanger, simply made a few changes to the masked man's comic strip-inspired costume and dubbed him "Captain Africa"when the increased cost for licensing The Phantom was deemed too high.
A similar problem was faced in '46 when Columbia decided to produce a serial based on the exploits of famed crimefighter Nick Carter. Carter, created in an 1886 dime novel, caught on quickly with the public and had an incredibly long and impressive run appearing not only in print but on screen and radio well into the '50s. Securing the rights to the Carter character, however, was quite another thing, particularly given Columbia's newly appointed serial producer Sam Katzamn's legendary skinflint ways. Still wishing to cash in on the Carter moniker it was decided to abandon Nick and instead turn to his lesser known but still popular adopted teenage offspring Chick who originally appeared in print and subsequently made his radio debut in the well received "Chick Carter, Boy Detective" series in '43 and was read in SHADOW magazine and comic books.
Despite this turn of events, which in theory would now showcase the adventures of this juvenile sleuth rather than his famous father, Columbia, in a most peculiar move, opted to shuck all aspects of the original character and instead transformed him into a seasoned police detective portrayed by 44 year-old Lyle Talbot. In addition, the script by Harry Fraser and George Plympton—filled as it is with smoky back rooms, boozy night clubs, petty crooks and tough talking dames—had more in common with gritty police procedurals and what would later be termed film noir than the sort of youthful adventures in which the adolescent Chick had usually found himself.
Oddly, particularly in the early chapters, Chick, in his capacity as a police inspector, is pretty much relegated to secondary status with the characters of newsman Rusty Farrell (Douglas Fowley) and photographer Spud (Eddie Acuff) mostly taking center stage. As wise-cracking, seasoned and pushy reporters they continually find themselves involved in dangerous if not life-threatening situations with Chick more or less offstage or chained to his desk until the serial begins to wend its way towards a conclusion.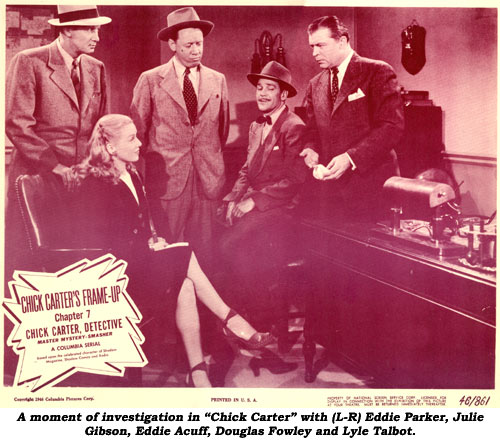 Talbot had a long and eclectic career in the movies and on TV. He was arguably the best Lex Luthor the screen ever produced when he was featured in Columbia's "Atom Man Vs. Superman", but the role of Chick Carter doesn't give him much to work with. He's steady and measured and displays professional authority but it's a colorless, drab role, particularly given that as the titled main character he's supposed to be the one audiences care about, but this just isn't the case.
The routine plot, lifted out of numerous bargain basement crime caper films of the period, is concerned with the theft of a valuable piece of jewelry, the Blue Diamond owned by Charles King, who runs a notorious local nightclub. The 15 chapter cliffhanger chugs away at anything but a breakneck speed as the reporters – and to a lesser degree Carter – follow one lead after another to locate the precious stone. The storyline is marinated in backstabbing, murders, deception and two different criminal factions trying, by whatever means, to come out on top with the stone but are thwarted every inch of the way by Carter and the tenacious newshounds.
Cast-wise, aside from Talbot as Carter, the aforementioned Fowley, who rarely in his career played characters on the right side of the law, is very good here as the glib newsman and works extremely well with his on-screen partner Acuff. Charles King, who might hold the record for most appearances in "B" westerns, seems oddly out of place as nightclub owner Carney but is ably backed up by such familiar faces as Leonard Penn, Jack Ingram, Eddie Parker, George Meeker, Robert Elliot and Frankie Darro. The distaff side is represented by Pamela Blake as somewhat bland investigator Ellen and the more colorful Julie Gibson as the hard-edged and double-crossing nightclub singer Sherry Marvin who is in cahoots with one group of heavies to secure the Blue Diamond.
"Chick Carter, Detective"begins to pick up as the ending approaches but it's often a long and ponderous trudge reaching this point and things would have been better served with only 12 chapters. The serial's saving grace is the relationship between Fowley and Acuff characterized by breezy banter and the newspaper background. The Chick Carter character is nearly perfunctory despite Lyle Talbot's earnest portrayal. A stronger leading man character would have done a lot to improve this chapterplay but it still has its moments. Just not enough of them.

Possibly the worst serial offender for cheat endings was Mascot's "Vanishing Legion". At the end of Ch. 1, on a mountain road, a careening truck with no brakes slams, loudly, into the rear of Harry Carey's car. But—in Ch. 2, the out of control truck swerves and goes off the mountain before it hits Carey's car. At the end of Ch. 2, a herd of wild horses quite obviously trample over Harry Carey's body. At the start of Ch. 3 Edwina Booth pulls a car in front of the horses allowing Harry to roll under it and the horses never come near him. Then, at the end of Ch. 3, during a fight, Harry Carey is knocked over the banister of a stairwell. In Ch. 4 he never falls over at all! Watch closely at the end of Ch. 4, during a fight atop an oil derrick, Harry Carey is hit and plummets down through the center of the derrick. In Ch. 5, a different shot shows him immediately catching a rope or cable and sliding down.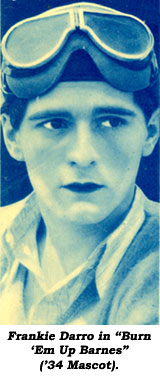 Diana Serra Cary has, in two books (HOLLYWOOD'S CHILDREN, WHAT EVER HAPPENED TO BABY PEGGY), described the ultimately unhappy life of Frankie Darro. Darro's mother and father were circus-touring aerialists and he was quickly made one of the act, although he had a fear of heights he fought to overcome. By the time he was six he'd become his parents' meal ticket, a burden that, like Baby Peggy, he assumed was the natural order of things. His adulthood was none too pleasant, the result of too much celebrity at an early age.
Unlike many child stars, Darro's movie career spanned 50 years, from 1924 to 1971, abetted by frequent TV appearances. He appeared in approximately 120 feature films (starring in one genuine masterpiece, Warner Bros.' "Wild Boys of the Road" in '33) and nine serials. I'm not going to rehash what Cary has written (and there's a Frankie Darro website you can access by typing in his name on a Google search, that gives the salient facts and figures).<http://members.aol.com/darrofan/frankie/> Instead, I'd like to concentrate on the persona that Frankie projected in his first few serials, when he was, I suspect, at his peak.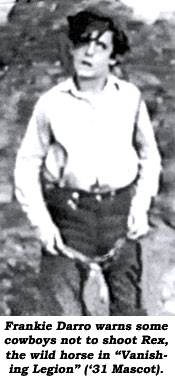 As you watch "Vanishing Legion" ('31) it's easy to see why Darro had been such a popular child actor. He's irresistible. In Chapter One (and the first two chapters practically belong to him) he's a 9 or 10 year old (actually he was 13, but he always looked younger than he was, and he really looks like a little kid here) who makes a particularly impressive entrance: Some cowboys are going to shoot Rex, a wild horse they know to be a man killer. Frankie appears and tells them not to shoot. They shoo him out of the way, but he says, "I really wouldn't want you to shoot that horse." "Oh yeah?" a cowboy sneers, and raises his rifle. "Oh yeah!" Frankie retorts, firing a stone from a sling shot that hits the cowboy's trigger hand. Frankie tells them he couldn't let them "shoot my horse." As the cowboys jeer, Frankie whistles and calls the horse, who trots over and lets the boy pet him. An amazed cowboy says petting is one thing, but to never try riding the stallion. "That horse is a killer," he warns. Frankie mounts up. "Thanks for the advice mister," he yells back as he canters off. Frankie exudes total naturalness in the scene. And he's as cute as can be, small in stature, with a dollop of hair covering his left eye and a confident smile on his face as he confronts the cowboys.
Rex is reputed to have been a mean horse, but that notwithstanding, throughout the serial he lets Frankie hug him, manhandle him and mount up and ride him without the slightest trace of orneriness. And that's another thing. Darro obviously does his own riding and many of his own stunts.
A little later Frankie's dad is hurt trying to mount Rex (Frankie had begged him not to try), and still later he thinks his dad is burning to death before his very eyes in a car crash. In both scenes Frankie lets out all the stops, crying pitifully and wailing "my daddy, my daddy" as tears stream down his eyes. Such pathos hadn't been seen since the do-gooders took Jackie Coogan away from Charles Chaplin in "The Kid." Frankie was a very convincing crier, and got the opportunity in many of his early films.
His adult protector in these scenes is Harry Carey who, as always, personifies a steady, sympathetic dependability. Could a possibly-orphaned kid have a better guardian? They play off each other perfectly: the sturdy, grim-faced Carey and the emotionally-charged Darro, whose eyes and facial intensity express all that's in his heart.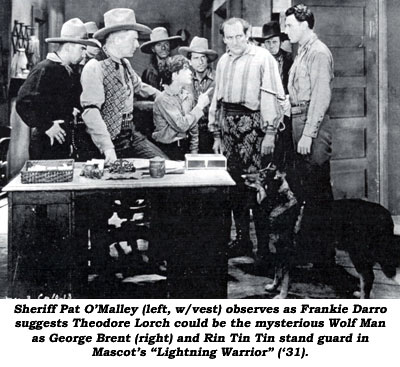 "The Lightning Warrior" ('31), even to a greater degree, shows off Darro's uncommon acting ability. A very gifted performer, he's probably the best child actor since Coogan. His closest competition: Jackie Cooper, superstar, who was playing child's roles in '32, when Frankie was a teenager. Personally, I much prefer Frankie. Look at Frankie in his first scene with his father (Hayden Stevenson), whom he's come to visit in the backwoods. His dad had written asking him not to come. Frankie says he's glad he didn't get the letter, exuding such warmth that his father caresses his arm, which is what we'd like to do. As they canoe downriver, The Wolf Man, the serial's villain in a caped outfit and pointed hat, fires an arrow at Dad and hits him, overturning the canoe and sending father and son into the water. Frankie pulls his dad to shore and, as he listens for a heartbeat, wailing "Daddy, daddy," his grief is palpable. Spotting a cabin, he rushes off to get help. In the cabin he discovers a body and Rin Tin Tin, who races off in pursuit of the killer. Frankie's dad dies and he's given the news by George Brent, whose brother was the body in the cabin. Brent vows to find the killer—The Wolf Man—and he's helped by Frankie and Rin Tin Tin. There are some very touching scenes when Frankie learns his father's dead. He goes outside to sit on porch-stairs and cry, Rin Tin Rin comes over, snuggles up to him and commiserates.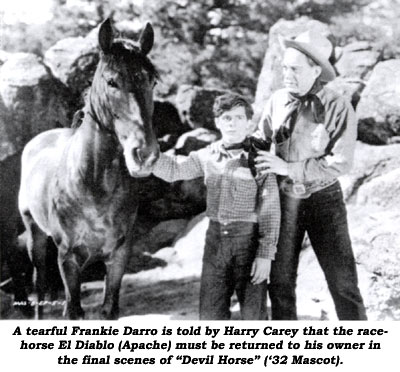 In his next serial, "The Devil Horse" ('32)—one of my favorite Mascots—Frankie (that's also the name of the character he plays) as a six-year old is played by Carl Russell (a typical child actor not in Darro's class), who sees his dad murdered then wanders off into the woods where he's nursed and raised by a wild mare, who's also nursing her own young. When next we see Frankie he's about 11 and played by Darro. He's part of the wild herd and can only whinny to communicate.
But as soon as we see him, we recognize something has happened: his face is no longer young and innocent. It has a slightly hard edge to it, as if he's grown up between serials. Which may well be the case: by now he was 14. It's not just that he's scruffily made up. Even in later chapters, after Harry Carey has bought him new clothes, he still looks "older." The bloom is off the rose, Frankie is undeniably a teenager. He is still a terrific actor, a skill that remained throughout his career, but from here on in, he can kiss "child actor" goodbye.
Frankie had watched as two outlaws, Canfield (Noah Beery Sr.) and Boyd (J.Paul Jones), tried to steal El Diablo (Apache), a fabulous race horse, who crashes through the wall of their truck, gets away and joins Frankie's wild herd. During their effort, Canfield shoots and kills a Ranger, whose pinto also joins the herd. The Ranger is the brother of Ranger Harry Carey, who rushes to the site determined to bring the killer(s) to justice. He'll meet up with Frankie (who is nameless) and, although the boy cannot speak and whinnies to communicate, nonetheless comes to understand that somehow the boy can lead him to the murderer. The rest of the serial centers on Carey's putting together bits of evidence (and slowly teaching Frankie how to talk), Canfield and Boyd's machinations as they become the town's most prestigious citizens, and Canfield's almost insane determination to get his hands on El Diablo, no matter what. (Apache, by the way, is a major character in the film and has plenty of battles and rescues to his credit.)
After "The Devil Horse" Frankie's serial career continued, with "The Wolf Dog" ('33 Mascot), "Burn 'Em Up Barnes" ('34 Mascot), "Phantom Empire" ('35 Mascot), "Great Adventures of Wild Bill Hickok" ('38 Columbia), "Junior G-Men of the Air" ('42 Universal) and "Chick Carter, Detective" ('46 Columbia), an embarrassing effort in which Frankie does little more than stand around trying to look menacing, proving it was time to quit serials.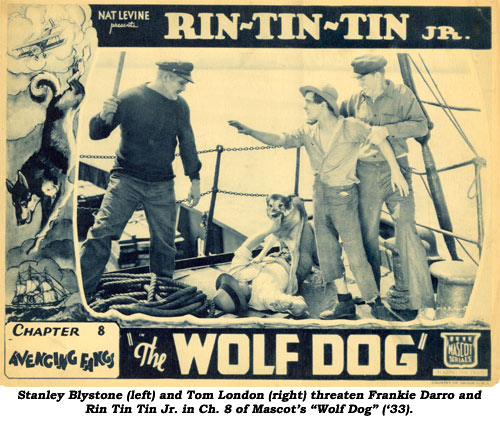 All along, Frankie had been making feature films, and his work for various studios continued for decades. Unfortunately, Frankie's later life off screen turned into a mess and he died young, at 58, of a heart attack on Christmas Day 1976. He left behind a rich heritage of serials and feature films which stretch from silent days to the '60s, a heritage yet to be fully appreciated. Frankie Darro is still awaiting rediscovery.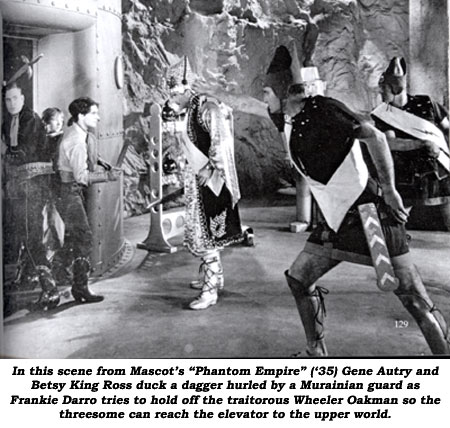 The Los Angeles DAILY NEWS reported on August 16, 1951, that Frankie Darro had opened a bar on Santa Monica Boulevard and named it "Try Later". When asked about the name, Darro said, "You know, when you call Central Casting, they tell you only two things on the phone, 'No work' or 'Try Later'." Darro frequently appeared on Red Skelton's TV show dressed as a tough little old lady. Frankie's second wife alleged in her petition for divorce that he bought her gifts of a washing machine, a toaster and sewing machine, but all were repossessed for non-payment.