Knox Manning
by Boyd Magers
"The man at the wheel of that truck is a killer! And he's out to get the passenger in the taxi. Will he succeed? Don't fail to see 'A Nipponese Trap,' Chapter 11 of 'Batman' at this theater next week."
"Who is this sinister man who calls himself the Baron? Does this mean there is to be a general Indian uprising? Don't miss 'Captured by Redskins,' the second thrilling chapter of 'Roar of the Iron Horse' at this theater next week." These were the enticing words spoken at the conclusion of two different Columbia serials urging you to return for another chapter next week, clearly and definitively intoned by Knox Manning (right), who also jump-started the forewords to each chapter. Manning was born January 17, 1904, in Massachusetts and died August 26, 1980, in Woodland Hills, CA. The former radio news announcer did his first film narration in 1939. SR is aware of at least 19 serials enhanced by his stentorian voice—"Terry and the Pirates", "Green Archer", "White Eagle", "Iron Claw", "Perils of the Royal Mounted", "Secret Code", "Valley of Vanishing Men", "Batman", "Son of the Guardsman", "Jack Armstrong", "Vigilante", "Sea Hound", "Tex Granger", "Cody of the Pony Express", "Pirates of the High Seas", "Atom Man Vs. Superman", "Roar of the Iron Horse", "Captain Video", "Son of Geronimo". In addition to his serial work, Manning was the radio announcer for the Sherlock Holmes radio show. He also provided narration for dozens of movies and film shorts, even appearing on screen in such pictures as "Tanks a Million", "Mr. Hex" and "Invasion USA".
"G-Men vs. The Black Dragon"
One of my great disappointments as a kid watching cliffhangers was that Republic never made a sequel to "Mysterious Dr. Satan" featuring my favorite hero, the Copperhead. Instead, much to my parents' distress, I had to settle for creating a backyard version where I rigged my own bargain-basement—but occasionally dangerous—chapter endings ("Bruce, get away from your father's power tools and why are you wearing your rain hood in the summer?"). In point of fact, most serial characters did not have encores although there were certainly exceptions (Zorro, the Lone Ranger, Dick Tracy, Jesse James, Superman, being a few of those who immediately come to mind). I suspect, as in the cases of Captain Marvel, the Phantom and Fu Manchu, copyright and legal issues often had something to do with this, but just try and explain this to a 10 year-old kid hot to see his idol up on the screen again.
One character that did return to fight again was Rex Bennett who was featured in two Republic outings, "Secret Service in Darkest Africa" and in his debut offering "G-Men Vs. the Black Dragon" (both '43). Bennett, described as being an American Special Investigator, was played in both by Rod Cameron. The only difference between the two performances is that, in the first, Rex sports a suit and in the second a military uniform.
Although occasionally assuming villainous roles in his long career in action and outdoor films—most of them westerns—Cameron, a man of few words, was born to play heroes what with his granite-like jaw-line, handsome features, dark curly hair and impressive height. Moreover, there was something unflinching and resolute about Cameron's tight-lipped heroes. When he said something you could usually take it to the bank. He was not a guy to mess with or take lightly, a quality which served him well in his two serials.
The plot for "G-Men", set in World War II, is fairly predictable and straightforward with Rex, his Chinese secret agent pal Chang (Roland Got) and British agent Vivian Marsh (Constance Worth) trying to disrupt the activities of Japan's Black Dragon Society led by Haruchi (Nino Pipitone) who has been smuggled into America (in a mummy case, no less) to inflict havoc for the Axis cause. Director William Witney, sans his old pal John English, went it alone this time and turned in a rugged, action-packed, nicely paced and often ingenious cliffhanger heavy on patriotic resolve and no-nonsense retribution against America's enemies.
Along with the exciting chapter endings and breakneck pacing, there's a good cast as well. I very much enjoyed Constance Worth (in her only serial appearance) as British agent Vivian Marsh. She brought something rarely evidenced in serial heroines, maturity, polish and even a kind of edgy sexuality. She played the role like a grownup, no wide-eyed "Gee whiz stuff" and even handled herself pretty well cuddling a machine gun. Nino Pipitone as Haruchi is properly sinister, just over the top enough with his maniacal villainy and stereotypical Japanese mannerisms for serial fans of that era to really hate. Roland Got as Rex's buddy Chang is acceptable though I would have preferred Keye Luke in the role. Others in the cast include Noel Cravat and George J. Lewis as the henchmen, Donald Kirke, Maxine Doyle (real life wife of director Witney), Ivan Miller and the redoubtable C. Montague Shaw.
Although I harbor a slight preference for the second Rex Bennett serial (I think it's all those nifty sword fights), this is still a remarkably feisty, high-energy effort with lots to recommend it. The cliffhangers are well handled, the stunts ingeniously choreographed, Mort Glickman's music properly stirring for a war serial. My only complaint—a mild one at that—for some reason it was more obvious than normal Tom Steele was standing in for Cameron in the fight scenes. I wouldn't have minded a third Rex Bennett outing but it was not to be. World War II ended and so did old Rex. Glad to have him on our side when we did though.
"Secret Service in Darkest Africa"
I don't think I'm giving away state secrets when I admit I don't watch serials for their depth of plot and/or characterization or their political correctness, in fact, quite the contrary. I watch serials so the kid still lurking around in this 53 year-old body has a therapeutic release from the escalating depressiveness, insane pace and moral dankness of modern life. Personally, I take great satisfaction in the fact that although I love history, literature, classical music and politics, I can still get wrapped up in a Wild Bill Elliot western, an old Superman TV episode, a Daffy Duck cartoon or yes, a Republic cliffhanger. As far as I'm concerned, this keeps me (relatively) sane—and I bet I'm not alone in this. Which brings me to "Secret Service in Darkest Africa".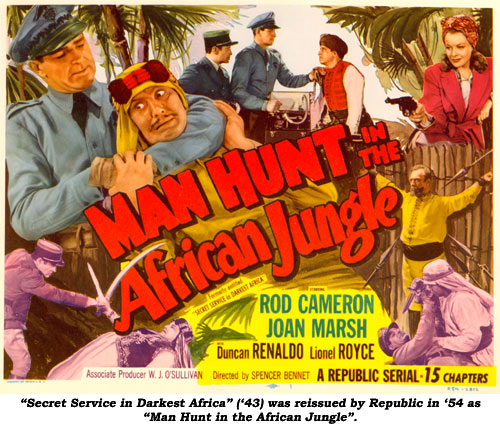 When I was a kid in the '50s, World War II was just around the corner, still fresh on people's minds—that is when they weren't thinking of Wonder Bread, Commies, Lucille Ball and buying affordable tract homes—and it was pretty hard to escape reminders of it, not only in the classroom, but in movies, on TV and in stories told by relatives and friends who survived, or relations of those who didn't. On top of this there were neighborhood garages where, hanging next to hack saws and garden gloves, were canteens from agonizing days on Tarawa and field packs from dusty marches in Sicily. In my own home, my uncle had given my older brother the shell of a hand grenade (great paperweight) and a bayonet he "removed' from a Japanese soldier in New Guinea. World War II was just like the Wild West for me, an arena of obvious good guys (us) and even more obvious bad guys (them). Behind our house, in a wonderful rock quarry, I did my 10 year-old best with my plastic Mattel helmet, a replica of an M-I and a gas mask from a Army surplus store to keep alive the memory of Guadalcanal and Wake Island. Movies helped too, and not only the splashy, big budgeted stuff like "Sands of Iwo Jima" or "Guadalcanal Diary" either. Hollywood serials wasted little time in getting into the action as well, with "Spy Smasher" to "Secret Code" and "King of the Texas Rangers" chapterplays turning to the war effort for inspiration.
"Secret Service In Darkest Africa" starring Rod Cameron as Rex Bennett (the second of two times he would play the character) is my favorite WWII cliffhanger. Cameron was tall and as square-jawed as a Chester Gould drawing, had the acting range of an umbrella stand, but was solid and no-nonsense and you believed his earnestness. He had knocked around Hollywood for years as a stuntman and later graduated to action parts, particularly westerns. Eventually he appeared in several TV cop shows that (hopefully) made him rich. Later in life he divorced his wife and married her mother which, I think speaks volumes about his real life courage.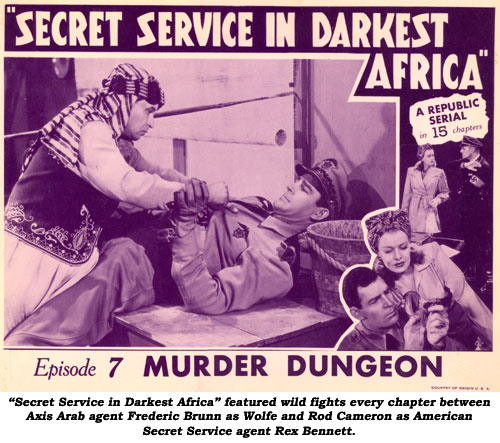 There's not a great deal of plot to "Secret Service", which, for the record, has to do with Bennett, an American secret agent, trying to curtail Nazi attempts to win over Arab support of their war effort. But boy is there action (!), much of it a good deal uglier and grittier than your usual standard serial fare (villains die in almost every episode) since we were in a real shooting war at the time a lot of regular cinema rules went out the window. As far as the fist fights, I don't recall ever seeing quite so much furniture broken up in any other cliffhanger (the plywood bill on this one must have been staggering) and director Spencer Gordon Bennet, along with his stunt crew, really devise some lengthy and wonderfully choreographed brawls (often employing first person viewpoints reminiscent of later 3D setups). The action only pauses on occasion for a bit of dialog and then we're right back into the thick of it.
The cliffhangers are wonderfully choreographed and initiated (thanks again to the Lydeckers and some great exploding model work). I particularly enjoyed the booby-trapped gravesites in Chapter Four. For some reason, there's an awful lot of horsemanship involved as Rex gallops through the supposed African countryside (which looks about as much like Africa as Harlem does Salt Lake City) in pursuit of the Nazis and their Arab co-conspirators. Rex often ignores his pistol in favor of a sword, not always the smartest move, but it paves the way for some athletic dueling scenes.
Backing up Cameron in the cast are Joan Marsh, who's one spunky gal, as fast with a glib line directed at her captors as a shot from the revolver which she uses to full and lethal advantage. Duncan Renaldo is Rex's staunch and always reliable French comrade and the heavies are an impressive bunch which include Kurt Kreuger—who made a career out of playing blonde Aryans during the period—Frederic Brunn, Sigurd Tor and, in a dual role, Lionel Royce as the kidnapped Sultan (no one ever spent more time shackled to a wall) and his Nazi impersonator.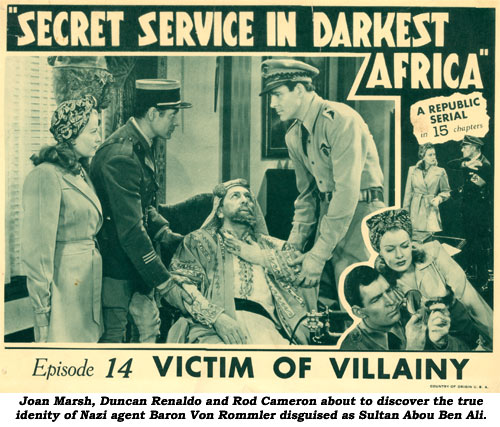 Mort Glickman's score isn't quite as memorable here, no standout theme you come away humming, but you certainly can't fault Bennet for keeping things moving. The thrills pile up as quickly as the bodies.

At the end of Ch. 11 of "Mysterious Pilot", Dorothy Sebastian is about to enter the old haunted mine as Frank Lackteen's clutching hand reaches out for her neck from behind a door. At the start of Ch. 12, Lackteen never reaches as Dorothy decides not to enter the doorway.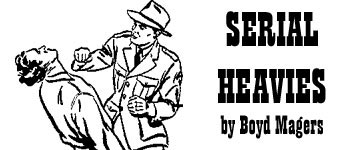 Lionel Atwill
No doubt about it, Lionel Atwill's suave Scarab (Dr. Maldor) in Republic's "Captain America" ('43) was one of the better parts of the actor's distinguished career. But his arrogant malevolence carried over into three Universal cliffhangers. In "Junior G-Men of the Air" ('42) he was the evil Baron, made up to appear Japanese, as the leader of an Axis Spy ring. As subversive Prussian agent Alex Morel in "Raiders of Ghost City" ('44) he's after Confederate gold in an attempt to acquire Alaska for his country. For "Lost City of the Jungle" as Sir Eric Hazarias he's described as a warmonger…a manipulator of fascistic cartels and a supersalesman of armaments.
Born March 1, 1895, in Croydon, England, Atwill was an established stage actor in the '20s, a position he relinquished to make movies beginning with his berserk scientist in "Doctor X" in '32, a film that formally ensconced Atwill into the horror hall of fame. "Murders In the Zoo", "Mystery of the Wax Museum", "The Sphinx", "Vampire Bat", "Hound of the Baskervilles", "Son of Frankenstein", "Man Made Monster", "Frankenstein Meets the Wolfman", "Fog Island", "House of Dracula" and others followed, ensuring his lethal place in screen history.
At the time he made the move from Broadway to Hollywood he explained, "I've had my fill of art. It's all very well in its way, but there's an entirely different fascination to pictures I haven't gotten over yet. No doubt I never will. It may be a little childish, but the sheer mechanical ingenuity of the whole thing gets under my skin the way a mechanical toy fascinates a boy. I've been having a tremendous good time and I don't see why I should stop. I'm one of those few stage actors who really like the films, and admit it."
Atwill was first married in 1913 to actress Phyllis Relph. They had one son, John Anthony. The couple split in 1919 with Atwill marrying Elsie MacKay, an actress, in 1920. They divorced in the late '20s.
After making seven prestigious films in 1940, his career hit a stone wall due to bad publicity which accused Atwill of having shown pornographic films to guests in his home. He denied the accusation but was later indicted on grounds of perjury in connection with his testimony. In the Fall of '42 he was sentenced to five years probation. Strangely, it was this turn of events which benefited serial devotees as it was during this downward trend in his life that he turned to cliffhangers for work beginning with "Junior G-Men of the Air" in '42.
The furor of bad publicity soon forgotten, Atwill was also able to secure work in some major productions—"To Be or Not To Be", "Cairo", "Pardon My Sarong" and several Universal horror classics.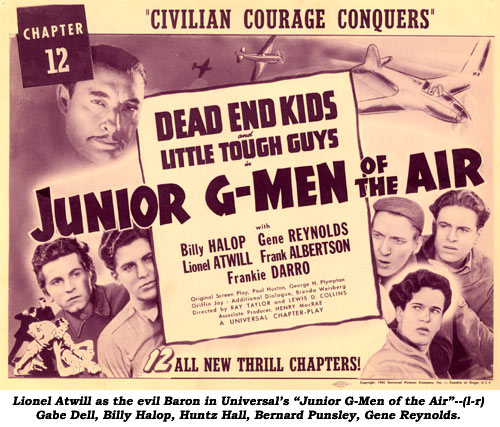 Late in '41, more tragedy befell Atwill, his now 21 year old son, serving in the RAF, was killed in action during WWII. Not long afterward Atwill was divorced by his third wife, Henrietta Louise Stoltesbury (they'd wed in 1930) who had once been married to General Douglas MacArthur. In '44 he married for the fourth time, to young radio singer Paula Pruter. He became the father of a son, Lionel, the next year.
While making the "Lost City of the Jungle" serial with Russell Hayden, Jane Adams and Keye Luke, Atwill contracted pneumonia causing his double, George Sorel, to finish the film for him employing various over the shoulder camera set-ups. Co-star Jane Adams told me for our book WESTERNS WOMEN, "It's very unfortunate when a main character dies in the middle of production. I never saw the serial, only the rushes. It was filled with a lot of problems."
The pneumonia proved fatal for Atwill who died the day after Easter on April 22, 1946. He left for us a legacy of fabulously hissable villains.

At the conclusion of Ch. 7 of "Mystery Squadron", the Black Ace's men surround Bob Steele at a mine. The Black Ace proclaims, "This is your finish," and shots ring out. However, in Ch. 8, the shots are ignored, unheard; Bob is simply captured.