"The Vigilante"
(Fighting Hero of the West)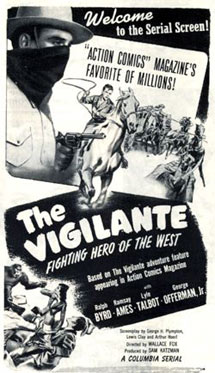 "The Vigilante" is pretty much forgotten these days save by comic book aficionados, cliffhanger historians and those folks who make it their business to chronicle yesterday's pop culture. The character made his debut in DC's ACTION COMICS #42 in 1941. The masked man, whose real name is Greg Sanders, is the grandson of an Indian fighter and son of a western sheriff. As a young man he traveled east where he established a career as a popular country singer known as "The Prairie Troubadour." When his father is later killed by bandits while transporting a gold shipment he returns to his home, adopts the secret identity of The Vigilante and sets out not only to find the men responsible for the crime but to continue his vengeance against all such malcontents. The Vigilante dresses western style, rides a motorcycle, sports a kerchief-like mask and has a sidekick, Stuff, the Chinatown Kid. He is a sharpshooter, good with his fists and an expert with the lariat. Over the years he went through various changes, even briefly appearing, somewhat incongruously, alongside a number of bigger-than-life heroes including Superman.
In 1947 Columbia decided to bring the character to the screen as a cliffhanger hero. It was the second time they had elected to base one of their serials on a DC comic book, the first occasion being when they had adapted Batman to the screen in '43.
For the lead Columbia decided on Ralph Byrd, best known for his portrayal of Dick Tracy in four Republic serials which had ceased production in '41. Byrd had put on a bit of weight since his Tracy days—appropriately his stunt double is also on the chunky side—but he always had a pleasing screen presence although he didn't in the least resemble his DC comic book counterpart. In the serial he does nothing to alter his voice when donning his disguise, but no one catches on. His singing chores are also handled by someone else, though thankfully not often.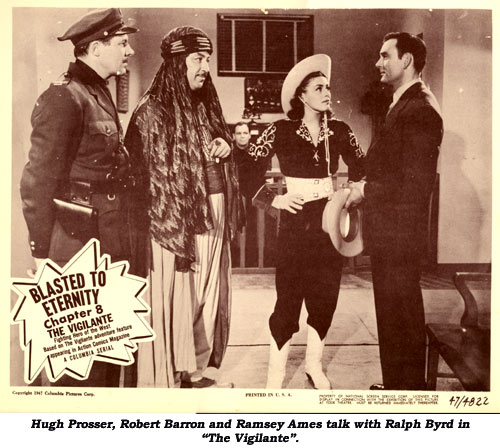 Others in the serial include the gorgeous Ramsey Ames as rodeo queen Betty Winslow, best known for her role opposite the bandaged one in "The Mummy's Ghost", who was also featured in the serial "G-Men Never Forget" with Clayton Moore where her role was more substantial and action-filled. Also on hand are the always dependable Lyle Talbot as head villain George Pierce and toothy George Offerman Jr.—usually cast as slightly goofy characters—as "Stuff", a figure who bears absolutely no resemblance to his Asian comic book equivalent. Rounding out the serial are familiar faces Robert Barron, Jack Ingram, Terry Frost, Hugh Prosser, Ted Adams, stuntman/actor Eddie Parker, George Chesebro and Ed Cobb. Also look for a very young Lane Bradford in Chapter One as one of the car thieves. As for the gorilla who figures in one cliffhanger ending, it's Emil van Horne who donned the furry suit.
Like the plots of many Columbia serials this one is a bit muddled and confusing. Basically, it has to do with a string of brilliant red pearls known as the 100 tears of blood whose origin remain a mystery and which have been unknowingly hidden in the hooves of five stallions given to five guests staying at Pierce's ranch. The main action revolves around Piece's attempts to lay his mitts on these at all costs and employing any means, however drastic, to do so. Meanwhile The Vigilante, an agent for the federal government, does everything in his power to discover the identity of X-1 and uncover the secret of the 100 tears.
Since Greg Sanders actually has two alternate identities, that of both The Vigilante and the motion picture actor known as the The Prairie Troubadour, a great deal of the action takes place on Pierce's ranch which he has permitted to be used to shoot Sanders' newest film. Sanders is portrayed as an arrogant celebrity and is constantly at loggerheads with the director. This allows the screenwriting trio of George Plympton, Lewis Clay and Arthur Hoerl to take some good-natured potshots at the world of movie-making, particularly the sort of "B" efforts and programmers for which Columbia was largely known.
The Vigilante himself is a fairly absurd character—even given the over-the-top world of cliffhangers—and it is never made clear why the U.S. Government would really need the services of a masked, motor-cycle-riding undercover agent as his abilities are hardly stellar or unique. Some of the chapter endings are particularly hard to swallow with the heroes just walking—or swimming—away from horrendous crashes down mountains and such.
The Vigilante, directed in a somewhat lackluster fashion by Wallace Fox, is by no means a great serial and should probably have been 12 rather than 15 chapters as it begins to run out about midway into the proceedings. The cast is solid but the script is flabby and the action sequences not particularly memorable
.
| | |
| --- | --- |
| Actor | Character |
| Ralph Bryd | Greg Sanders |
| Ramsay Ames | Betty Winslow |
| Lyle Talbot | George Pierce |
| George Offerman | Stuff |
| Robert Barron | Prince Emil Hassan |
| Hugh Prosser | Capt. Reilly |
| Frank Marlo | Rabin (Tall Aravanian) |
| Jack Ingram | (X 2) Silver |
| Eddie Parker | (X 3) Doc |
| George Chesebro | Walt |
| Bill (Harold) Brauer | (X 9) Thorne |
| Frank Ellis | (X 8) Sadlow |
| Ed Cobb | (X 7) Miller |
| Terry Frost | (X 4) Lefty |
| Ted Mapes | Tex Collyer |
| Wally West | Scar |
| Ted Adams | Hamid |
| Bud Osborne | Waldron |
| (possibly Wallace Fox ?) | Director (Sid) |
| ? | Heavy with mustache (Ch. 1) |
| Lane Bradford | Andy (Ch. 1) |
| Al Ferguson | Hot Car Boss (Ch. 1) |
| ? | Garage heavy #1 (Ch. 1) |
| ? | Garage heavy #2 (Ch. 1) |
| ? | Sgt. McElviry (Ch. 1) |
| Stephen Carr | Barrow in Washington (Ch. 1) |
| ? | Bartender (Ch. 1) |
| ? | Selby |
| John Fostini | Azar (short Aravanian) |
| ? | Archie (asst. director) (Ch. 2) |
| ? | Rocky (Ch. 2) |
| ? | (X13) Herman Lentz (Ch. 3) |
| Emmett Lynn | Pop (at shooting gallery) |
| ? | Customer (Ch. 3) |
| ? | Fortune teller lady (Ch. 3) |
| Emil Van Horn | Gorilla |
| Pierce Lyden | Merk |
| ? | Gas Station attendant w/gun (Ch. 4) |
| ? | Jason—Pierce's butler (Ch. 4) |
| Bob Duncan | Policeman at barn (Ch.4,5,10) |
| ? | Joe, stable boy (Ch. 5,7) |
| George DeNormand | Jackson, gorilla keeper (Ch. 5) |
| ? | Police officer Monroe (Ch. 6, 12) |
| ? | Police Sergeant (Ch. 6) |
| ? | Sam at lunch counter (Ch. 6) |
| Kermit Maynard | Jones (police officer) (Ch. 6) |
| ? | Coyote Canyon thug (Ch. 7) |
| ? | Deputy Morgan or Duncan (police officer) (same cop) (Ch. 8) |
| ? | Stuntman Eddie Smith (Ch. 8) |
| ? | Henri—waiter (Ch. 9) |
| Rusty Wescoatt | Garrity (Ch. 13) |
| ? | George (Ch. 14) |

On board a ship at the end of Ch. 9 of "Queen of the Jungle", loosed lions force their way into the closed cabin where Reed Howes and Mary Kornman are hiding. In Ch. 10, with absolutely no explanation, Reed and Mary are rowing to shore in a dingy.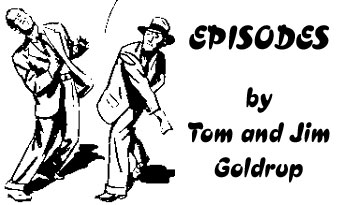 Watching the 1936 cliffhanger "Jungle Jim" we noticed it included a great cast of actors. Evelyn Brent and Henry Brandon have been previously covered so thought we would give tribute to the other cast members.
Grant Withers (Jungle Jim), born January 17, 1904, in Pueblo, CO, began his career as a salesman and newspaper reporter before beginning a film career in 1926. Withers' career as an actor covered over 200 motion pictures, including at least four for director John Ford (perhaps the most notable being that of Ike Clanton in "My Darling Clementine"). In addition to the title role in "JungleJim", Grant's serial credits include "Secret of Treasure Island" "Red Rider", "Fighting Marines" and "Radio Patrol". His off-screen elopement and marriage in 1930 to seventeen-year old Loretta Young made newspaper headlines. Withers died in North Hollywood, CA, March 27, 1959, from an overdose of sleeping pills.
Probably the best known actor in the serial was Raymond Hatton (Malay Mike). Born in Red Oak, IA, July 7, 1887, Hatton, the son of a physician, begin working in vaudeville and stock at the age of 12, then began appearing in films in 1912. He worked in many films for Cecil B. DeMille, appeared opposite Lon Chaney in "Hunchback of Notre Dame", and teamed for a series of comedies with Wallace Beery in the mid to late '20s. He's probably best remembered as the sidekick to such cowboy stars as Johnny Mack Brown, Buck Jones, Roy Rogers and The Three Mesquiteers. His other serials include "Undersea Kingdom", "Rustlers of Red Dog", "Three Musketeers", "Vigilantes Are Coming" and "White Eagle". Hatton died in Palmdale, CA, October 21, 1971.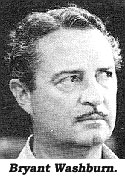 Bryant Washburn (Bruce Redmond) was born in Chicago, IL, April 28, 1889. Beginning his acting career on the stage, he then joined Essanay Pictures in 1910 where he became a popular silent film star in both comedy and drama. He continued on as a character actor through the '40s, often playing the villain in a total of over 265 features. His other serials include "Return of Chandu", "Tailspin Tommy", "Tailspin Tommy in the Great Air Mystery", "Clutching Hand", "King of the Royal Mounted", "Adventures of Captain Marvel", "Spider Returns", "Adventures of Frank Merriwell", "Black Coin", "Call of the Savage" and "Capt. Midnight". Bryant appeared in his final feature in '47 and died April 30, 1963, in Hollywood.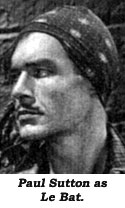 Paul Sutton (LeBat) was born May 14, 1910, in Albuquerque, NM. Besides playing badmen in a few Hopalong Cassidy westerns, as well as other features, Sutton was probably best known for performing the role of SergeantPreston on Detroit radio's WXYZ. He replaced actors Jay Michael and Brace Beemer on the show which was originally titled "Challenge of the Yukon" (changing to "Sergeant Preston of the Yukon" in November '51). Paul Sutton continued as Preston until the show came to an end in '55. Sutton died January 31, 1970, in Farmdale, MI.
John P. McGowan (Ship Captain Robinson) born February 1880 in Terowie, South Australia, was a veteran of both the Australian and American stage. J.P. (as he was credited) entered films in 1909. In 1912 he turned to directing, including the serials "Hazards of Helen" ('14) (48 of the 119 episodes) and "The Girl and the Game" ('15), both of which starred his wife, Helen Holmes, the world famous silent film serial queen who was surpassed only by Pearl White and Ruth Roland. J.P. not only directed and performed in many action pictures of the silent era, he also produced and wrote many of the same. His final directing job was '38's feature film, "RoaringSixGuns", although he continued acting in other films such as "Stagecoach". Other silent serials he directed (or co-directed) include "A Lass of the Lumberlands","Perils of the Yukon", "Lost Express", "Railroad Raiders", "Lure of the Circus", "Red Glove", "Elmo the Fearless", "King of the Circus", "Do or Die", "Captain Kidd" and "Chinatown Mystery". McGowan acted in "Whispering Smith Rides", "Range Fighter" and "Vanishing Dagger". The one sound serial he co-wrote with George Morgan and co-directed in '32 with Armand Schaefer was "Hurricane Express" w/John Wayne. He also acted in many of his silent serials, as well as in talkies like "FlamingFrontiers", "Call of the Savage", "Dick Tracy Returns", "Red Rider", "Rustlers of Red Dog" and "Great Adventures of Wild Bill Hickok". J.P. died March 26, 1952, in Hollywood, CA.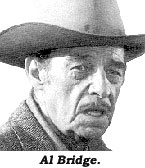 Al Bridge (Slade), who was often credited as Alan Bridge, was born February 26, 1891, in Pennsylvania. His film career, which began in 1931, included well over 200 features and serials such as "The Devil Horse", "Fighting with Kit Carson", "Mystery Mountain", "Wild West Days", "Flaming Frontiers", "Great Adventures of Wild Bill Hickok", "Buck Rogers", "Green Hornet Strikes Again", "Winners of the West", "Tim Tyler's Luck", "Phantom Creeps", "Adventures of Frank Merriwell", "Burn 'Em Up Barnes", "Adventures of Rex and Rinty", "Ace Drummond" and "Hurricane Express". Al died in L.A., CA, December 27, 1957.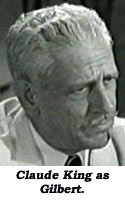 The remainder of the cast was rounded out by: Claude King (Gilbert), born January 15, 1875, in Northampton, England. A stage actor, he made one film in England in 1912 before his American film debut in 1920. Claude, one of the founding members of Screen Actors Guild, died in L.A. September 18, 1941.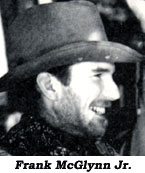 Frank McGlynn Jr. (Red Hallihan), son of actor Frank McGlynn (who probably played Abraham Lincoln in more films than any other actor including "The Lone Ranger" serial), was born in Marin County, CA, July 9, 1904. He also played General George Armstrong Custer in the Rex Lease serial "Custer's Last Stand". Frank died March 29, 1939.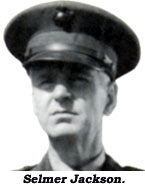 Selmer Jackson (Tyler) was born May 7, 1888, in Lake Mills, IA. Making his film debut in 1921, his serials include "Royal Mounted Rides Again", "Adventures of the Flying Cadets", "Dick Tracy Vs. Crime, Inc.", "Green Hornet", "Robinson Crusoe of Clipper Island" and "Ace Drummond". Selmer died March 30, 1971, in Burbank, CA.
Al Duvall (Kolu) appeared in several other motion pictures, one being as the porter in the Marx Brothers' "Go West".
Two actors that received no film credit in this serial were Marianne Edwards (Joan as a child) and William Royle (Stephen Hawks). Marianne, born 1930, made her film debut as Marianne in the Little Rascals short, "For Pete's Sake" and continued working for six others in that series. William Royle, born March 22, 1887, in Rochester, NY, appeared in over 60 motion pictures, including work in such serials as "Drums of Fu Manchu", "Flash Gordon Conquers the Universe", "Flaming Frontiers", "Radio Patrol", "Secret of Treasure Island", "Wild West Days", "Hawk of the Wilderness" and "Secret Agent X-9". He died August 9, 1940, in L.A.
A lot of serial expertise in "Jungle Jim", one of our all-time favorites with each member of the cast contributing their talents to make it one of the great ones.

In Ch. 8 of "Flaming Frontiers", Chief Thunder Cloud ties badman Charles Stevens' hands behind his back, but in the next shot Stevens' hands are tied in front of him (on horseback).