Chapter Thirty-Three

"SOS Coast Guard"
Even the most ardent fans of Bela Lugosi's screen work will readily concede that he could be his own worst enemy as far as career choices went. Although scoring hugely with "Dracula" in '31—a movie which made his name a household word amongst the movie-going public—various factors contributed to his never again scaling such cinematic heights.
There were simply no comparable follow-ups to approximate the world-wide popularity of the celebrated story of the Transylvanian bloodsucker. True, the Hungarian-born actor was offered the lead in Universal's follow-up horror effort "Frankenstein", but according to celluloid legend turned this down due to his lack of interest in a non-speaking role. Instead, in the wake of "Dracula" he showed up in such forgettable fare as "50 Million French Women", "Death Kiss", "Devils in Love"and Mascot's serial "The Whispering Shadow"in addition to a few good parts in "The Black Cat", "White Zombie" and "Murders in The Rue Morgue". In quality his selections were all over the map and this continued throughout the rest of his life, one moment playing Ygor in the classic "Son of Frankenstein", the next appearing in an impoverished horror turkey like "The Corpse Vanishes"or "Bowery at Midnight". He was no stranger to cliffhangers either and appeared in a number over the years, some of them not exactly among the best the form had to offer.
"SOS Coast Guard" produced in '37 by Republic (who were at that time still refining those ingredients of their cliffhangers which would ultimately make them the foremost producer of the genre) was probably the actor's best chapterplay. For once Lugosi is remarkably restrained with few of the over-the-top mannerisms and exaggerated vocal muggings that would too often characterize and mar most of his other serial outings, the aforementioned "WhisperingShadow" to give a classic example. Here he portrays an internationally recognized evil scientist named Boroff (obviously an amalgamation of Boris Karloff's names—one has to wonder how Bela liked that) out to sell his new devastating disintegrating gas to the country of Morovania.
Camouflaged aboard an ocean-going freighter, a necessary component of the deadly gas called Arnatite never reaches its destination due to the ship floundering on rocks during a raging storm. The crew is saved from death by the Coast Guard and brought to shore, including Boroff who escapes after killing an officer, the brother of the serial's hero, Ralph Byrd.
The remainder of the 12 episodes is devoted to the search for Boroff and his deadly invention, the action never straying far from this primary objective which makes for a tighter, more focused storyline than some serials where the writers tend to pad the action by going off on a lot of irrelevant tangents. In this case screenwriters Barry Shipman and Franklin Adreon keep the playing field level with nearly all the plotline invested in this one objective. The fact the plot centers on Coast Guard involvement also mandates their jurisdictional involvement is by necessity a maritime one which opens the door to a variety of watery predicaments.
The cast is a good one. Ralph Byrd as Terry Kent had just finished appearing to good effect in "Dick Tracy", the first of his four cliffhanger outings in which he played the intrepid crime-buster, and he is equally solid and heroic in the role of the vigilant Coast Guardsman trying to capture Boroff, his brother's murderer, the latter portrayed by future action director Tommy Carr. Maxine Doyle as reporter Jean Norman (who in real life would wed the serial's director William Witney) is mainly around for window dressing—more prominent parts for women in serials were largely still a few years away—but seems earnest and believable. However, goofy Lee Ford as the news photographer and intended comic relief Snapper McGee is about as funny as polio. Lots of familiar faces fill out the rest of the cast including Carleton Young, veteran western bad guy George Chesebro, the invariably creepy John Picorri as unethical scientist Rickerby who aids Boroff in his nefarious schemes, Herbert Rowlinson and, in a very small part, look for (a much slimmer) Roy Barcroft, Republic's future bad man of all seasons, in his third serial appearance as one of the minor henchman. Other bits are played by Rex Lease, Yakima Canutt, Curley Dresden, James Millican, Joe Girard, Ed Cassidy, Jack Ingram, Frankie Marvin, Bob Wilke and Buddy Roosevelt.
Despite the aforementioned Lugosi as the lead villain Boroff, it is the hulking Richard Alexander, portraying the zombie-like Thorg, who in many ways steals the show as the scientist's obedient slave, his condition the result of some brain-altering procedure. Alexander, probably best known as Prince Barin from the first "Flash Gordon"serial, is terrific in a part which could have been totally one-dimensional but which the physically imposing actor, despite the absence of lines, imbues with a characterization that handsomely fuses his violent nature with his hate-love relationship with Boroff who cruelly exploits and taunts him at every turn. Much of the action throughout the 12 chapters revolves around physical confrontations between Thorg and Kent although it's often hard to believe the much smaller hero can give the larger and more powerful opponent much of a contest.
William Witney, in his second assignment for Republic, teamed up with fellow helmsman Alan James to direct the film's action. Witney went on to become arguably the best serial director of all time and in "SOS Coast Guard" one can see signs of the style that characterized much of his subsequent work. There is plenty of action, exciting cliffhanger endings and impressive pacing.
The brothers Lydecker, Howard and Theodore, came up with some nifty models and special effects as well—including the melting properties of the disintegrating gas—and the use of many Southern California exteriors adds much to the look of the production.
Republic hadn't quite hit its stride yet and a few rough edges still had to be smoothed out —the choreography of the awkward fisticuffs for example—but "SOS Coast Guard" nonetheless has much to recommend it and was a harbinger of even better things still ahead for the studio and for serial fans.

In "Son Of Zorro" ('47) at end of Ch. 6, George Turner is standing with hands tied as Roy Barcroft and members of a lynching party open fire. Turner falls down to his right. At the start of Ch. 7, shots ring out but Turner remains standing as a substitute Zorro, having committed the gunfire, rides away from town. (Thanks to Richard Smith III.)

When a freelance actor got a job at Republic and was told they were being cast in the studio's new serial, it would be quite understandable if they were apprehensive for monetary reasons. This, of course, was before they were given a script. They might even get lucky and have scenes all through a 12, 13 or 15 chapter cliffhanger! But it was common knowledge supporting players, men particularly, had a high mortality rate in serials…specifically in early episodes. If you were assigned a role as a hero or heroine's family member, often your days on the studio payroll were pretty much numbered. The cause of these untimely demises were brought about by the lead villain and/or their henchmen. There are many examples of this type of mayhem. Let's examine some of them.
Republic's 3rd serial, "Vigilantes Are Coming" ('36), got off to a bloody start in Ch. 1. The Lone Ranger of the future, Robert Livingston, loses both his father and brother when the lead villain's henchman (Yakima Canutt) shoots them down—in the back, of course. They'd refused to sell their property on which gold had been discovered.
Having made an impressive debut in "Dick Tracy", Ralph Byrd was given another lead role later in '37 for "SOS Coast Guard". Byrd portrays a Coast Guard lieutenant serving with his kid brother, Jim (Thomas Carr). In Ch. 1 Jim is shot to death by international munitions dealer Bela Lugosi. If the name Thomas Carr seems familiar, it would be because of his talent as a Republic director rather than as an actor. He's probably best remembered for the superior B-westerns he directed in the '40s, notably Sunset Carson epics.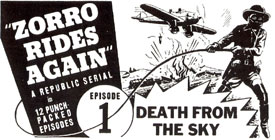 "Zorro Rides Again" ('37) was the first of several serials based on the literary character created by author Johnston McCulley. John Carroll played the dual role of Zorro, as his direct descendant, and an ineffectual eastern tenderfoot. In spite of his efforts, Zorro's uncle is shot and killed in Ch. 1.
In my opinion, "Fighting Devil Dogs" featured one of the serial genre's truly great villains, The Lightning. Dressed in black from head to toe with the replica of a lightning bolt attached to the top of a helmet that masked his face, he was a terrifying sight. His chief adversary is U.S. Marine Lieutenant Tom Grayson, played by Lee Powell. The

Lightning controls a supreme weapon of destruction, an electrically charged aerial torpedo known as the Thunderbolt. In the closing minutes of Ep. 1 of this '38 cliffhanger, the Lightning targets a building with Tom's father inside, sending a thunderbolt crashing into it. Grayson is electrocuted.
I've always felt an emotional bond with this serial for a really odd reason. The old Pix Theatre I attended on the south side of Chicago had a great program policy, it showed the weekly serial chapter at both the Saturday and Sunday matinees. So, if you couldn't go on Saturday you still had a chance the following day. After waiting 12 weeks to learn the identity of the mysterious Lightning, I was among the first in line on Saturday. During the final minutes of Ch. 12, the face of the sinister Lightning is revealed. To say I was surprised is an understatement! As an unsophisticated child of 8 I could not believe my eyes. The price of a ten cent admission did not come easily to me in those days, but I was back in line at the same show the next day. I had to see the chapter again. There had to be some mistake. Alas, there was no error. I will forever believe on that afternoon so long ago I experienced a loss of innocence from which I never really recovered!
Not even children were safe from the imaginative minds of Republic's serial screenwriters. Easily one of their best was "Daredevils of the Red Circle" ('39). It had all the ingredients to make a really great serial. It starred not one, not two, but three leading men. Charles Quigley, Herman Brix and Dave Sharpe comprised the heroic trio. Each of them would make their own distinctive place in future serials. Their adversary was one of the screen's master villains, Charles Middleton, best known as Ming the Merciless in three Flash Gordon productions. Chapter one had two key dramatic scenes. Quigley's kid brother, Sammy, is killed as a result of a raging fire ordered by Middleton. The first episode cliffhanger is stunning in its originality and excitement, and this pace continues through the next 11 chapters. Add a mystery personality, the Red Circle, and you will understand why this is a true classic.
Another one of Zorro's uncles succumbs in Ch. 1 of "Zorro's Fighting Legion" ('39). Goaded into a duel before his nephew (Reed Hadley) can intervene, Zorro reveals himself as the blood relative who will avenge his death. Hadley became known to moviegoers as the voice of 20th Century Fox for his narration on many of their documentary-style features. Having dinner with him years ago, Hadley's voice was so distinctive that, when he spoke to me, diners at nearby tables would turn and look at him. He said the roles of both Zorro and his alter ego, Don Diego Vega, were easily among his favorite performances.
Colonel Tom Ryder is murdered in the first episode of "Adventures of Red Ryder" ('40). His son, Red (Don Barry), spends the remaining 11 chapters attempting to bring the killers to justice. The serial was so warmly embraced by movie fans that the actor was subsequently billed as Don "Red" Barry in most of the films he appeared in after this. Appearing at an early Memphis Film Festival, I found him charming, egotistic, volatile and a bit of a scoundrel! He may have been short in height but he easily made up the difference in talent.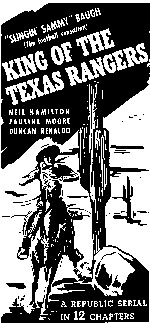 In '41, "Slingin' Sammy" Baugh had the best of two worlds. In real life he was a popular sports hero on the football field. In "reel" life he was the star of the successful serial "King of the Texas Rangers". In the first episode his father is shot to death by a sabotage ring agent. Baugh joins the Texas Rangers to help find and punish his Dad's murderer. The serial's screenwriters were contemporary with the news of that period, showing a daring degree of prophecy when, throughout the serial, they had fifth column agents saying the words "For the cause" and giving a Nazi-like salute. This serial was released October 4, 1941. Approximately two months later our country was drawn into World War II.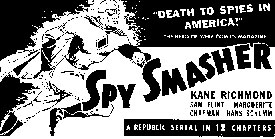 I have particular admiration for Spy Smasher's twin brother, Jack, who somehow managed to stay alive until the end of Ch. 11 of this '42 12 episode cliffhanger. Actor Kane Richmond played both roles of the twin Armstrong brothers. Alan was "Spy Smasher". I always thought it was interesting no one seemed to notice this meant Alan's brother was named Jack Armstrong! With the combination of good looks, athletic build and more than competent acting range, Richmond made an exceptional serial hero. I realize this example is somewhat neutralized by the fact no actor was actually deprived employment. But since Spy Smasher's brother was brutally murdered by enemy agents as he wore the "Spy Smasher" costume, I will request your indulgence.
Not even serial heroines were safe from the heartbreak of losing loved ones to sudden, violent death. In "Jungle Girl" ('41), Frances Gifford played the role of the first "Nyoka". Her father is killed in Ch. 1. But because his twin brother takes his place, she is unaware of this tragedy until late in the serial.
Kay Aldridge and Noel Neill suffered double sorrow. Each lady lost not one but two fathers! For Kay, her dad died in Ch. 1 of "Daredevils of the West" ('43) and in Ch. 4 of "Haunted Harbor" ('44). The association with Jesse James brought sudden death to Noel Neill's male parent. Chapter 1 of both "Adventures of Frank and Jesse James" ('48) and "James Brothers of Missouri" ('49) cost them their lives.
"The Masked Marvel ('43) heroine, Louise Currie, loses her father to a deadly attack in Ch. 1.
Republic's serial queen, Linda Stirling, is bereaved twice. In "Zorro's Black Whip" ('44), her brother, who had been masquerading as "The Black Whip" in his fight against outlaws, is mortally wounded. In "Purple Monster Strikes" ('45), Linda's uncle is killed in the always-dangerous-for-relatives Ch. 1. Although it's clearly acknowledged her uncle is deceased, the Purple Monster (Roy Barcroft) has the ability to enter and mobilize uncle's body throughout 15 episodes.
Leading lady Pamela Blake's father is the victim of an Indian raid in the first chapter of "Ghost of Zorro" ('49).
Cliffhanger favorite Adrian Booth (aka Lorna Gray) starred in "Daughter of Don Q" ('46) in which screenwriters committed mass murder. In the plot, Adrian and her blood relations were heirs to a fabulously valuable land grant and were being eliminated one by one. Sorry! Another Republic serial without overtime for actors.