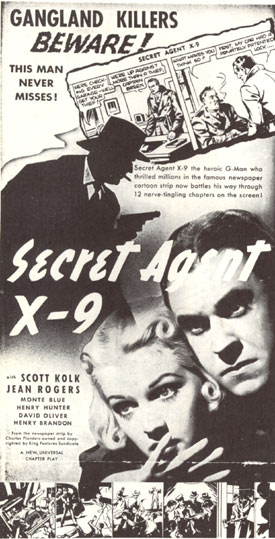 "Secret Agent X-9"
To some extent motion picture cliffhangers were always being remade. They might not have used the same titles or characters but plots were constantly reworked and retooled. Often this revamping allowed for whole sections of earlier serials to be extracted and comfortably formatted into the newer product with just enough minimal variations to provide the illusion this new coat of celluloid paint was the real McCoy, not just a re-tread. Therefore, a plotline once utilized for Captain America or Zorro might easily be transformed into a similar scenario for The Green Hornet or Sergeant King.
One of the few times the exact same title was employed was when Universal redid their 1937 production "Secret Agent X-9" in 1945. The two serials, both based on the King Syndicate comic strip which had been worked on by such notables as Dashiell Hammett and Leslie Charteris, shared little in common save for the title. In everything else, quality included, they were miles apart. The '37 version is superior in nearly every way.
Energetically directed by the team of Ford Beebe and Cliff Smith, this early Universal effort delivers action, intrigue and solid plotting in equal parts. Despite its age and some telltale signs of dated filmmaking techniques it's a serial lover's dream. The pacing is excellent with an absorbing storyline and pleasing performances that keep you coming back for more. It's visually impressive too with many outdoor scenes, particularly in and around the picturesque harbors of '30s California which give the proceedings a more expansive look. In addition, it allows for a lot of nautical related cliffhangers involving boat races and watery mishaps.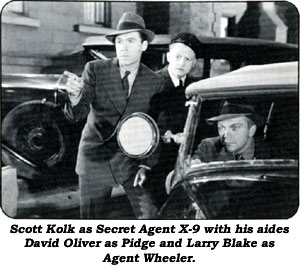 The plot is fairly straightforward although the writing team of Whydham Gittens, Norman S. Hall, Ray Trampe and Leslie Swabacher keep things lively with various twists and turns. Secret Agent X-9 (actual name Dexter) working for the U.S. government is sent to discover the whereabouts of the stolen Belgravian crown jewels. This investigation leads him to the lair of a notorious criminal named Brenda who he learns is the culprit but who escapes arrest. For 12 chapters X-9, along with his sidekick Pidge, encounters an assortment of obstacles and dangers in his attempt to discover Brenda's location and retrieve the treasure.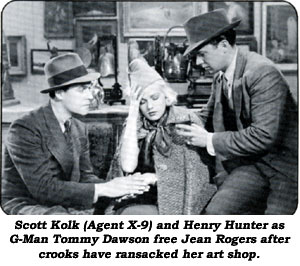 The cast is a good one. Leading man Scott Kolk is slight of build and boyishly handsome with a somewhat relaxed and laid-back quality about him. Although it's sometimes a bit difficult to accept him as an experienced and tough lawman, he handles himself well in the dramatic and action departments. Kolk's career would be a short one, fizzling out soon after this, but he does a good job here. Co-starring is the lovely Jean Rogers, a veteran of many serials (this one would be her swan song to the genre) most notably the first two "Flash Gordon" chapterplays where she portrayed Dale Arden. Her part here is not nearly so demanding but she makes good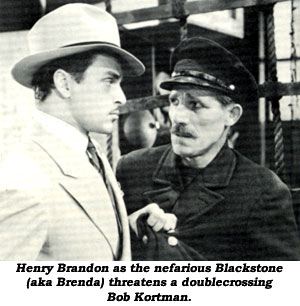 use of her camera time. The real standout in the film, however, is veteran character actor Henry Brandon as Brenda. Brandon was effective in nearly everything he ever did from playing the wicked leader of the Bogeymen in Laurel and Hardy's "Babes in Toyland" to portraying the evil Oriental mastermind in the Republic serial "Drums of Fu Manchu". The leads also get solid support from a reliable and seasoned cast including Monte Blue in what amounts to a dual role, Larry Blake, Lon Chaney Jr., Bob Kortman, Henry Hunter and Edward Peil Sr. David Oliver is also along for the ride as X-9's buddy Pidge who attempts to supply some humor to the proceedings. He isn't particularly funny but isn't as obnoxious as some other serial second bananas. Also, in a very small role of a Marine look for Tom Steele, soon to be one of the best-known and respected stuntmen in many Republic cliffhangers.
"Secret Agent X-9" is a lot of fun. It benefits from strong pacing, loads of exciting action and good performances. Most of the music is lifted from Universal's "Bride of Frankenstein" score which was also later borrowed for "Flash Gordon". The individual chapter reviews are cleverly created around comic strip drawings. A small criticism would be that some of the stock shots don't always match well with the filmed action sequences but this is small potatoes.
It's one of Universal's best serials.

Near the end of Ch. 10 of "Secret Agent X-9" ('37), in one scene Monte Blue is driving a convertible and the film editors have the steering wheel on the passenger side. (Thanx to Walter Kowalski.)

At the end of Ch. 8 of "Dick Tracy" ('37 Republic), Tracy (Ralph Byrd) falls into a well as the crooks fire at him in the well. But, in Ch. 9, no shots are ever fired before the G-Men capture the crooks.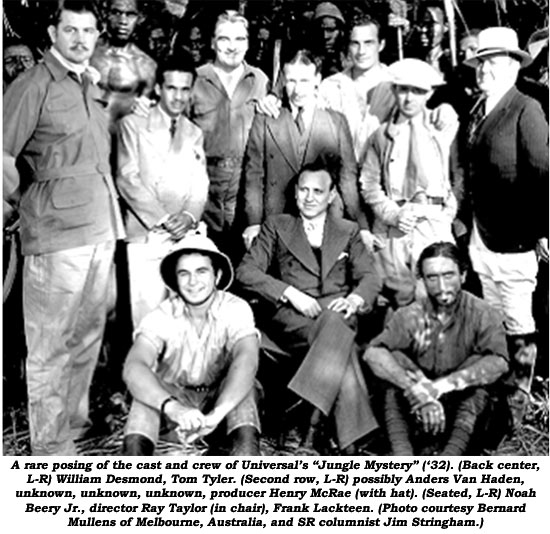 During the filming of the serial "Scouts to the Rescue" ('39), Junior Coghlan, Jackie Cooper and Vondell Darr were in a canoe that overturned in the rapids. Cooper made it safely to shore, but Darr was in trouble. Coghlan is credited with going to her aid and saving the life of the young actress.
Philo McCullough
Disreputable, smug and smarmy, often with a crouched creepiness to his physique as his evil mind plotted how to grab the gal's ranch, steal the map, or make off with the treasure, Philo McCullough first came to serials at Pathé in 1915 with a small role in "Red Circle" opposite Ruth Roland. "Neal of the Navy" ('15) with Lillian Lorraine and the offbeat "Neglected Wife" ('16), again with Ruth Roland, followed, both lesser roles. He moved up a bit in the cast for "Grip of Evil" ('16) with Jackie Saunders.
Away from cliffhangers for a few years, McCullough returned in 1922 for Warner Bros.' 15 chapter "A Dangerous Adventure" as the lead heavy opposite Grace Darmond. A nasty, villainous role in "Bar-C Mystery", a 10 chapter Pathé cliffhanger in '27, further cemented his standing.
The '30s found him playing heavies primarily in the B's and serials ground out on Poverty Row. His 11 sound serials consist of superb heavies in Mascot's "Phantom of the West" and "Vanishing Legion" (both '31) followed by two more heavies at Universal—"Jungle Mystery" and "Heroes of the West" (both '32). As an unscrupulous guide opposite Buster Crabbe, Sol Lesser used him in "Tarzan the Fearless", a '33 Principal release. Then McCullough found himself trapped in the Central American jungle mire of "Young Eagles" ('34 First Division). A meager role in Ken Maynard's "Mystery Mountain" ('34 Mascot) followed. Now 41, Philo's "star" was beginning to fade, and roles in his last four serials, all at Universal, were definitely lesser in nature: "Pirate Treasure" ('34), "Adventures of Frank Merriwell" ('36), "Tim Tyler's Luck" ('37) and "Green Hornet Strikes Again" ('41).
Although his 57 year career on screen lasted until 1969, by the '40s he was reduced to playing uncredited character roles, although the parts were primarily in A films ("Tennessee Johnson" '43; "Life With Father" '47; "Fountainhead" '49; "Stars In My Crown" '50; "Bedtime For Bonzo" '51; "Destry" '54; "Cheyenne Autumn" '64; and his last, "Great Bank Robbery" '69). Part of this time he was under contract to Warner Bros.
McCullough was born in San Bernardino, CA, June 16, 1893. The son of Mary S. McCullough, a non-professional, (his father unknown), he was educated at Los Angeles High School then started his career at a very young age during stage training with the Burbank Stock Company. He entered films in 1912 at 19 with his first credit in 1914, "While Wifey Is Away".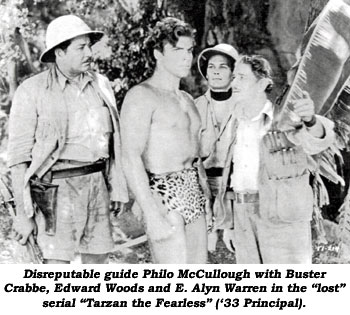 McCullough's wife of many years was Laura Anson (1892-1968), a silent actress in several Fatty Arbuckle comedies. Apparently, McCullough remarried as his tradepaper obituaries state he was survived by a wife when he died at his Burbank, CA, home June 5, 1981, just short of his 88th birthday.
With 6 silents and 11 talkie serials to his credit, Philo McCullough is not to be forgotten by cliffhanger watchers.