Dale Van Sickel
Stuntman/actor Dale Van Sickel was born November 29, 1907, in Eatonton, Georgia. After his high school graduation, Dale came to the University of Florida where he became a star football player. A knee injury curtailed his athletic ambitions.
A brother-in-law of Humphrey Bogart told Dale he should be in the movies. Arriving in Hollywood around 1933, he made his film debut in "Hollywood On Parade #9", a popular short subject series of the time. Dale soon thereafter was working on "Duck Soup" ('33) with the Marx Brothers. Dale's forté, however, came in the hundreds of Westerns he appeared in, mostly at Republic. After dozens of films Dale's first credited work at Republic was in "King of the Royal Mounted" ('40). For a while he banged around doing stunts in A-films as well as both Universal ("Sky Raiders", "Don Winslow of the Navy", "Don Winslow of the Coast Guard", "Gang Busters",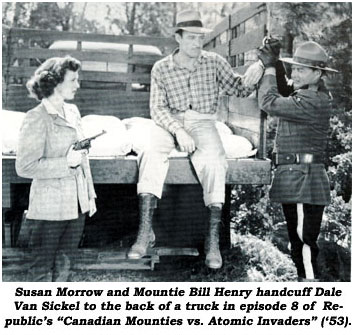 "Secret Agent X-9", "Raiders of Ghost City", "Master Key") and Republic ("G-Men Vs. the Black Dragon", "Captain America", "Haunted Harbor", "Masked Marvel", "Manhunt of Mystery Island", "Tiger Woman", "Zorro's Black Whip"), even Columbia ("Spider Returns", "Holt of the Secret Service", "Black Arrow") serials before finding a home at Republic by '45 and 27 more action packed serials.
In Republic Westerns Dale can be spotted doubling John McGuire in "Bells of San Angelo" ('47), Roy Barcroft in "Renegades of Sonora" ('48), Douglas Fowley in "Susanna Pass" ('49), Grant Withers in "Trigger Jr." ('50), Stephen Chase in "El Paso Stampede" ('53), even Steve Brodie in "Guns of Hate" ('48) (at RKO) and dozens more.
Also adept at car and truck work, Dale put those talents to good use in all the modern day serials he worked on at the thrill factory. Dale was easy to spot in action films of the '40s and '50s, estimating he worked on over 200 movies along with dozens of roles and stunts on television shows such as "Bonanza", "Roy Rogers", "Kit Carson", "Soldiers of Fortune", "Superman", "Sheriff of Cochise", "Wanted Dead or Alive", "Mike Hammer", "Wyatt Earp", "State Trooper", "Stories of the Century", "Yancy Derringer", "Gunsmoke", "The Untouchables", etc.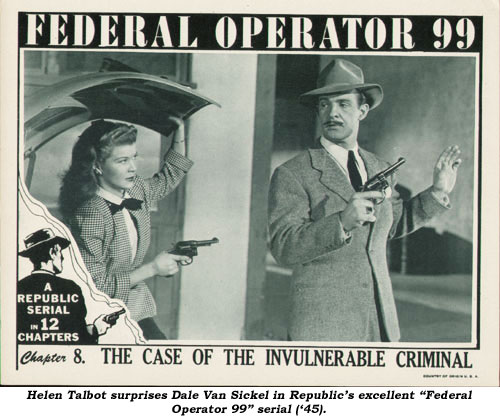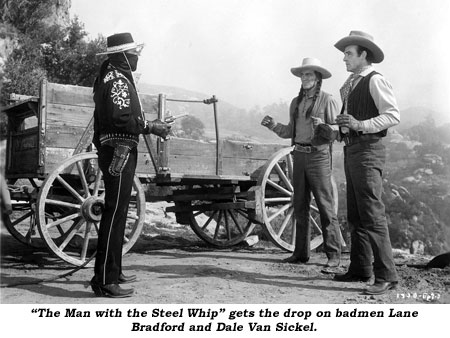 However, Dale once said the most dangerous stunt was doubling for Jon Hall in one of his Universal films. "In the scene," Dale explained, "Jon was caught up a tall pole in the center of a lion arena with lions prowling around below trying to grab him. Sabu threw him (me) a rope and Jon (I) escaped it. But here was the snag. The first day we tried it the male lions wouldn't jump up after Jon. Even tempting them with meat failed. The second day somebody brought in a bunch of female lions, which can jump higher than males. But I didn't know this. We started shooting and I whipped across that rope like lightning. When I reached safety I realized I'd escaped by the skin of my teeth because those lionesses could reach that rope easily. And did! If I'd been a second slower across that rope…"
Dale did his own high-speed driving for "Thunder Road" and said auto-stunting was one of the best-paying tasks in the profession. He earned $3,035 a day for the riotous chase in "Mad, Mad, Mad, Mad World" and similar large amounts for "On the Beach", "Walking Tall", "Bullit", and the Matt Helm series. "I guess if I had any particular skill for stuntwork," Dale mused, "it was coordination. I think I picked that up from sports before I came to Hollywood."
Dale Van Sickel had an almost 50 year career in Hollywood with some of his last work on "Batman" ('67) and in "The Love Bug" ('68) at Disney and as a stunt driver in the TV movie "Duel" ('71) starring Dennis Weaver.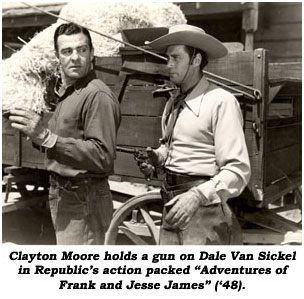 Dale was one of the founding members of The Stuntmen's Association of Motion Pictures. This group was formed by Dale along with Bill Hart, Loren Janes, Bob Hoy and other stuntmen, becoming the first such group in operation in Hollywood since 1961.
After a long illness, Dale Van Sickel passed away January 25, 1977, in Newport Beach, CA, at 70, leaving an action legacy few stuntmen can match. And one we can still marvel at today. (Thanx for input from Neil Summers.)

Beatty and the Beasts
Clyde Beatty escaped the jaws of death from the wild beasts of the jungle numerous times in two thrill packed serials—"The Lost Jungle" ('34 Mascot) and "Darkest Africa" ('36). And don't think for a minute it was all screen magic. Beatty was for real as you'll read in this January 16, 1935 news article.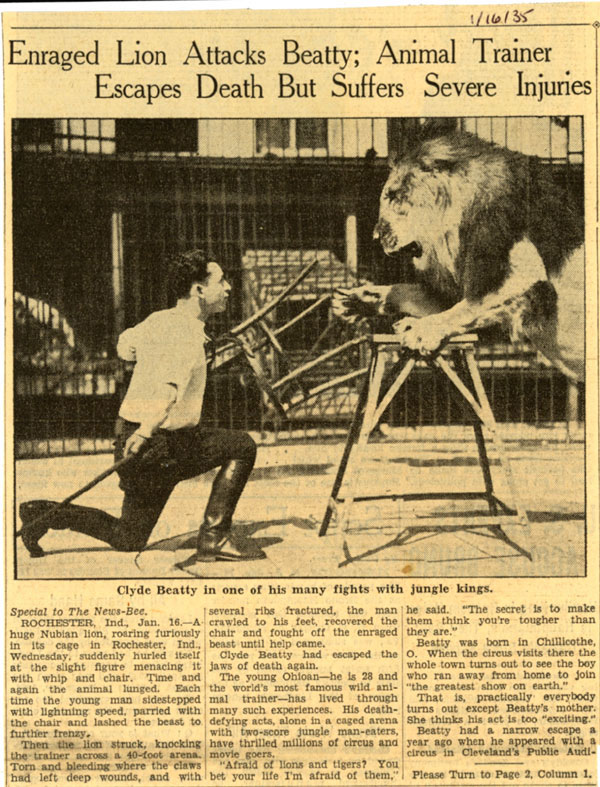 In Chapter 3 of "Cody of the Pony Express" ('50), Peggy Stewart and Dickie Moore are trapped in a ravine by stampeding horses. You can see them cower by an overturned wagon and hear Peg scream! But in Ch. 4, no one cowers and there is no scream as they are rescued by a rope from above by Jock Mahoney.

Marjorie Lord
Poised and lovely Marjorie Lord, co-star of Universal's "Adventures of Smilin' Jack" serial ('43) was born Marjorie F. Wollenberg July 26, 1918, in San Francisco. Her family moved to New York when she was 15.
Enrolling at the American Academy of Dramatic Arts and the Chaliff School of Dance, her first job was as an 18 year old replacement on Broadway in "The Old Maid" starring Judith Anderson in 1936. Filmwork followed…her first was RKO's "Border Café" with Harry Casrey Sr., John Beal and Armida. "Acting helped me overcome the terrible shyness I had when I was young," Marjorie explained. "It also kept me from confronting the real me."
Good roles in "On Again—Off Again" w/Wheeler and Woolsey, "Forty Naughty Girls" w/James Gleason and Zasu Pitts, "About Face" w/William Tracy and Joe Sawyer, "Timber" w/Leo Carrillo and Dan Dailey, and others followed before her serial work opposite Tom Brown. Afterward came "Sherlock Holmes in Washington" w/Basil Rathbone, "Johnny Come Lately" w/James Cagney, "Masked Raiders" w/Tim Holt, "Riding High" w/Bing Crosby and others before she turned to TV work in the '50s with "Racket Squad", "Kit Carson", "China Smith', "Ramar of the Jungle", "Schlitz Playhouse", "Hopalong Cassidy", "Wire Service", "Lone Wolf" and many others before hitting it big as the wife of Danny Thomas for 228 episodes of "Make Room for Daddy" from '57-'64 as well as many specials honoring the popular sitcom in '65, '67 and '70.
After her third marriage, in '77 Marjorie phased out her career. She published her memoir A DANCE AND A HUG in 2005.
The mother of actress Anne Archer (by her first husband actor John Archer) died of natural causes November 28, 2015, at her Beverly Hills home.