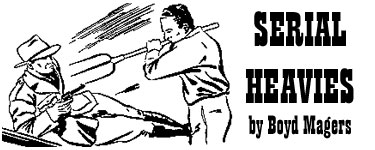 Rick Vallin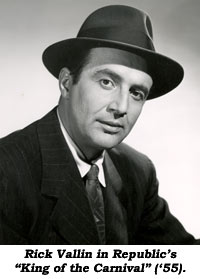 Rick (Richard) Vallin, born of Russian descent (possibly even born in Russia), reportedly made his debut with a New York stock company at only 14. From that time until 1940 he appeared in a long succession of plays. Although he's among the students in "Dramatic School" (MGM) in '38, it wasn't until 1941, while appearing on the stage in L.A., he was signed for pictures with his first films being "Desperate Cargo" and "Escort Girl". His last film was most likely an unbilled role in Audie Murphy's "Quick Gun" in '64.
Throughout the '50s and '60s he worked in hundreds of TV shows, mostly westerns. From the start, Rick had wanted to appear in westerns but never got the chance until he bought some cowboy garb and started wearing it into town. It worked. His first western was "King of the Stallions" in '42, followed by scores more.
His 16 serials (mostly for Sam Katzman) were: "Perils of the Royal Mounted" ('42 Col.), "Brick Bradford" ('47 Col.), "Sea Hound" ('47 Col.), "Adventures of Sir Galahad" ('49 Col.), "Batman and Robin" ('49 Col.), "Cody of the Pony Express" ('50 Col.), "Atom Man Vs. Superman" ('50 Col.), "Roar of the Iron Horse" ('51 Col.), "Captain Video" ('51 Col.), "King of the Congo" ('52 Col.), "Blackhawk" ('52 Col.), "Son of Geronimo" ('52 Col.), "Riding with Buffalo Bill" ('54 Col.), "King of the Carnival" ('55 Republic), "Adventures of Captain Africa" ('55 Col.), "Perils of the Wilderness" ('56 Col.). Note that all of these were Columbia except one.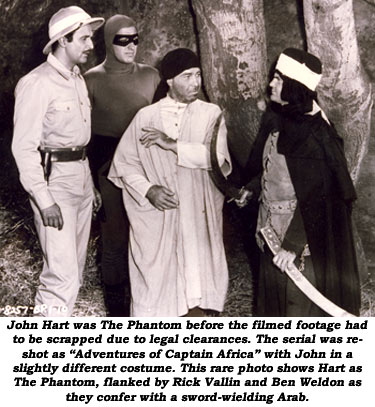 Actor John Hart told us, "He was one of my best friends for 15-20 years. His mother was a big wheel in the Russian community around Hollywood although Ricky didn't seem to take any part in it or care about it. I was doubling Jon Hall in a Sam Katzman feature when I met Rick. He was playing an Indian, he was dark complected. He was a very competent actor. He started me fishing. We went fishing together for years…down to Mexico, out on boats, a lot of surf fishing at a cove up around Malibu that nobody went to much. I just had a lot of fun with Ricky. He lived with Victoria Faust, sort of an actress, very wealthy. She was married to a director and the three of them lived in the same house in Beverly Hills. The director, can't recall his name, was a nice guy and just put up with Rick moving in. We used to get together and do radio scripts and tape 'em just to keep our wits going. He never talked about his background. I lost track of him when I did the 'Lone Ranger' then went to Canada to do 'Hawkeye'. His life with Victoria fell apart when she remarried and moved to Mexico and he didn't have a home anymore."
Vallin was only 57 when he died August 31, 1977.
Rick Vallin Photo Gallery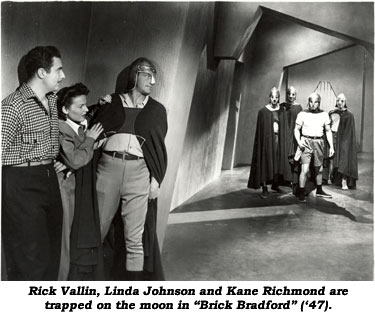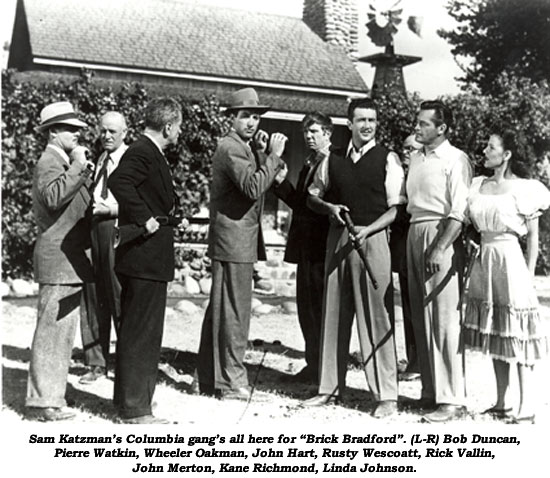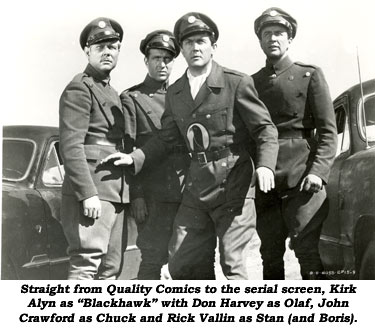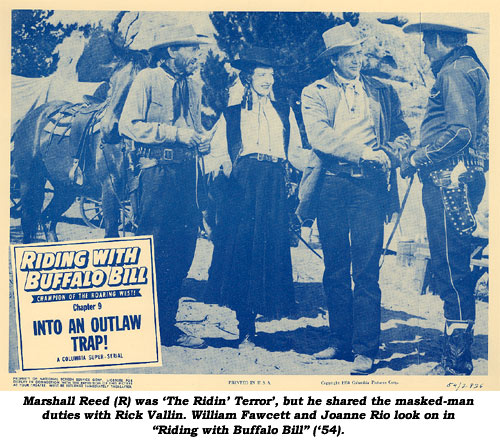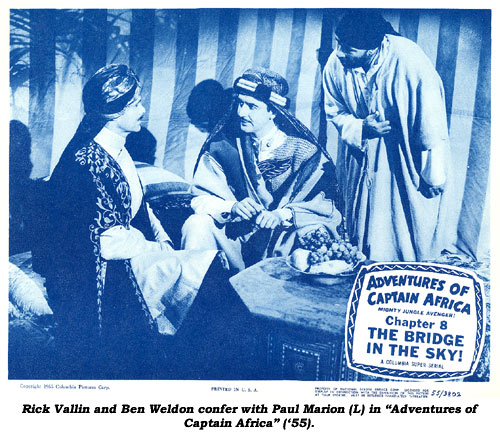 In Ch. 11 of "Mystery Mountain", Ken Maynard is shown falling all the way down a cliff, but in Ch. 12 he catches himself on his lasso.
"Spy Smasher"
"Spy Smasher" was the first Republic serial to be released after the sneak attack on Pearl Harbor and it shows. The gloves had officially been taken off in Hollywood and there was no longer any doubt about who the bad guys really were, no carefully crafted dialog or coy attempts at disguising the obvious.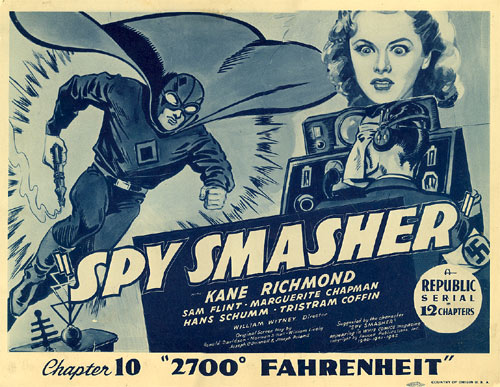 Prior to December 7, 1941, when the film was in its embryonic stage, there had even been plans to provide a guarded prologue to introduce this cliffhanger, one delivered by none other than J. Edgar Hoover who would warn audiences of those unnamed enemies of America. Following the Day of Infamy, however, events rendered such remarks superfluous and the idea was scrapped.
Many critics consider "Spy Smasher" the best serial ever produced and there is much to support this view. Given the limits, boundaries and creative and economic restraints placed on the genre, it really would be difficult to imagine a better one. If you remove the chapter endings and a few of the more ridiculous trappings (the villain's mask as an example, but I'll get to that momentarily) and do a bit of judicial cutting you'd still have a terrific little B film, just the sort of patriotic effort many of the studios were then turning out to support the war.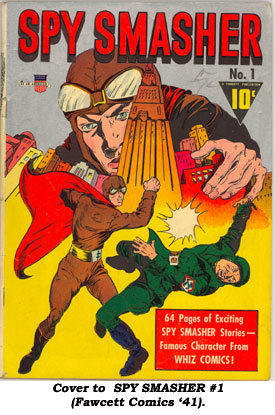 The character of Spy Smasher, complete with cape, goggles and cowl, came out of WHIZ COMICS and while Republic made a few alterations to the original character these were not on a large or annoying scale as were the signs of tinkering that went on with the studio's other adapted characters such as the Lone Ranger or Captain America.
The basic plotline of "Spy Smasher" has the masked hero out to lay his hands on The Mask, head of a German spy ring trying to curtail the American war machine via a counterfeiting scheme. For 12 exciting—make that very exciting—chapters, Spy Smasher, with the help of his twin sibling, Jack, puts his life on the line to thwart the Mask.
Kane Richmond's comic book good looks and athletic physique made him a natural for serial work. Moreover, unlike other B actors who might have opted to play the roles of the title character and his equally heroic brother with little if any marked difference, Richmond does a nice job of lending slightly different shadings of voice and character to each. It's a very good performance.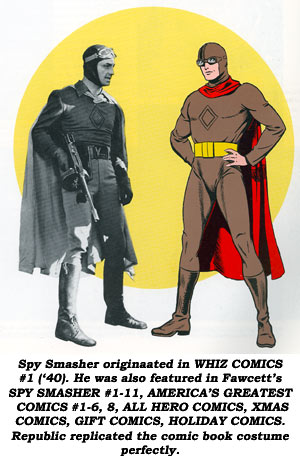 Marguerite Chapman provides the highly attractive, poised, independent woman in the brothers' lives. Chapman, a former model who later did a great deal of film work for other studios, unfortunately only appeared in this one serial.
Others in the cast include Sam Flint as Admiral Corby, Tristram Coffin, Frank Corsaro (as Spy Smasher's self-sacrificing French buddy), Georges Renavent, Robert O. Davis, and last, but certainly not least, Hans Schumm (a dark, brutish-looking actor who was often called upon by studios during the war to portray all manner of Nazi henchman) as the central villain, the Mask, a character left over from the comics. When contacting his collection of Nazi thugs via a television transmitter, he feels it necessary to cover his features with a rather silly looking covering that appears a bit like a mini shower curtain.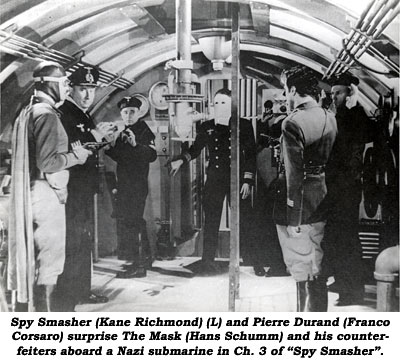 Small complaints aside, "Spy Smasher", if not indeed the best serial of all time, is unquestionably among the best. Unlike a great many chapterplays which appear terribly dated in an almost embarrassing manner, and which can only be approached by either the most steadfast fan of the genre or those on the lookout for the charmingly antiquated and quirky, can still find in "Spy Smasher" a steadfastness, legitimacy of purpose and theme, and serious tenor which even in the presence of grand action and daredevil exploits makes it rise above so many of its competitors.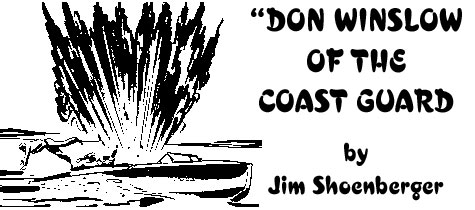 When theatre rental fees for "Don Winslow of the Navy" ('41) were added up, Universal knew they had a winner. It wasn't a difficult decision for them to realize movie going serial fans would continue to line up at the box office to pay to see a sequel, "Don Winslow of the Coast Guard" ('43).
Once contract negotiations were finalized with the comic strip's creator, Frank V. Martinek, the same screen writers, Paul Huston and Griffin Jay, who did a great job on the first serial, were assigned once again. Veteran serial scribe George H. Plympton joined the team. This time an extra chapter was added to the script for a total of 13 in contrast to 12 episodes of "Don Winslow of the Navy".
Universal wisely recast Don Terry as hero of the title with Walter Sande as Red Pennington, Don's friend and fellow officer, both lead players in the first serial. I was surprised, however, by the change in the casting of the role of our heroes' arch enemy, The Scorpion. In the first serial the part was played to sinister perfection by character actor Kurt Katch. I remember how surprised I was when the sequel was released and I saw another actor, Nestor Paiva, playing the Scorpion. Why the change in casting? I simply could not figure it out. Talking about it with others, this is our theory. It makes sense and is logical. In each of the 12 episodes of "Don Winslow of the Navy" the audience sees only the head and shoulders of Katch. In real life, Katch was short in height and diminutive in overall appearance, hardly a very menacing opponent to the tall, athletically built Don Terry. Nestor Paiva, however, was an entirely different matter. He was big and husky. He could look and sound mean. Although Paiva did not exude the innate sense of evil that Katch did, you felt he was a worthy adversary for Winslow.
But I think the member of the cast that disturbed me the most was actress June Duprez who had been the star of two of my all–time favorite motion pictures: "Four Feathers" ('39) and "Thief of Baghdad" ('40). Her stunning ethereal like beauty was immortalized by the Technicolor cameras. My 10 year old heart was completely lost to her charms as the Princess in "Thief of Baghdad". But life apparently had not always been easy for her. I remember reading a quote from her that she was not even invited to the London premiere of "Thief of Baghdad" because the wife of the film's producer was sooooooo jealous of her. Interestingly, the wife was a well known actress herself, Merle Oberon. Encouraged by the great success of these two Technicolor triumphs, Duprez came to California for a career in Hollywood films. However, she could not find work and her situation became so desperate it was another actor that came to her rescue. Her benefactor was none other than the well known screen personality of Sherlock Holmes' faithful companion, Dr. Watson. And so it was that she became a long time houseguest of her fellow English citizens Mr. and Mrs. Nigel Bruce.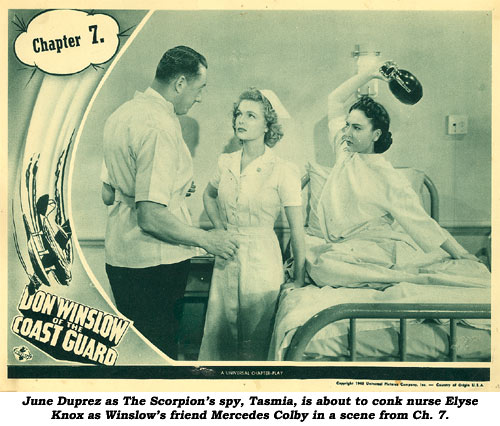 Now, in 1943, June is receiving 5th billing in a modest budget movie serial. I'm going to offer another guess that has a logical premise. Nigel Bruce was under contract to Universal with his Sherlock Holmes series enjoying popularity with movie audiences. It's my belief Bruce interceded with the studio on Duprez's behalf to get her back in front of the cameras. I don't think for a moment she would have chosen a serial, but at least she was working. Eventually, she returned to leading lady status in such classic films as "None But the Lonely Heart" and Agatha Christie's "And Then There Were None".
But in this serial she was playing Tasmia, a spy working under direction of the Scorpion. Perhaps in deference to Winslow's new leading lady, actress Elyse Knox, Duprez was given a nondescript wardrobe.
The serial's basic plotline was not overly original. It began with a series of deadly submarine attacks in the waters off Seattle, WA. The Scorpion had returned! There was no sitting stationary in a chair, giving commands for this new version. He was all over the place! But he retained the basic ruthlessness of the character. In the first chapter his submarine has torpedoed a ship and amid the fire and explosions the frightened passengers are trying to get off. The Scorpion's sub has risen to the surface with our villain on the deck watching the tragedy. He calmly gives the order, "Shell the lifeboats. There must be no survivors." (How proud Kurt Katch must have been.) When it's eventually learned of the Scorpion's involvement, Don Winslow and his fellow officer, Red Pennington, are assigned to the Coast Guard to combat their old nemesis.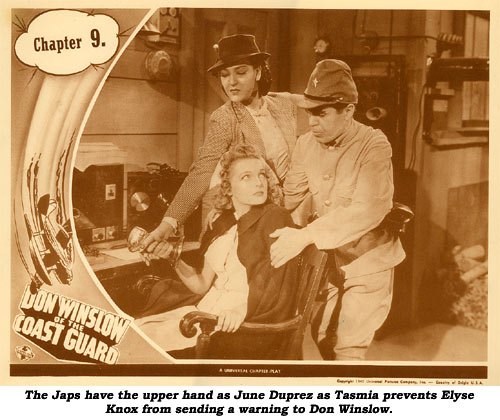 The Scorpion surrounded himself with a selection of malcontents: June Duprez as his associate and spy, German agents and uniformed Japanese soldiers. The serial's diverse personalities provided the writers the opportunity for some sharp dialogue. Several examples:
Don Winslow makes reference to information the Japanese badly want: "They would give their eye teeth for that." Red: "You mean their buck teeth."
The Scorpion: "Winslow is going to need all the luck he's got." Duprez as Tasmia: "Funny, I was going to say the same thing—about us."
Scorpion Agent: "The cutter is picking up Winslow and his stooge." (Red Pennington)
Don: "The Scorpion is too smart to put all of his eggs in one basket." Red: "Well, let's scramble what we've got."
Tasmia: (on the failure of another assignment which has been thwarted by Winslow) "It's not my fault." Scorpion: "No, it's my fault for entrusting such an important mission to you."
Comment to Winslow: "See that? It's a troop train and it's headed for Japan." Don: "Let's take a look. Sounds like a Jap in the woodpile."
Scorpion: "Winslow! That man has spoiled my appetite for several years!"
(Unintentional humor?) Winslow: "Order a fast car." (As opposed to a slow one?)
The Scorpion's secret headquarters in this serial was the old "hideout behind the waterfall" trick. I first saw it a year earlier, 1942, in Columbia's "Perils of the Royal Mounted". In fact, Columbia serial screenwriter George H. Plympton liked it so much it was used again in the '56 cliffhanger, "Perils of the Wilderness". We also find waterfall sequences written into Republic serials "Zorro's Black Whip" ('44) and "Don Daredevil Rides Again" ('51).
The serial followed the usual plot and counterplot formula which is almost mandatory due to the length of this type of production. Universal had their usual "spoilsport" chapter titles which virtually give away that episode's cliffhanger ending: "Trapped in a Blazing Sea"; "Crash in the Clouds"; "Bombed On the Ocean Floor" and "Blasted From the Skies" are good examples. Not many surprises here.
On the subject of this serial's titles there were no less than 3 episodes with completely misleading titles:
Chapter #6 "Ramming The Submarine". There was indeed a ramming scene, but it was Winslow crashing his plane into a ship, not a sub.
Chapter #9 "The Torpedo Strikes". There was no torpedo. Winslow's boat was shelled and blown up.
Chapter #13 "Capturing the Scorpion". SPOILER WARNING! Allow me to describe the closing minutes and see if you agree with the title. The Scorpion, in his submarine, is located and bombed. You see the Scorpion, Tasmia and the crew thrown off balance by the explosion. The next and final scene has Don telling his friends he will never believe the Scorpion is dead until he sees it. Then, Don turns and looks into the camera and, talking directly to the audience, gives a brief but highly patriotic speech. The serial ends on this high note.