"Jean Dean"
Jean Dean, one of the stars of Republic's "Radar Patrol Vs. Spy King", was born May 30, 1925, in Illinois.
She was working as an usherette in a Chicago theater when she happened to meet an agent on an elevator. The agent looked at Jean and said, "I know of an artist who is looking for a model and you seem to fit exactly what he wants." She gave Jean her card and invited her to come by her office. When Jean went to meet the agent she was told the man was just starting out as a new artist and would not be able to pay much, but she would receive an hourly wage for her work. Jean went to meet the man, who introduced himself as Alberto Vargas. He said he would be doing all the paintings for ESQUIRE magazine and he would use her exclusively for that. Jean, who was just 15 years old, agreed to the job and worked for Vargas until she was 19. He used to put black, brunette or blonde wigs on her when he needed other color hair because hers was red.
Jean finally moved from Chicago and traveled west to California where she was working in a field picking peaches when she landed a part in a stage production with Edmund Lowe. A talent scout from MGM spotted her in the show and invited Jean to take a screen test. She did, and was signed to a contract. She was cast in "The Pirate", which tied her up for over a year due to an illness of Judy Garland that kept postponing filming. Her husband, Edward Norris, told us, "Judy was pretty ill that year and would not show up. So everybody just sat around. That was bad luck for Jean because she was tied to that and couldn't get any work elsewhere, because when you're tied to one production you're stuck; nobody else will hire you. So Jean's career didn't go. It could have, but there were too many bad luck deals."
Jean then went to Republic and worked in a "Rocky" Lane western and the serial, "Radar Patrol Vs. Spy King". Jean starred opposite Kirk Alyn in the serial as the heroine who, during the course of the story, jumps out of two speeding cars, a speeding truck, out of an airplane, and is involved in several fights. Among her co-stars were such serial veterans as John Merton (as the villainous Spy King), George J. Lewis, Tris Coffin, Anthony Warde, John Crawford, Tom Steele and Dale Van Sickel.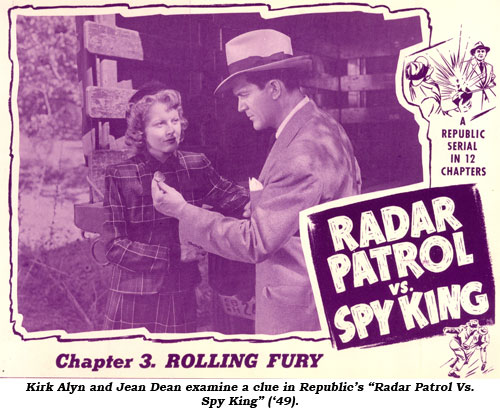 Jean afterwards worked in several of the Bowery Boys features at Monogram, appeared in several episodes of the "Cisco Kid" TV series, as well as on "Hopalong Cassidy", "Wild Bill Hickok", "Roy Rogers", "Superman", and several other series.
Jean then got married and quit the business. Several decades later a wealthy man in England began a small independent airline called Virgin Atlantic consisting of fourteen 747s. The symbol for the plane was a picture of what he called 'The Scarlet Lady', which was painted on the front of the nose of the plane. The painting was that of Jean Dean!
She married about '78 to her second husband, actor Edward Norris who had been the star of a Universal serial in '45, "Jungle Queen". "A serial is the toughest job you could get, Ed said, "but I wanted it, because I remember as a little kid with 10¢ in my hand I'd walk 40 blocks to see Hutchy Hutchinson jump off that bridge to save that girl on the boat from that villain. I just wanted to do one of those."
Jean passed away in Malibu, CA, on August 20, 1993.

The late Louise Currie (about director Spencer Gordon Bennet): "I liked working with him...he was nice; I liked him personally and we had a good time. It was too speedy for him to give me any direction, so I cannot compare him to other directors in that way. Spencer was fun."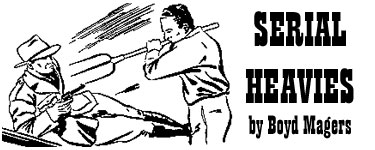 Dick Curtis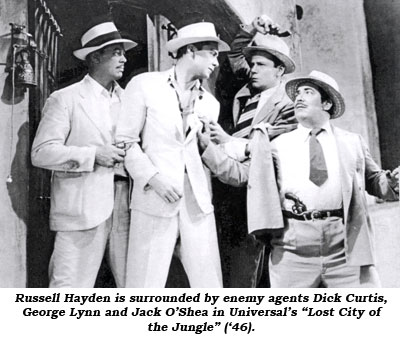 Often known as the 'meanest man in Hollywood,' there was never any doubt when ox-like Dick Curtis came on screen he was a "heavy" in the truest sense of the word. Born Richard D. Dye May 11, 1902, in horse country, Newport, KY, his parents later moved to L.A. where Dick received his education.
The 6' 3" Curtis started in films as an extra in 1919. He soon left, finding stage work more productive in the East where he had three years of New York stage experience and played stock in New Jersey and Massachusetts. Curtis returned to Hollywood in '30 and by '32 was in four pictures that year.
Several months later, during the making of "King Kong", he was seriously injured and didn't work for over a year. Resuming work at a fever pitch by late '34, westerns and serials became his main niche. Dick seemed to find a home at Columbia in '37 rustling, robbing and riding hell for leather against Charles Starrett and Bill Elliott. Columbia kept Curtis busy not only in their B-westerns, but in virtually everything they made, including serials.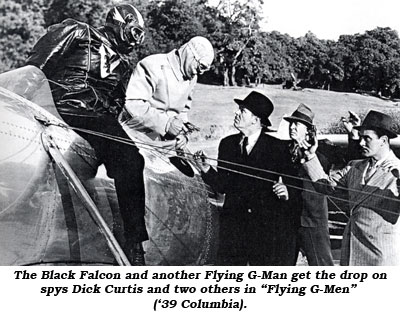 Over the years Curtis worked on 17 serials, sometimes just a henchman or bit part, but much bigger roles as crippled henchie Korman in "Flying G-Men" ('39 Columbia), Pegleg's right-hand man in "Overland With Kit Carson" ('39 Columbia), the evil Fang in "Terry and the Pirates" ('40 Columbia), a swarthy Tartar in "The Phantom:" ('43 Columbia), chief heavy Regan in "Government Agents Vs. Phantom Legion" ('51 Republic) and gunman Campo in "Roar of the Iron Horse" ('51 Columbia).
His cohort in crime at Columbia, Kenneth MacDonald told an interviewer, "Socially, he was somewhat reclusive. This trait, in fact, was evident in production procedures. He was a thinker regarding his roles, and a strict professional. He found it uneasy to compromise. I felt, at one time, his thinking might lead him to an interest in direction. However, this never occurred. He enjoyed cutting and assembling film clips for whatever purpose."
Fellow badman Pierce Lyden once wrote, "Dick was so bad even the people who worked with him hated him. (Laughs)"
There's a notable break in his film work from late '46 to mid '49. It was at this time Curtis discovered what he figured would be a terrific location site in the high desert above Twenty-Nine Palms, California, and along with Russell Hayden, Roy Rogers, Bud Abbott and some members of the Sons of the Pioneers, 17 partners in all at $500 each, they developed the area for filming of westerns and serials. Gene Autry's Flying A Productions, ZIV TV's "Cisco Kid" and, eventually, Russell Hayden's production of "Judge Roy Bean" were the primary users of the locale they named Pioneertown. Columbia's "Cody of the Pony Express" serial ('50) was also lensed there.
In the early '50s Curtis found work in television and a couple of good serial roles, "Roar of the Iron Horse" ('51) and "Government Agent Vs. Phantom Legion" ('51), just prior to his untimely death January 13, 1952, at only 49. He'd been operated on for a brain tumor at Cedars of Lebanon Hospital in L.A. on Nov. 26, 1951. Cause of death was listed due to respiratory failure, lung cancer and a brain tumor. He was survived by his wife of many years, former silent actress Ruth Sullivan, who also appeared in two low-budget talkies, "Jaws of Justice" ('33) and "Ferocious Pal" ('34).
Curtis' last small role was in "Rose of Cimarron" ('52) with Mala Powers, but it is for his string of Columbia thrillers and serials we will always remember Curtis as one of the Top 10 screen badmen.

In "Son of Zorro", badmen Al Ferguson and Cactus Mack, both killed by Zorro at the end of Ch. 1, reappear together, dressed just as they were, in Ch. 7.
Constance Moore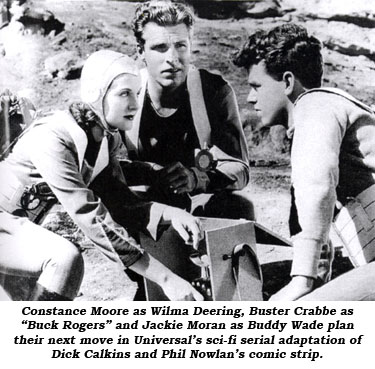 Constance Moore, star of Universal's "Buck Rogers" ('39) with Buster Crabbe, was born January 18, 1922, in Sioux City, IA. Constance came to Hollywood from work as a big band vocalist with a Universal contract. "I played Lieutenant Wilma Deering and shot laser guns. Lots of action and futuristic sets. I enjoyed doing that. It turned out very well and was very well received. They then gave me bigger and better pictures." The serial was released in feature form as "Planet Outlaws".
Moore went on to co-star with W. C. Fields in "You Can't Cheat an Honest Man" ('39) and with Edgar Bergen and Charlie McCarthy in "Charlie McCarthy, Detective". Constance's star status resulted in her receiving the highest weekly salary ever given to a contract player at Republic, where she sang and appeared as ethically pure saloon girl, Belle Malone, in the classic western "In Old Sacramento" ('46) with Bill Elliott.
Afterwards, Constance concentrated more and more on her singing career—appearing in Las Vegas and at various niteries around the country.
After various guest shots on TV and a one-season role on the Robert Young series, "Window on Main Street", Constance did an occasional part (guesting with old co-star and friend Fred MacMurray on "My Three Sons") and then retired.
Moore, 84, died September 16, 2005, of heart failure at the Motion Picture and TV Home in Woodland Hills, CA.

While searching for solid frozen ice to cross a river in Republic's "Canadian Mounties Vs. Atomic Invaders", Bill Henry and Susan Morrow are trapped by an avalanche. But—the recap card in Ch. 2 states Henry and Morrow were searching for food.