"Captain Midnight"
by Bruce Dettman
"Captain Midnight" was one of my favorite TV shows of the '50s but the TV version of "Captain Midnight", best known to Baby Boomers, was not the character's first incarnation. On the small screen, as portrayed by blonde B-movie leading man Richard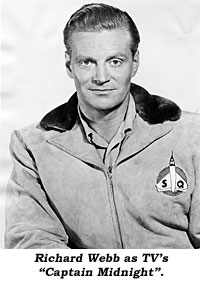 Webb, the Captain, aided by comic sidekick Ichabod Mudd (Sid Melton) and science wizard Tut (Olan Soule), was a high tech, Cold War warrior taking on spies and traitors, flying around in his jet plane the Silver Dart (wearing what appeared to be a doctored up football helmet) and occasionally enlisting the aid of the Secret Squadron, his legion of juvenile assistants. (It was syndicated as "Jet Jackson".)
As originally created for Mutual radio, however, the Captain was an aviation hero of World War I on whose mission the entire outcome of that global conflict rested. Actually named Jim Albright, his dynamic and history-altering arrival in the skies at midnight ensured his being known from that time on as Captain Midnight. The series, created in 1938 by Robert Burtt and Willfred Moore, was extremely popular and eventually developed into a set pattern of stories in which the Captain, aided by pal Ikky and teenage helpers Chuck and Joyce, tangled with all sorts of nefarious characters. The Captain's main antagonist during the show's long run was the dastardly mastermind Ivan Shark who was finally eliminated not by the Captain but by rather a hungry polar bear.
The show's immense popularity led Columbia to produce a serial version in '42. The director chosen was James Horne, a veteran of Laurel and Hardy shorts who had also turned out one solid cliffhanger, "The Spider's Web". Horne was never an action director known for restraint or moderation and the results of "Captain Midnight" certainly bear this out. It's unquestionably a roller coaster of a cliffhanging ride (script by Basil Dickey) with outlandish (and unbelievable) fist fights pitting Midnight (successfully) against a whole room load of faceless thugs and placing him in all sorts of compromising physical dilemmas. In addition there's a kind of frenetic energy and mad pacing endemic to most Horne outings. Where this might have worked with the physical style of Laurel and Hardy—where exaggeration and over-the-top mannerisms and movements heightened the comedic elements—in a so-called serious chapterplay the results could often be

ruinous and/or unintentionally comedic. Setting the pace for all of this is James Craven as Ivan Shark. Craven, in almost all of his Columbia serials, played his parts like a guy high on speed. His mannerisms, line delivery and mood swings are so severe and overtly manic that one expects him to lose it all at any second. He yells at his subordinates, storms about, does everything short of tearing his hair out from the roots. He also has a rather peculiar relationship with his daughter/confederate Fury (Luana Walters), something very unusual in a serial where you rarely find a villain with an offspring they care about. She seems to view him as more of a stubborn patriarch rather than a master criminal, a fact which causes him to say a lot of things like, "In our business you must be ruthless to exist!" In any case, Shark is out to get his hands on scientist Bryant Washburn's newly developed aeronautical range finder and will do anything to find it, including putting on some fairly outrageous disguises.
Standing in his way, however, is Captain Midnight portrayed by the versatile Dave O'Brien who in his long and varied cinematic career (which would end as a gag writer on Red Skelton's variety show when he died of a heart attack reportedly showing someone how a back flip is done) played in everything from B-Westerns alongside James Newill and Tex Ritter to starring in the famous MGM "Pete Smith Specialties" to appearing in the cult classic "Reefer Madness". O'Brien played Midnight as a masked avenger which didn't always make sense since the Midnight/Albright connection seems to have been well known. My problem with O'Brien, who otherwise seems a personable guy, is his voice, which possesses a kind of staccato, cartoonish almost Don Adams/Maxwell Smart-Tennessee Tuxedo sort of quality. When the dialog is something less than stellar this delivery doesn't help: Midnight: "I'm Captain Midnight!" Policeman: "So what?" The cast is okay, although they too fall victim to Horne's slash-and-run pacing. There's Dorothy Short (O'Brien's real life wife) as the heroine who really overdoes it in the screaming department; the always attractive Luana Walters as Fury, Shark's daughter (the two girls occasionally mix it up which causes the frustrated Shark to keep hollering, "Hold onto her!"), Sam Edwards and Guy Wilkerson as Midnight's pals Chuck and Mudd; Ray Teal (later Sheriff Coffee on "Bonanza") as lead henchman Borgman; plus Al Ferguson, Chuck Hamilton, George Pembrook and Joe Girard.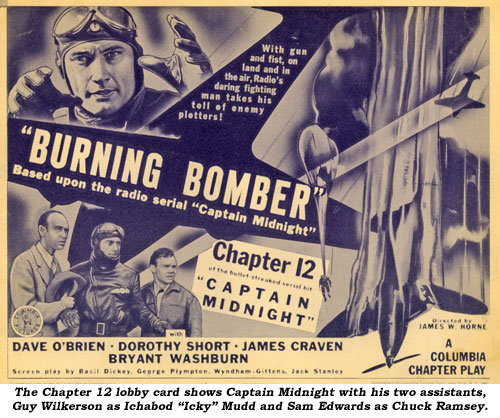 In different directorial mitts, "Captain Midnight" could have been a good solid aviation themed cliffhanger. Republic might have done the character proud. Horne's frenzied, near cartoon approach plus a weak script sealed the serial's doom as far as its chances of emerging as one of the great chapterplays and did little in the way of advancing the Captain's film career. There are a few good episode endings and you certainly can't fault the cast for its energy and enthusiasm but action-wise it's excessive and too often just plain silly.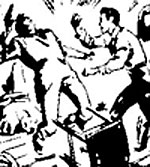 Terry Frost
by Tom and Jim Goldrup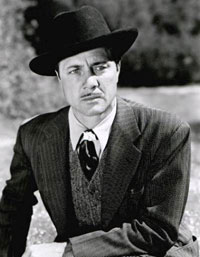 Terry Frost appeared in no less than 23 serials during his 21 years in the motion picture business. Although mostly remembered as a heavy in his many serials and Westerns, Terry also played the hero in such non-Western films as "Waterfront", "Monster Maker" and "Girl From Monterey".
Terry's serials ranged from '41's "Dick Tracy Vs. Crime Inc." through "Perils of the Wilderness" in '56. In between his serial work included "Captain America" ('44), "Batman" ('43), "Who's Guilty" ('45), "Hop Harrigan" ('46), "Vigilante" ('47), "Jack Armstrong" ('47), "Tex Granger" ('48), "Superman" ('48), "Bruce Gentry" ('49), "Pirates of the High Seas" ('50), "Atom Man Vs. Superman" ('50), "Mysterious Island" ('51), "Captain Video" ('51), "Government Agents Vs. Phantom Legion" ('51), "Blackhawk" ('52), "Great Adventures of Captain Kidd" ('53), "Gunfighters of the Northwest" ('53), "Lost Planet" ('53), "Riding with Buffalo Bill" ('54), "Adventures of Captain Africa" ('55), and "King of the Carnival" ('55).
Born October 26, 1906 in Bemidji, MN, Terry began traveling in his sixteenth year, reciting poetry in bawdy houses from Butte, MT, through Weed, CA, and back again on his way home to Michigan. "I never started out to be an actor," Terry once told us, "I was too cozy doing what I was doing, reciting that poetry." He was approached by a representative from a local theatre in Minneapolis who offered him $35 a week. "You're out of your mind," Terry exclaimed, "I'm making $250 a week." He was promised the theatre work would not interfere with his poetry readings, so Terry accepted the job. "Before I ended," Terry added, "the guy was paying me $65 a week and that was a lot of money back in the '20s. I did vaudeville in Kansas City where Bob Hope was just the MC. Vaudeville was beautiful. I worked burlesque; I worked with Mickey Rooney's father, Joe Yule. I remember the O'Connors in vaudeville—they had their act too. Donald O'Connor was a kid and they used to throw him through a paper thing on the stage."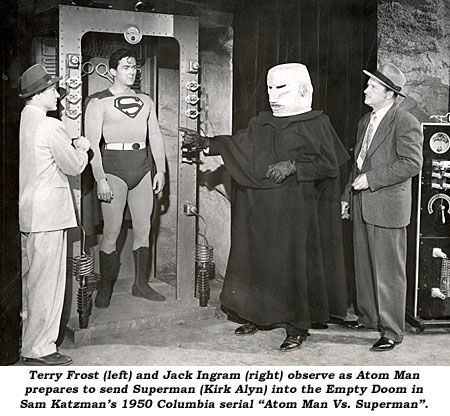 It was in Minneapolis that Terry married the woman who was to be his wife for 40 years. In 1927, when she became pregnant, they left the Midwest where Terry had toured as an actor and came to California to have the baby, remaining in Hollywood thereafter.
Terry had hopes of making a living as a film actor, but it took a number of years before his dream was to be realized. Reflecting on this period, Terry told us during an interview for our FEATURE PLAYERS Vol. 1, "It took me from '27 to '41 to get my first job in motion pictures. I had worked all over the Midwest, but they didn't know me here." Terry obtained a lead role for a play in which Roy Barcroft had a minor role as a drunk in one scene. A talent scout saw the production one night and signed Barcroft to a contract at Republic, where he went on to become one of the busiest and best remembered heavies of serials and B-Westerns. Terry added, "Theatre was nothing (in California) in those days; it was on the east coast."
So, unable to sustain a living for himself and family from acting jobs, he went into the restaurant business and became a famous restaurant man.
Then, in '41, the cards were dealt in Terry's favor. A woman wrote an article about the John Wexler play, "The Last Mile". Terry had toured many years earlier in this play all over the Midwest in the role of Killer Mears, a prisoner on death row who leads a takeover of the cell block. In the article, the woman wrote how Spencer Tracy played the role in New York, and Clark Gable had performed on the west coast. In her article titled "The Man in the Middle of The Last Mile", she told how Terry had a longer run than either Tracy or Gable and how they went on to become stars and that Terry Frost was now operating a restaurant. It just so happened Fred Leonard, an agent, read this article and as a result came to see Terry, asking "Why the hell don't you go into pictures?" Terry responded, "Get me a job. I'd love to." "He got me a job the next week," Terry told us, "I went into pictures and that was that."