Chapter One Hundred Eighteen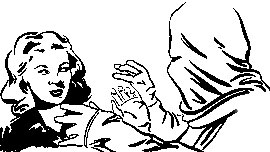 Johnny Duncan Remembers "Batman and Robin"

Johnny Duncan appeared in such films as "Thirty Seconds Over Tokyo" ('44); "When Willie Comes Marching Home" ('50); "Bedtime for Bonzo" ('51); "The Wild One" ('53); "Caine Mutiny" ('54) and even the infamous "Plan Nine from Outer Space" ('59). He was usually unbilled and often cast as a jitterbug or some other dancer in dozens of '40s films. He was also in East Side Kids and one Bowery Boys Monogram comedies, especially "Million Dollar Kid" ('44). Besides a nice role in Gene Autry's "Trail to San Antone" ('47), Duncan is best remembered as Robin, the Boy Wonder, in Columbia's "Batman and Robin" serial ('49).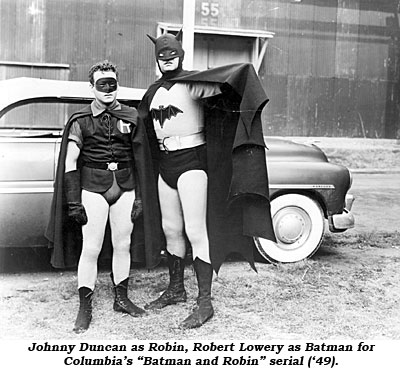 Born December 7, 1923 in Kansas City, MO Duncan learned how to tap dance at an early age and beginning in 1934 toured with acts that included The Will Mastin Trio, which featured Sammy Davis Jr. and his father. He was discovered by a 20th Century Fox talent scout, and he and his whole family packed up and drove west to Hollywood where he danced in nightclubs and went on to film work.
When the Columbia serial was planned, Batman co-creator Bob Kane had wanted a 16-year old actor to play Robin, but producer Sam Katzman at Columbia thought Duncan would be perfect for the role—even though he was 26 at the time. Kane said, "Oh, no, I don't want a guy 26 years old; that's as old as Batman," Duncan recalled in a very entertaining 2005 interview. "So anyway, they looked at, gosh, kids and kids and kids, and finally they couldn't find anybody—Kane didn't like 'em, so Sam called me and says, 'Hey, John, you know, wear some jeans or somethin' and a sweater and look as young as you can and, for God sakes, don't comb your hair. Just come on over.' So I did. And so when I walked in the door, before I was even introduced, Kane says, 'Hey, that's Robin.' So that's how I got the part."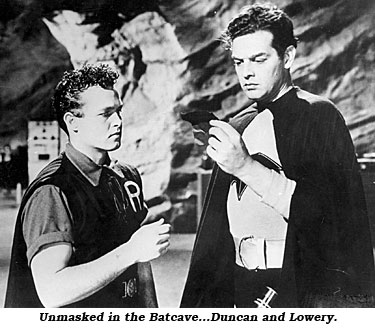 "I remember Bob Lowery as just—really, we had a lot of fun together. He was a typical Missouri BS-er. I mean, he just loved to BS, he loved the women. I recall Barbara Payton. He went with a lot of A starlets, but this particular one was—I'd come over one day to visit him on a Sunday morning, we were gonna have breakfast together. Barbara Payton was the one that Franchot Tone married, remember Tom Neal broke his nose and everything—they had a big thing over her. Anyway, she was an up-and-coming star. And so I knocked on his door, and Bob had just talked to me about an hour before and said, 'Get over here, we'll have some breakfast.' So I said, 'Okay.' And this is right after we made 'Batman and Robin'. So went over there and knocked on the door, and he hollers, 'Come on in!' and here he's in bed with Barbara Payton with crumbling cracker crumbs in his bed. I says, 'You've got to be crazy!'"
Duncan was a little more athletic than Robert when it came to the serial. "We had to put a corset on him. But no one knew it at that time. I don't think he minds it now because he did (laughs). We had to put this corset on him and tie him in every morning about 5:30 or 6 o'clock in the morning because he loved to drink beer, and he had kind of a beer belly. So we'd tie him in—I would. I'd put my foot on his butt and pull these strings together, you know, ev-ery morning and— That's why after months of doing 'Batman and Robin' we said, 'Oh my gosh, we don't ever want to see tights and masks again.' Also we'd be running, doing a scene—because a long shot, you know—and the camera'd be 50 yards from us, and we'd be running up a hill, and I'd tell him to hurry up because I was—Robin had to stay behind Batman, you know? And so it'd make him look good, the director wanted him to take big, long steps when he's running. So that really killed Bob because he was trying to stretch his steps out, running and I was running normal. And I wasn't havin' no problem, but he was having a lot of problems. And he'd say, (gasping) 'Cut! Tell him to cut, I can't go on no more.' Then when the director would cut, why, Bob would fall down on the ground, and his cape would be over his face, and he says, 'Oh my God, please don't—' "
I think it took about three months to film the serial. (This is doubtful...ed.) There was 15 chapters, and we had three units working—and we shot about, oh, 50 to 55 set ups a day; I know on the main crew we did. And the only stunt doubles I had was for long shots like on a train, I had a double on that, but the other stuff, why, Bob and I usually did all of our own stuff. We had to get a lot of set-ups done, and there was no use us being shot from 50 yards unless we had a lot of dialogue to do for close-ups later."
"As for fights, we just got with each other before the scene, and said, 'Okay, we're gonna do this, we're gonna do that,' and we just rehearsed the scene, and you know, you're working with professional stunt guys, and they know what they're doing. They knew how to take a punch, and we knew how to throw 'em. We knew how to take 'em too. I think it was the most fun picture I ever did in my life."
The young athletes of "The Adventures of Frank Merriwell".

In "Son of Zorro" ('47) at end of Ch. 6, George Turner is standing with hands tied as Roy Barcroft and members of a lynching party open fire. Turner falls down to his right. At the start of Ch. 7, shots ring out but Turner remains standing as a substitute Zorro, having committed the gunfire, rides away from town. (Thanks to Richard Smith III.)