What can one say about "The Clutching Hand", except perhaps it appears on a number of "worst" lists? Well, as it turns out, quite a bit, although its charms are not necessarily the ones we usually expect in a serial. For one thing, it's produced by an independent studio with a somewhat unique history. And it has an equally interesting cast of silent movie veterans. Finally, it's the funniest serial I've ever seen.
The distributors, Stage and Screen Productions, were an offshoot of the Weiss Brothers, Max, Louis and Adolph, who started out as owners of a lamp and fixture store in New York City, then went into selling phonographs and eventually to ownership of a small chain of movie theaters, which convinced them there was big money to be made in film production. They got into strictly Poverty Row production as Artclass Pictures (Weiss Bros.) in 1922 with "After Six Days", which is included in all Film Daily Yearbook listings, but not mentioned at all in AFI's Catalog of Feature Films 1921-1930. (Which gives you an idea of how obscure the studio was.)
Louis Weiss and Robert Mintz decided to go into serial distribution in '36 as Stage and Screen, releasing three serials that year, "Custer's Last Stand", "Clutching Hand" and "Black Coin". Boxoffice returns are not known, but Stage and Screen was dissolved shortly thereafter, and might only have been set up to distribute those three serials, which seem to be reasonably well produced by Weiss Productions, Inc.
The cast of "The Clutching Hand" includes many familiar faces, with a few surprises. Its lead, Jack Mulhall, had seen better days. Once, he had been a star. Born in Wappinger Falls, NY, in 1887, he started out as a boy singer in traveling shows, stock theater and vaudeville. His first films were for Edison and American Biograph in New York City. He moved to L.A. in 1914 and from that year on, until 1960, he was in movies. Prolific, he made 16 films in 1925 (eight) and 1926 (eight). He either starred or played a leading role in all of them, for studios as diverse as First National, Paramount, Fox, DeMille, Universal and PDC. His voice was fine for sound, and in '31 he was advertised by RKO as one of its stable of stars. But by that time he was 44, a bit long in the tooth for the kinds of roles he'd been playing.
He appeared in his first two serials in '33: "Mystery Squadron" (he was the bad guy) and "The Three Musketeers" (top-billed as one of the Musketeers). Over the years (while also appearing regularly in feature films), Mulhall had parts in at least 12 more serials: "Burn 'Em Up Barnes" ('34), "Clutching Hand" ('36), "Undersea Kingdom" ('36), "Custer's Last Stand" ('36), "Radio Patrol" ('37), "Tim Tyler's Luck" ('37), "Buck Rogers" ('39), "Scouts to the Rescue" ('39), "Mysterious Dr. Satan" ('40), "Adventures of Captain Marvel" ('41), "Dick Tracy vs. Crime Inc." ('40) and "The Spider Returns" ('41). This is only offered as a tentative list. I'm certain there were also tiny, unbilled walk-ons that are unrecorded.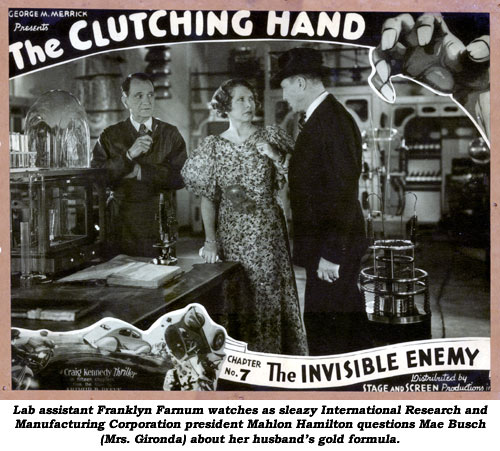 Mae Busch, as Mrs. Gironda, the wife of the serial's missing scientist, is a curious bit of casting. Similar to Mulhall, she had been in movies since 1915, had been featured in films like von Stroheim's "Foolish Wives" ('22), and was in films even after her death. (Her last film, "Ladies Man" made in '46, the year she died, was released in '47.) This was the only serial she ever made, and it's possible some of Mrs. Gironda's various transgressions (somewhat extraneous to the plot) were written in to accommodate Busch's status.
The remaining cast reads like a serial who's who: Rex Lease, Ruth Mix, William Farnum, Marion Shilling, Bryant Washburn, Robert Frazer, Robert Walker, Yakima Canutt, Bob Kortman, Richard Alexander, Kenne Duncan, Reed Howes, William Desmond, and others of equal rank. How bad can a serial be that has all those faces to look at?
The story line is simplicity itself: A scientist demonstrates his ability to make synthetic gold, then vanishes, apparently kidnapped by the Clutching Hand. Famed private investigator, Craig Kennedy (Mulhall), is called in and, after sifting through clues and facing many perils, succeeds in unmasking the villain, who turns out to be the missing scientist. It's a basic plot and, as usual, the variations make the difference.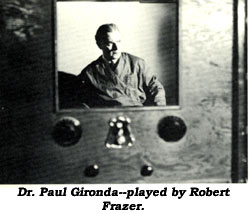 Very few serial plots stand up to close scrutiny, but "The Clutching Hand" has more holes than most, and that, for me, is its saving grace. Let's start at the beginning: Dr. Paul Gironda (Robert Frazer), in a laboratory with three colleagues as observers, pulverizes various substances via mortar and pestle and demonstrates his ability to make synthetic gold. "The dream of alchemists since the beginning of chemistry," enthuses an associate who was standing right next to him watching closely during the experiment while the other two took notes. "Wonderful, wonderful," says another. In the last chapter we'll discover this didn't happen, Gironda didn't make synthetic gold and never had a formula! By that time most of us had forgotten he did it under close scrutiny in the first chapter. Okay, we'll chalk that up to sleight of hand. Because of the economic ramifications of Gironda's missing formula, the Justice Department asks Craig Kennedy, rich, dashing scientific crimefighter and master of disguise, to find Dr. Gironda and his formula. (The Craig Kennedy detective stories had been popular reading material for decades, and were the basis for the 1914 Pearl White serial "Exploits of Elaine". A series, "Craig Kennedy, Criminologist" w/Donald Woods, was produced by Weiss Global Enterprises for TV. Adrian Weiss, who was production director on "Clutching Hand", was president of the latter company.)
Craig is assisted, if that's the word, by reporter Walter Jameson (Rex Lease). He's well-meaning, but not too bright. A messenger delivers a package to him. In it is a book which Walter sits down to read. When he opens it, cloudy gas pours forth. Still, he watches interestedly until it knocks him unconscious. He's saved by Craig, who whips up an antidote. ("You've had quite a touch of gas there, young fella," he quips.) Which would be okay, if Walter learned anything from the experience. But no, a few chapters later (the end of Ch. 7) Craig receives a package. The delivery boy says a guy slipped him a dollar to deliver it. This sets off no warning signals to Walter who accepts the package and opens it. He watches interestedly once again as cloudy gas emerges, and Craig has to seize it from him to submerge it in water. My favorite scene is so improbable it really must be seen to be believed. Here's a bare-bones description. Craig, in one of his many disguises as a bearded seaman, is overpowered by the Clutching Hand's men, tied up and brought to the Hand's control room where the villain sits, in his customary slouch hat, with his back to us, as usual. "That's not Craig Kennedy," the Hand angrily declares. "Take his beard off." He's right. It's really Sullivan (Reed Howes), one of Craig's men. "Number Eight, tell Number Six to bring the girl to me, here," the Hand tells his men. "The rest of you can go. I want to speak to this man alone." After they leave, the Hand tells Sullivan, "Good work," and reveals himself to be—Craig! They get away, and there is no explanation at all offered for this inexplicable turn of events. You really must see it for yourself.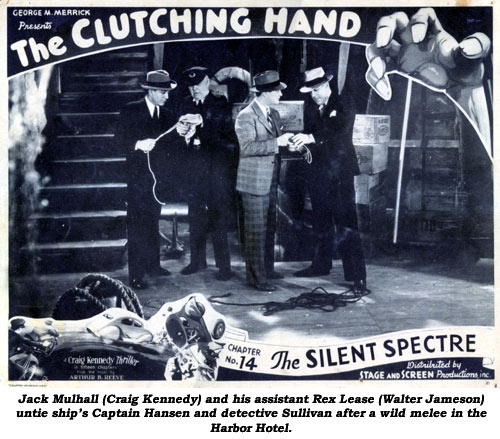 There are other improbabilities and unresolved issues. In Ch. 1, before the kidnapping, Gironda is in his study. Outside, the shadow of the Clutching Hand steals across the lawn. (But Gironda is the Clutching Hand.) Shortly after that they discover a note warning Kennedy to "drop this case" or face death, signed by the Clutching Hand: "Our old arch enemy the Clutching Hand," Kennedy tells his friend, Justice Department agent Gordon Gount (William Farnum), who remembers his old enemy all too well. But how can this be? Did the once-respected scientist Paul Gironda, an executive with a leading research corporation, also have a long criminal career? Another scene: Kennedy comes upon a messenger who has a package for the missing Gironda. They're diverted and a hand reaches in and steals the package. There is no further mention of the package nor its contents! In another scene the Hand's voice warns Craig not to touch a certain article or he'll be killed. Craig touches it and is nearly electrocuted! There are a number of sub-plots that keep things moving along, which also serve as red herrings. There are two phony spiritualists who have Mrs. Gironda hoodwinked and want to steal her jewels, an ex-con who thinks he has a stake in the jewels, a number of research corporation executives who act suspiciously beyond reason, and lots more, very little of it having anything to do with the basic plot. Still, despite its many deficiencies, and perhaps because of them, if you enjoy a sense of the absurd, "The Clutching Hand" may be worth another look.

In Columbia's "Monster and the Ape" ('45) at the end of Ch. 3, it's obvious Robert Lowery, knocked out on a conveyor belt, goes all the way into a brickyard incinerator. But—in Ch. 4 he rolls off the conveyor belt before going into the furnace.
Norman Willis
Norman Willis entered the Serial Hall of Infamy with his role as Spider Webb, battling the Ivory Patrol for 12 episodes in Universal's "Tim Tyler's Luck" ('37). In the serial, leading lady Frances Robinson described Spider Webb as "everything a man shouldn't be, a brutal, killing crook." That he was. For a serial, the nastier the villain, the better the hero fares, and Norman Willis made Frankie (Tim Tyler) Thomas look terrific!
Born Willis Ira Norman May 27, 1903, in Chicago, IL, as a young boy he attended Hyde Park High in Chicago and later became a radio announcer on Chicago stations WGN and WBBM. Interested in acting, he joined a stock company and was also an announcer for the Chicago World Fair in '33.
Rearranging his name to Norman Willis and trying his luck in Hollywood, he won a small role as a gangster in "Mary Burns, Fugitive" ('35) which led to a short contract at Warner Bros. Then he began to freelance. Dozens of westerns and meaty parts in A films such as "They Drive By Night", "Trail of the Lonesome Pine", "Roaring Twenties", "Adventures of Mark Twain", as well as roles in early TV kept Willis busy for over 25 years. Producer Alex Gordon gave him his last job in "Bounty Killer" ('65).
Other serial roles were in "Iron Claw" as one of the "brother suspects", "Desert Hawk" as Andor, with minor roles in "King of the Royal Mounted", "G-Men Vs. the Black Dragon" and "Zombies of the Stratosphere".
For whatever reason, for two or three years in the late '40s, he made a few films under the name Jack Norman.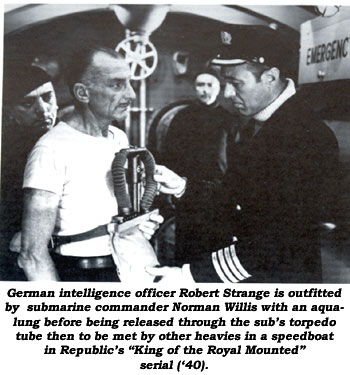 Married for many years to a Margaret Huckin, Willis was retired when he died at 84 on Jan. 27, 1988, at an L.A. hospital of an instantaneous heart attack. He had suffered from heart disease for many years.
Regardless of his large body of excellent work, to serial devotees Norman Willis will always be the nefarious Spider Webb. However, Tim Tyler himself, Frankie Thomas told SR, "He filled that old saying, the nicest people are the villains, 'cause he was absolutely charming. Wonderful to work with, although we had only a few scenes together as he was always off in the Jungle Cruiser. He had this terribly menacing voice but he was the nicest guy."

At the end of Ch. 3 of "Terry and the Pirates" ('40 Columbia) Jack Ingram tosses a handgrenade at Terry (William Tracy) and Pat Ryan (Granville Owens) who are trapped standing in the river. The grenade lands in the water and explodes. But, in Ch. 4, Pat catches the grenade and tosses it back at Ingram, then it explodes.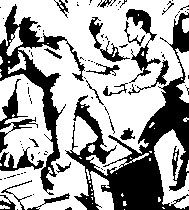 Serial Comics
by Boyd Magers
We mentioned last month how "Cody of the Pony Express" was one of only a few serials adapted to comic book form.
In April 1939 National Periodical Publications was the first to recognize the popularity of serials and include them in their fledgling MOVIE COMICS, a combination of comics and movie magazines.
MOVIE COMICS #1 featured Ch. 1-5 of Universal's "Scouts to the Rescue" ('39) which starred Jackie Cooper and William Ruhl. Six pages of picto-fiction used photos (and some artwork) from the serial. #2 (May '39) concluded the serial, Ch. 6-12, in six pages.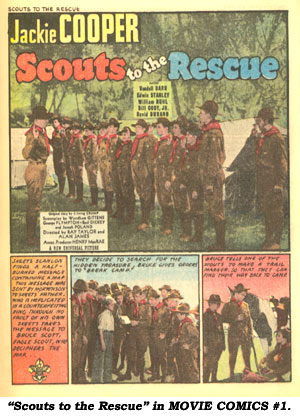 MOVIE COMICS #3 featured no serial, but an adaptation of Universal's "Oregon Trail" ('39) with Johnny Mack Brown began in #4 (July '39). Only Ch. 1-2 were covered in five pages. Issue #5 (August '39) only got us into Ch. 3 with four pages. MOVIE COMICS #6 (Sept./Oct. '39) rushed through chapters 4-15 in three pages. However, this final issue gave us a full eight page adaptation of Universal's "The Phantom Creeps" ('39) with Bela Lugosi.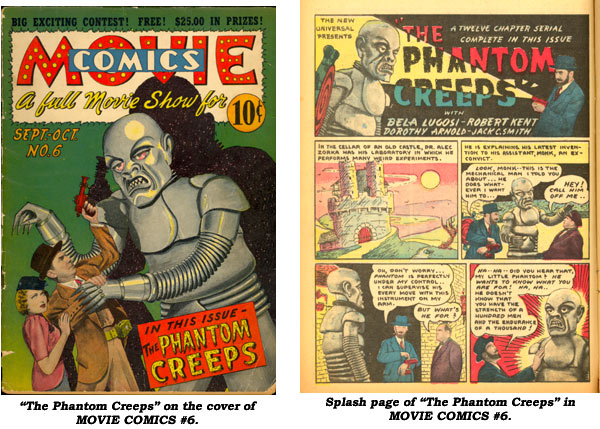 National's radical photo-comics experiment obviously wasn't selling, so after its six month run MOVIE COMICS ceased publication, making all issues "scarce" according to OVERSTREET COMIC BOOK PRICE GUIDE. MOVIE COMICS #1 can bring nearly $1,100 in Fine. #2—$756; #4—$444; $5—$483 and #6—$618.
No more serials were adapted into comic form until the fall of '42 when Fawcett adapted Republic's classic "Perils of Nyoka" serial ('42) for a full 54 page story in the 68 page JUNGLE GIRL—which, of course, was the title of Republic's first Nyoka serial in '41. Kay Aldridge as Nyoka is photo-featured on the cover with the interior artwork capturing all the thrills of the 15 chapter serial. This comic lists at $378 in Fine.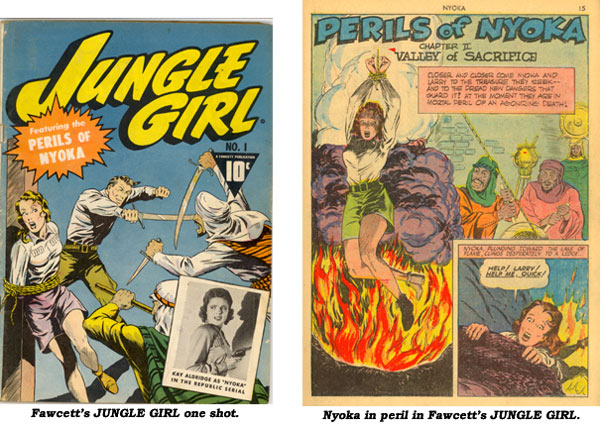 The issue was so successful that Fawcett continued the Nyoka character in MASTER COMICS (alongside Capt. Marvel Jr.) from #50 (May '44) through #132 (February '53) and in her own comic, NYOKA THE JUNGLE GIRL from late '45 til June '53.
It's also worth noting several serials were adapted to "comic" form in Whitman and Saafield BIG LITTLE BOOKS using stills to tell their story. A list of those include...
"Roaring West" with Buck Jones
"Red Rider" with Buck Jones
"Chandu the Magician" with Bela Lugosi
"Detective Dick Tracy and the Spider Gang" with Ralph Byrd
"Dick Tracy Returns" with Ralph Byrd
"Kit Carson and the Mystery Riders" ("Fighting With Kit Carson") with Johnny Mack Brown
"Law of the Wild" with Bob Custer
"Lost City" with Kane Richmond
"Lost Jungle" with Clyde Beatty
"Tailspin Tommy in the Great Air Mystery" with Clark Williams
"Tarzan the Fearless" with Buster Crabbe
"New Adventures of Tarzan" with Herman Brix
"Three Musketeers" with John Wayne
"Tom Mason on Top" ("Miracle Rider") with Tom Mix