Captain Marvel Costume Sells For $22,500
The original tunic, cape, waist sash and leggings worn by Tom Tyler in Republic's "Adventures of Captain Marvel" serial ('40) sold at auction on ebay in late June, 2016 for $22,500.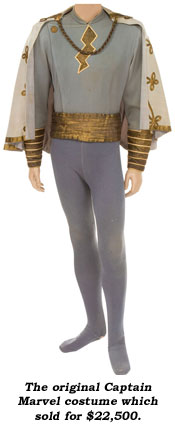 The four piece costume consists of a custom gray wool tunic with gold bullion appliqué gauntlets and crème-colored cord on zippered sleeves, ornamental spiral metal button at bias collar, emblazoned with iconic gold bullion appliqué lightning bolt lined with crème braid central to chest, and integral zippered flap to hold the jacket into the costume. It retained the Western Costume bias label handwritten, "25822 Tom Tyler". A pair of gray wool long john bottoms with feet in and drawstring waist. Accessorized by a pleated gold fabric decorative cummerbund with hook and eye closure, handwritten "Tom Tyler 'Adventures of Captain Marvel'" and retaining remnants of Western Costume stamp. Completed by a gray fabric cape with gold braid embellishment at hem and from shoulders down both sides of opening. Flap collar with gold bullion ribbon piping and an ornamental gold braid spanning the neck of the cape ending at two ornamental buttons at each side of collar. These items also retain Western Costume bias label handwritten "Tom Tyler". All pieces exhibited age, some staining, stressing to seams, production wear, minor fading, and some rubbing to metallic elements.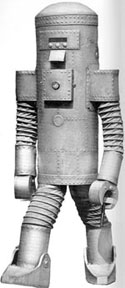 Serial Robots
by Boyd Magers
Robots or mechanical men were perfect escapist material for serials. Robots in film actually date back to the silent era, the best known being Maria, the robotrix of "Metropolis" ('26). But the first robot to appear in a sound serial was the bird-beaked, electrode-powered metal monstrosity in Universal's "The Vanishing Shadow" ('34). Electrical engineer Stanley Stanfield (Onslow Stevens) swears to avenge the death of his crusading publisher father who had been driven to his death by the crooked business practices of Wade Barnett (Walter Miller). Stanfield enlists the aid of Professor Carl Van Dorn (James Durkin) to invent a vanishing ray and a seven-foot robot to help in his struggle to bring vengeance to Barnett. During the 12 chapters Stanfield and Barnett's daughter (Ada Ince) are both almost crushed by the robot.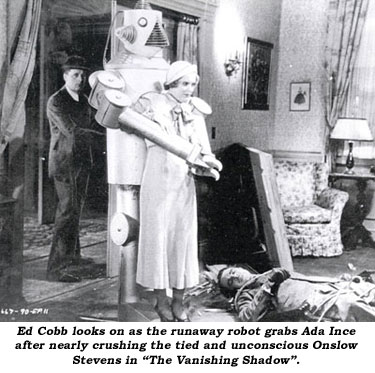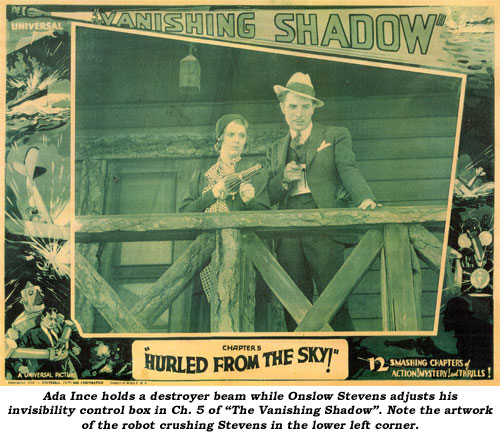 In 1935 Mascot produced the most unique sci-fi/Western serial ever conjured up by serial scriptwriters—in this instance a collaborative effort by Wallace MacDonald, Gerald Geraghty, Hy Freedman, John Rathmell, Armand and Maurice Geraghty. Introducing Gene Autry, as absurd as "The Phantom Empire" may have been, it was still enthusiastically welcomed by serial devotees in 1935—and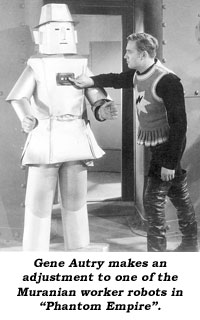 is still revered today as a landmark serial. Chasing some crooks, Radio Ranch singing cowboy Gene Autry and his two friends of the Thunder Riders Club, Frankie Darro and Betsy King Ross, discover the

fantastic underground kingdom of Murania, a futuristic city thousands of miles below the surface. Perhaps the most memorable aspect of Murania are the industrious workman robots.
The most famous cliffhanger of them all is Universal's "Flash Gordon" in 1936. Bucket-headed robots are seen briefly at the beginning of "Flash Gordon" when Flash, Dale and Zarkov arrive on Mongo but were apparently edited out of palace throne room scenes.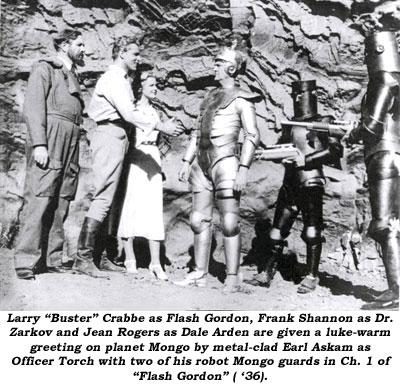 Later in '36 Republic released "Undersea Kingdom". After Ray "Crash" Corrigan arrives in the underwater lost continent of Atlantis, Crash and his friends encounter Mongolian tyrants, high priests, white and black robed guardsmen—and sheet-metal, rivet-studded Volkite robots. These unique Volkites had no mouth or ears, only a scoop-nose and an eye-slot. They had no hands, instead metal pincers were at the end of their flexible arms.
Universal was back again in 1939 with "The Phantom Creeps" starring Bela Lugosi as mad scientist Dr. Alex Zorka, who, when his wife is killed, vows vengeance against all society. With the aid of his ex-con associate Monk (Jack C. Smith) Dr. Zorka embarks on a campaign to become world dictator. Among his arsenal of inventions is an eight foot tall humanoid robot bearing an oversized head full of grimacing, pointed teeth, flared nostrils and blank, staring eyes. The shuffling, sharp-clawed monstrosity was a memorable vision of horror.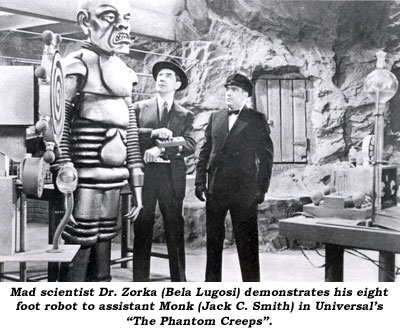 The third Flash Gordon Universal serial ,"Flash Gordon Conquers the Universe" ('40), featured radio-controlled Annihilaton robots which Flash and Dale Arden (Carol Hughes) encountered in a mine in Frigia. These weird looking Annihilatons were electronically charged walking bombs. Their eerie jerky motion was achieved by the trick of undercranking the camera speed.
Also in 1940 Republic released one of their most popular, action packed serials—"Mysterious Dr. Satan". Master criminal Dr. Satan (played to the Nth by Eduardo Ciannelli) plans to use his mechanical robot to rob and terrorize. Bob Wayne (Robert Wilcox), alias the chain-mail-masked Copperhead, thwarts Dr. Satan at every turn. Eventually Dr. Satan becomes the victim of his own destructive creation. This robot was a stripped-down version of a Volkite from "Undersea Kingdom".
It was five years before we saw another serial screen robot—but in 1945 the oddly-designed seven-foot tall Metalogen Man made his appearance in Columbia's "The Monster and the Ape". Powered by a small table-top control unit with a view screen that shows the controller everything through the Metalogen Man's camera eyes, the robot is soon stolen by one of the credited five inventors, Professor Ernst (George Macready) for his own crooked use.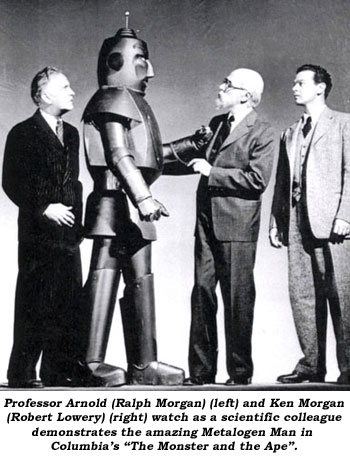 In Columbia's 15 chapter "Captain Video" serial in 1951 Captain Video (Judd Holdren) and Ranger (Larry Stewart) journey to the planet Atoma, homeworld of the evil ruler Vultura (Gene Roth), to battle against his current planetary conquest. Robots reissued from "The Phantom Empire" are sent to kill Captain Video and Ranger in Ch. 4.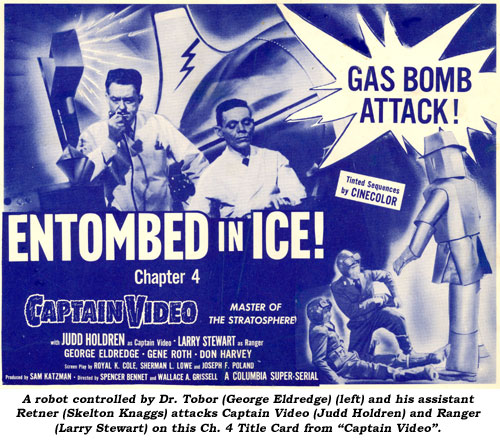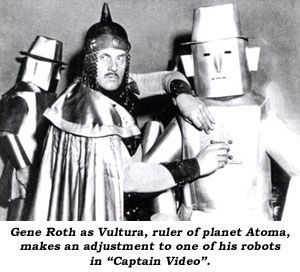 A year later Judd Holdren donned Tris Coffin's Rocket Man flying suit from "King of the Rocketmen" ('49 Republic) for "Zombies of the Stratosphere" ('52 Republic). Holdren was only referred to by his serial name, Larry Stewart, and never as Rocket Man. Martian invader Marex (Lane Bradford) forged a metal monstrosity which was seen in Ch. 5-6. This robot was recycled from Republic's "Mysterious Dr. Satan" 12 years earlier.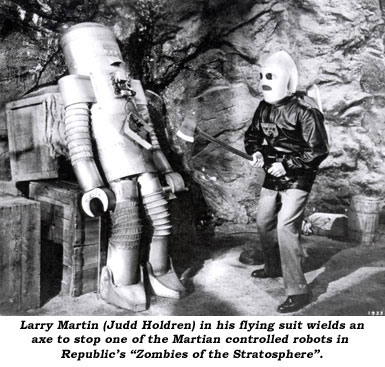 The same robot saw action once again in 1953 for Republic's "Commando Cody—Sky Marshal of the Universe" which was made in twelve 30 minute "numbers" or chapters designed to play theatrically or as TV episodes. Judd Holdren as Commando Cody once again wore the flying suit first seen in "King of the Rocketmen" ('49).

More ludicrous than a true "cheat"…In "Blackhawk" Ch. 4 a train barrels down on Blackhawk's car stalled on the track. Rather than demolishing the car and killing those in it, all the train does is knock the car off the track into a ditch.
Bruce Edwards, best known for his lead in Republic's "Black Widow" serial, was born Edward Lester Smith October 8, 1911 in L.A.
SR's Michael Fitzgerald had begun an interview with Edwards but Edwards became ill and it was unfinished. Bruce told Michael, "My father opened the first car dealership in L.A. In the early part of WWI, he enlisted as a lieutenant, and was made captain, sent to France and was killed in 1918. Several books were written about his exploits during the time of his service." Bruce was raised by his mother, "…who never remarried. After college I traveled to Asia and was then married to Virginia Andrews. I later bought a car dealership and while talking to an agent about cars, the agent asked me if I would be interested in the movie business. So, Ed Smith became Bruce Edwards. Investments made it possible to act and pay the rent after selling the car dealership. Virginia and I opened a boy's summer camp on Catalina, where most of the boys were from parents in the entertainment business."
Beginning in 1940 Edwards was seen in some 54 films, usually as the second lead or 'the other guy', including "Hitler—Dead or Alive" ('42), "Small Town Deb" ('42), "West of the Pecos" ('45), "Dangerous Money" ('46), "Queen of the Amazons" ('47) and a half dozen B-Westerns at Republic and Monogram with Allan "Rocky" Lane, Whip Wilson and Johnny Mack Brown ("Denver Kid", "Powder River Rustlers", "Fort Dodge Stampede", "Lawless Cowboys", "Oklahoma Justice", "Montana Incident").
In 1947 Republic cast him in "The Black Widow" as mystery-fiction author Steven Colt trying to track down Sombra (Carol Forman) who was attempting to obtain a rocket fuel formula. Colt was accompanied by Joyce Winters (Virginia Lindley), top reporter for THE DAILY CLARION. Then in 1949 he was back at Republic for "Federal Agents Vs. Underworld Inc.", this time not as the lead, only a character in ch. 1-6.
In 1951 he had a miniscule role as Agent 34 in Ch. 4 of Columbia's "Captain Video" and a small role in "Bruce Gentry" ('49 Columbia).
Following his film career which ended in the mid '50s, Bruce became a photographer contributing covers and articles to TIME's HOME MAGAZINE. He and his first wife also wrote columns for the DAILY PILOT/NEWS-PRESS and the Balboa Bay Club's BAY WINDOW. He was also owner/skipper of Catalina Marineros Camp and a longtime resident of Newport Beach.
Edwards died September 20, 2002.